You've decided to ramp up your business's presence on social media. This is a smart move because nothing beats the power of a successful social media campaign in today's fast-paced online marketplace.
The best approach to maintaining consistent social media engagement is to invest in a social media scheduling tool. The current motto is "automate or die." Well, it's not quite that extreme, but the message is clear: Keep up with the competition by automating your social media content or get pushed aside.
Let's take a deep look at two popular options — SocialPilot and Buffer. Each platform offers a user-friendly interface and a variety of tools catering to your business's specific needs.
---
SocialPilot vs. Buffer: An overview
SocialPilot is a comprehensive social media management tool that helps create and schedule innovative content across a variety of social media platforms. Plus you'll have access to detailed analytics, allowing you to scrutinize how well each post performed.
Even though it's not as advanced as other software out there, SocialPilot is simple to use, cost-effective, and encourages your marketing team to tackle concrete marketing goals.
Buffer was launched in 2010 with the goal of streamlining social media content across multiple platforms. Its brand name is now used as a verb — similar to how you can Skype, you can now Buffer. This innovative software offers two classic tools to meet your online marketing needs: Publish and Analyze. You can take advantage of one or both of these tools to revolutionize your social media marketing objectives.
Who is SocialPilot for?
SocialPilot is geared toward small businesses that want to streamline social media campaigns without needing to invest in one of the more costly social media management programs.
Whereas other platforms charge to unlock extra features or additional users, SocialPilot's introductory plan allows you to connect 25 social media accounts and up to three team members.
For anyone looking for a cost-effective, hassle-free solution to help manage your business's social media strategy, this is the tool for you.
Who is Buffer for?
Buffer is an excellent choice for sole proprietors or small business owners looking to boost their online presence at a reasonable cost. The free account allows you to connect three social media accounts and schedule 10 posts, making Buffer a great option for getting your feet wet without having to shell out big bucks. And the upgrade options are reasonably priced if you're after more options.
This software is designed with the user in mind. It takes the brainwork out of social media engagement, allowing you more time to focus on other aspects of your business. In fact, many large businesses use Buffer exclusively for its publishing tools due to the simple interface. If you're looking for a program that's intuitive and cost-effective, Buffer is the right choice.
---
SocialPilot vs. Buffer: Features
At first glance, SocialPilot and Buffer offer similar features. They both excel at inspiring and managing your social media posts, as well as offering detailed post-performance analytics.
After a more thorough examination, however, there are some notable differences in how they make things happen. What appeals to you will depend on your business's specific marketing plans, as well as your goals for community management. Remember, the main objective in social media marketing is connecting with your audience. Each of these programs offers something to help achieve this goal.
What SocialPilot offers
SocialPilot offers the basics of a social media management program, plus a few advanced features to give your campaign the cutting edge it needs.
Here are the three top features:
Automated post scheduling
Content recommendations
Analytics
Automated post scheduling
The highlight of any social media tool is being able to hand over the tedious task of scheduling posts. No longer do you have to set reminders about when to post content — SocialPilot will take care of it all.
You'll be able to schedule content to go out to all the major networks, such as Twitter, Facebook, Pinterest, and LinkedIn. However, it's important to note that posting is not automatic on Instagram or TikTok — at least not yet. You can still set up these accounts through SocialPilot, but you'll need to publish the content at the proposed time. In comparison, Buffer can automatically post to Instagram.
Content recommendations
Generating clever, enticing, and fresh social media content can be downright exhausting. Even if you have a talented in-house writer, it's tough to keep every post unique and engaging. This is why it's important to switch from a spontaneous mode to a strategic plan.
With SocialPilot's keyword search box, you'll be given a list of related posts to choose from. You can tweak what it churns out for you, or use it as is. Either way, it can help jumpstart the brainstorming process.
Designing and refining your content is a streamlined process with SocialPilot's Canva tool. You can easily add high-quality images, engaging videos, or the perfect text to every post.
Another plus is being able to share a preview of the post with other team members. This allows the group to chime in or suggest changes before sending the post off for the world to see. You can even schedule posts for multiple time zones, and the social media calendar easily allows you to order posts based on relevance and importance.
Analytics
SocialPilot delivers detailed analytics reports for Facebook, Twitter, LinkedIn, Pinterest, and Google My Business accounts. Instagram is currently excluded from this list, which is important to note if you primarily use that platform for your business.
The reports are easy to understand, with detailed sections on who interacted with your posts. Additionally, you'll be able to analyze the most effective hashtags, allowing you to successfully recreate more successful campaigns in the future.
What Buffer offers
Buffer offers two separate products — Publish and Analyze. They work together to take a basic social media post and transform it into a successful advertising campaign. Keep in mind that you're not required to subscribe to both plans, although it's a good idea to do so if you want to access the full scope of what Buffer has to offer.
Publish
Here you can easily dream, plot, collaborate, design, and publish meaningful content that's eye-catching and engaging.
We love Buffer's Tailored Posts, which allow you to preview how the same link will appear on various platforms. It makes it easy to change specific wording without having to open each platform's interface.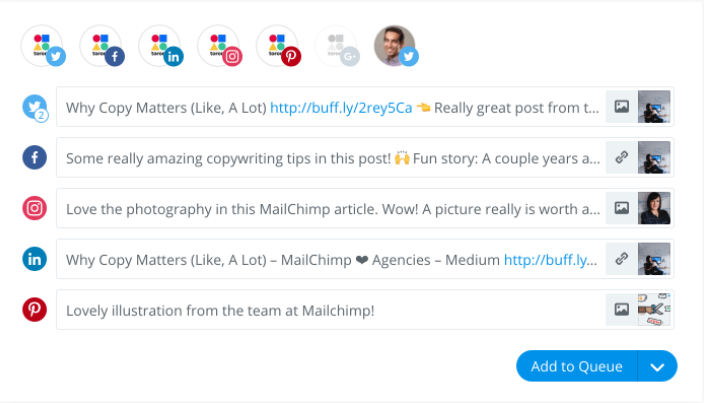 Buffer has also introduced some additional features with Instagram. For example, you can include a first comment with your scheduled post, which allows you to add key hashtags before the post goes live. This will help widen your reach, which is always the goal.
Another highlight is the social inbox. Here all inbound messages are compiled from all your social media accounts into one easy-to-manage feed. Talk about a time saver!
You can also take Buffer's content creation to the next level with Pablo, a tool to help create and design exciting, unique, and engaging content.
And you can easily organize your posts with the Buffer social media calendar. This interactive calendar allows you to pin updates, drop and drag content, and re-Buffer past posts. It's a great way to make sure no post slips through the cracks.
Analyze
Learning to make sense of completed advertising campaigns is a key part of moving your business forward. Buffer takes away the headache by simplifying the whole process. You can now report to your team about key performance stats, such as reach, engagement rate, and followers. This data is helpful in deciding whether a specific campaign should continue or be shifted in a new direction.
There's also a hoard of insightful information in the Answers tab, such as suggestions of when to post content and which types of media you should include, as well as how frequently you should be posting to each platform. Hours of research goes into compiling this information, saving important time on your end.
The analytics tools on Buffer are most effective for Twitter, Facebook, and Instagram. It has yet to develop the depth needed for proper feedback from Pinterest and LinkedIn, so if those are your main platforms, this may not be the software for you.
Results
Buffer wins this category. The main reason is that it auto-publishes on all major social media platforms, including Instagram. In comparison, SocialPilot isn't up to date with auto-publishing on Instagram, which is a dealbreaker for us.
However, we do love SocialPilot's content curation. So if you struggle to come up with clever wording for your posts, check out this tool on SocialPilot.
---
SocialPilot vs. Buffer: Support
Even though both of these programs are fairly straightforward and easy to use, the nature of technology means that problems are always bound to arise. And who's there to help out during a crisis can make a world of difference.
What SocialPilot offers
Unfortunately, SocialPilot doesn't offer live chat or phone support, two services that many business owners rely on to address specific technical issues.
Here's what they do offer:
Email: SocialPilot usually responds to emails within several hours, often with a detailed solution but sometimes with a link to the FAQ page.
Knowledge center: There are multiple posts showing step-by-step solutions to common problems. It's a perfect solution if your problem falls into one of the listed categories. Otherwise, it can lead to frustration, especially if your problem is unique.
What Buffer offers
Similar to SocialPilot, Buffer offers no phone or live chat support. Come on, guys, get with the program!
Your problem-solving options with Buffer are as follows:
Email: The reported response time is within 24 hours. Buffer usually responds with a list of actions to take.
Facebook: Sometimes connecting via social media is faster. That's most likely because a social media message stands out against a sea of emails.
Twitter: Communication is also available with a quick message on Twitter.
Knowledge base: Here you'll see a range of practically every challenge you can think of.
Results
Buffer takes the lead here. It's often easier to connect via social media, especially if the issue is on that specific platform. However, neither platform gets a gold star in support since virtual chat should be included at the very least.
---
SocialPilot vs. Buffer: Ease of use
Choosing the right software for your social media needs comes down to this: How quickly does it take to get up and running, and how many headaches and swear words are involved in the process?
No matter how fancy or top-rated a product is, if it's going to take you hours to understand how to navigate and schedule posts, it's simply not worth it. This is why it's important to think about ease of use and how quickly your team can be on board making those magical posts happen.
What SocialPilot offers
Navigation is easy with SocialPilot. The setup is effortless, allowing you to connect multiple social media accounts with just a few clicks.
The navigation bar on the left helps you quickly access any topic. Adding multiple team members to specific posts or campaigns is a breeze, letting them make changes directly on the SocialPilot interface.
In a nutshell, SocialPilot is designed to be a bare bones social media tool without fancy embellishments, sparkle, and pizzazz. For the price, it's worth it to get the job done.
What Buffer offers
Buffer focuses on an effective, pleasing, and simple interface. This allows the user to hone in on the task at hand: promoting their business through social media.
Setup happens almost instantaneously, with all social media accounts connected in one place.
The Buffer app follows in the software's footsteps, remaining easy, user-friendly, and intuitive. And let's not forget the Buffer Chrome extension, which enables users to post directly to social media with an easy click of a button.
Another helpful addition is the Buffer Marketing Library. Here you'll find detailed posts about a range of social media topics and strategies. The best part is that it's free to access!
Results
Buffer is the winner here. The minimalist design is effective and intuitive. It allows the user to find what they need to do, click on it, and bam — action happens. Plus the ideas in the Buffer Marketing Library allow you to make the most out of this software.
---
SocialPilot vs. Buffer: Pricing
Understanding pricing is one of the biggest struggles when it comes to making a decision on which software is best. Does it offer a free plan? Does it cost to add extra users? How much will I need to pay to access all of the features?
Don't worry, we're here to help make sense of the various pricing options.
What SocialPilot offers
SocialPilot currently has four pricing options. Which level you choose depends on the specific needs and goals your business has regarding social media advertising.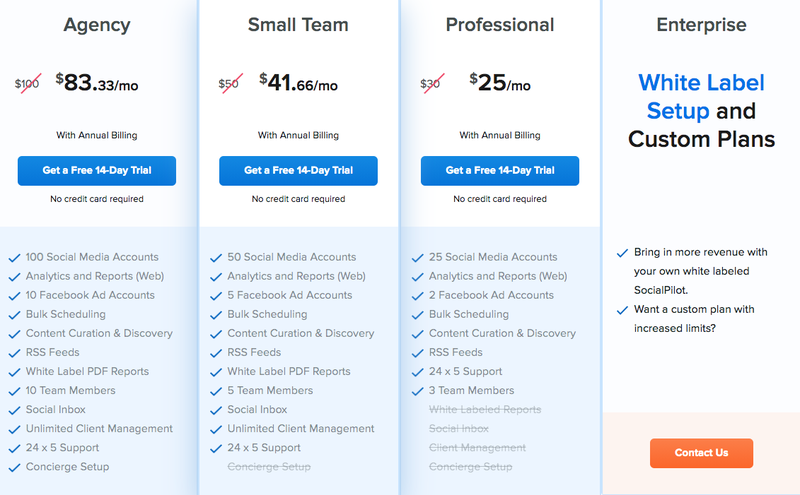 Although the Professional plan is the cheapest, currently $25 a month, the most popular plan is the Small Team one at $41.66 a month. It's worth upgrading to the Small Team plan if you want to take advantage of the social inbox, which allows you to compile all social media messaging into one easy-to-access spot. Trust us, this one feature is worth the extra cash.
The Agency and Enterprise plans are geared toward bigger companies with larger budgets. For example, the Agency plan at $83.33 per month allows 10 team members to access the account. If your business is on the smaller side, there's no need for such a complex plan. Seriously, you can access everything you need with the Small Team plan, at least to get you started.
What Buffer offers
Signing up for Buffer's 14-day trial plan is super easy, with no credit card required. Plus you can choose to stay on Buffer's free plan, which allows you to connect three social media accounts and schedule up to 10 posts. For some businesses, this is all you need.
However, Buffer's pricing is a tad confusing. This is due to the separate payment options under the Publish and Analyze plans.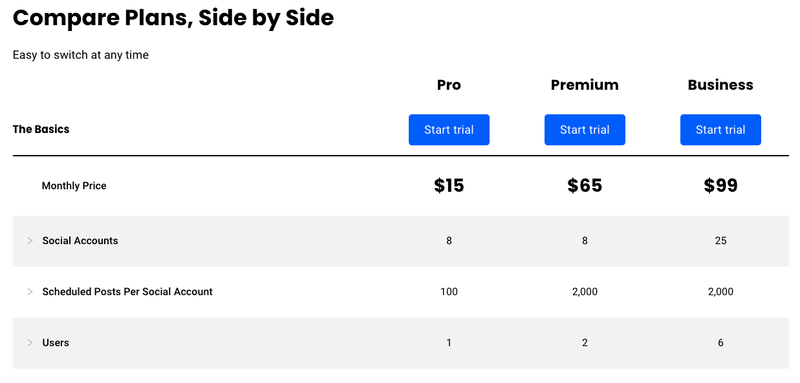 As you can see, there are three levels within the Publish plan — Pro at $15 per month, Premium at $65 per month, and Business at $99 per month.
The key difference is in the number of users. Both the free and Pro plan are limited to only one user, whereas Premium allows two, and the Business plan allows six. Many businesses appreciate having more users included in the social media creation process, therefore making it necessary to upgrade to one of the higher-priced plans.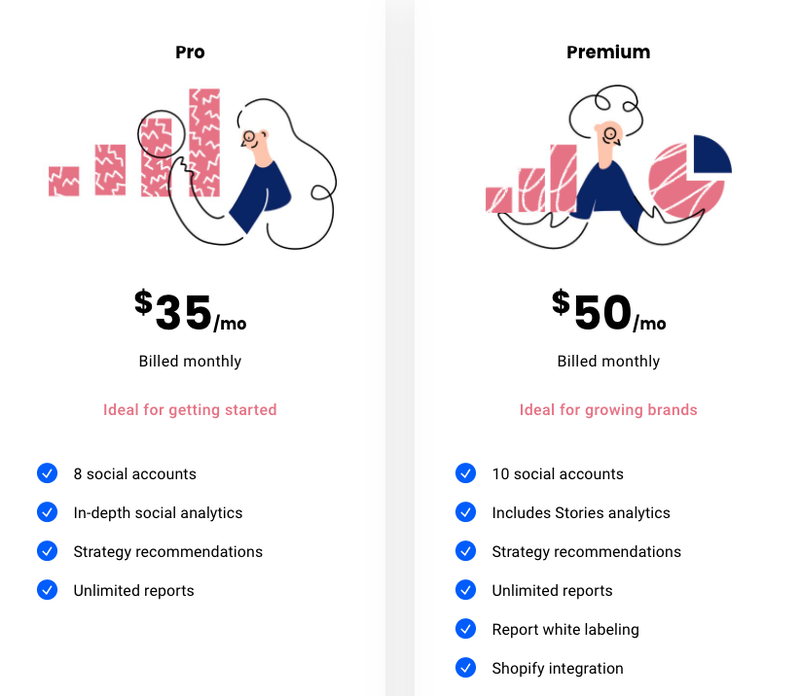 There are two options under the Analyze plan — Pro at $35 per month and Premium at $50 per month. Honestly, we feel that most businesses would do just fine with the Pro plan. Start there and see for yourself. If you want more options, know that you can upgrade at any time.
Results
SocialPilot is out in front on pricing. Even though it doesn't offer a free plan besides the initial 14-day trial, the entry-level plan can easily meet any small business's needs.
Buffer's plans are a bit convoluted, leaving business owners confused about whether to invest in Publish or Analyze and then which option to pick within those two. Plus the costs can quickly add up if you opt for the highest plan in each category.
---
SocialPilot vs. Buffer: Integration with other software
Although social media is a key component of your company's marketing strategy, it's not the only channel. Because of this, it's important to invest in software that easily integrates with all aspects of your business, such as importing data from separate calendar applications or inventory software.
What SocialPilot offers
SocialPilot understands that no software exists by itself, so it's prepared a range of apps that integrate easily with the platform. For example, you can create your own Canva account and then link it to SocialPilot. This way, multiple team members can independently log into Canva, create their designs, then send them over to SocialPilot.
Here's a full list of SocialPilot's useful integrations.
What Buffer offers
Buffer offers a variety of extensions that incorporate other applications, taking away any frustration from using multiple software or programs.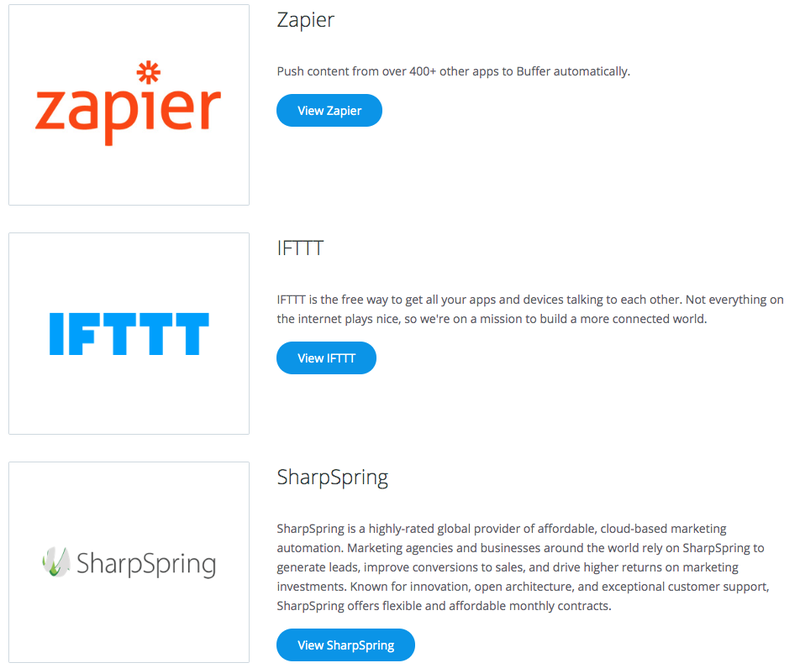 For example, apps such as Zapier allow you to access more than 400 external tools, pushing content right through Buffer.
And even though there are plenty of Buffer alternatives, the software excels at offering state-of-the-art integration. In the end, it will help reduce the stress of incorporating various aspects of your business.
Here's a full list of Buffer's apps, extensions, and extras.
Results
This is a close call, but we feel like Buffer takes the win. Buffer keeps adding more apps and extensions to the list, making it the superior choice for a seamless integration of all your business's apps and programs.
---
How They Compare: SocialPilot vs. Buffer
| | SocialPilot | Buffer |
| --- | --- | --- |
| Features | | |
| Support | | |
| Ease of Use | | |
| Pricing | | |
| Integration with other software | | |
---
Buffer is ready to tackle your social media needs
Buffer is better than SocialPilot in almost all of our discussed categories. It has a slight advantage with its features, support, advanced analytics, and integration with other software.
You also have the option of experimenting with Buffer by using its free service. This allows you to get a feel for Buffer scheduling without needing to fully commit. Furthermore, it's the best of the two if you're an avid Instagram user.
SocialPilot is a close contender and shouldn't be forgotten if you're looking for a bare bones plan that allows multiple users. The pricing structure is more straightforward and best for lean budgets.
Even though we value both programs, the winner of the SocialPilot vs. Buffer contest is Buffer.