Sophos is a veteran security company, providing antivirus and encryption solutions since 1985. As cyberattacks advanced in sophistication, so too did Sophos security products.
Its endpoint protection capabilities evolved to incorporate artificial intelligence (AI) into the solution. The Sophos Intercept X platform merges technologies such as deep learning AI and endpoint detection and response (EDR) to provide holistic endpoint security software. Today, the company's products protect over 400,000 organizations.
Sophos Intercept X offers such expansive capabilities, it's easy to find value in the solution. But it's not perfect. We'll review the key features to help you assess it for your business.
---
Who is Sophos Intercept X Endpoint for?
The Sophos Intercept X product is ideal for businesses with an Information Technology (IT) team and many endpoints to protect. If your business includes hundreds or even thousands of endpoints, Sophos Intercept X is a potent protection product.
It works for Mac and Windows personal computers (PCs) as well as servers, virtual machines, and cloud-based IT infrastructure. It also protects mobile devices using Android, iOS, and Chrome operating systems.
Sophos Intercept X packs security features for IT professionals to deploy and manage. A company staffed with a dedicated IT department is best suited to take advantage of its many features.
Sophos small business marketing targets midsize and larger companies. If you're a small business with a handful of endpoints, the Intercept X platform can service your needs, but it's not for companies lacking IT staff due to its technical complexity.
---
Sophos Intercept X Endpoint's features
Sophos Intercept X uses a multi-layer approach to endpoint protection. It blocks threats with multiple products designed for each of the many types of cyberattacks. It then provides another set of solutions for attacks that sneak through.
Its platform is comprehensive, delivering robust self-serve security features. It also extends to managed services for companies seeking to outsource IT security management to Sophos. Let's dive into the platform's functionality in more detail.
Malware detection
Sophos has protected endpoints from malware for over 30 years. The Intercept X platform uses artificial intelligence (AI) to proactively identify malware threats.
AI involves a form of machine learning called deep learning, which mimics the neural network of human brains to solve challenging problems. In this way, Sophos Intercept X seeks to detect both known and never-before-seen threats.
How well does this work? In independent testing by the AV-Test Institute involving thousands of malware samples, Sophos Intercept X stopped 100% of them.
The platform also outperformed competitors when it came to false positives. Security that blocks you from using legitimate software is problematic. This won't be an issue with Sophos Intercept X.

When tested against over one million software samples, Sophos flagged just one legitimate item incorrectly as a threat compared to the industry average of 27. This earned Sophos a perfect score in the AV-Test Institute's usability category.
Sophos Intercept X surfaces possible threats for further investigation. You can view the list of potentially unwanted applications (PUAs) in its web-based Sophos Central interface.
Anti-ransomware and exploit prevention
Sophos Intercept X's security layers include protection from ransomware and exploit attacks. Sophos specifically designed solutions for these two particularly dangerous threats.
CryptoGuard: Ransomware is among the most costly cyberattacks. Criminals block access to your own data unless you pay a ransom. Sophos Intercept X monitors for the encryption processes that attempt to hijack your data and stops them using technology called CryptoGuard. CryptoGuard works in the background, tracking attempts to modify your files. It rolls back any files encrypted by the cyberattack to a safe state automatically.
Exploit prevention: Exploits take advantage of software vulnerabilities that lack an official fix. These zero-day attacks are hard to catch with traditional protection software. Intercept X looks for the tools and techniques used in such attacks, using Sophos web protection to stop browser-based exploits. In zero-day attack tests using nearly 400 real-world threat samples, Sophos Intercept X stopped 97.8%. This performance ranked below the industry average of 98.9%.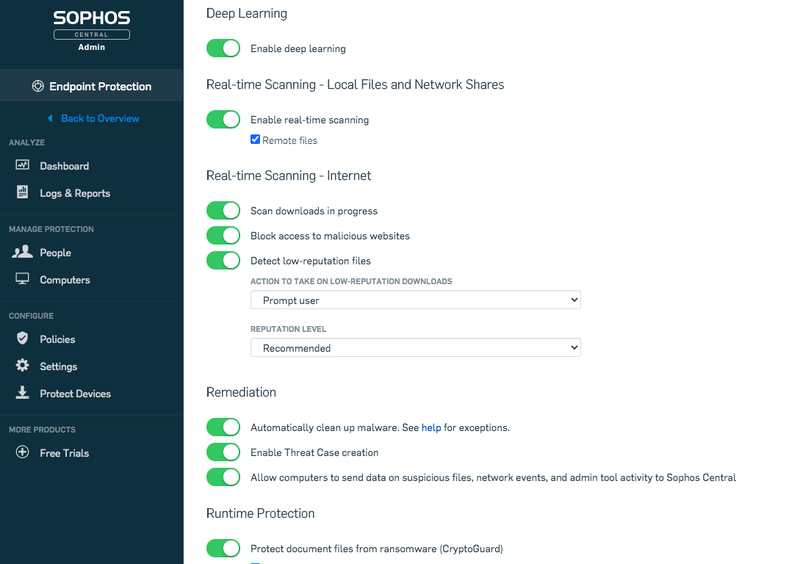 Sophos Intercept X's answer to ransomware is well designed and complete. Its ability to protect against zero-day attacks is imperfect, but to mitigate this difficult threat, Sophos offers endpoint detection and response.
EDR and managed threat response
Today's cyberattacks have evolved to the point where security solutions simply can't stop every attack. Some will breach your defenses.
Cybersecurity experts recommend preparing for this eventuality. Sophos understands this, and offers advanced threat detection and remediation capabilities, such as EDR, that complement its protection features.
The Threat Analysis Center is Sophos Intercept X's endpoint detection and response product. EDR is a security methodology using threat hunting, which identifies attacks that slipped through defenses and are silently invading your network.
The Threat Analysis Center breaks down where the threat originated, and maps out its attack chain. It also suggests next steps, helping you quickly isolate compromised endpoints to stop an attack from spreading.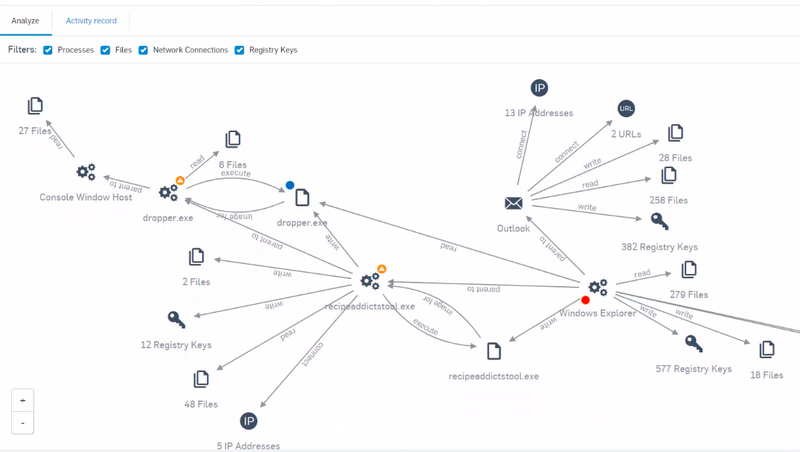 If your IT team isn't experienced in EDR or lacks a security operations center (SOC), you can outsource IT security to Sophos through its managed threat response (MTR) service. With MTR, Sophos security experts provide 24-hour monitoring and hunt for and respond to threats on your behalf.
EDR and MTR are add-on services. Sophos has done an excellent job seamlessly integrating them into the core Intercept X product.
Central console
The platform comes with Sophos Central, a web-based console centralizing all endpoint security capabilities into one interface. Set security policies, alerts, and other configurations from a single location.
Sophos offers an extensive collection of security products, and they're all managed through Sophos Central. The ability to oversee additional Sophos products through a single console is convenient, and it makes Sophos Central a complete tool for your security needs.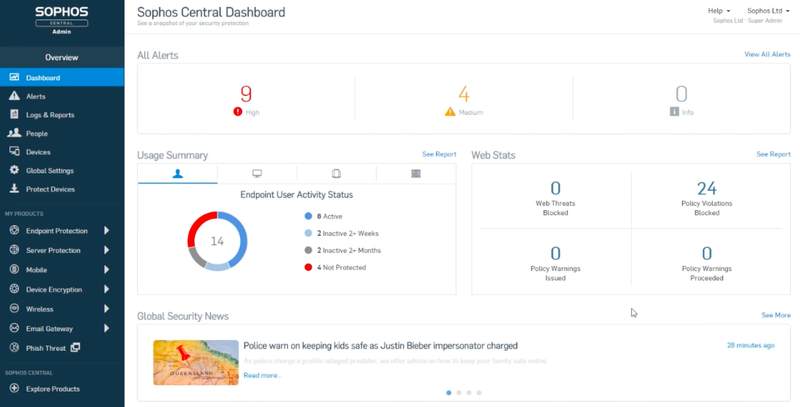 It provides separate dashboards for the company's diverse products. These dashboards include graphs and alerts detailing the status of your network. One nice touch is a stream of security-related news headlines at the bottom of the Sophos Central homepage.
At the same time, housing all products under a single interface means it's dense. Pages of settings make it challenging to find what you're looking for, adding to the platform's hefty learning curve.
Reporting and analytics
Sophos Intercept X delivers excellent solutions when it comes to reporting and security analytics. Its combination of a dashboard, logs, and reports covers the most common business needs for in-depth security insights.
These analytics help IT teams monitor the health of your network and create greater effectiveness in identifying security issues. Use the reports to proactively flag security flaws, such as unprotected endpoints, before an attack strikes. When a threat breaks through, you can understand how it happened and the damage done.
Some reports include scheduling abilities. You can schedule a frequently reviewed report to regularly appear in your inbox automatically. This feature is useful, but isn't available for every report.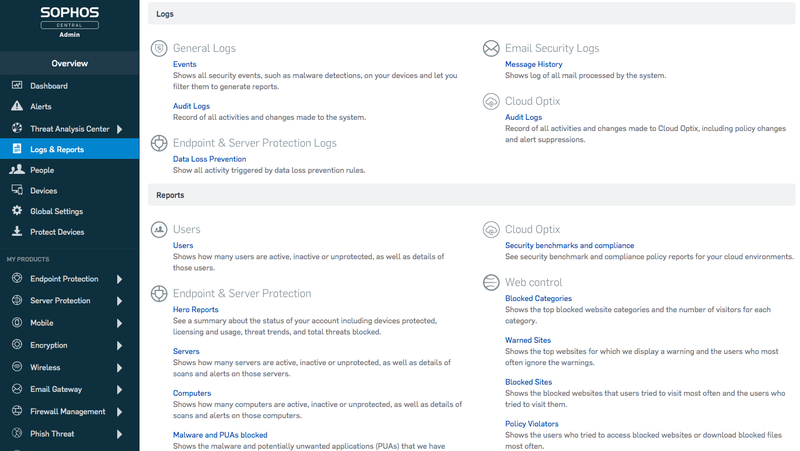 Because Sophos Intercept X consolidates many security solutions under one interface, it features multiple dashboards highlighting product-specific security items. This approach takes time to get used to, and you'll have to figure out a process for how best to integrate this disparate information into your workflows.
---
Sophos Intercept X Endpoint's ease of use
Several strengths contribute to Sophos Intercept X's ease of use.
Getting started: It begins with installation. Sophos provides many options to set up its security based on your company's needs. Log into Sophos Central through your web browser to download Intercept X's software agent onto endpoints. If you have a large number of endpoints, you can send an email link for users to perform the install, or use computer scripts to automatically install the agent through tools such as Microsoft Intune. Other options are available for server and virtual machine setup.
Convenient help access: Sophos portal provides a good deal of help content, including an online self-serve knowledge base with articles and how-to video walkthroughs. The platform conveniently links you to relevant help content directly within Sophos Central.
Intuitive interface: The Sophos Central interface is intuitive and clearly labels the platform's various features. This makes navigation simple and quick when jumping between functionality from endpoint protection to email security management.
Sophos Intercept X also includes a few ease-of-use challenges.
Learning curve: While Sophos Central is a straightforward security console, its depth of features means you have a lot to learn to master the platform. At first, you're overwhelmed by all the options at your fingertips, creating an appreciable learning curve. For instance, many products within Sophos Central come with separate dashboards, and you'll have to figure out how best to use them.
Finding content: The numerous products, settings, and functionality make it hard to find a specific component until you get familiar with the system. You'll spend time bouncing around different screens in the beginning.
Finding help: Similarly, the self-serve help portal's vast content makes it time-consuming to find answers. The search functionality can return pages of results that you have to sift through, compounding the learning curve as you get up to speed. While Sophos Central generally does a good job linking you to help articles related to where you're at in the interface, it doesn't always work seamlessly.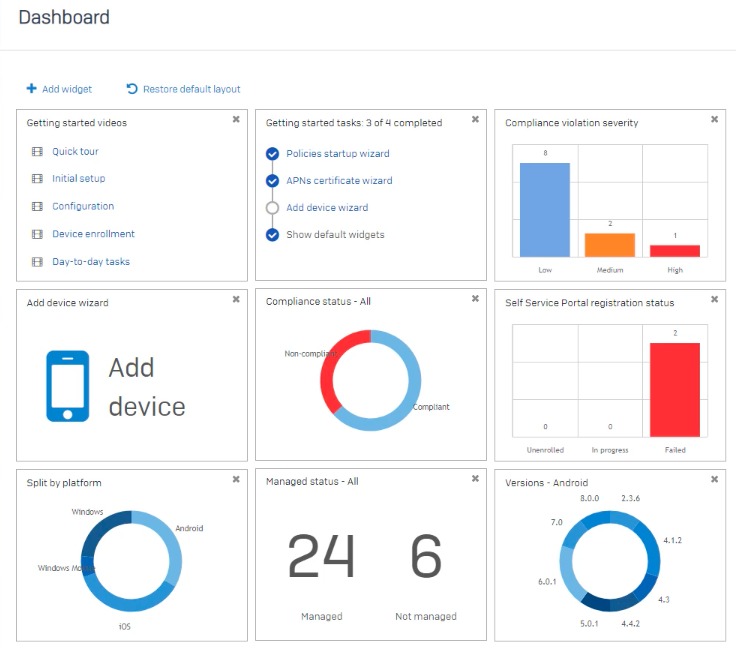 ---
Sophos Intercept X Endpoint's pricing
Sophos pricing varies depending on the features you choose and the number of endpoints you're protecting. You purchase the product through partners, and Sophos can connect you to the ones in your area.
To give you some sense of cost, here's an example. The Intercept X endpoint protection product for a minimum of 500 users with a 36-month contract costs $28/year, per user.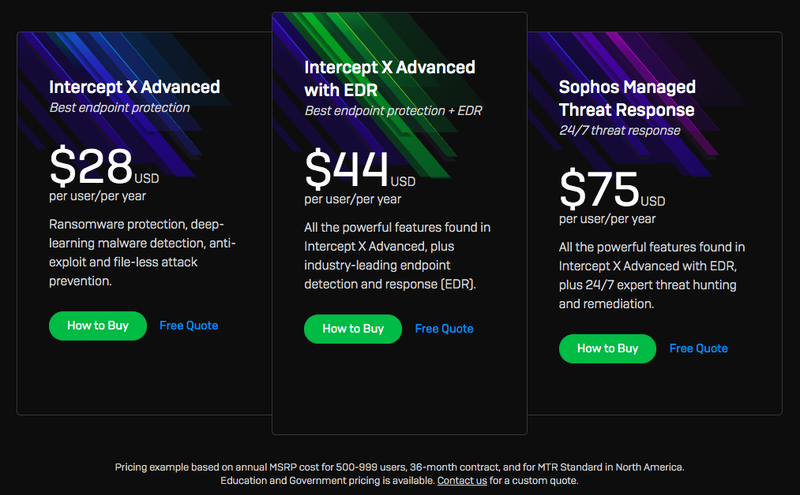 This per-user cost is on par with competitor solutions, but the required minimum endpoint is substantially higher. Several rivals ask for a mere five endpoints to get started.
Some Sophos partners sell Intercept X for an annual subscription price in the range of $54 to $68/user for 100 or fewer endpoints. Because pricing is dependent on your unique situation, you'll want to talk to a Sophos partner to get an accurate quote.
---
Sophos Intercept X Endpoint's support
Sophos delivers a robust support system. The company provides 24/7 phone support. The support team is independently audited to ensure they meet service standards.
Sophos offers common industry help options such as an online knowledge base, chat support, a community forum, and an IT ticketing system to submit your help request. The knowledge base houses a ton of content, but that also makes it difficult to find what you're looking for. Sophos supplies training programs and webinars as well.
Enhanced support options are available at an additional cost. These include consulting services and a dedicated technical account manager.
---
Benefits of Sophos Intercept X Endpoint
The multi-layer security provided through Sophos endpoint protection is one of the key Intercept X benefits. It effectively stops malware and other threats while maintaining a low false-positive rate, ensuring staff can perform work uninterrupted. Threats are bound to get through eventually though, so offering EDR features adds to a well-rounded security solution.
Sophos Intercept X seamlessly integrates its broad offerings into its Sophos Central console. Users don't have to log into multiple tools. Sophos Central provides a single place from which to oversee all aspects of your company's security, from endpoints to firewalls and beyond.
Sophos has built products to meet a diverse range of business security needs. Intercept X is so feature rich, it's likely to meet your company's protection requirements. And if you'd rather Sophos handle your security, that option is available as well through its managed threat response (MTR) service.
The company's offerings don't stop with Sophos Intercept X. As your business needs evolve, you can choose additional security products, such as phishing training for employees. This allows you to run simulations by sending them phishing emails to evaluate their security awareness.
---
A feature-rich security system
Companies will find a lot to like in Sophos Intercept X. It contains so many impressive security capabilities, it's impossible to touch on them all here.
Sophos Intercept X delivers a comprehensive security approach. The platform offers so much, you can get lost in the options. It will take time to master.
Besides the learning curve, a challenge lies in Sophos Intercept X's performance against zero-day threats compared to the industry average. Its EDR features compensate for this, and EDR adoption is important regardless of the platform you choose since no security product will stop all threats.
Overall, Sophos Intercept X is a solid, well-rounded security solution. IT teams will find flexibility and potency implementing corporate security thanks to the platform's vast options.
---
Frequently Asked Questions for Sophos Intercept X Endpoint
Does Sophos offer a free version?
Sophos provides a 30-day free trial of its many protection products, including Sophos Intercept X and EDR solutions. Aside from the trial, no free version exists.
The company offers a handful of free security tools. These include malware removal software for Windows PCs and a mobile app that monitors network connections for suspicious activity.
What is Sophos Intercept X for mobile?
The Sophos Intercept X platform supports protection for Android and Apple iOS mobile devices. You'll have to subscribe to the applicable Sophos solution, and for Apple devices, set up an APN (Apple Push Notification) certificate.
Sophos also offers a separate mobile app containing some security features, such as password management. This free version doesn't include Sophos antivirus protection or other cyber-related threat solutions that require a subscription.
How is Sophos Central Endpoint different from Intercept X?
Prior to the introduction of Intercept X, Sophos offered Central Endpoint as its primary endpoint protection solution. As an older product, it doesn't include deep learning AI, CryptoGuard, and many other protection features that make Intercept X a complete and effective security solution.

Sophos Intercept X has a lot to offer. The best way to experience this comprehensive platform is to take it for a test drive. Use its free trial to experience a spectrum of products from endpoint security to device encryption and protection for your cloud-based infrastructure.
Sophos Intercept X has a lot to offer. The best way to experience this comprehensive platform is to take it for a test drive. Use its free trial to experience a spectrum of products from endpoint security to device encryption and protection for your cloud-based infrastructure.
---
How Sophos Intercept X Endpoint Compares