While Squarespace is available to someone looking to create a site of any kind, Squarespace Commerce is focused on the online selling niche as its unique offering. It casts its net wide to serve the large user base with Squarespace's array of design options and e-commerce tools and features.
Just like with its non e-commerce builder entity, the process of creating your online store is user friendly, and the aesthetics of the finished product leave you with a professional-looking site.
Squarespace Commerce is very focused on being a good e-commerce builder, so using it is the opposite of a headache, and you're assured of a good looking, functional site, even if web building isn't your strong suit. Customizing is intuitive; inventory management is intuitive, and your can easily highlight your products.
---
Who is Squarespace Commerce for?
This particular e-commerce software is honestly well-suited across industries. There are so many real-world Squarespace Commerce examples, as over 100,000 sites are currently using Squarespace e-commerce tools and features.
This platform is built to adapt to almost all businesses and to scale and flex with growth. Almost anyone who is looking to launch an online business (or grow online sales) is a good candidate for Squarespace Commerce.
This platform really lets your e-commerce website shine if you are looking for an option to showcase your products in an artistic, streamlined way. If your inventory truly is the center of your business world, this system will show them off with its professional, sleek visuals.
---
Squarespace Commerce's features
While not bursting at the seams with integrations, Squarespace e-commerce approach to features is the same as its approach to the system as a whole: it values quality and efficiency, with e-commerce features designed to heighten your sales experience and your store's visual appeal.
Templates and designs
If there's one thing this system is known for, it's those Squarespace Commerce templates. Once you figure out what your online store will be selling, whether you are a fashion brand, a tech reseller, a florist, etc., you are presented with an array of super stylish, professional-looking options.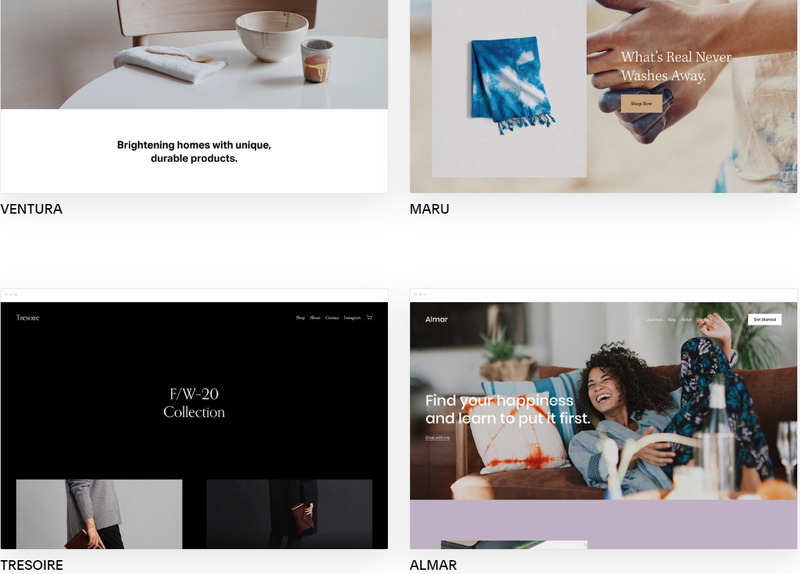 Seriously, one of the main reasons people flock to Squarespace e-commerce tools and features is because of how sharp they can make an online store look. And as we all know, perception is everything. Customers who see a secure online storefront will feel more comfortable purchasing from a store that looks professional, and they'll spend more time browsing options.
Squarespace's templates come already loaded with a products page, so all you have to do is upload your inventory info.
Customization
And it doesn't just stop with pre-designed, professional templates. From that framework, you can customize your whole site to reflect your business better. From color palettes to font consistency, call-to-action buttons to logos, and even margins, you have a lot of creative control within each template.
Inventory management
Any good CMS built for e-commerce should make it easy for you to manage your products. Squarespace lets you organize your inventory, browse by and alter pricing, keep track of pars, monitor ordering trends, and much more.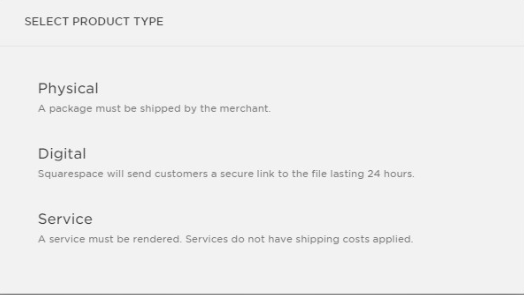 Selecting your type of product is even easy. Whether you're selling a physical product, a digital download, or booking a service, you can advertise and sell accurately.
Automated order emailing
Keeping your customers looped in and managing communications with them is a big part of the sales process. Squarespace's e-commerce features and capabilities allow you to set up automatic emails along the customer journey. From one hub, you can have order confirmation emails go out immediately following a purchase, tracking numbers sent out, and shipping updates sent.
When customers feel communicated with, they are more likely to interact with your store again. And, when you don't have to remember to send out a "thank you for your purchase" individually, you are free to do more with your time.
Marketing email
Squarespace Commerce also gives you a leg up on non-order adjacent emails by being automatically set up with a Mailchimp integration, so you can send newsletters and alerts to subscribers, keeping them connected with your brand even if they haven't shopped in a while.
Automated sales tax
Sales tax, as you know, varies widely from state to state and trying to crunch the different percentage numbers yourself can be a chore. Squarespace Commerce gives you the power to set up rules for states, countries, ZIP codes, etc. It will automatically ensure you are compliant with and accurately account for different regions.
Offline integration
Squarespace Commerce integrates with Square, allowing you to keep your online and brick and mortar sales worlds connected. You can make offline sales that will automatically sync with your online inventory through Square.
Social media
Social media selling is a big part of maintaining brand activity, and interacting with customers on said social media directly impacts their perception of you. Squarespace Commerce lets you integrate and link your social media profiles, as well as create and cross promote content from your site to your social media pages.
SEO
Right from the start, SEO features are built-in, increasing your search visibility. Squarespace also provides a handy SEO checklist to help you get started.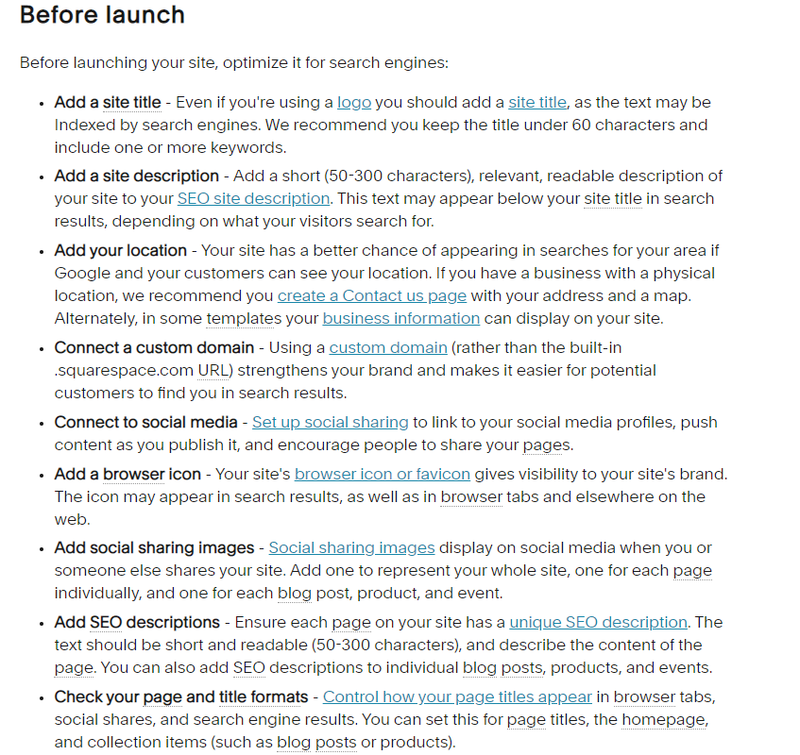 ---
Squarespace Commerce's ease of use
I personally find Squarespace Commerce to be a smart tool. It's not a drag and drop solution, but the navigation and instructions are quite clear. You can define your business industry, so you are building an aesthetically strategic site, for one. And the toolbar and instructions are laid out sequentially and are simple enough to understand.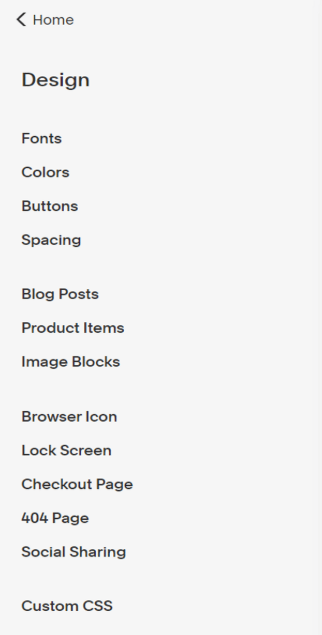 Even the most "complicated" toolbar, the Design one, only looks a little intimidating at first glance because there are so many options. But having your tools broken down into sections like that means each one is easier to use and more specific.
You can also easily copy pages so that you're working smarter, not harder.
Everything in Squarespace Commerce is clearly labeled and easy to follow: you simply click and type for the most part.
---
Squarespace Commerce's pricing
To get your Squarespace online store up and running, you'll need to choose either a Basic or an Advanced plan, costing either $26 or $40 monthly.
In the grand scheme of things, it's not too expensive. And, while not a free option, you also have many things included you would have to pay for elsewhere (domain, secure payments, SEO, hosting, and much more).
The Basic plan is pretty comprehensive, too, and covers individual customer accounts, website analytics, inventory and tax tools, shipping integrations, etc.
The Advanced plan allows you to send more detailed automation emails along various touchpoints, and offer unique discounts and subscription payments.
---
Squarespace Commerce's support
Squarespace Commerce has multiple avenues of assistance available. You can contact them 24 hours a day, 7 days a week via email or Twitter, and their reliable live chat is active Monday through Friday from 4a.m. to 8p.m. EST. In my experience, they have been fast to respond over live chat.
They do not have a phone support option, but in my opinion, that's totally fine. Live chat lets me spell out my problems more clearly, and there's no chance of my selectively in-and-out hearing causing me to miss something important. Plus, the visual aids of live chat are more valuable to me.
They also offer videos and guides, allowing you to be well-educated on problem-solving and never feel lost at sea.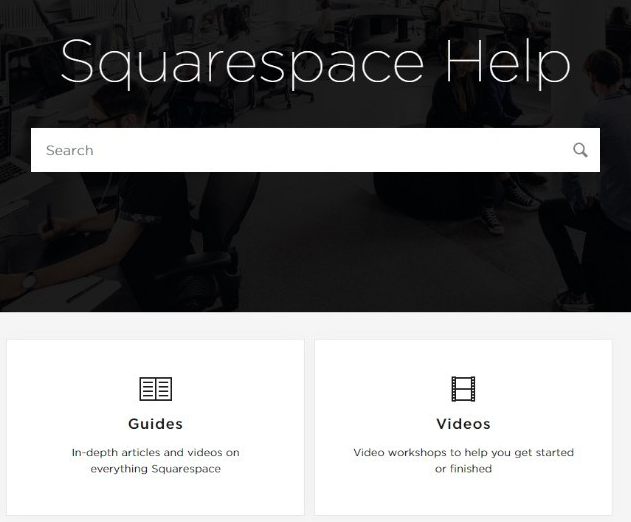 ---
Benefits of Squarespace Commerce
Running a Squarespace shop means you are working with the help of niche efficiency. There's not necessarily hand-holding, but you are guided throughout the entire process of creating a site that best matches your needs.
From the very start, you're even prompted to tell them what your industry is so you can be assured of a website theme to match.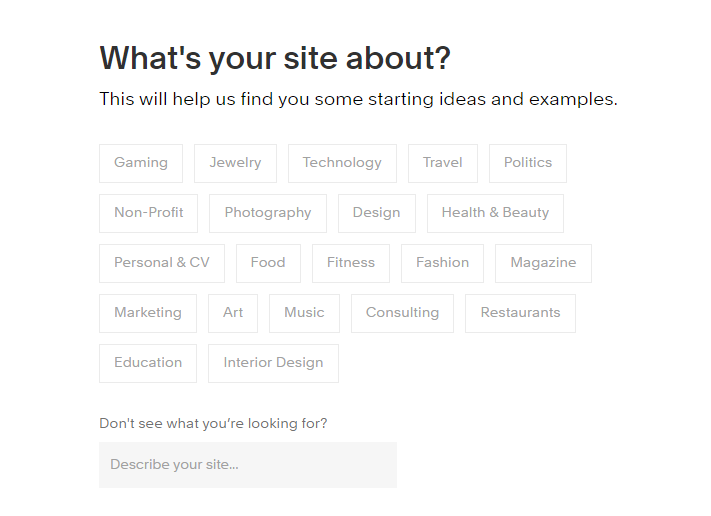 From there, you can select business goals, tell them how far along your business is, and narrow your top pick. You are assured your store will look world-class.
You also get access to significant inventory and shipping management tools, SEO help, marketing email integrations, etc., all without having to really learn any new systems. From one hub, you can cover a lot of ground.
---
Squarespace Commerce makes setting up shop easy
It's not hard software to learn, and you get winning results. Whether you are just starting your business or you want to up your game in the online sales world. Setting up is easy, and so is publishing and selling.
For as little as $26 a month, you can have a very professional online shopfront.
---
Frequently Asked Questions
Is there a limit to the number of products you can list?
Squarespace Commerce offers unlimited products for each plan, so you don't have to put a cap on what you sell. Whatever your inventory size, you can list it all.
Is Squarespace Commerce secure?
All store domains come with free Secure Sockets Layer (SSL) protection, meaning you should see your URL start with "https." This layer of security keeps your visitors' information secure, especially sensitive payment data.
Is there support available?
Yes. As Squarespace is not an open-source option, there are customer support reps available by email 24/7 and via live chat during the week.

Looking to create an online store and already a fan of Squarespace? Upgrade to Squarespace Commerce to fulfill your e-commerce needs.
Looking to create an online store and already a fan of Squarespace? Upgrade to Squarespace Commerce to fulfill your e-commerce needs.
---
How Squarespace Commerce Compares
The Motley Fool has a Disclosure Policy. The Author and/or The Motley Fool may have an interest in companies mentioned.