PayPal Here is a powerful mobile payment processing solution ideal for businesses that need to collect payments from any location. Stripe Payments is a web-based point-of-sale (POS) solution that can seamlessly integrate with your existing website and applications.
While both can provide an outstanding payment system for your small business, they offer very different feature sets and capabilities. This side-by-side comparison will help you choose the best solution for your small business. For more details on each system, be sure to check out our full PayPal Here and Stripe reviews.
---
Stripe vs. PayPal Here: An overview
PayPal is the granddaddy of payment processors, and it's a safe bet for any small business. But if you're looking for PayPal alternatives, Stripe is a great contender. Stripe is like PayPal's scrappy, hipster nephew — open source, generous with its patches and projects, and a darling of hard-core coders.
So which is the best choice for your small business? Here's an overview of their respective strengths and shortcomings to find the best fit for your needs.
Whom is Stripe for?
Stripe is an ideal tool for businesses with development expertise. It flawlessly integrates with your existing systems and applications via an application programming interface (API) to provide a branded purchase experience and advanced sales management capabilities.
Stripe's payment processing is a favorite of web developers because of its powerful tools and pre-built integrations. With sufficient development skills, you can create a customized checkout that seamlessly integrates on the backend with systems such as Shopify, NetSuite, and WooCommerce.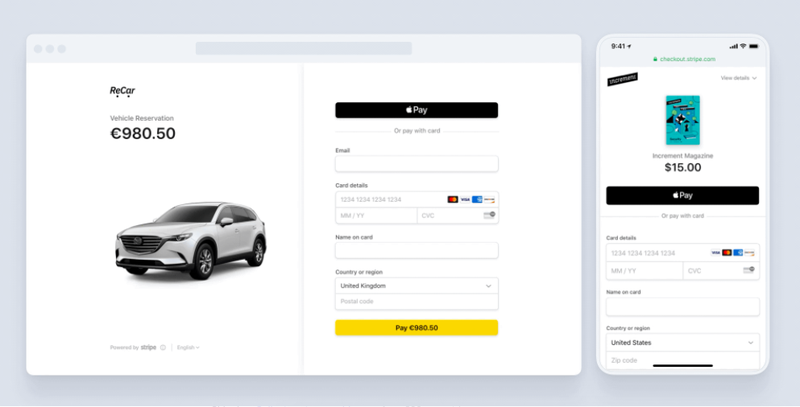 Whom is PayPal Here for?
PayPal Here is designed for businesses that need to be able to process payment cards anywhere. The mobile payment processor includes a selection of PayPal card readers as well as a full suite of POS solutions for managing inventory, sales, employees, and customers.
Paypal Here is well-suited for any small business that needs a comprehensive, out-of-the-box solution for selling in-store and off-site via a POS terminal.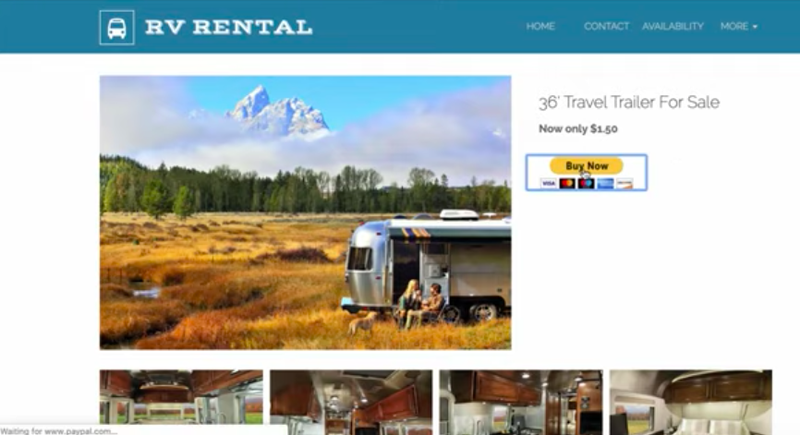 ---
Stripe vs. PayPal Here: Features
Each payment solution offers different features for your small business.
What Stripe offers
Stripe provides an advanced set of features for online and mobile payment processing, including:
Online payments integrated with your existing website and ecommerce solution
A customizable, branded checkout experience for your customers
Customizable in-person payment processing through Stripe Terminal
Fleet management tools to let you remotely manage and track card readers
State-of-the-art fraud protection powered by artificial intelligence (AI)
Advanced back-end tools for managing billing, invoicing, and subscriptions
Reporting and analytics available through customizable dashboards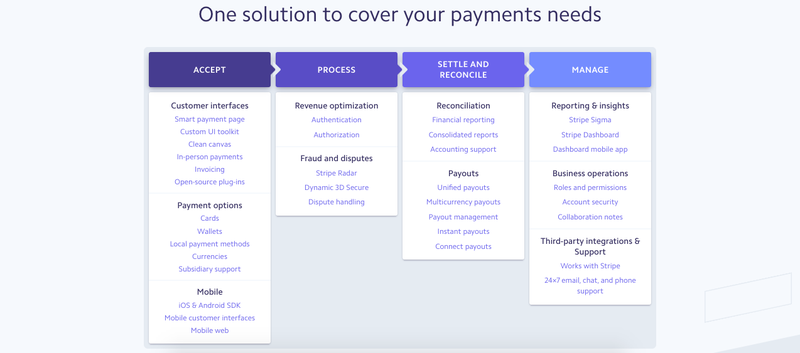 What PayPal Here offers
PayPal's virtual terminal offers easy, fast payment processing via any mobile device, along with access to a suite of business solutions via a PayPal business account. Its features include:
Payment processing features, including magnetic stripe and chip cards, plus mobile payment apps such as Apple Pay
Card readers with Bluetooth connectivity
Automated invoicing
Quick, easy setup of online payments through a PayPal button on your website
Tools for managing inventory, customers, and employees
Customizable user permissions for issuing refunds, changing prices, and other discretionary tasks
Performance analytics with sales dashboards and reports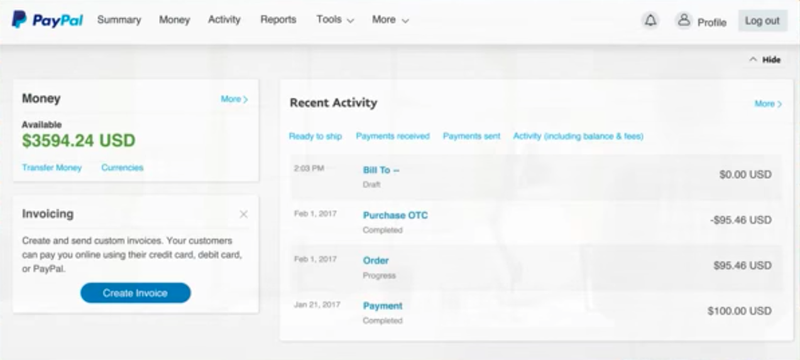 Results
While PayPal Here comes packaged with an array of ready-to-use features, Stripe has a richer, more customizable set of tools to work with. If you have in-house development skills, Stripe has the advantage in flexibility, capability, and functionality.
---
Stripe vs. PayPal Here: Support
Support is critical for getting your business up and running faster and helping you take full advantage of your payment system's potential. So how do PayPal and Stripe compare when you have problems or questions?
What Stripe offers
A comprehensive knowledge base with answers to frequently asked questions
Extensive, detailed documentation
24/7 support via chat, email, and phone
Technical support via internet relay chat (IRC)
Sample projects you can adapt to your needs
What PayPal Here offers
PayPal Here's support is built around a help center with:
A community forum for asking questions and searching common issues
A resolution center for submitting and resolving support requests
Support via PayPal live chat, email, and text message
Available phone support
Results
PayPal's customer service edges out Stripe. With its fully furnished help center, resolution center, and numerous avenues for reaching support staff, you have plenty of options for getting answers and resolving issues.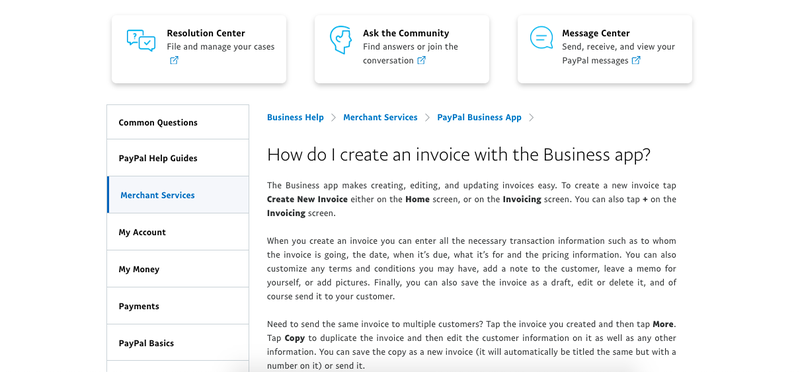 ---
Stripe vs. PayPal Here: Ease of use
Ease of use is a major differentiator between PayPal Here and Stripe, but which is easier for you depends on the resources you have on hand and what you're trying to do with your systems.
What Stripe offers
Stripe offers a ready-made embeddable checkout form for your website, or you can create your own form using Stripe's pre-built components. Stripe Terminal, Stripe's POS solution, comes with user-friendly software development kits (SDKs), pre-certified card readers, and tools for managing it all through your Stripe dashboard. Stripe promises to get you up and running in as little as 10 minutes.
If you have coding experience or access to web development resources, Stripe provides a branded, user-friendly buying experience for your customers and exceptional backend flexibility and functionality for managing sales. But you need that basic comfort level in coding to make it all work for you.
What PayPal Here offers
PayPal Here is simple to set up and run regardless of your coding abilities or familiarity with payment systems. Getting started with on-site and mobile payments is as simple as downloading the app and ordering your choice of card readers. For online payments, you can add a PayPal button to your website by copying and pasting a few lines of code.
If you're looking for a quick, direct route to taking credit card payments from any location, PayPal Here is a great choice.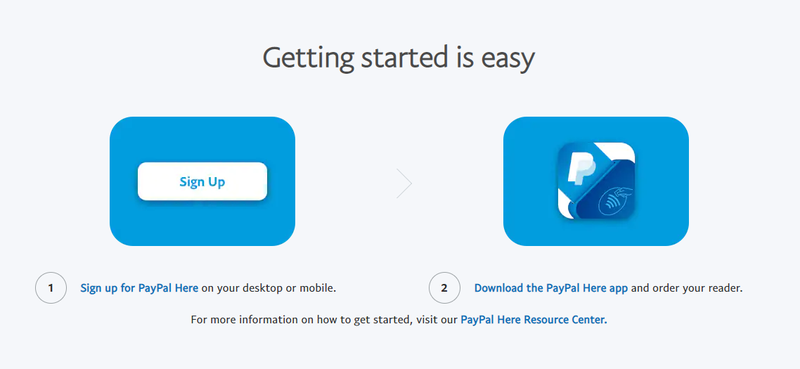 Results
This one's a toss-up because it really depends on your goals and capabilities. PayPal Here is easier if you want a plug-and-play solution to all of your payment processing needs. It's time-tested, quick, simple, and familiar to users around the world.
If you have coding expertise, however, Stripe makes it easy to integrate the checkout experience into your website and connect it with your existing systems and applications. The result is total control over your brand, your sales, and your customer relationships.
---
Stripe vs. PayPal Here: Pricing
Fees across the payment processing industry are pretty standard, but there are some minor differences between PayPal Here and Stripe.
What Stripe offers
Stripe charges a processing fee of 2.7% + $0.05 for in-person card payments and 2.9% + $0.30 for transactions made online or via digital wallets. Stripe adds a 1% surcharge for international cards and currency conversions. For micropayments of less than $10, Stripe fees are 5% + $0.10.
Volume discounts are available for businesses with monthly sales of $80,000 or more.
Stripe also offers a discounted nonprofit fee of 2.2% + $0.30 and waives fees on the first $15,000 of sales volume.
Stripe's chargeback fee is $15 for lost disputes. The company also offers optional chargeback protection at a cost of 0.4% per transaction.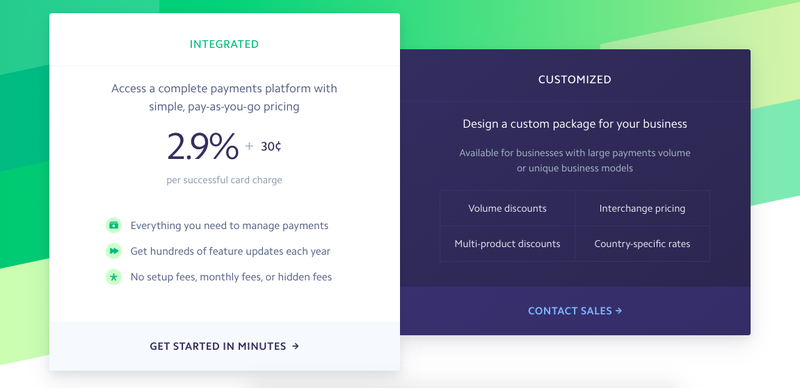 What PayPal Here offers
PayPal's transaction fees are 2.7% for card swipe or insert transactions within the U.S. and 3.5% + $0.15 for keyed-in transactions. Online payments and invoices cost 2.9% + $0.30 per transaction. International transactions are subject to an additional 1.5% fee. If you qualify for micropayments through PayPal, fees are 5.0% + $0.05.
PayPal Here also offers a reduced nonprofit fee of 2.2%, plus a fixed fee based on the currency.
PayPal's chargeback fee is $20.
Results
It's a close call, but with the lower charges for keyed entry, international transactions, and chargebacks, Stripe wins on pricing.
---
Stripe vs. PayPal Here: Integration with other software
Solid integrations can be a real selling point for any software solution you may be considering. If you can't fit a software into your workflow, it won't add much value to your business.
What Stripe offers
Stripe offers pre-built integrations with more than 450 partners. These include:
E-commerce platforms such as WooCommerce, Drupal, Magento, and Squarespace
Apps for billing and subscriptions, including SuperPay, MoonClerk, ChargeKeep, and GivingTools
APIs with accounting systems such as Zoho Books, Xero, Leapfin, and Namu
In-person payment systems including Savvi, TipTapGo, Twilio, and Blackthorn Payments
Customer relations management through LinkMink, Beacon CRM, ListBuilder, and DepositFix
What PayPal Here offers
PayPal also has a partner network with PayPal built in. These include:
Site builders such as Wix, BigCommerce, and SquareSpace
Ecommerce solutions, including Magento, Mica, and WooCommerce
POS solutions via LAVU and Vend
Online marketplaces, including eBay, e-junkie, and Swappa
Results
An industry leader in payment system integrations, Stripe runs away with this category. It provides true integration with a host of systems to let you create a comprehensive, custom sales solution on your site, in your store, and on the road.
---
How They Compare: Stripe vs. PayPal Here
| | Stripe | PayPal |
| --- | --- | --- |
| Robust Integrations | | |
| Advanced POS capabilities | | |
| Choice of card readers with Bluetooth | | |
| Subscription invoicing | | |
| Advanced sales, inventory, and customer management | | |
| Free embeddable checkout | | |
| Custom SQL reporting | | |
---
The winner? Consider your goals
Stripe is a favorite of web developers with good reason. It has all the tools you need to build a powerful, customizable system for managing sales and customer relations that can grow with your company no matter how big or complex your business becomes.
If you have the developer resources, and if you want to be able to manage all aspects of sales and customer relations from end to end, Stripe is the system for you. Stripe gives you greater control, visibility, and flexibility in all aspects of sales.
If you're not interested in delving into all that, and you just need an out-of-the-box payment solution to plug into your website and take on the road, PayPal Here might be the better choice. It's fast, simple, and familiar, with a range of basic tools to get you up and running immediately.