When researching the best POS solutions on the market, you're bound to come across Stripe and Square.
While both are well-known tools, their business models, target market, and typical buyer personas are, in ways, worlds apart.
This article will help you understand the key differences and comparisons between the two solutions to help you make the right POS choice for your business.
---
Stripe vs. Square: An overview
Stripe is a white-label, web-based solution aimed at e-commerce businesses looking for a payment-processing option, while its in-person POS solution was launched only in late 2018.
Square is primarily a free mobile POS app that helps merchants process card payments. However, Square also offers many typical POS features, such as inventory management, sales analytics, and customer loyalty. Square offers two separate POS solutions: Square for Retail and Square for Restaurants, each offering industry-specific features.
Who is Stripe for?
Stripe is aimed at businesses that have a developer, or a team of developers, as it requires experienced coders to set up. It's also an excellent choice for businesses looking for a solution that offers nearly universal payment options.
For developers, Stripe's APIs are easy to operate and have a very good reputation for the website and payment integration they provide.
Though Stripe does support in-person payment processing, the solution really excels in online payment processing.
Who is Square for?
Square is geared toward small and midsize businesses, and also makes sense for new businesses with smaller budgets available for POS software investments. The Square retail app is free to use, and users aren't required to invest in any proprietary hardware.
Square offers a low-cost option for a large range of business types, including coffee shops, boutiques, restaurants, and farmer's market vendors.
For those interested in using Square's POS hardware too, Square offers proprietary POS terminals, receipt printers, barcode scanners, card readers, cash drawers, and more.
---
Stripe vs. Square: Features
Stripe and Square offer very different yet almost equally powerful features for their target users. Let's drill down into what kind of features both tools offer.
What Stripe offers
Stripe's not your typical POS, and it doesn't offer your typical POS features. Below, we'll go through some of Stripe's most interesting and powerful features.
Near-universal payment options
Stripe's payment platform offers a huge range of payment options, including simple credit and debit transactions, ACH payments, and Microsoft Pay, and it works with more than 100 currencies.
Its two main API solutions, Stripe Checkout and Stripe Elements, integrate into your existing website, providing customers with a seamless checkout experience.
Fraud protection
Stripe also offers fraud protection services, known as Stripe Radar, powered by machine learning and included in Stripe's normal transaction fee pricing.
The solution detects fraudulent payments by scoring transactions based on multiple signals and data points and also provides manual tools to help users coordinate their own optimized fraud strategy.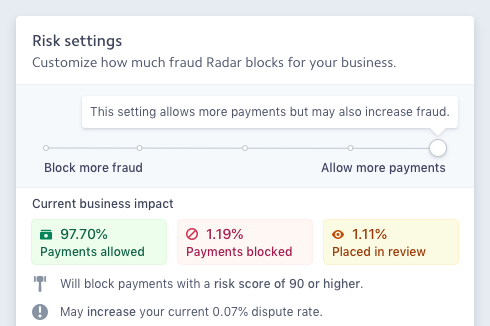 Other Stripe features include:
Stripe Atlas: A "tool kit" to help users form their internet-based business in the United States.
Stripe Billing: Helps users create and send custom invoices and request payment from customers.
Stripe Sources: Allows users to accept payment methods from anywhere in the world with a single integration.
Stripe Sigma: Offers customizable financial and built-in reporting.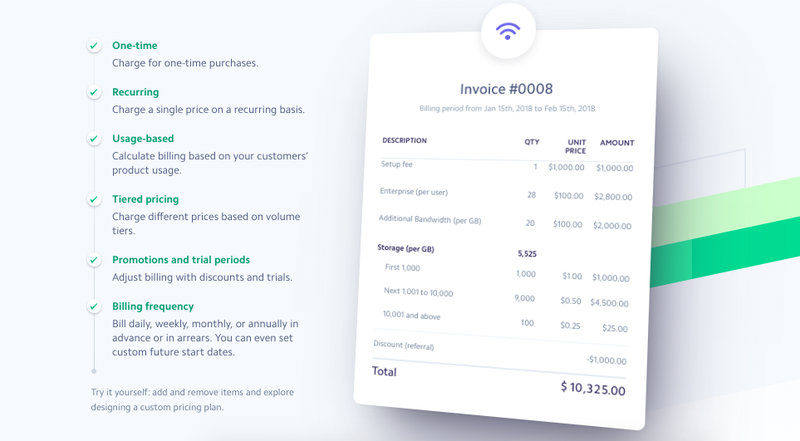 What Square offers
For a free POS app, Square offers an excellent range of features. Below, we go through some of its most notable attributes.
Dashboard
The Square dashboard acts as a central hub for users. From here, users can manage all their business operations related to sales, customers, and employees. Far from being an out-of-the-box feature, the dashboard can be customized to suit each business's needs. Using drag-and-drop, users can add or remove specific widgets and organize them as they see fit.
Inventory management
Though Square's POS inventory management feature isn't as robust as some of its competitors, especially those favored by larger businesses, the feature is powerful for a free app. Users can import existing stock using a CSV spreadsheet, adjust stock levels, sync their online and in-store inventory, and set up low-stock alerts.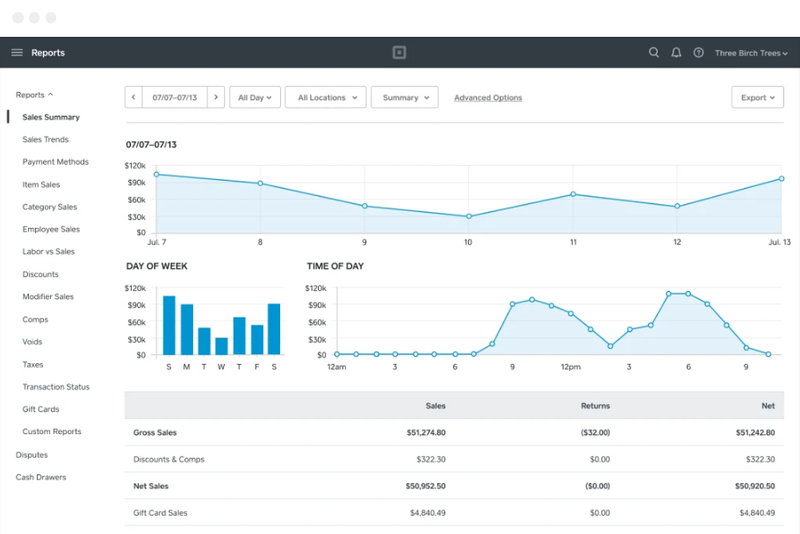 Other useful and intuitive features include:
Sales analytics
Offline payments mode (including credit card processing)
Advanced POS reporting
Multi-location management
Customer management
Results
It really depends on what kind of payment-processing solution you're looking for, but in terms of number and depth of features, Stripe wins this round.
---
Stripe vs. Square: Support
It's crucial to factor customer support options into your software choice. Let's take a look at how Stripe and Square stack up in this category.
What Stripe offers
Stripe's customer service offering is very decent. The solution offers 24/7 support via email, live chat, and phone, and also a large catalog of support articles. Users can also access resources on API references and client and server libraries.
Additionally, Stripe developers answer queries via live chats in #freenode, which is a peer-driven project center for members to discuss and share ideas about open-source solutions.
Stripe's YouTube channel also hosts many developer tutorials.
What Square offers
Square is a great tool, but we were disappointed with its customer support options.
Users have access to an online knowledge base of troubleshooting articles, a community forum, email support, and phone support. However, phone support is available only from 6 a.m. to 6 p.m. PST, Monday through Friday. There is no live chat feature available, which distinguishes Square from many of its direct competitors.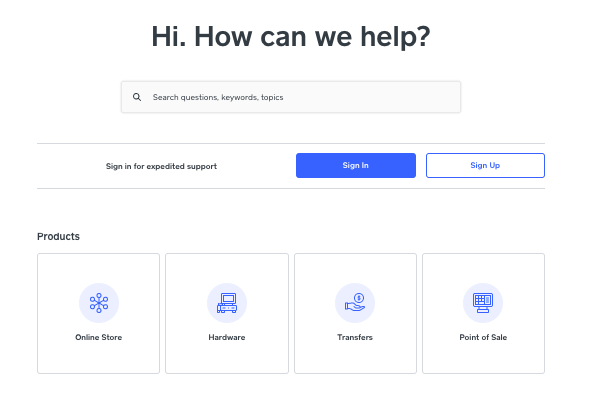 Results
Stripe takes this round for its 24/7 support and other tailored customer support options.
---
Stripe vs. Square: Ease of use
While Square is consistently lauded for its simple, straightforward approach to its POS solution, Stripe is a little more difficult to come to grips with.
What Stripe offers
Stripe is not just developer-friendly, but developer-first. Unless you are a developer or have developers on your team, Stripe will not be easy to use. It's a very complex system, unlike Square, where all of the features are pre-programmed for use.
However, user reviews (mainly written by developers) across the board rave about how intuitive and user-friendly Stripe is, and how many resources are available to developers, such as extensive API documentation and integration guides.
The Stripe app can also be used on both iOS and Android devices.
What Square offers
User reviews across the web rave about how Square is simple to use without forfeiting any of its effectiveness. Its highly customizable dashboard delights users looking to personalize their software: Users can add and remove as many widgets from the dashboard's main screen as they like.
Square is also pleasant to use. It is intuitive, quick, and responsive, and is visually attractive. Its interface is modern, clean, and uncluttered, and user reviews also indicate that onboarding is much quicker than they expected. This makes Square an ideal tool for those with little to no prior POS experience.
The system is available for both iOS and Android devices, and its huge range of available integrations makes it easy for users to incorporate all their software systems.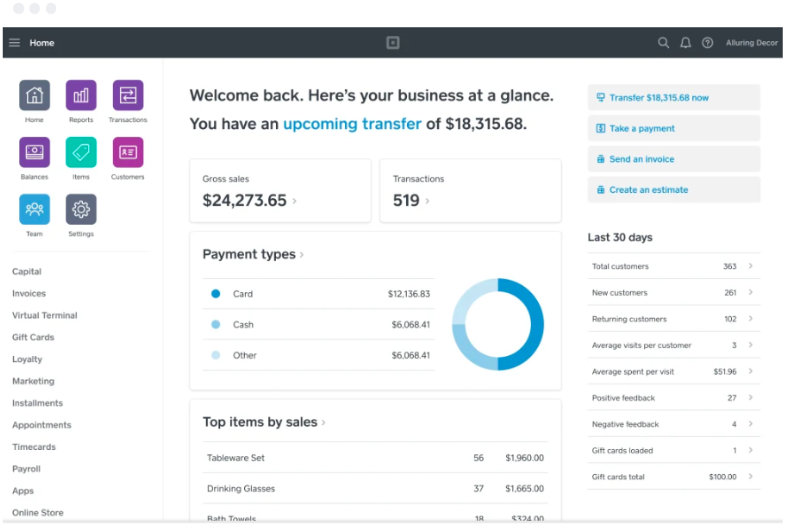 Results
This round's a tie. While Square is exceedingly easy for anyone to use, Stripe is also easy for developers to use. Judge this round on which makes sense for your business.
---
Stripe vs. Square: Pricing
Pricing is key in choosing a software solution. It's clear that while Stripe provides more payment options, when it comes to the price you'll pay, Square comes out on top.
What Stripe offers
Stripe operates on a pay-as-you-go basis, which means that users aren't charged any monthly fees.
Here's a breakdown of Stripe's payment processing fees:
Online transactions or invoices cost 2.9% + $0.30
Swiped, dipped, or tapped card transactions cost 2.7% + $0.05
ACH payments cost 0.8% transaction
Stripe also offers a customizable payment option for developers who want to integrate Stripe's APIs. The vendor provides negotiable rates based on volume, having multiple products in use, interchange pricing, and country-specific factors.
In terms of chargebacks, you'll be charged a $15 disputed-payment fee plus the initial payment amount.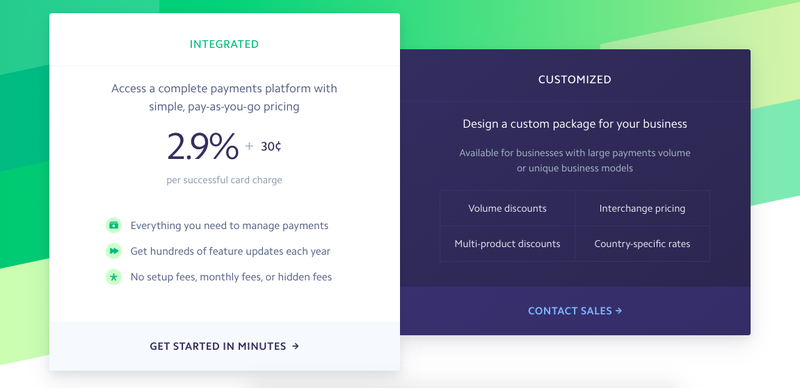 What Square offers
The Square app itself is free with no monthly fees, and you don't need to process a minimum amount of sales to use the solution. Square also throws in your first card reader for free.
Here's a quick breakdown of Square's credit card processing fees and more:
Normal transactions cost a flat rate of 2.6% + $0.10
Keyed transactions are charged at 3.5% + $0.15
Online transactions cost 2.9% + $0.30
Square also does not ding its users with chargeback fees.
Results
Though both solutions offer great pricing options, when it comes to Stripe fees vs. Square fees, Square edges ever so slightly ahead.
---
Stripe vs. Square: Integration with other software
Your POS and payment-processing system need to work well with any other systems you use to run your business. Stripe and Square both offer great integration options.
What Stripe offers
Stripe offers over 300 integrations, ranging from e-commerce platforms, accounting software, customer management solutions, shopping carts, and much more.
The solution also offers APIs and detailed instructions and documentation so users can create their own customized checkout solution for their e-commerce website.
What Square offers
Square's App Marketplace offers users a huge list of possible integrations. These include Wix, Mailchimp, Zoho Books, WooCommerce, Magento, and many more.
Users can also access Square's in-house integrations for payroll, marketing, and a loyalty program.
As Square is an omnichannel solution for businesses who want to sell via multiple channels, its extensive list of plug-and-play integrations without the need for any coding makes connecting multiple systems very easy for merchants.
Results
This round is a tie. Both solutions offer multiple yet different integration options that are suitable for their target markets.
---
How They Compare: Stripe vs. Square
| | Stripe | Square |
| --- | --- | --- |
| API | | |
| Live chat support | | |
| Reporting and analytics | | |
| Chargeback fees waived | | |
| Inventory management | | |
| Free mobile card reader | | |
| Multicurrency option | | |
---
Who wins? You decide
It's difficult to name a clear winner in the battle of Stripe vs. Square. Both tools support online and offline sales, but that's almost where the comparison ends.
Stripe is the obvious choice for those looking for a developer-friendly online payment-processing tool that can support international sales and high-volume online transactions. In fact, you should only use Stripe if you have a dedicated developer or team of developers able to support its implementation and use.
Square is an excellent choice for businesses looking for a simple yet powerful POS tool and all-in-one payment processor that can support their brick-and-mortar stores as well as online sales.
In summary, choosing between these two solutions really will depend on your business model. If you're interested in learning more about what Square is or what Stripe can do, check out our full reviews. You can also check out alternatives to both solutions, in our roundups of the best retail POS systems, and the best POS systems for restaurants.