If you're looking for CRM software, one name you can't miss is Salesforce CRM, the global behemoth that leases the largest skyscraper in San Francisco. But a bigger company doesn't always mean better results, so if you're not sure whether to pull the trigger on Salesforce, you might wonder what else is out there.
SugarCRM is one popular Salesforce alternative in the CRM world that is worth considering. The Silicon Valley-based software company has positioned itself as a "large business" CRM that benefits from stellar customer support and offers a lot of the advanced features some companies look for.
---
SugarCRM vs. Salesforce CRM: An overview
But how do you choose between SugarCRM and Salesforce? They both have great reputations in the CRM world and are used by many satisfied customers.
The trick is to break each one down according to what CRM features they have, the level of support they offer, and what kind of businesses might benefit from each solution.
Who is SugarCRM for?
SugarCRM is an open-source platform, which means it can be tweaked to fit your needs, and it has a robust community that can help your company out in this regard.
The platform is geared more toward enterprise-level businesses rather than small firms, because you'd need your own development team to get the most out of this solution.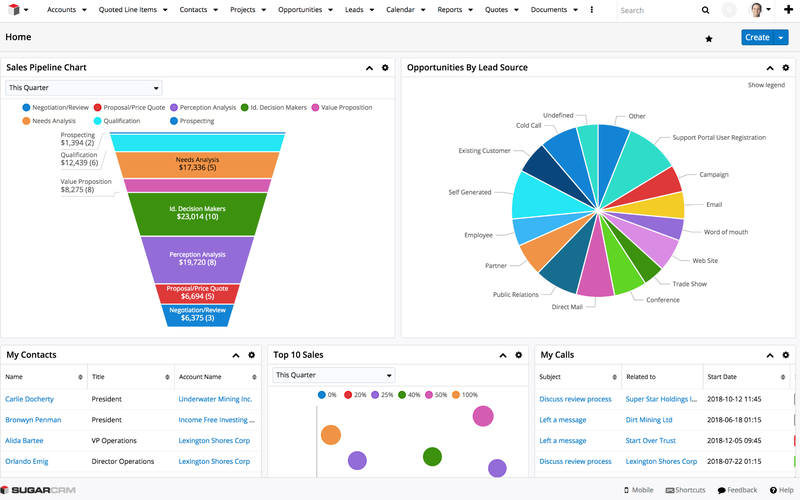 Who is Salesforce CRM for?
Salesforce caters to all types of businesses, offering solutions based on industry, business size, and needs. As a result, customers have an impressive array of customization options in each edition of Salesforce.
This option is best for businesses of any size who want an established and well-supported platform and don't need a more intimate relationship with a smaller software developer.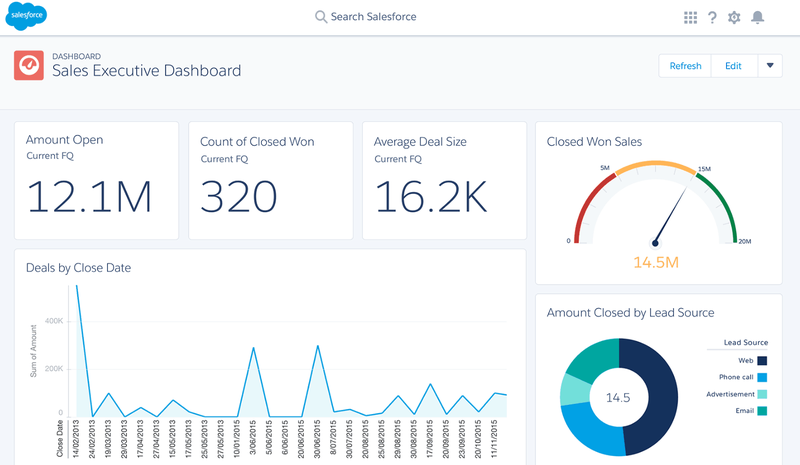 ---
SugarCRM vs. Salesforce CRM: Features
No matter how these two options have positioned themselves in the marketplace, what really matters is the features. Here's what each solution offers in that regard.
What SugarCRM offers
SugarCRM is divided into four different products: Sugar Market, Sugar Sell, Sugar Serve, and Sugar Discover.
Sugar Market: This product is aimed at companies that want to create marketing campaigns that can be heavily personalized for your customers. It does a good job of collecting data so that marketing teams can track their performance and make adjustments.
Sugar Sell: This is the fundamental option for salespeople in your organization, allowing them to collect just about every bit of information they want on individual customers that can be pulled up later. The platform also provides an overview of the customer journey from start to finish, allowing you to see where they are at in the sales cycle.
Sugar Serve: This is the customer service part of SugarCRM. With Sugar Serve, customer service agents can view all open tickets and inquiries on their dashboards. It also creates a portal where customers can deal with issues themselves, cutting down on support calls and therefore reducing costs.
Sugar Discover: Sugar Discover is the newest offering from SugarCRM, offering a "sophisticated analytics solution" that provides insights into complicated revenue analytics questions, the company said in a statement. Customers are able to automate constant monitoring of CRM data that can produce actionable intelligence on future sales and marketing strategies.
What Salesforce CRM offers
Salesforce is packed with features, but there are a few in particular that should be highlighted:
Opportunity management: This feature allows you to take leads and funnel them through your sales pipeline, and you will also be able to use data and analytics to determine how likely you are to close each lead.
Task management: The software enables you to both track and manage your tasks, as well as assign dates or manage the schedule for the rest of the team.
Account management: With this feature, you can track each customer's progress through the sales funnel and share this information with the team. An organized list of contacts is vital to the success of any sales team.
Contract management: Keep all of your contracts and documentation organized in one place with this feature, which allows you to track things like negotiations and conditions.
Product management: This feature provides a single place where you can go to find all the information you need to know about your product, such as prices, capabilities, and any discounts you have to offer to customers.
Case management: Salesforce case management allows you to take customer service beyond the phone or in person by being better organized to answer a growing number of concerns online and through social media networks.
Results
Winner: Salesforce
SugarCRM offers a lot, but there's simply no beating Salesforce when it comes to features. We gave them 10/10 in this category for a reason.
---
SugarCRM vs. Salesforce CRM: Support
Customer support for both companies is solid but has some downsides when it comes to access.
What SugarCRM offers
In order to get phone support with SugarCRM, you will have to purchase it, which is not uncommon when it comes to enterprise-level software but it certainly is a drawback.
However, I was able to quickly get to an agent with minimal hold time. There's also a form on the Contact page that you can fill out for help, and a live chat option.
SugarCRM offers a robust support page that you can search for terms related to your issue. You can also filter the results by version of the software, category, and whether you're an end user or an administrator.
What Salesforce CRM offers
The main drawback for large companies is often a lack of personal customer service, and Salesforce certainly feels like a big company when you need some help. Fortunately, their website has a plethora of self-help options for technical issues.
You can also get training and certification from Salesforce University.
Getting one-on-one help over the phone is a bit harder. You need to be a premier or partner premier member to get help with standard issues, otherwise you will only get assistance with "severity one" problems.
Results
Winner: SugarCRM
SugarCRM gets the slight edge from us because it is easier to get an agent on the phone immediately — no one likes dealing a lot with an automated system and hold music, after all.
---
SugarCRM vs. Salesforce CRM: Ease of use
Both CRMs struggle a little bit in the ease-of-use category precisely because both are such powerful CRM tools.
What SugarCRM offers
SugarCRM is packed with features and, because it is open-source, it's meant for enterprise-level firms with their own development teams. As a result, this software has a pretty steep learning curve that is not meant for CRM novices.
You can learn more about the software through Sugar University, and many of the classes are free, but some of the more advanced classes can cost hundreds of dollars.
What Salesforce CRM offers
Lots of people swear by Salesforce of course, but that doesn't mean it's for novices. While it can be easy to jump right in and start using Salesforce, there are a huge amount of features that you may not even know about without some training, so the learning curve for some can be steep.
You can attend Salesforce University to get better at the software and unlock its many powers, but that can cost thousands of dollars and a week out of your schedule.
Results
Winner: Salesforce
We'll give a slight win to Salesforce on this one because it is a bit easier to use out of the box, but both options struggle somewhat in this area.
---
SugarCRM vs. Salesforce CRM: Pricing
Both CRM options are priced on a per-user, per month basis, and offer varying tiers based on what features you want.
What SugarCRM offers
SugarCRM pricing includes the following options:
Professional: $40/month per user
Enterprise: $65/month per user
Ultimate: $150/month per user
What Salesforce CRM offers
Salesforce pricing includes the following options:
Essentials: $25/month per user
Professional: $75/month per user
Enterprise: $150/month per user
Unlimited: $300/month per user
Results
Winner: SugarCRM
At $25/month per user, Salesforce offers the best price at the ground floor, but SugarCRM has lower prices across all tiers on average, giving it the win here.
---
SugarCRM vs. Salesforce CRM: Integration with other software
Totally changing how your business operates with new software can be a shock to the system, which is why integration with other platforms is so important. Both CRM solutions offer some help to customers here.
What SugarCRM offers
SugarCRM has something called the SugarExchange, which has a public API code for those worried about its ability to integrate with other software. It allows you to bring email, calendars, contacts, reports, and other things under one roof.
The software does appear to integrate with G Suite and popular platforms like Slack.
What Salesforce CRM offers
Salesforce offers integration with all the popular business apps out there, from G Suite to Quickbooks to Mailchimp. This helps businesses that are already using these platforms to transition smoothly to Salesforce with minimal interruption.
Results
Winner: Salesforce
Integration via an open-source platform like SugarCRM is a bit trickier, so we give the edge to Salesforce in this area.
---
How They Compare: SugarCRM vs. Salesforce CRM
| | SugarCRM | Salesforce CRM |
| --- | --- | --- |
| Features | | |
| Support | | |
| Ease of Use | | |
| Pricing | | |
| Integration | | |
---
Verdict: Salesforce over SugarCRM by a hair
After comparing and contrasting both of these options, our verdict is that Salesforce holds a narrow lead over SugarCRM.
While SugarCRM gets the win on customer support and pricing, Salesforce seems just a little better when it comes to ease of use and integration, and its features are second to none. Still, that doesn't mean it's right for your business.
If you're a company that is trying to cut costs, places a big premium on customer support, and wants something more customizable than what's on offer from Salesforce, SugarCRM may be perfect for you. The only way to do that is to give them a try, or browse some of the other options in the CRM software directory.