So your business has an enterprise-level firewall and multi-user password management. Your security needs are covered, right?
Not so fast!
Every time you or your employees are on the internet, especially when working remotely on networks you have no control over, creates a risky situation. You're vulnerable to hackers, government censorship, and having the record of your online activities harvested for advertising purposes.
The solution is a virtual private network (VPN): It encrypts your online data, even on public networks, hides your IP address to mask your geographic location, and increases endpoint security.
Surfshark is a newer player in the cybersecurity sector with a powerful, full-featured VPN that works across multiple platforms and includes unlimited data bandwidth and device connections. We'll take a close look at its features, pricing, and customer support, so you can decide if it's the best fit for your small business.
---
Who is Surfshark for?
Founded in 2018, Surfshark offers multiple VPN applications, data leak protection, and split tunneling. It has over 3,200 servers in 65 countries across six continents. Surfshark is incorporated in the British Virgin Islands, which has strong data privacy protections and doesn't share information with the 5/9/14 Eyes security alliances.
Surfshark VPN has one plan that includes all features; the only difference is the pricing options, which offer a substantial discount for a two-year subscription. It includes unlimited simultaneous device connections and router installations, but no multi-user plans. Surfshark VPN is best suited for freelancers, solopreneurs, and small businesses or teams that can use a shared login.
---
Surfshark's features
Surfshark VPN software creates an encrypted "tunnel" between your devices and the internet, even on public Wi-Fi networks. This prevents third parties such as hackers, government agencies, companies whose websites you visit, and your internet service provider (ISP) from tracking your online data traffic, activities, and IP address.

You can also use Surfshark VPN to access geo-blocked content. For example, Netflix's video streaming catalog varies by country due to licensing restrictions, and China blocks many of the world's most popular sites, including Facebook, Google, and Twitter, with the Great Firewall of China (GFC).
We'll start with a close look at its core features: Surfshark OpenVPN and other encryption protocols, different applications, a kill switch, split tunneling, and an ad blocker.
VPN protocols
While every VPN encrypts your online data, multiple encryption protocols exist whose use depends on your device and other factors. Surfshark has four VPN protocols:
Surfshark's Camouflage mode provides further protection by masking your use of a VPN. Data is sent over the internet using packets with unique characteristics that differentiate an email from a peer-to-peer (P2P) download from a VPN.
Some countries such as China, Turkey, and Iran use deep packet inspection (DPI) to identify the use of a VPN and block it even though they can't access the specific data on it. Surfshark Camouflage makes your VPN look more like regular internet traffic.
Applications
Surfshark has applications for multiple platforms, browsers, and devices:
Operating systems: Windows, macOS, and Linux
Browser extensions: Chrome and Firefox
Mobile devices: Android and iOS
Other devices: Fire TV and network routers
The Surfshark browser extension provides convenient access to your VPN, including choosing which servers around the world to use and other settings.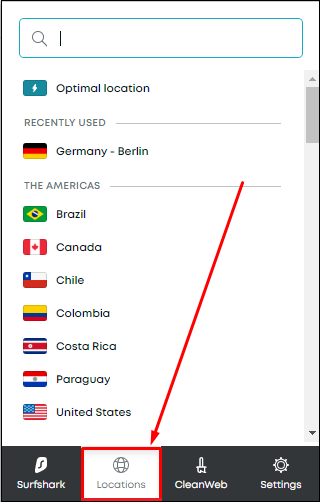 When you use Surfshark's extension, however, it only protects internet traffic through your browser. A desktop download encrypts all your online data coming and going on your device.
Kill switch
Even the best VPN connections can drop unexpectedly, especially when switching between different public, private, Wi-Fi, and cell networks. Even if this happens for a few seconds — and many times you may not realize it's occurred — your data is potentially exposed to third parties. Surfshark's kill switch automatically blocks internet access until your secure VPN connection is reestablished.
The Surfshark kill switch is automatically enabled in macOS and iOS, but for Windows, you must turn it on in the connectivity settings screen.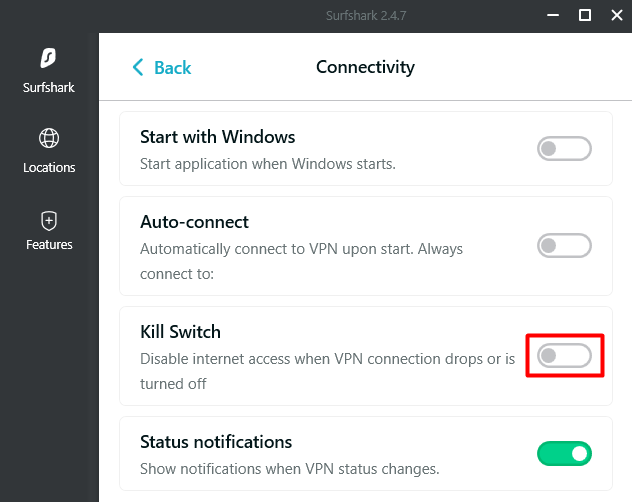 A kill switch also prevents the accidental exposure of your physical location via your IP address. This is particularly important for journalists and social change activists working in countries with intrusive internet monitoring policies.
Whitelister
While it's a good idea to use your VPN for all online activities, it's sometimes impossible. For example, many banking apps won't allow you to use a VPN. Instead of manually turning your VPN off and on, use Surfshark's Whitelister split tunneling feature.
Whitelister lets you choose which apps and websites to exclude from your VPN, which provides multiple benefits:
Reduce non-business traffic on corporate networks
Avoid VPN data bottlenecks
Access multiple networks simultaneously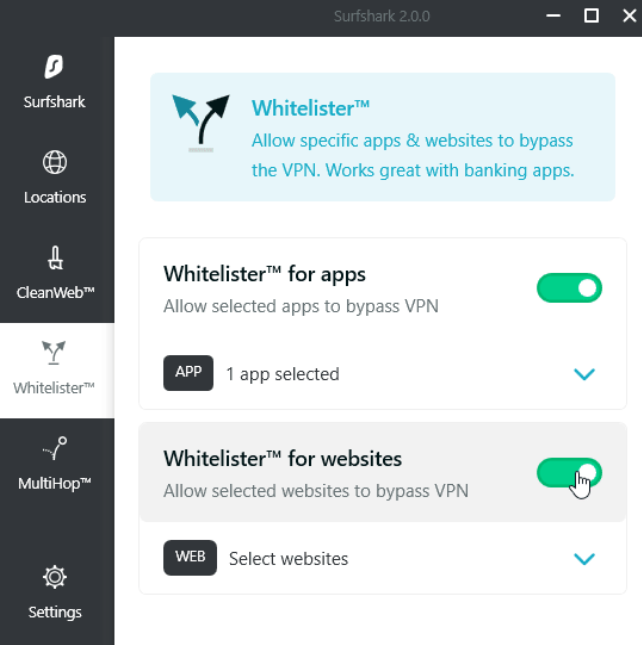 In business settings, be careful using Whitelister because that network traffic will not have VPN protection. Create a remote work policy for employees covering when to use it to avoid accidental exposure of confidential company data.
CleanWeb
Another useful Surfshark feature is the CleanWeb ad blocker. While not a VPN feature per se, CleanWeb can improve VPN performance by reducing the bandwidth used for ads, banners, and popups. It also double-checks your internet browsing against continually updated Surfshark databases of infected websites.
Unlike browser extension-based ad blockers, the desktop Surfshark VPN download with CleanWeb helps you avoid malware and adware on both browsers and apps. It's not automatically enabled, however, so you must turn it on in the features screen to help prevent cyberattacks.
---
Surfshark's ease of use
VPNs have a reputation — often well earned — for being difficult to set up and run as some providers include everything and the kitchen sink while leaving users to fend for themselves. To address this issue, companies such as TunnelBear oversimplify things with a limited features set and default configurations users can't access or change.
Surfshark hits the sweet spot with a powerful set of VPN features whose setup and use won't intimidate tech novices: multiple VPN protocols, apps for major platforms, devices, and browsers, and advanced features such as split tunneling and data masking. You also won't have to keep a running tally of how many devices are simultaneously using your VPN because you get unlimited connections.
Surfshark Smart DNS is another handy feature that allows you to use your VPN with devices such as game consoles and televisions that don't support firmware installs. Advanced add-on features include Surfshark Alert, which monitors the web for compromised email addresses and credit card info, and Surfshark Search, which provides incognito web searches.
If you encounter any problems, Surfshark has 24/7 live chat support, a departure from many VPN companies that use only email. Having on-the-spot support helps ensure your cybersecurity protection, instead of having to wait up to 24 hours for an email response.
---
Surfshark's pricing
Like some other VPN providers, Surfshark offers a single plan — the only difference is subscription length — that includes all features: unlimited data bandwidth and simultaneously connected devices, a kill switch, split tunneling, an ad blocker, and 24/7 customer support via live chat and email.
Surfshark's single-user subscription prices include:
$12.95/month
$38.94/six months ($6.49/month)
$59.76/two years ($2.49/month)
While Surfshark's monthly subscription is on the high side compared to other companies, pre-paying for two years makes it one of the cheapest VPN options. Plans come with a 30-day money-back guarantee, and the Android and Apple apps have a seven-day Surfshark free trial.
Surfshark doesn't offer a multiuser plan, but you can run unlimited devices simultaneously and install it on network routers, so it's suitable for small businesses and teams that can share a single login. Larger companies, however, will likely need enterprise-level remote employee management functionality.
---
Surfshark's support
Surfshark offers 24/7 live chat, uncommon for VPN providers, and email help support. A knowledge base, which incorporates helpful screenshots to walk users through different setup and configuration processes, is the primary self-service resource. Surfshark's YouTube channel has product tutorials too, most of which are in English but some are also in German, French, and Spanish.
The Surfshark blog has the latest product news, how-to articles, and more general posts on cybersecurity, video streaming tips, and global censorship issues.
---
Benefits of Surfshark
Beyond a VPN's technical infrastructure such as Surfshark's RAM-only servers, another key component is a company's privacy policy and related legal protections in the country where it's incorporated. Surfshark has a no-logs policy and doesn't collect information including:
Browsing history
Connection timestamps
Network traffic
Session information
Surfshark is incorporated in the British Virgin Islands, which has strong privacy laws and typically doesn't allow other governments to access the little data — user email, encrypted password, billing information, and order history — it does keep.
Surfshark also has a "warrant canary" page, which states it has not received any court-issued subpoenas as of a certain date. If you check this page and it's gone or the date on it isn't current, however, Surfshark would be signaling it had received a subpoena without technically violating a court order not to publicize it.

If you're still concerned about leaving an online trail, Surfshark's MultiHop feature increases your online privacy. A VPN routes your traffic through a secure server, which means anyone tracking you online can follow you to it but no further. MultiHop routes your traffic through two Surfshark servers instead of one to further mask your data, activities, and location from prying eyes.
Some VPNs allow you to pick which servers to link to, but MultiHop has preset dual connections to choose from.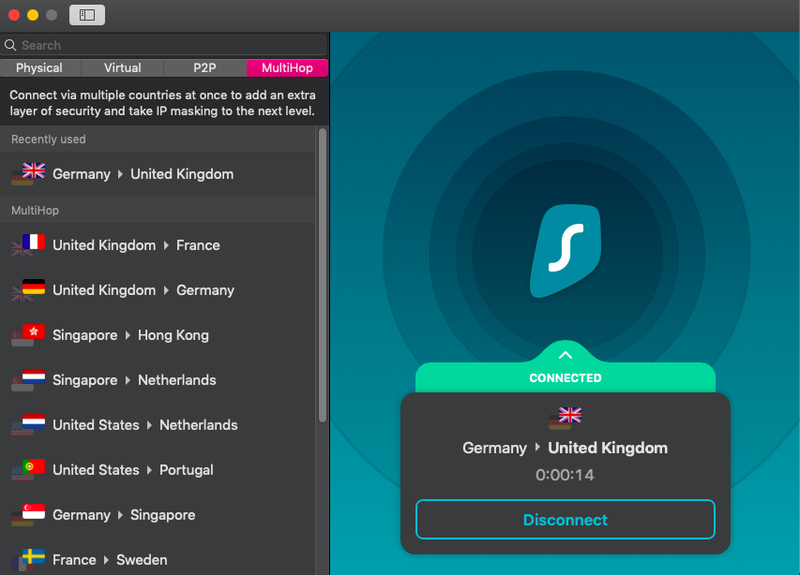 If Surfshark has a weakness, it's a lack of third-party security audits. It frequently touts a 2018 report completed by German cybersecurity firm Cure53, but that only looked at Surfshark's Chrome and Firefox browser extensions. Other VPN providers commission annual security audits of their entire codebase and technical infrastructure, and Surfshark would be well served to do the same.
---
Powerful security features with a low cost
Surfshark's VPN is loaded with security features, including multiple encryption protocols, unlimited connected devices, split tunneling, a kill switch, and an ad blocker, that provide a wide range of protection. Its month-to-month plan is pricey, but it gives you a chance to test drive Surfshark, and if you like it, upgrade to a heavily discounted prepaid plan.
---
Frequently Asked Questions for Surfshark
Who should use Surfshark VPN?
Surfshark has a single-user plan that includes all features but no team- or business-specific plans. You can, however, run unlimited devices simultaneously and install it on network routers, so it's suitable for smaller work groups where sharing a single login is feasible. Larger companies likely need enterprise-level user management functionality and should look at other VPNs.
Surfshark has three pricing schedules: $12.95/month, $38.94/six months ($6.49/month), and $59.76/two years ($2.49/month).
The monthly rate is on the high side compared to its competitors, but Surfshark's two-year subscription cost makes it one of the cheapest available options. The Surfshark app for Android and iOS devices also has a seven-day free trial.
What kind of support can I expect?
Unlike many VPN providers, Surfshark offers 24/7 live chat support. You can also submit email help tickets or use the online knowledge base. Read the Surfshark blog for the latest product updates, how-to guides, and more general cybersecurity and global censorship news.

Surfshark is the new kid on the VPN block, but its expansive features set and discounted prices have quickly made it a major player. If you're looking for a VPN with unlimited device connections, multiple encryption protocols, a kill switch, split tunneling, and multi-hop capabilities at a low, low cost, Surfshark could be your answer.
Surfshark is the new kid on the VPN block, but its expansive features set and discounted prices have quickly made it a major player. If you're looking for a VPN with unlimited device connections, multiple encryption protocols, a kill switch, split tunneling, and multi-hop capabilities at a low, low cost, Surfshark could be your answer.
The Motley Fool has a Disclosure Policy. The Author and/or The Motley Fool may have an interest in companies mentioned.