When the first iPhone arrived, it revolutionized the human-machine interface. Not only by the touch, but also by the shake. For some of the first successful apps, you were invited to shake your iPhone to activate them, like searching for a restaurant nearby. Today, that same function allows you to undo an action.
Give it a try if you have an iPhone. Some people have even tested the limits, like the people who tried putting an iPhone in a paint shaker. After all, we are explorers in this world of technology, are we not?
Smartphone technology has a strong influence on social media trends and user behavior. Smartphones' operating systems often use the new technical features like the shake and the touch, and apps have also adopted touch screens for functionality.
One of the most powerful examples is the swipe left and swipe right function in the dating app Tinder to sort through people you like or dislike at first glance — a convenient and easy way to organize your love life, worthy of the digital society we live in.
Tinder has become synonymous with left and right swipes. Will Instagram be able to pull off something similar with swipe up?
---
Overview: What is the Instagram swipe up feature?
Social networks are often criticized for being closed circuits that make it difficult for you to drive visitors to your website or your store while they monetize the time users spend on their platforms.
Previously, you could only use the profile link to drive traffic to your website on Instagram --that is, until the arrival of the swipe up feature. Now you can create a destination for individual stories and use the swipe up feature for events, promotions, or news.
You can now directly associate your social media holidays messaging with a destination link to your site, and if you provide 30% off on a promotional product, you can link directly to the product page in your online store in today's story.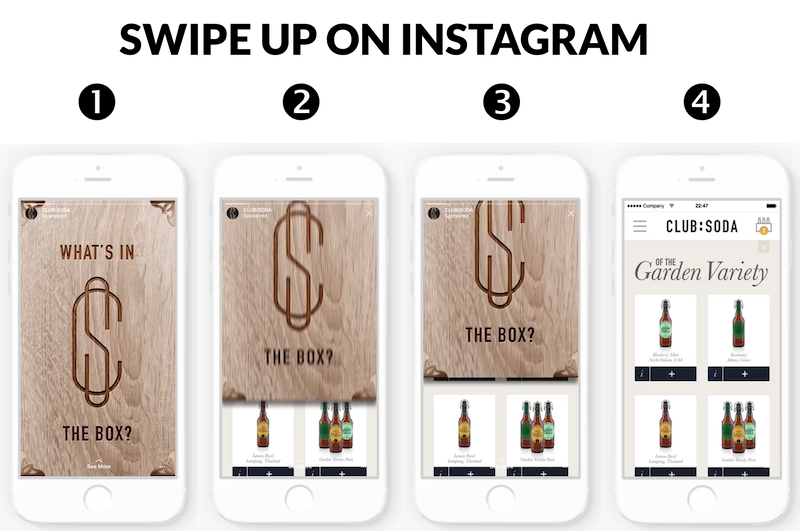 The swipe up destination can be an external web page, but it can also be your Instagram shop. As such, the swipe up feature is an additional chord on your arc for social commerce. You can choose View Shop, View Product, or View Collection.
---
What are the requirements for getting the Instagram swipe up feature?
The swipe up web link feature only appears in verified accounts or accounts with at least 10,000 followers and an Instagram business profile.
If you don't meet those criteria, there is a work-around you can use: You still have access to the swipe up feature, but only if you link to Instagram TV (IGTV). To do this, set up a 15-second video where you tell users to click on a link in the video's title, where you will have inserted the link to your external page.
This isn't the same user experience and requires more work on your side, but you can use it while you build up your audience to meet the required 10,000 followers. Alternatively, you could pray to the social media gods and ask them to remove the follower requirements. It just might happen.
---
How to use the Instagram swipe up feature in your stories
It's pretty straightforward to use the Instagram swipe up feature, but many people don't have access to the feature and are curious about the way it works.
If you're a known brand or celebrity, you can apply to become a verified account on Instagram. But if you don't have a verified account, here are the steps you need to take to use the feature.
1. Get an Instagram business account
First, make sure you have an Instagram business profile. This is easy, free, and fast, so you might as well set this up immediately if Instagram is an important part of your social media marketing plan.
2. Reach 10,000 followers
It will be much more challenging to reach the follower threshold. Post great and engaging content, and post frequently and consistently while generating interactions with your audience as part of your social media strategy to reach that goal over time.
3. Create a story
Once you are eligible, the rest of the process is straightforward. However, with so many Instagram stories online, you will need to use some of your best social media content to stand out. When you are setting up the story itself, the link button will appear at the top of the screen.
4. Indicate the destination URL
Your Instagram story swipe up feature will be activated when you insert a web link after clicking that button. It is basically just a URL you add to Instagram story characteristics.
5. Use calls to action
In order for users to adopt the swipe up behavior, you must inform them that it is activated in your story. A good way to do this is by adding calls to action in the form of words, call-outs, or symbols.
Two arrows pointing upward appears to be a commonly accepted symbol for triggering a swipe up, but three stacked arrows are starting to fight their way in, too.

---
3 tips to increase story clicks to your promotions
Now that we have seen how to activate swipe up, let's look at three important things you need to master to get the most out of the feature.
1. Recurrence
As swipe up is not activated in all the stories a user sees, a good way to accustom your audience to it is to make recurring use of the feature: Use it every time you publish a certain type of story, so users can know what to expect.
Additionally, make consistent use of imagery and language in the process. Social media management tools can be of good use when planning ahead and when executing recurring publications.
2. Engagement
To increase your social media engagement on stories, create effective calls to action: Short, clear, visual, and impactful. In a good engagement strategy, use both text, images, and labels. Monitor your click-through rate to learn what works best, and repeat and tweak that for future stories.
3. Make the click worth it
Finally, you need to make sure that the flow through the story, the call to action, the swipe up, and the landing page content fit together in a consistent manner. Test run the user experience, and make sure the experience of clicking through to your page is gratifying.
---
Swipe up is an entirely new way to engage and drive traffic
You can generate brand awareness by posting great content to Instagram, but it may be difficult to measure the impact elsewhere, as the only direct link from Instagram to your site hides on the bio page. But the swipe up feature now allows you to associate temporary destinations with specific stories.
Swipe up from a promotional story to land directly on the specific product page in your online store. The feature is easy to implement but is reserved for verified accounts and business profiles with large followings.
As for the rest of us, let's cross our fingers that the feature will be made available to accounts with smaller following in the future.