When you're really good at what you do, you want to share it with the world. On that basis alone, you can bet that TalentLMS deserves a spot on your shortlist for a small-business learning management system (LMS).
TalentLMS's pricing, knowledge base, and support stats are all published on the company's website. Then it goes one better by providing a free LMS account supporting up to five users and ten courses with no time limit or credit card needed. That transparency makes it easy to judge for yourself whether TalentLMS is right for your company.
I was impressed by the breadth of features available in TalentLMS's free account. Everything from gamification to e-commerce is built-in, making it a really easy package to warm up to. It's also refreshing to deal with a company that gives you the keys and lets you see for yourself before committing to a software that will become so central to your operations.
---
Who is TalentLMS for?
TalentLMS is a mobile-ready LMS with a free version that includes most of the platform's features and capabilities. If you like the platform, you can choose from flexible payment plans starting at just $59/month, making it our top choice for very small businesses. It is also an appealing LMS for teachers and academic institutions.
With extensive features, ample integrations, and standout customer support, TalentLMS can get your company training and even selling courses online with minimal time and expense. The platform supports on-demand courses, conferences, instructor-led training (ILT), and selling online courses.
---
TalentLMS's features
So what does TalentLMS have to offer, and how does it stack up to other LMSs for business? Here's what I found.
A user-friendly interface
TalentLMS's administrator dashboard is relatively clean and easy to navigate, with quick access to key tools such as course builders, user management, reports, certifications, gamification, and e-commerce. Glowing red dots alert new users to quick tours of the system's functionalities.
The dashboard provides a graphic overview of system activity by logins and course completions.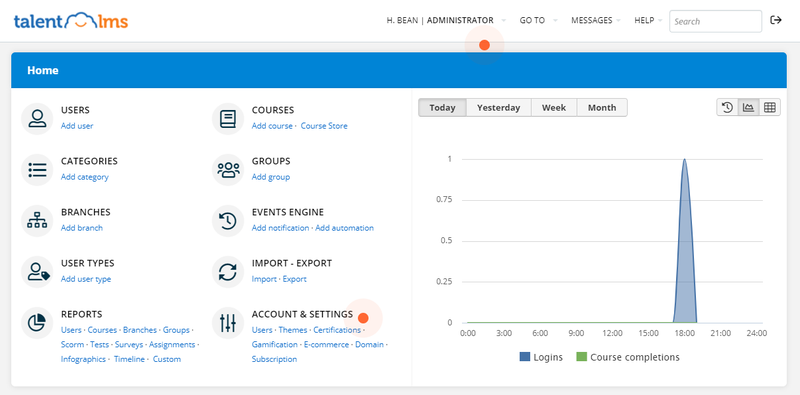 You can also switch over to a table-view of user activity: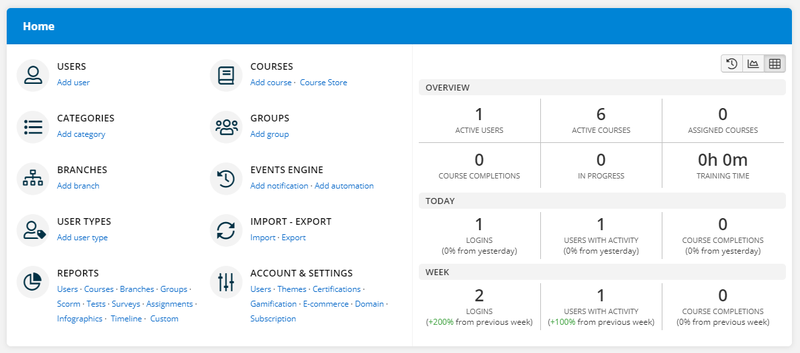 I've worked with more fluid, intuitive systems, but TalentLMS is easy enough for users to navigate without a lot of training or support. The interfaces are fully responsive and mobile-ready, and materials can be downloaded for completion offline.
White-labeled interfaces
A standout feature for TalentLMS is that both the user and learner interfaces are customizable with every plan, including the freemium version. Simply drag and drop logos and set your colors and you have a fully branded user experience.
The branding extends to custom URLs on the TalentLMS site. This is one of many deluxe features bundled into the economical TalentLMS offering.
Course building
TalentLMS's course-building tools let you create on-demand (asynchronous) courses plus live training sessions. The system supports Shareable Content Object Reference Model (SCORM), Experience application programming interface (eAPI), and computer-managed instruction (cmi5) content standards.
Instructors can upload content into course units via drag-and-drop or file uploads of documents, videos, and audio files. Web content can be imported from any external site via URL. Web pages can also be inserted as iframe units for students to experience within the platform.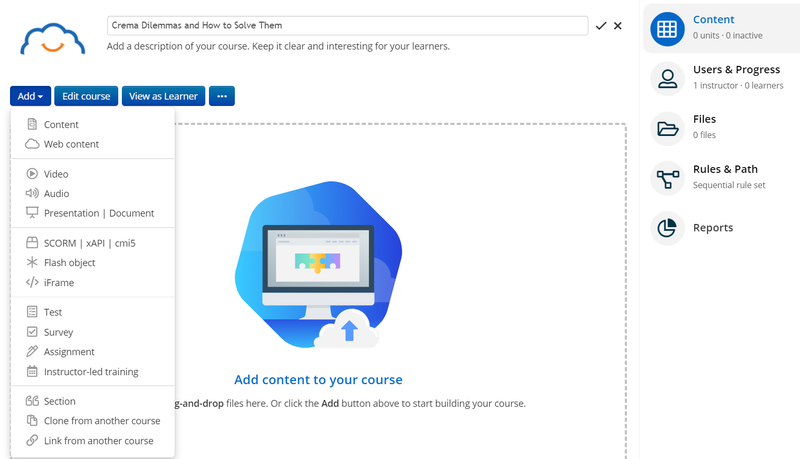 Meetings and live training events are also easy to schedule and incorporate into courses. In addition, instructors can create audio and video content directly within the platform using TalentLMS's built-in recording features.
Course parameters such as learning levels, fees, and certifications can be set and courses assigned to users or groups with a few clicks. Courses can be grouped into categories for sorting, incorporated into learning paths, and included in custom course catalogues for easy browsing by different user groups.
TalentLMS also builds tests and course surveys easily, with options for multiple choice, drag-and-drop matching, ordering, fill-in-the-blank, and open-ended questions. Grading is automated even for open-text questions based on keywords. Questions can also be randomized.
Gamification
Another standout feature included in all TalentLMS plans is gamification. Gamification is an excellent tool for driving user engagement, enhancing the learning experience, and even improving morale.
From the admin dashboard, it's easy to set gamification parameters such as:
Points awarded by activity
Badges for courses, assignments, tests, or other achievements
Levels and points needed to upgrade
Rewards such as discounts on future courses
Individual and shared leaderboards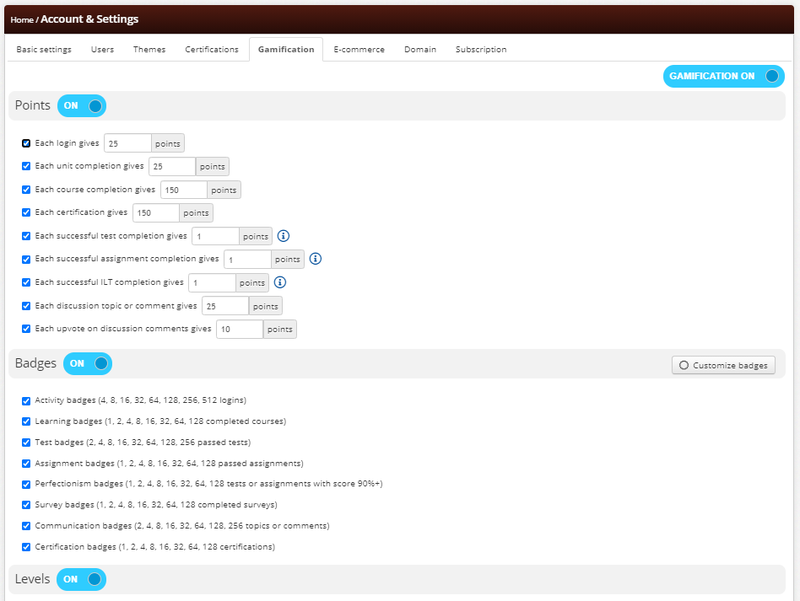 TalentLMS comes loaded with hundreds of badges you can customize to fit your goals and specifications. In addition, TalentLMS integrates with Mozilla's Open Badges standards, providing verifiable, recognizable credentials valued by learners everywhere.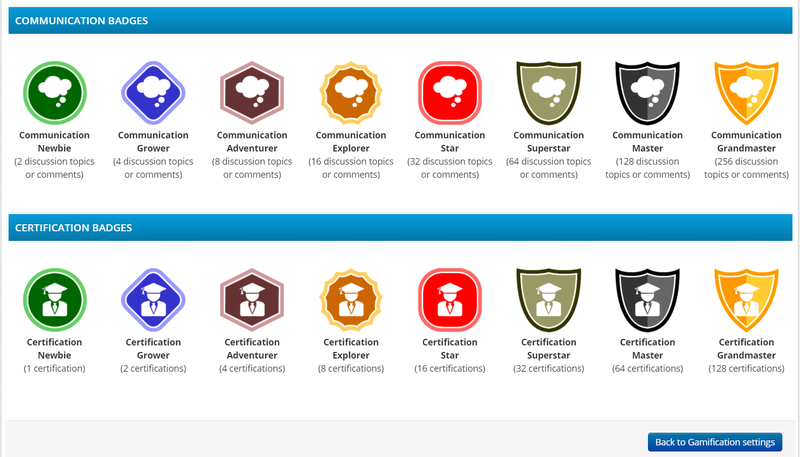 TalentLMS further provides an array of built-in certificates that can also be customized to recognize your students' accomplishments.
All of these tools make it easy to incentivize and further customize your training environment to support a positive, engaging learning experience.
Groups, branches, and user management
TalentLMS comes with four established roles: super admin, admin, trainer, and learner. You can easily set custom permissions, assign automated notifications, and create new user types from the Users tab. Users can be bulk imported from spreadsheets or entered individually. They can also be grouped for easy management.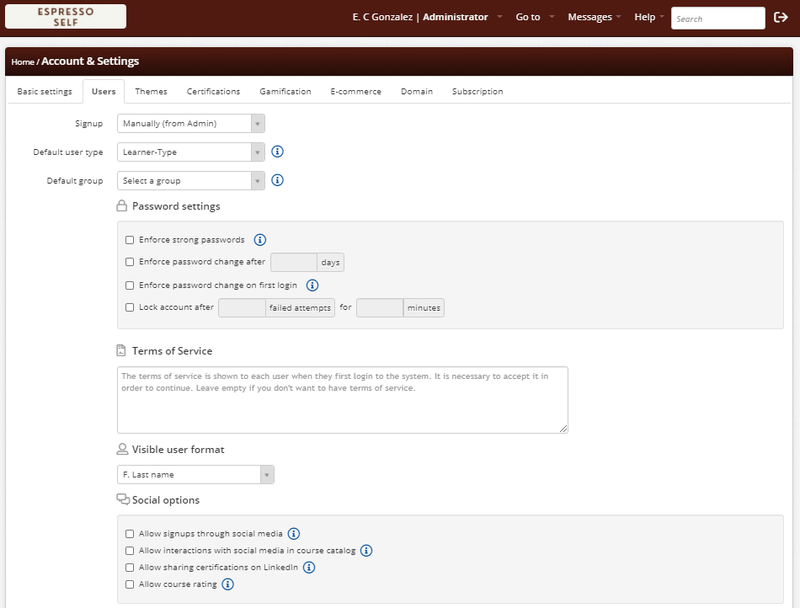 Another welcome feature of TalentLMS is branches, which allow you to create separate, custom learning environments within a single account. Branches can have completely different configurations, settings, and URLs. This can be useful in large organizations with distinct user groups.
Reporting
TalentLMS comes with built-in reports by user, course, branch, group, tests, surveys, and assignments. Customizable reporting is reserved for paid plans.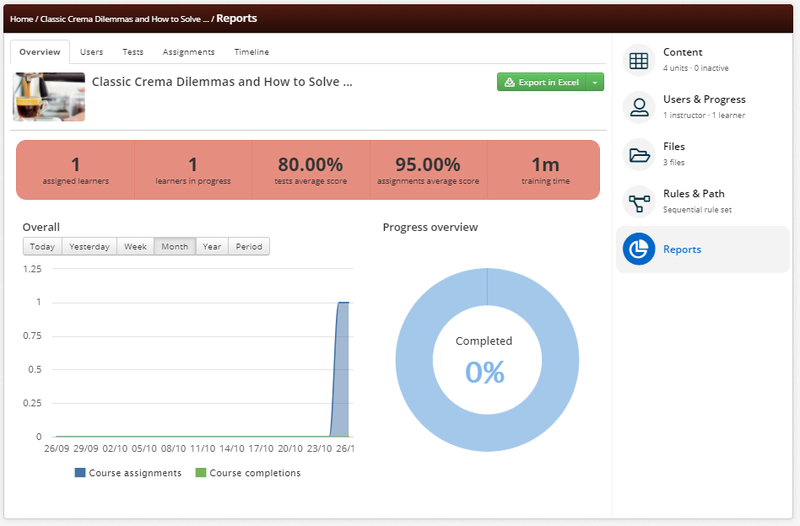 The reports show key stats on each subject area. Instructors, for example, can check results for a certain test, monitor students' progress through a course or learning path, and view completed assignments and grades.
Another helpful feature built into TalentLMS is infographics tailored for admins and learners. These provide a colorful, bold summary of results and performance.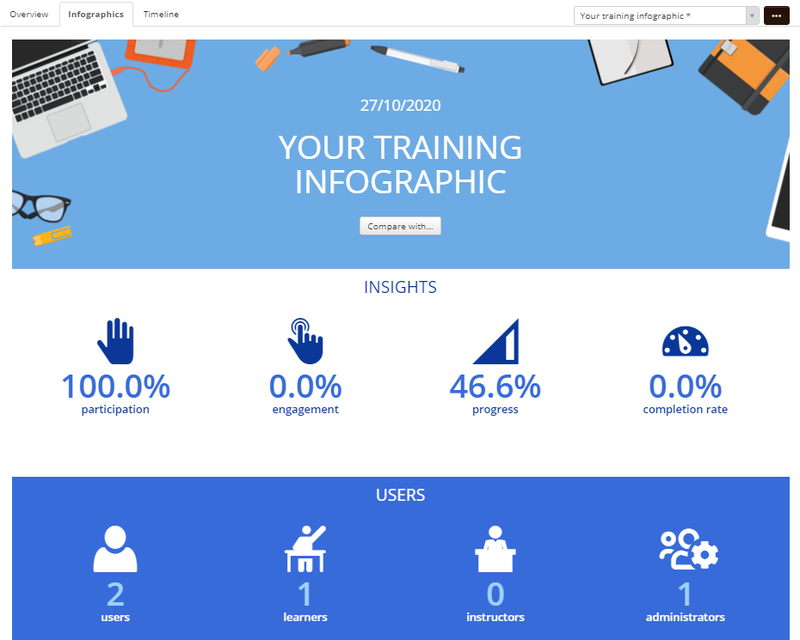 All in all, TalentLMS has lavished attention on the tangible incentives that motivate students: certificates, awards, leaderboards, and stats.
Impressive integrations
TalentLMS comes with extensive integrations to make incorporating your learning environment into your operations easier and more efficient. These include:
GoToMeeting, Zoom, and BigBlueButton
More than 750 Zapier applications including Slack, Zendesk, Mailchimp, and Trello
PayPal, Stripe, Shopify, and WooCommerce
Simplified signup through LDAP, SAML2, Okta, OpenID, Google, and social media with higher-level plans
Google, Outlook, and Yahoo calendars
Google Analytics, Zendesk chat, Inspectlet, and other apps via JavaScript or widget
Site integration through TalentLMS API
Salesforce, BambooHR, WordPress, Mozilla Backpack, and LinkedIn
These integrations stand alongside robust native features such as TalentLMS's free videoconferencing solution and audio and video capture tools.
Course-selling capabilities
TalentLMS also comes equipped for e-commerce, with simple settings from the admin dashboard for managing payment processing, subscriptions, registration fees, invoices, discounts, and coupons.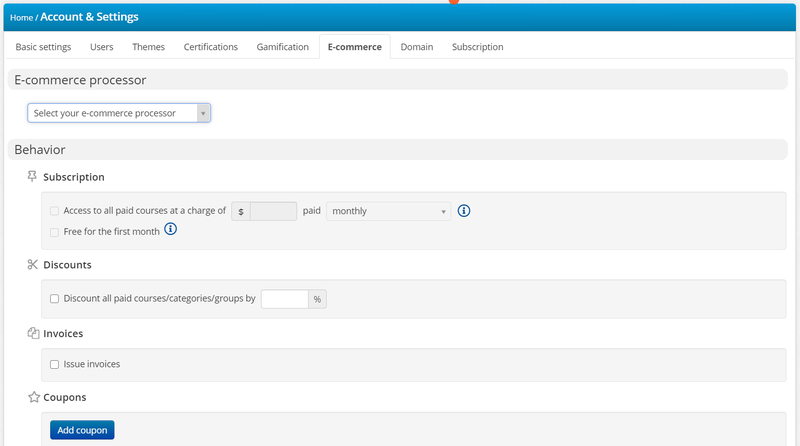 Its integrations with major payment processors make it easy to begin building and selling courses online.
---
TalentLMS's ease of use
TalentLMS's user interfaces are relatively easy to navigate, but some of the functionalities are not as robust or intuitive as you'll find in other LMSs. Still, TalentLMS's feature set is impressive, with attractive benefits such as gamification, branches, and branded interfaces.
In lieu of a TalentLMS demo, you'll find ample video tutorials online to help you get started, as well as extensive resources such as e-books in the company's knowledge base.
---
TalentLMS's pricing
TalentLMS is one of the more affordable LMS options, with flexible, transparent pricing. The company offers two tiers, one based on total registered users and the other on active users each month. With plans starting at just $59 per month, it is accessible even for very small businesses.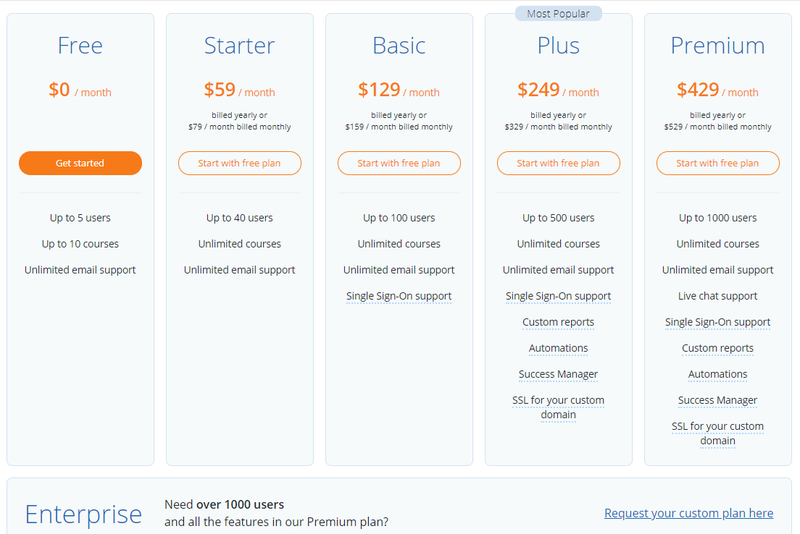 Pricing plans start at $59/month billed annually or $79/month billed monthly, which unlocks unlimited courses for up to 40 users with email support. There's an alternative pricing structure based on active users only, which makes sense for companies that sell courses or have uneven enrollments.
Those plans start at $129/month billed annually or $159/month billed monthly for 40 active users. Companies with more than 1,000 users can get custom Enterprise pricing by quote.
You can also buy access to Talent Library, a collection of pre-built soft skills courses, for an additional monthly charge.
All of these pricing plans are laid out clearly on the company's website.
---
TalentLMS's support
TalentLMS's support gets high marks from users. In addition to an online knowledge base, video tutorials, and "cheat sheets," the company provides email support on all its plans with a very promising average response time of 1.6 hours. At this writing, there is no online TalentLMS forum for users.
Clients with Plus accounts and above also get a customer success manager, while Premium accounts receive live chat support.
---
Benefits of TalentLMS
TalentLMS provides all the core features you need in an LMS as well as many attractive add-ons such as gamification, custom badges and certificates, a white-labeled interface, and distinct learning groups. Its integrations are comprehensive to help you connect learning with your operations for efficient management.
The platform is relatively quick and easy to learn and supports paid registrations to help you monetize your training.
---
An accessible, user-friendly LMS
With its accessible, scalable pricing, ample features, and easy administration, TalentLMS is a solid online learning platform for businesses and educational institutions of all sizes. Whether you're looking to train employees, sell courses online, or provide educational content for customers and partners, it makes sense to consider TalentLMS — especially since you can explore it for free.
---
Frequently Asked Questions for TalentLMS
How does TalentLMS compare to other LMSs?
Talent LMS stands out for affordable pricing, a free version that supports up to five users and ten courses with no time limit, and advanced features such as gamification.
Can I sell online courses with TalentLMS?
Yes, the platform supports paid registration for your courses online. It integrates with e-commerce applications and payment processors such as PayPal and WooCommerce.
How much does TalentLMS cost?
TalentLMS has a free version for up to five users and ten courses. Paid plans start at $59/month for up to 40 users if paid annually or $79/month billed monthly.

TalentLMS is an affordable learning management system for small businesses, with flexible pricing plans and a free version. Whether you want to train employees, educate customers and partners, or sell courses online, it's worth checking out this accessible LMS.
TalentLMS is an affordable learning management system for small businesses, with flexible pricing plans and a free version. Whether you want to train employees, educate customers and partners, or sell courses online, it's worth checking out this accessible LMS.
The Motley Fool has a Disclosure Policy. The Author and/or The Motley Fool may have an interest in companies mentioned.