If you're tired of searching for lost receipts, trying to get expense reports and receipts to match, and spending hours reviewing expense reports submitted without receipts, it might be time to try Tallie by Emburse. Tallie is an automated, online expense report software platform that creates reports that can be approved in minutes rather than days.
---
Who is Tallie for?
Because Tallie's specialty is automatic expense reporting, the application is best suited for businesses with at least five active users. And, with three scalable plans, it's also a good fit for growing businesses.
Tallie makes business expense management easy by providing multiple ways to manage receipts, with the option to create as many (or as few) expense reports as needed. Because Tallie does not include a reimbursement feature, it's probably better suited to businesses that need to track paid expenses rather than employee expenses that need to be reimbursed.
---
Tallie's features
Tallie is an online expense management software designed to automate the entire expense report process from the initial expense to report creation. Better for managing expenses than employee reimbursements, Tallie offers excellent expense receipt management capabilities.
It gives you the option to directly connect bank or credit card accounts to the application for automatic transaction importing and has a mileage tracking feature on its mobile app that lets you easily track miles traveled — with Tallie calculating the totals.
Tallie uses Optical Character Recognition (OCR) when scanning all uploaded receipts, which helps to identify key details from each receipt and reduces the amount of data entry needed.
Credit card transactions imported into Tallie are automatically matched with uploaded receipts, and the expense tracker uses auto-categorization to automatically assign expenses to a particular expense category based on previously completed entries.
When it's time to create an expense report, Tallie allows you to choose the expenses you wish to include in each report. Once a receipt is attached to an expense report, it's removed from the receipt management page, eliminating the possibility of duplicate submissions.
The biggest drawback to Tallie is that you'll have to use your accounting software to process any employee reimbursements since the application does not offer an automatic reimbursement option.
Tallie supports multiple approvers, which can be added during the product setup process, and alerts are given each time a report has been submitted or approved.
Tallie also offers an optional travel application, Tallie Travel, for those who wish to manage employee travel from initial booking to expenses incurred.
But we're not done yet. Check out these other features that Tallie offers.
Receipt processing
Tallie offers easy expense reporting capabilities, starting with the receipt processing feature, which allows you to snap a photo with your smartphone and simply upload it to the web-based application. You can also have receipts forwarded via email directly from vendors or email the receipt images yourself.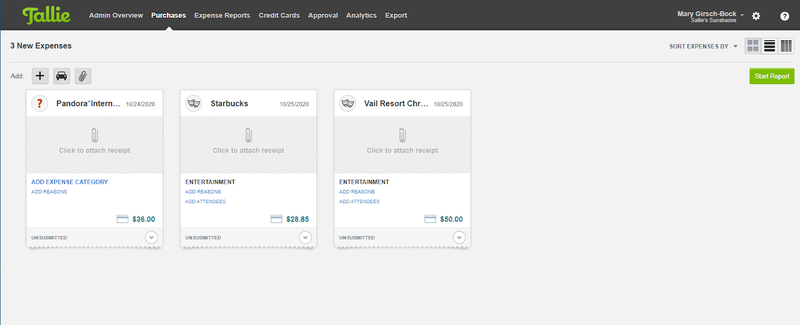 All receipts are automatically scanned using OCR technology, with receipt processing usually taking less than 60 seconds. Information such as merchant, date, and amount are auto-populated in the application. As a bonus, if you've connected Tallie to your accounting software, you can map all expense data directly to your general ledger, avoiding duplicate data entry as well.
Mobile app
Tallie offers a mobile expense app for both iOS and Android devices, with available features including one-tap camera access, GPS-enabled mileage tracking, photo receipt capture, and complete expense report review, submission, and approval. Multiple receipts can be imported into Tallie from your phone, or you can pick and choose the ones you want to include in the importing process.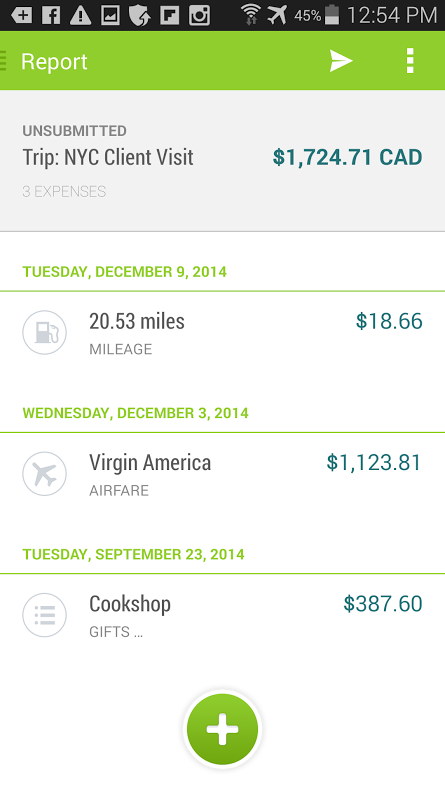 Tallie's mobile app also offers an expense log where you can view all of your entered expenses and create a new expense report for approval. If you don't want to snap a photo, or you don't have a receipt, you can add an expense manually using the Create feature in the mobile app.
Because Tallie can be used on any browser and any device, it's suitable for use on Windows and BlackBerry devices as well.
Emburse card
The Emburse card gives you the option to issue either a plastic or a virtual card to any of your employees, with rules built into the card, including merchant restrictions, time and date restrictions, and the ability to set a budget for each card.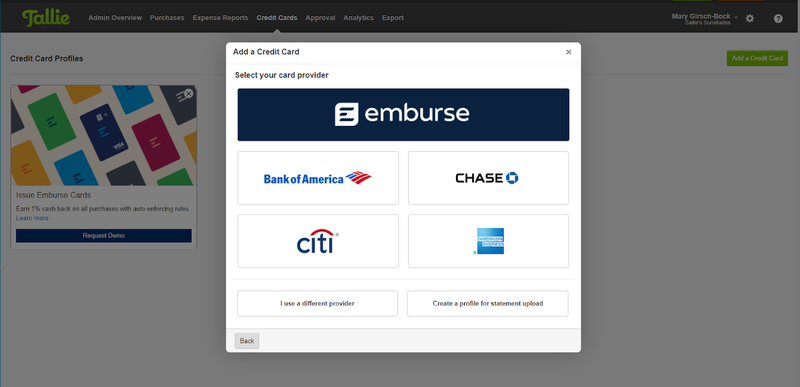 The Emburse card also has a built-in fraud engine, and you can easily activate or deactivate the card at any time. The Emburse card also lets you block any purchases that violate current policy rules, while also providing up to 1% cash back on all purchases.
Company Policy Rules Engine
Tallie's Company Policy Rules Engine allows you to create custom rules for employees and expenses. Completed under Company Preferences, start by enabling the setup policy for expenses and expense reports. Once this is done, you can start adding new policies.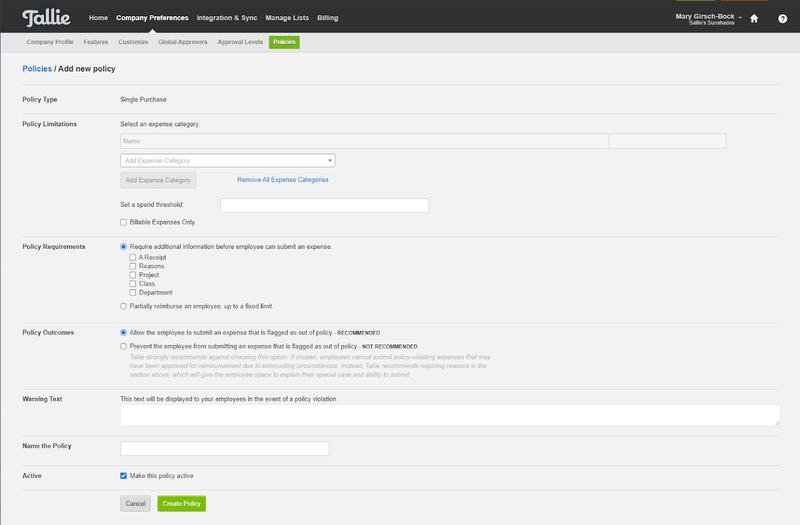 You can add a policy type, set policy limitations, and add any policy requirements and outcomes in Tallie. Policies can be set for any or all expense categories, and you can indicate the items or information required before an expense can be submitted.
You can also choose whether an employee can still submit an out-of-policy expense, or if the application will automatically prevent its submission. Finally, you can add custom text that will be displayed for your employees whenever a policy violation occurs.
Activity-based sync
Tallie offers excellent integration options, with complete two-way integration available. What's different about Tallie's integration is that any changes in either application are automatically updated in the other application in real-time, so your accounting software and Tallie will always display the same information.
Tallie integrates with a variety of popular applications, including QuickBooks Desktop, QuickBooks Online, Xero, Bill.com, Sage Intacct, and NetSuite, with custom import/export options available for other ERP systems. Integration options vary with Tallie's plans, so be sure that the integration you're looking for is available in the plan you're interested in.
---
Tallie's ease of use
Tallie is easy to use, with new users able to sign directly into the application to get started or use the quick tutorial, which guides you through the process of adding or uploading a receipt, along with creating an expense report.
Once you're through with the brief tutorial, you can jump right into entering or uploading a receipt, or entering an expense manually, with the option to attach a receipt to any manually entered expenses as well.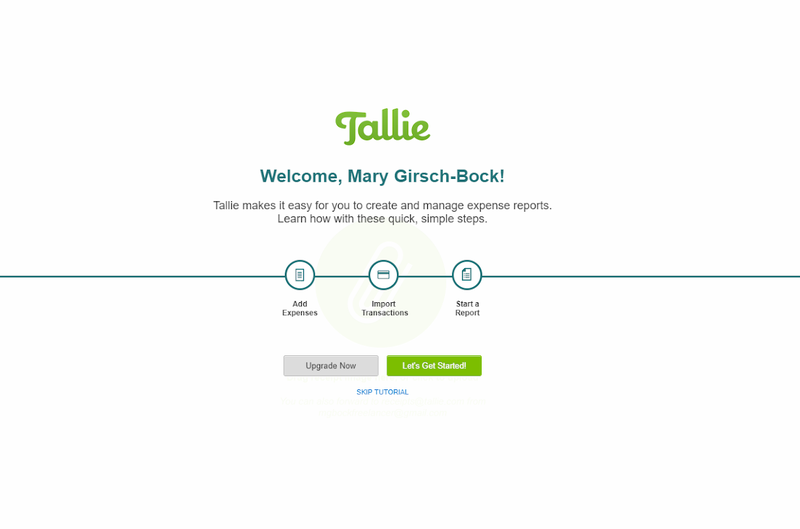 Navigating through Tallie is easy even for new users. A menu bar at the top of the screen provides access to system features, including Purchases, Expenses, Credit Cards, and Analytics. Clicking on one of these options also lets you review any previous entries that have been made that have not yet been assigned to an expense report.
You can start a new expense report at any time by clicking on the Start Report tab located at the top right of the screen. If you do get stuck anywhere, just click on the question mark icon at the top of the screen to access a complete list of support options.
---
Tallie's pricing
Tallie offers three plans, starting with the five-user Basic Accounting plan that runs $50/month. Next is the Cash Control Account plan, which includes up to nine users for $95/month, and finally, the Cloud ERP plan, which supports up to 18 users for $200/month.
You're not restricted to any particular plan based on your number of active users. For example, if you choose the Basic Accounting plan, but you have more than five users, you can add additional users to that plan. You don't have to purchase the next plan available.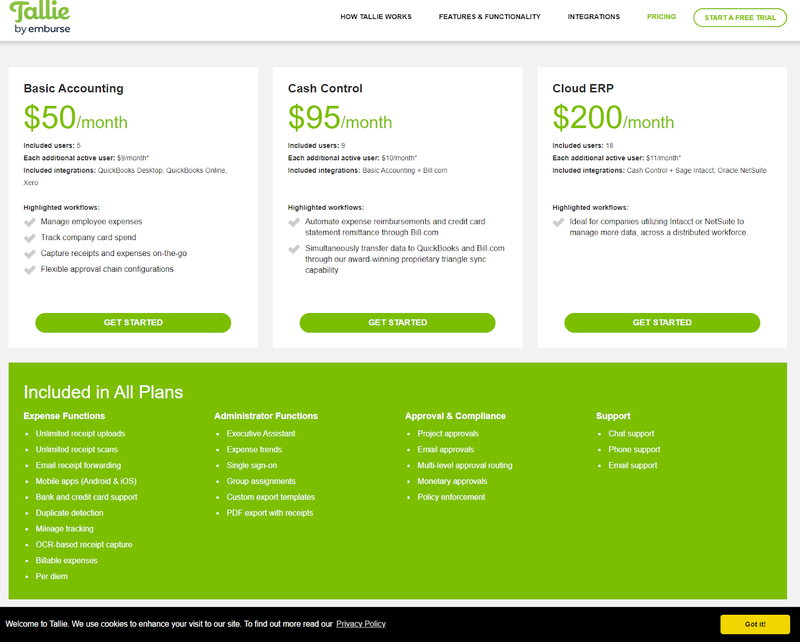 All of Tallie's signature features, such as receipt uploads and scans, OCR receipt capture, expense policy management, and credit card transactions, are included in all plans. The major difference between plans is the available integration options.
---
Tallie's support
All three Tallie plans include the following support options:
Phone support
Email support
Chat support
In addition to the support options, Tallie includes a comprehensive help center where you can search the knowledge base, access popular articles, and view product updates. There are also PDF user guides available to view or download.
---
Benefits of Tallie
One of the biggest benefits of using Tallie is that you can choose a plan based on the number of active users since Tallie's features are included in all plans.
Another benefit is the availability of multiple support options for each plan, so you don't have to buy the most expensive plan to have access to telephone support. Finally, if integration with your accounting software is important to you, Tallie might be a good choice for your business.
---
A surprisingly powerful application
Tallie is an easily navigated, easy-to-use application. But don't let those simple screens and the easy navigation fool you. Tallie is a really powerful software package that lets you customize expense policies, manage receipts, and easily create expense reports.
But it also tracks mileage, lets you identify billable expenses, and can automatically detect duplicate expense submissions so expenses won't be processed twice. If you have at least five staffers who could benefit from using Tallie, it's worth consideration.
---
Frequently Asked Questions for Tallie
Is Tallie a good fit for sole proprietors or freelancers?
You'll need to have a minimum of five users for Tallie, so it's not a good choice for freelancers or sole proprietors.
Does Tallie handle travel expenses?
Tallie handles routine travel expenses, but if you're looking for travel booking capability, you'll need to purchase Tallie Travel, which is available at an additional cost.
Can I set up policy rules in Tallie?
Tallie has one of the best policy rules options available in expense management software, allowing you to create custom policies company-wide, or customize the rules for each expense or each employee.

If you're looking for good expense report software, be sure to check out Tallie. Visit the company's website for a free, 30-day demo.
If you're looking for good expense report software, be sure to check out Tallie. Visit the company's website for a free, 30-day demo.
The Motley Fool has a Disclosure Policy. The Author and/or The Motley Fool may have an interest in companies mentioned.