Founded in 1998, TaxAct offers both online and on-premise tax preparation applications designed for individuals and business owners alike.
TaxAct offers the features that you need to prepare a tax return for your small business without the high price tag, offering both a satisfaction guarantee along with an accuracy guarantee for all of their products.
---
Who is TaxAct Self-Employed Online for?
TaxAct Self-Employed Online is designed for small business owners, freelancers, sole proprietors, and consultants. TaxAct Self-Employed Online guarantees the maximum tax benefit for its users and also offers audit protection.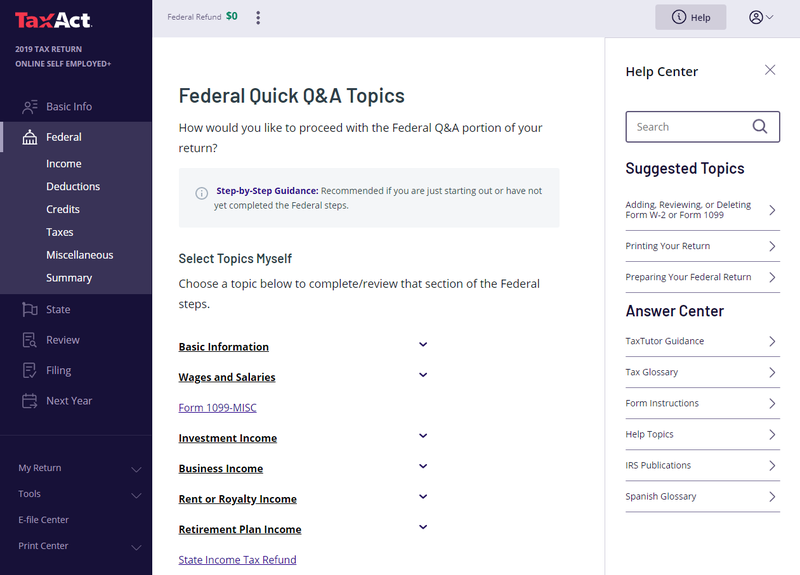 While TaxAct can be used by those doing their own tax return for the first time, the product is better suited to those that are familiar with the online tax-filing process. TaxAct includes step-by-step guidance throughout the process, with an option to jump directly to the forms you need to access.
---
TaxAct Self-Employed Online's features
TaxAct offers a long list of features, including a maximum refund guarantee, as well as a deduction maximizer to ensure that you're taking advantage of all available deductions. TaxAct Self-Employed lets you enter all relevant freelance income along with any other business or farm income. You can also calculate depreciation totals using the application.
If you make a lot of charitable contributions, you'll want to use the Donation Assistant, and you can also calculate and report any stock gains or losses using the stock assistant.
One of the most important things that small business owners can do is plan for future taxes. TaxAct Self-Employed provides you with the tools to do so, including a "what-if" option, where you can plan out multiple scenarios to find the most beneficial one for your business.
TaxAct also includes a mobile app for both iOS and Android devices.
Deduction Maximizer
TaxAct's Deduction Maximizer offers a step-by-step process to uncover common deductions that are specific to your particular field of business.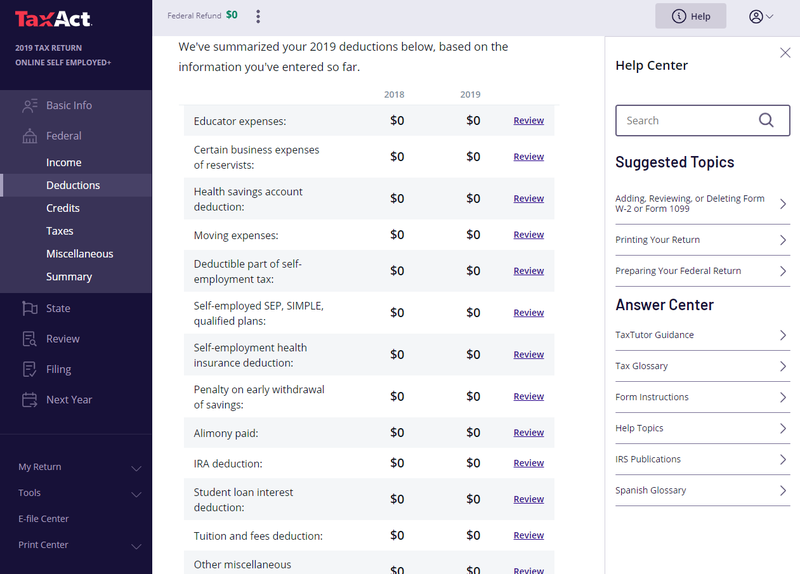 For example, if you're a writer, you'll be able to view deductions related to your business such as business use of your home, writing supplies and expenses, and business-related travel.
For photographers, the deduction choices may include items such as photography equipment, advertising expenses, and website hosting.
Deductions for other fields include computers and other related business equipment, membership dues, software licenses, and studio or storefront rental costs.
Estimate taxes for future years
While we complete our tax returns once a year, true tax planning takes place throughout the year, particularly for business owners. TaxAct allows you to calculate tax liability for future years by estimating your future earnings and expenses using various "what-if" scenarios.
While this is only an estimate, using this feature can help you be better prepared for future tax liability, and plan your business around it accordingly.
Data import
TaxAct will allow you to import last year's tax return from other tax preparation applications such as TurboTax and H&R Block.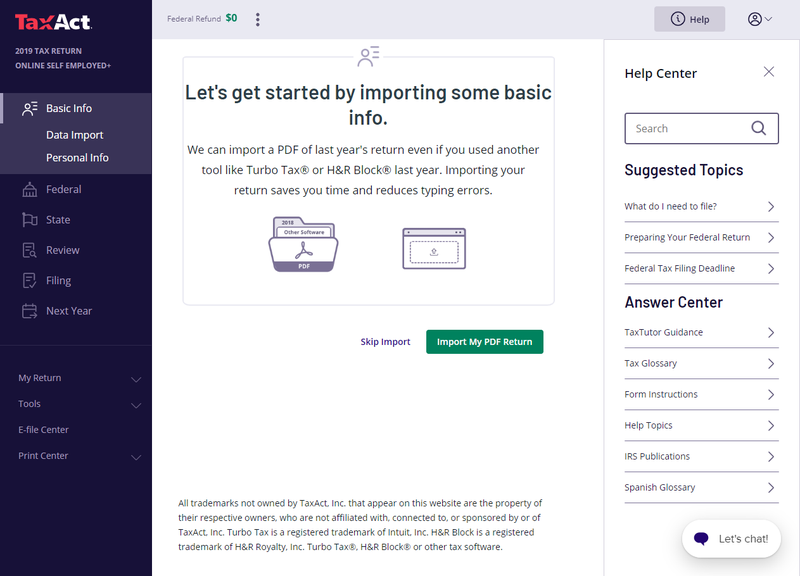 Importing this information can save you a lot of time, while also helping to reduce the amount of data entry you need to complete in order to process your return.
In addition to importing your tax return, you can also import charitable contribution receipts and W-2s. It's important to note that importing your tax documents may not be an option, since the import process is dependent on the payroll service that produced the document.
There is no option to snap a photo of any document to import into TaxAct at this time.
Tools
The Tools feature in TaxAct offers a variety of Assistants, which can be incredibly useful, depending on your circumstances. The following Assistants are available:
Donation Assistant: The Donation Assistant allows you to create a donation event, which is used if you have donated multiple items to the same charity. Once you create the event, you can add details for all donated items.
Stock Assistant: The Stock Assistant helps you easily calculate your gains or losses on any stock transactions.
Forms Assistant: The Forms Assistant provides you with a list of all available tax forms, with links that will take you directly to any forms you wish to access.
Topics Assistant: The Topics Assistant lets you search for any tax topic. Simply choose the topic you're interested in and click the View Topic button.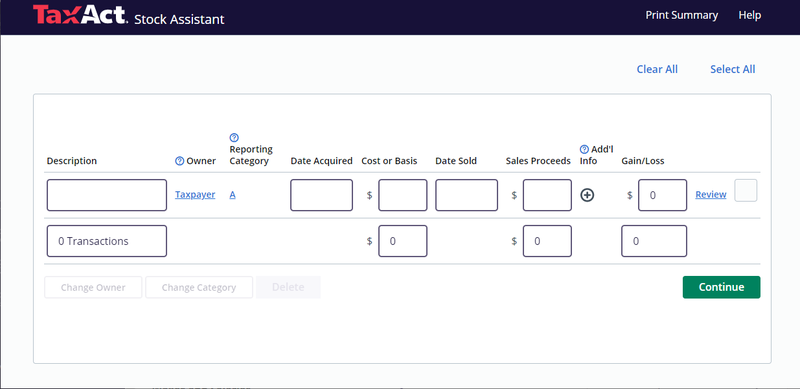 TaxAct also includes a variety of calculators including a Tax Calculator, Loan Calculator, and Savings Calculator.
---
TaxAct Self-Employed Online's ease of use
TaxAct Self-Employed Online offers easy navigation with step-by-step guidance available for new users. A navigation bar to the left of the screen allows you to jump to the appropriate section when desired, and a help option to the right of the screen allows you to search the Help Center or browse suggested topics.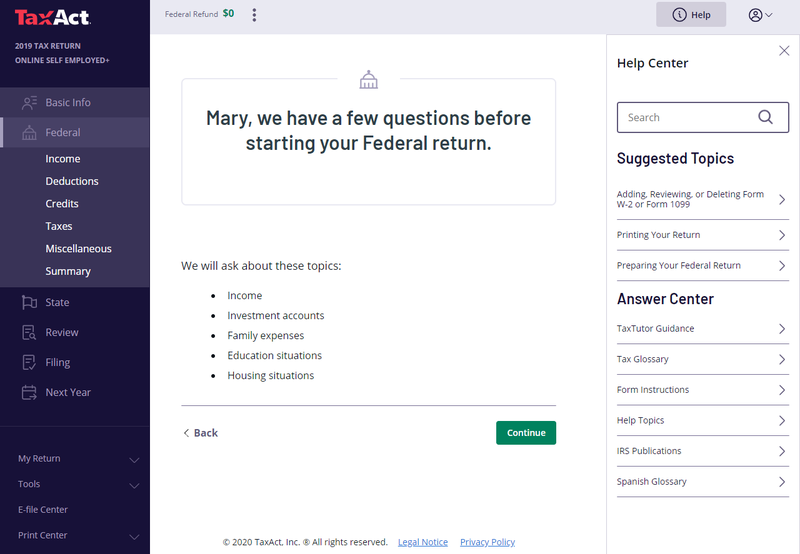 TaxAct screens can feel somewhat crowded at times, as they tend to use a lot of text on each screen.
While it is nice to combine several questions on one page, rather than having to continually scroll through multiple pages, the amount of text that needs to be read on each page can be overwhelming at times.
---
TaxAct Self-Employed Online's pricing
TaxAct fees are reasonable, with four plans available, including the Self Employed plan that is designed for freelancers, small businesses, and consultants.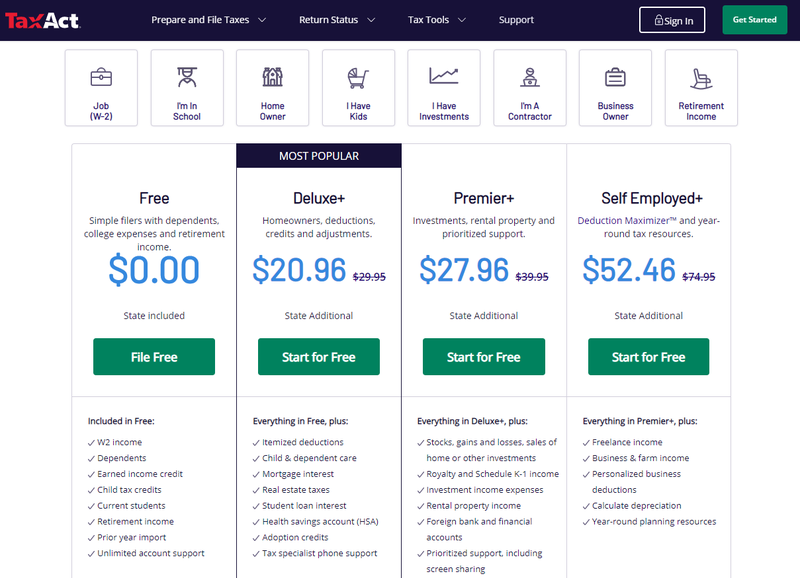 The Free plan is suitable for those with simple returns, while the Deluxe plan, which runs $20.96, and the Premier plan, which is $27.96, include other features such as itemized deductions, stock sales and purchases, and rental property income.
The Self-Employed version, the most expensive at $52.48, offers complete freelance income management, along with personalized business deductions and year-round small business tax planning resources.
Keep in mind that TaxAct prices can change frequently, so be sure to check out their website for the latest pricing.
---
TaxAct Self-Employed Online's support
TaxAct includes excellent support options, with the Deluxe, Premier, and Self-Employed plans all offering both telephone and email support.
All plans have access to the Answer Center, and a search function is available in the application.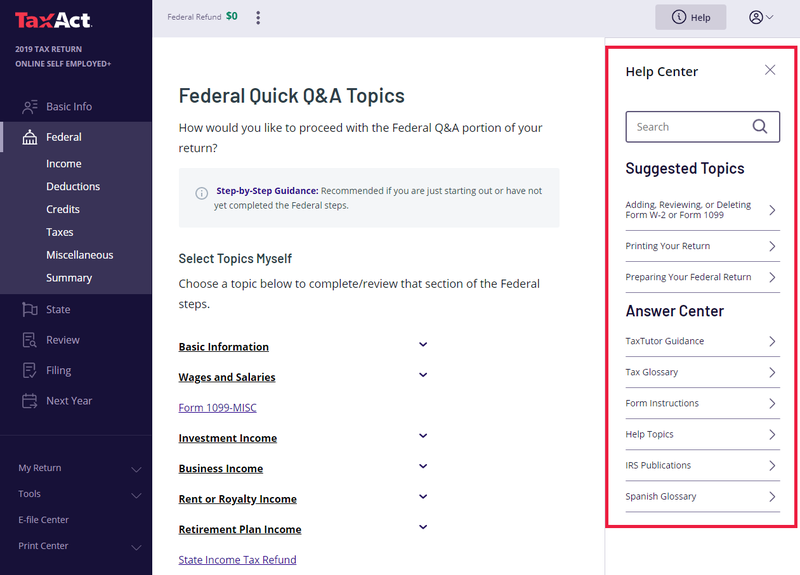 All plan users can also access the TaxAct Support page, where you can easily view the most popular topics, as well as access topics in a variety of categories, including Getting Started, Electronic Filing and Printing, Download options, and News and Reference.
TaxAct Self-Employed also includes prioritized tax support, with a dedicated phone line available. Support is provided by experienced tax specialists, though they don't specify whether they are an enrolled agent (EA) or CPA.
The application also includes screen share capability and an in-app chat option.
---
Benefits of TaxAct Self-Employed Online
The benefits of using TaxAct are numerous, starting with the ability to save some money upfront, since TaxAct costs less than many of its competitors. Another benefit is the ability to import your tax documents, including W-2s, though not all forms are eligible to be imported.
TaxAct offers good help options for paid plan users, including a screen sharing feature that allows support personnel to view your current screen.
Finally, you can access the various Assistants in TaxAct to easily calculate donation totals, stock gains and losses, as well as access a variety of forms. One drawback to TaxAct is that state filing is higher than the competition at $39.95.
---
Is TaxAct right for you?
If you're a small business owner, freelancer, or sole proprietor and you're looking for a great tax software, you owe it to yourself to check out TaxAct.
Like its competitors, TaxAct offers easy navigation, an interview process helpful to new filers, and good support options for all of its paid plans, all with a cost lower than much of the competition.
---
Frequently Asked Questions
Does TaxAct offer a mobile app?
Yes. They offer a mobile app for both iOS and Android devices that can be used along with the online application to complete your tax return.
Maybe. TaxAct does offer the option to import W-2s, but it depends on what payroll service prepared the W-2.
Will a tax professional review my return prior to filing?
While you can access a tax professional while preparing your return, the completed return is not reviewed prior to filing.

If you're a small business owner or sole proprietor looking for an easy way to file your taxes, be sure to try TaxAct.
If you're a small business owner or sole proprietor looking for an easy way to file your taxes, be sure to try TaxAct.
---
How TaxAct Self-Employed Compares
The Motley Fool has a Disclosure Policy. The Author and/or The Motley Fool may have an interest in companies mentioned.