---
Who is TeamGantt for?
It's extremely encouraging to see so many project management software vendors strive to improve user experience rather than just focusing on providing lots of features. You don't want your project management tool to become the project itself. TeamGantt is incredibly user friendly and easy to learn, making it great for teams of all experience levels.
If it weren't for its higher pricing tiers, I would recommend TeamGantt to teams of all sizes in nearly any industry. No matter if you have several different projects going on at one time or have multiple teams coordinating a specific task, you can track it all in this tool. However, in order to realize all of the functionality to make this possible, you have to skip right over the free option and start with Team Gantt's paid tiers.
As long as you have no need for financial tracking and management features, TeamGantt offers plenty of functionality for all sorts of teams.
---
TeamGantt's features
TeamGantt's features are geared towards collaboration and ease of use. Everything is about streamlining the task management and tracking process without weighing down the product with tons of unnecessary functionality.
Management and planning features
Task prioritization and scheduler: TeamGantt offers several different forms of task management, including a standard task list, Gantt timeline charts, and a shared team calendar. Choose what works for you.
Shared team calendar: TeamGantt's shared team calendar uses features typically offered only in a Gantt chart by showing tasks laid out over their entire duration, from start to finish.
Resource management: Each task in TeamGantt allows users to attach all kinds of project files including documents, PDFs, images, and spreadsheets.
Time tracking: TeamGantt allows you to set up and track timesheets for your entire team.
Premade templates: TeamGantt offers many premade templates, from marketing projects to product development, that will allow you to jump right into the action with minimal preparation time.
Documentation features
Document storage: As mentioned before, TeamGantt gives you the ability to store all kinds of project files within individual tasks, making them easy to locate, view, and download.
Collaboration features
Communication: TeamGantt offers task comments and a conversation inbox in order to improve team collaboration.
File sharing: File sharing is available through TeamGantt tasks using the file attachment function.
Team dashboards: TeamGantt's main dashboard consists of the project Gantt chart as well as team workloads.
Mobile application: TeamGantt offers a mobile version of its software for both iOS and Android users so you can remain in contact with your team and coordinate project tasks on the go.
Budgeting features
TeamGantt doesn't offer any financial management features such as budget reports or client invoicing.
---
Benefits of using TeamGantt
Given the name of this software, I was pleasantly surprised to find lots of different task management features included — not just Gantt timeline charts, but also shared team calendars and task lists.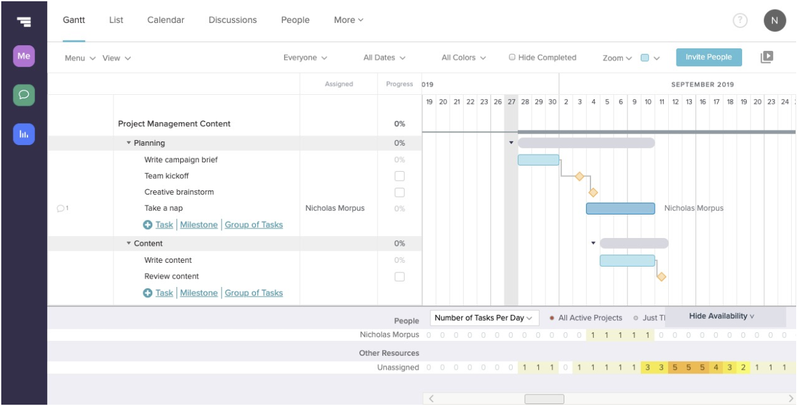 At first glance, this product reminded me of Microsoft Project, but with a far more user-friendly interface. Tasks are listed on the left, and the Gantt chart is displayed on the right. TeamGantt measures task completion in percentages, something I also dislike about Microsoft Project. Given that the human brain doesn't typically think in terms of percentages, it would be more useful to identify task status with labels such as "Not Started," "In Progress," and "Complete," and team members could provide extra detail in the task comments if necessary. Fortunately, this is where TeamGantt's similarities with Microsoft Project end.
Navigating between different task management types is as easy as selecting different options from the top menu.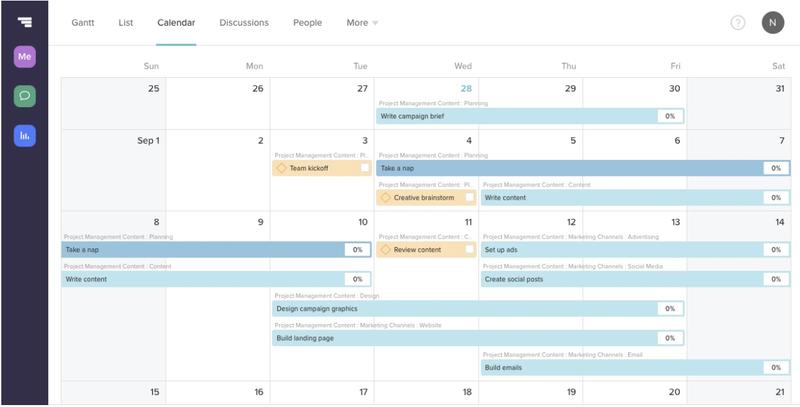 I was particularly impressed with the project schedule shared team calendar, which shares some functionality with Gantt charts. Instead of putting task due dates on individual days, like a Google Calendar, tasks are displayed like a timeline over multiple days in order to help track team workloads and how long tasks will take to complete.
Each task includes a comment section for team collaboration. However, what sets TeamGantt from the competition is the addition of a chat inbox feature that tracks your comments and mentions, making it easier to keep up with all of your communications. The inbox functions very similarly to an email system, which labels conversations, the sender, and the task in which it's tagged.
TeamGantt falls short in the financial management category, which is unfortunate considering its pricing. If all you're looking for is a project collaboration software that offers Gantt charts, there are plenty of cheaper options. At this pricing level, TeamGantt ought to offer nearly everything a project manager could want, from task lists to budget reports.
---
TeamGantt pricing
Considering what TeamGantt offers, it's an expensive option. The free version is quite bare bones, and unless you're using it to manage small personal projects, you'll outgrow it almost immediately.
One thing to keep in mind is that, during the past year, the pricing for TeamGantt has slightly increased at the Standard tier. Granted this increase is only $1.75, but it's an increase nonetheless. On the other hand, the Advanced tier decreased by $0.50, so we have increases in some places and decreases in others.
What's really interesting about the pricing changes is the price for additional users. When I reviewed TeamGantt in 2019, the Standard tier increased by nearly $10 per additional user, while the Advanced went up by nearly $15 per additional user. As you'll notice below, these rates have also decreased:
Free: Includes up to three users, one project, workloads, task dependency mapping, filtering, and phone support for the first 30 days.
Standard: Starts at $51.50/month for five users and increasing by nearly $8 for each additional user. It includes all previous features, plus unlimited projects, custom project templates, project histories, unlimited guest users, Gantt chart embedding, and phone support for the first 30 days.
Advanced: Starts at $74.25/month and increases by nearly $11 for each additional user. It includes all previous features, plus start/stop timers, manual time entry, early detection for hours going over budget, and unlimited phone support.
While some prices have gone up, it seems as though TeamGantt is focusing on making it less expensive to scale your user base within the platform. Scalability is key as your organization grows and project demands pile up, so you'll want a project management platform that will easily grow alongside your business.
---
Team Gantt's ease of use
TeamGantt is incredibly easy to learn and use. Everything is clearly labeled, with task management features at the top and project/reporting navigation on the left.
If Podio is an Android phone with lots of customization, TeamGantt functions more like an iPhone: Everything you do in this tool is already pre-built and ready for you to add your information and get going. There's very little customization available, and that's okay. Users who want a simple, streamlined experience with plug-and-play templates and reports will like Team Gantt.

Reporting is typically a more complex feature in project management software, with lots of parameters, filters, and options to choose from. TeamGantt makes it simple by offering just two types of reports:
The first report type gives you updates on your project via scores on how many tasks are categorized as "ok," "overdue," and "behind." The second report gives you an overview of each team member's workload and color codes their days based on how many tasks they're working on at one time. As you can see in the image above, the higher the number, the closer the block's color moves toward red, indicating potential overload.
These reports offer limited options, which restricts functionality but increases usability, especially for inexperienced users. In fact, most functions on TeamGantt seem geared toward inexperienced project management software users. It offers each function in the simplest way possible. If you want to add tasks to your project, there is a "new task" button in each list. If you need to edit tasks, just right-click and edit your task.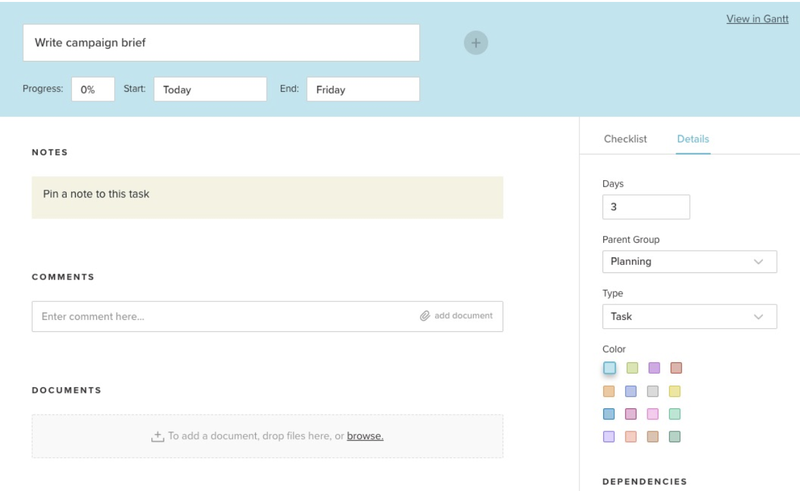 You won't be managing any clients or contractors with this software, but if you're looking for an intuitive collaboration tool your new team can easily pick up, TeamGantt has a lot to offer at the beginner level.
---
Frequently Asked Questions
Is there a free version of TeamGantt?
Yes, but its uses are extremely limited. It's restricted to three users, it only allows one project, and it places a stringent one-month limit on access to phone support. The free option is most useful for smaller personal projects that don't require lots of collaboration, because once you start to grow your team, the paid version becomes a necessity.
What kinds of teams and projects work best with TeamGantt?
If it weren't for the hefty price tag, I would say TeamGantt is perfect for any team or project that is new to project management software. It's easy to use and learn, but it doesn't offer any financial management features, which are a necessity for teams with contractors, project budgets, and invoicing.
Given those limitations, I would recommend TeamGantt for internal teams within larger companies since they are most likely to be able to afford this software.
What kinds of support does TeamGantt offer?
TeamGantt offers instructional videos, startup guides, feature articles, live classes, and even phone support. However, the first two pricing tiers only offer phone support for the first 30 days. If you're looking for unlimited phone support, you'll have to upgrade to the Advanced plan.

Looking for a project management tool that you can get up-and-running quickly? Make team collaboration easy, and try out TeamGantt!
Looking for a project management tool that you can get up-and-running quickly? Make team collaboration easy, and try out TeamGantt!
The Motley Fool has a Disclosure Policy. The Author and/or The Motley Fool may have an interest in companies mentioned.