It's true, I hold "ease of use" as one of the most important aspects of my software reviews. The way I see it, there's no sense in paying for lots of functionality if you can't even begin to understand how it all works.
TeamSupport takes simplicity to a whole new level by making software navigation virtually idiot-proof. But is this enough to justify purchasing it?
---
Who is TeamSupport for?
This is a tough question to answer, because if you look at TeamSupport's functionality and features, you'll find a platform that's easy to understand, navigate, and use.
It's not very advanced in its design, and the color palette is not that appealing, but that's not why it's good customer service software. It's good because it'll do what you need it to do, when you need it to, and that matters when making large purchases like software, which brings me to my next point.
TeamSupport is expensive, especially when you take these factors into account. Sure, you're paying for a reliable platform that works reliably, but there are other solutions that are just as reliable and come at a cheaper price.
So, why would a buyer choose TeamSupport over a competitor? I'm not sure. Maybe some integrations are unique to a business owner's situations. Whatever the reason, with prices this high, I can only imagine this platform falls into the hands of buyers with deeper pockets.
Once you add more members to a customer service team — say, five or six agents — you're looking at a yearly cost of $3,000, and that's a high price for a small business owner to stomach.
This solution seems to be best for bigger businesses looking for a no-frills customer service platform that's reliable and works well with existing programs.
---
TeamSupport's features
Issue tracking
Issue management: TeamSupport gives you the ability to view, search, update, and interact with issue task cards.
Email to ticket: TeamSupport converts issue and request email submissions into support tickets.
Service desk
Self-service portal: Allows end users to access their support tickets to track solutions progress and check for outages and other updates.
Live website chat: TeamSupport manages all end user live chats so you can provide quick solutions without relying on the formal ticket submission system.
Content management
Knowledge base management: Manage all support articles and release notes through TeamSupport.
Monitoring
Reporting and analytics: Track and measure support success through the many reporting and analytics tools offered by TeamSupport.
Dashboards: Track service desk activity in real time using TeamSupport's detailed dashboards.
Additional features
Ticket auto-assign: TeamSupport automatically assigns tickets to available technicians using your preferred routing method.
---
TeamSupport's ease of use
TeamSupport isn't especially appealing to look at, but functionally, it has plenty to offer in an easy-to-understand package. You can tell the software designers were more interested in building a tool that anyone could use than worrying about unique designs and features.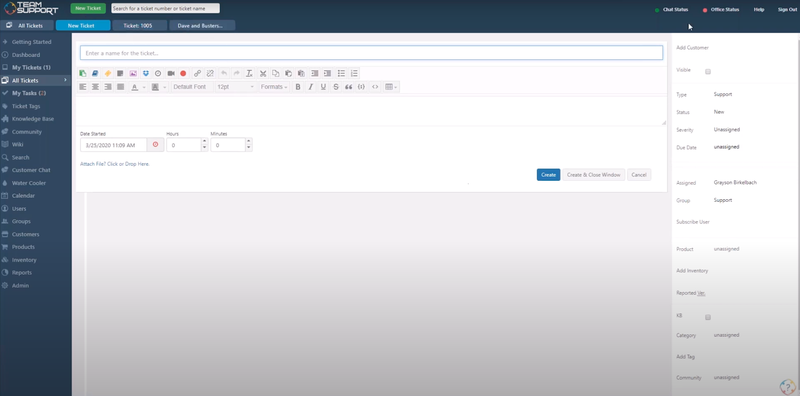 Everything you need in this software can be found on the left side menu, from dashboards and tickets to the knowledge base and calendars. TeamSupport is like the Toyota Camry of customer support software.
Sure, it's a little bland to look at, but it's made with ease of use and consumer friendliness in mind. You'll never have to search for a feature while using this tool.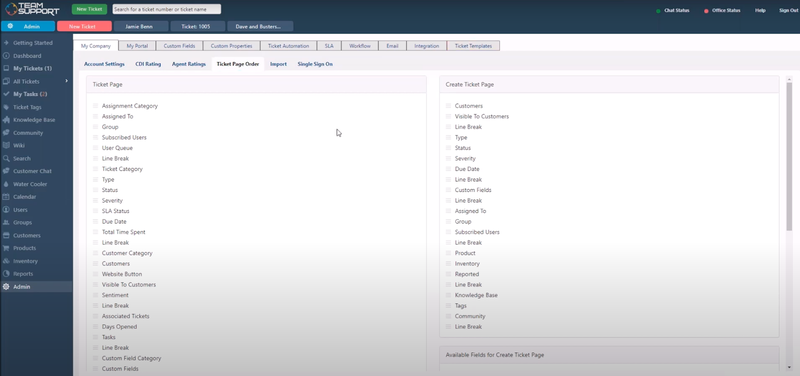 The one place this tool does implement more modern design elements is with the task tabs function, which is becoming more common in this market.
Tabs were a huge development for internet browsers, freeing users from the need to open multiple windows to view several webpages at once. The same can be said for task tabs.

Instead of navigating to different tasks in one window (or opening multiple browser tabs), users can click between different open tasks with ease at the top of the screen. These are the little design elements that make up for TeamSupport's dated design. What's even better, the New Ticket button is right next to the tabs.
This may seem like a small thing, but these design elements showcase TeamSupport's commitment to a quality user experience — a rare quality these days. At the end of the day, it doesn't matter how many flashy animations or pretty colors you offer if your software doesn't work. TeamSupport just works.
---
TeamSupport's pricing
TeamSupport is not upfront about all its pricing options, but it does provide a starting point. The Support Desk platform starts at $50/user, per month, while the fully-fledged Enterprise option starts at $65/user, per month.
While it's good to know where to begin the negotiations with TeamSupport, these prices are a little steep compared to some competitors. Without additional information, it's hard to make an informed decision before speaking with the sales team.
At any rate, TeamSupport's pricing is steep considering the quality of this software build. Sure, everything works and is very straightforward, but for a starting price of $50/month, per agent, I expect more than the Toyota Camry of customer support software.
At that price, I expect unique features and modern design elements. There are other easy-to-use options with more attractive interfaces and similar features lists at prices as low as $15 per agent. I'm not sure how TeamSupport can justify such high starting prices.
---
TeamSupport's customer support
Try to say "TeamSupport's customer support" five times fast.
Once you're done with that, you'll find that TeamSupport has many technical support options, including:
Phone support
Email support
Knowledge base
Self-service portal
Application status indicator
Webinars
FAQs
TeamSupport has you covered in any situation, no matter the urgency.
---
Benefits of TeamSupport
The biggest benefit of TeamSupport is ease of use. Everything you need to navigate this tool is located on the side menu. There is no searching and scavenging when looking for a feature, function, or piece of information. It's all available, from dashboards to knowledge base articles.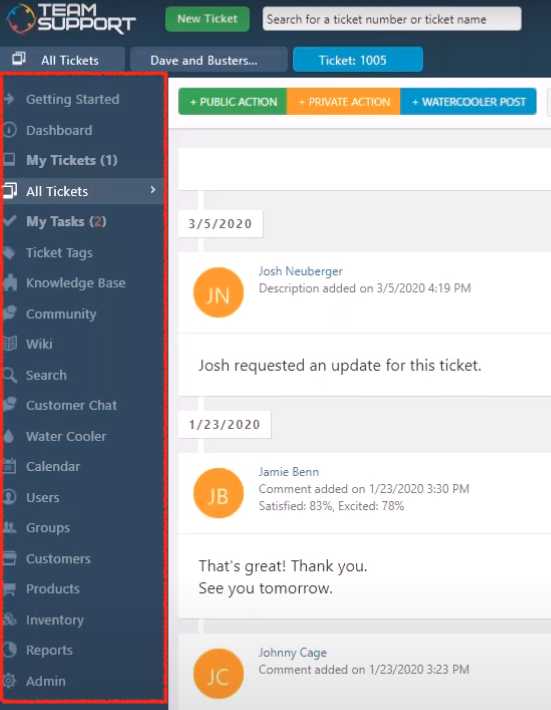 TeamSupport's second notable benefit is the solid features list that'll allow you to use all of your customer service skills. None of the usual suspects are missing, from self-service portals to live chat functions.
While TeamSupport eschews some of the fancier features you'll find in other platforms, you won't feel like you're missing a lot once you get down to business when handling your customer's concerns.
---
In the end, TeamSupport's higher price is hard to justify
Don't get me wrong, TeamSupport does just about everything right and gives you the tools you need to provide a solid customer service experience. There's a lot to be said for a platform that gives you a straightforward, user-friendly experience. But at what cost? How much are you willing to pay for that experience?
I don't know about you, but when I see competitors (many of which I've already reviewed) offering everything TeamSupport does and more in an equally user-friendly package, I can't think of a reason I would pay $50/month, per user for this particular solution.
---
Frequently Asked Questions for TeamSupport
Is there a free version of TeamSupport?
Unfortunately, TeamSupport doesn't offer a free version, but you do get a two-week free trial to decide if it's the right tool for your business. Since this platform falls on the more expensive side, I wouldn't be surprised if TeamSupport would allow trial extensions if you needed more time to test it and decide.
Is TeamSupport suited for less experienced software users?
Absolutely. TeamSupport is a simple, user-friendly tool. A beginner would get the hang of TeamSupport quickly thanks to its simple navigation, familiar features, and straightforward presentation.
What kind of customer support does TeamSupport offer?
TeamSupport offers a variety of support options, including phone and email support, FAQs, live status updates (helpful to know when maintenance is in progress), a self-service portal, webinars, and a knowledge base. There's no question that it has you covered with any issue you might encounter.

If you're looking for a simple and straightforward approach to customer service management, try TeamSupport today.
If you're looking for a simple and straightforward approach to customer service management, try TeamSupport today.