The Applicant Manager grew out of an HR consultancy firm. The company was tasked with filling a high volume of positions within a short period of time for a startup with a limited budget. They couldn't find a system to deliver those candidates, so they built one themselves.
They created an applicant tracking system (ATS) designed for small to medium-sized businesses. The aim was to make it affordable for companies with limited resources that needed an intuitive, customizable system.
Did they succeed? Read on to find out.
---
Who is The Applicant Manager for?
The Applicant Manager is an ATS that helps you attract, source, screen and hire the best candidates for your business. It's primarily aimed at small to medium-sized businesses with limited hiring resources, although it's also suitable for recruitment agencies and companies that outsource their hiring.
---
The Applicant Manager's features
While The Applicant Manager doesn't look as pretty as other cloud-based software, it does include a raft of useful features, and it lets you customize as much of the process as you'd like.
Careers page
The Applicant Manager is all about being customizable and adaptable to the way a business runs its hiring process, rather than making the company adapt the way they work to get the most out of the software.
It also focuses heavily on helping you build up a talent pool, so you can source candidates more easily next time you recruit for a position.
This starts with talent acquisition and building a careers page. You can customize the page to your company's brand and add elements to attract potential employees.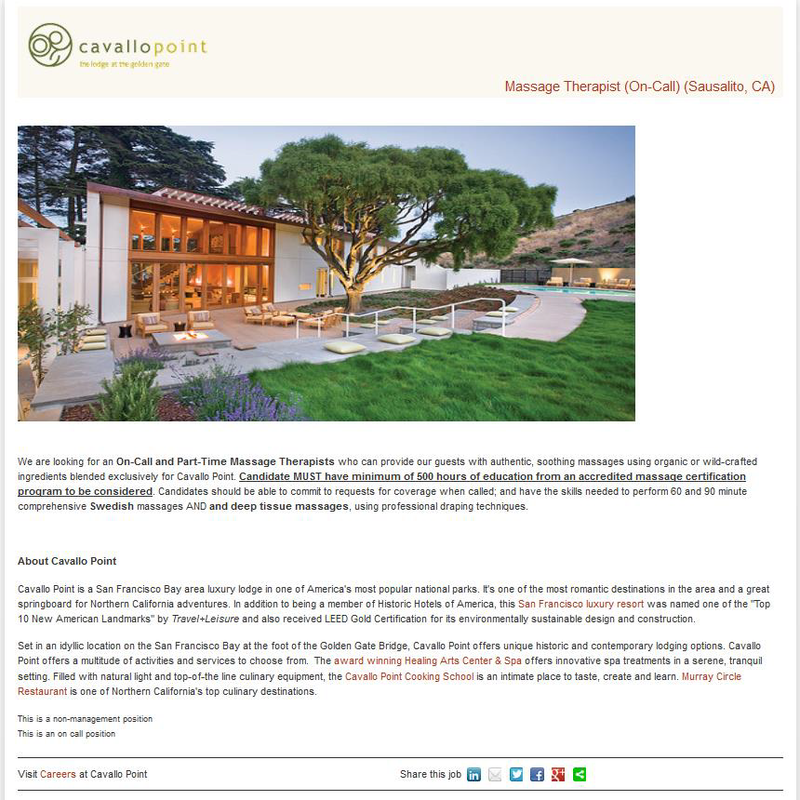 Candidates can view and apply for open positions directly from the careers page. Applicants and external recruiters can also submit resumes proactively to help you build your talent pool.
If an applicant likes the image your company portrays on the careers page but either they aren't ready to submit their details, or they don't see any open positions that interest them, they can subscribe to email alerts. They'll then get an email when more positions are added.
If you want to make internal candidates aware of new positions, you can build a separate careers page for people already working at your company. To find candidates within your talent pool, you can quickly search for them by:
Rating
Location
Keywords
Type of applicant
Skills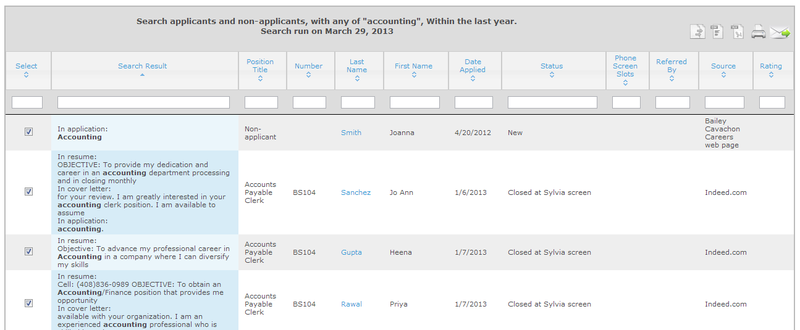 Job application process
Once you've created a job ad, you can push it to various job boards, including Indeed and Monster. Candidates can choose how to apply for each position — whether they fill in their details or apply through one of the job boards.
The application process is customizable — meaning you can select which fields they have to fill and how they can apply for the job — whether it's directly on the site or via a jobs board.
You can also customize the workflow for each open role and save these workflows as templates, reusing them as needed. It's easy to move candidates from one step to the next and see all of their details in one place. The candidate interface displays details such as:
Other roles they have applied for
Status
Rating
Email communication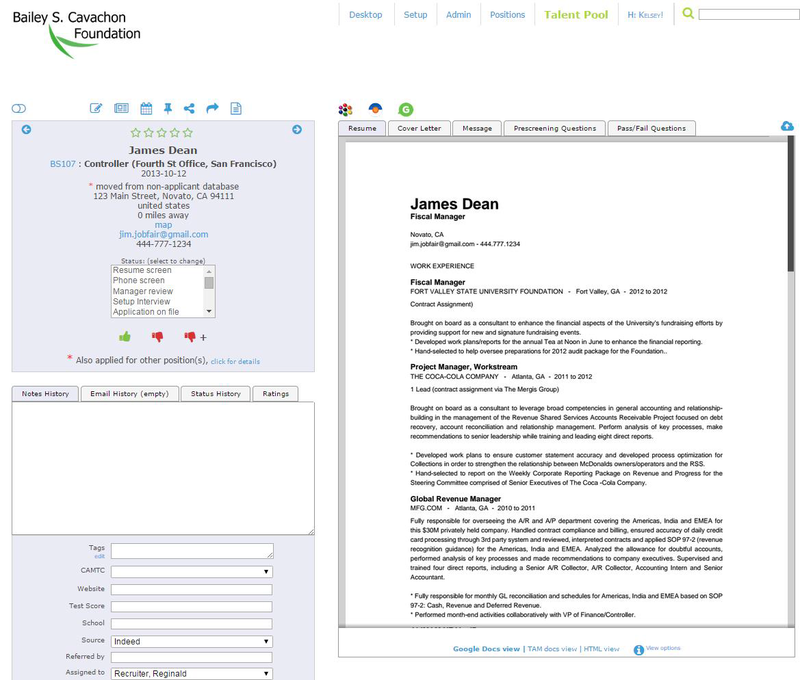 You can create a list of knockout questions to help you more easily screen candidates and immediately disqualify candidates who don't meet the criteria. For example, if you require more than five years' experience, The Applicant Manager can disqualify anyone who enters a number lower than five.
Candidate management
As candidates start coming in, The Applicant Manager automatically creates an intelligent dashboard of applicants. This contains details such as:
Name
Source
Referred by
Status
Notice period
It also contains ratings data, which is an easy way to provide feedback on candidates. All users have to do is click the thumbs up or thumbs down button to submit their feedback. If you want to go into more detail, you can provide a rating on a scale of 1-5, or submit more detailed thoughts.
This view is configurable according to your needs and can also be sorted and filtered in multiple ways. For example, you can use proximity tools such as Google Maps to sort by distance if you want to interview candidates in a certain location.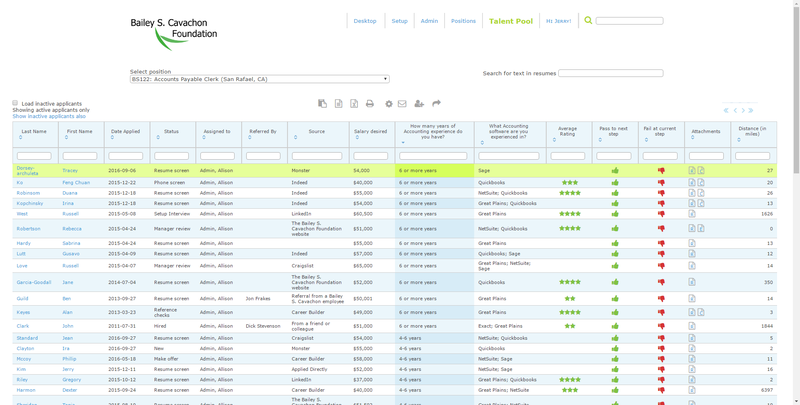 Reporting
You can use The Applicant Manager's variety of pre-built reports to help you keep track of your recruiting performance metrics. Just choose a report and any filters or extra criteria, such as reports by position or recruiting manager.
These reports include:
Time to hire
Source
Hiring activity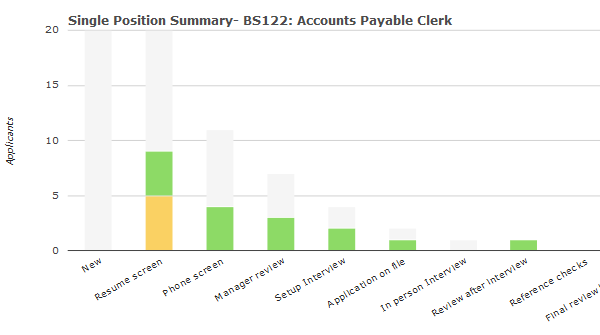 The Applicant Manager also integrates with a wide range of software for other HR functions, such as talent management, background checks, and onboarding. Once you've set up this integration, you can manage your entire recruitment strategy and process within one interface.
---
The Applicant Manager's ease of use
The Applicant Manager is meant to be as simple or as complex as the user or business requires.
To ensure the software is set up properly and customized the way your business needs it to be (which is a key focus for this software), The Applicant Manager provides an implementation team. This speeds up the process of getting up and running.
Its user interface is uncluttered and straightforward with horizontal dropdown menus allowing you to quickly find the right option. It doesn't look as attractive as other applicant tracking systems, as its user face is more traditional and a touch dated, but it's still intuitive.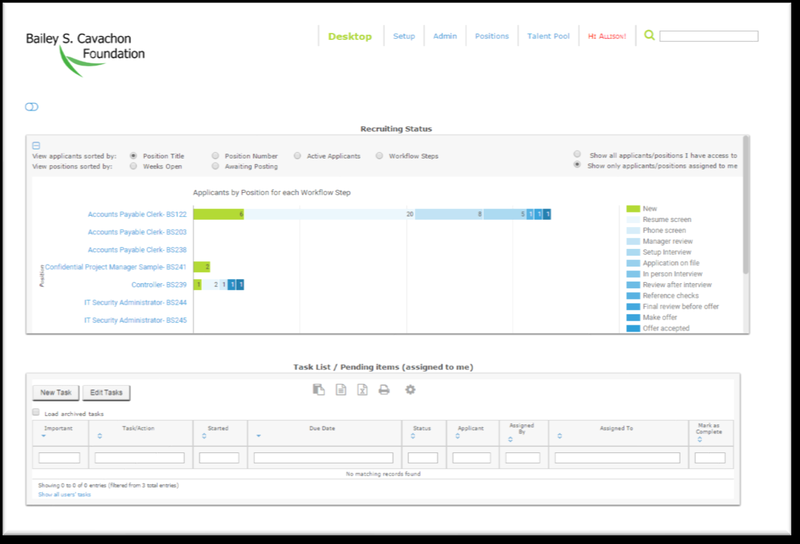 Once you've set the system up to your liking — which can take some time if you decide to customize the different workflows and application processes — it's easy to use and can help you speed up your hiring process.
---
The Applicant Manager's pricing
The Applicant Manager doesn't have a free version or a free trial, but you can get a demo of the solution that's tailored to the needs of your business.
The pricing varies according to the level of user privileges you choose. For an admin level user (The Applicant Manager calls this a tier 1 user) who can set up, customize, and use any feature, the price is $90/month per user. For any other users (or tier 2 users), the cost is $40/month per user.
You can control feature access with these tier 2 users.
The Applicant Manager is competitively priced. Its rival Workable costs $99 per job per month, while Breezy HR costs $171/month per user.
---
The Applicant Manager's support
The Applicant Manager includes a lifetime of training and support for all users at no extra cost, no matter what price plan they've subscribed to.
A lot of HR software vendors provide different levels of support depending on your price plan, so it's refreshing to see that The Applicant Manager offers the same level of support to all customers.
Its help centers are located in Ohio and California, and its customer service agents provide phone and email support from 8:30 a.m. ET to 8:30 p.m. ET Monday through Friday. It also offers a searchable knowledge base that provides answers to common questions and monthly webinars.
If one of your HR and recruiting professionals leaves the company, The Applicant Manager trains that person's replacement.
---
Benefits of The Applicant Manager
The Applicant Manager is a robust applicant tracking solution that allows you to completely customize almost every aspect of your talent acquisition and applicant management process.
You can attract potential candidates by building a branded careers page, speed up your sourcing process by building a talent pool, and manage workflows through its candidate and people management capabilities.
---
Complete customization
The Applicant Manager makes sure you can use its software exactly the way you want, without any compromises, and without having to change your processes to fit the solution. By spending more time in the set-up and implementation phase, you can make hiring a lot quicker and easier later.
---
Frequently Asked Questions
Is there a free version of The Applicant Manager?
No, The Applicant Manager offers no free trial. Admin users pay $90/month, while all other users pay $40/month.
Is The Applicant Manager an all-in-one HR solution?
No, The Applicant Manager, with onboarding integrations, is designed to help you source, screen, and hire candidates to fill open job roles.
It doesn't include employee management capabilities, such as time and attendance, performance management, retention and evaluation, or offboarding functionality.
Does The Applicant Manager provide phone support?
Yes, The Applicant Manager provides phone and email support from 8:30 a.m. ET to 8:30 p.m. ET Monday through Friday, as well as a searchable knowledge base.

Is the Applicant Manager the right fit for your business? Get a free demo to find out if its highly customizable feature set can help you improve your hiring process.
Is the Applicant Manager the right fit for your business? Get a free demo to find out if its highly customizable feature set can help you improve your hiring process.
---
How The Applicant Manager Compares
The Motley Fool has a Disclosure Policy. The Author and/or The Motley Fool may have an interest in companies mentioned.