---
Who is Time Doctor for?
Time Doctor is a time clock software for businesses of any size that want to know exactly how their employees' time is being used — although smaller businesses might find Time Doctor's price tag off-putting.
For businesses that bill by the hour or need to answer to clients about how employee time is spent, the data from Time Doctor's screenshots and app and URL tracking may prove useful.
Since employees also receive their own time usage reports, you can use Time Doctor's data to start conversations about productivity in the office and encourage self-correction and reflection about how work time is spent.
---
Time Doctor's features
Time Doctor's mission is to encourage employee productivity through a better understanding of employee time usage. All of its features center around time tracking and activity monitoring.
Accountability
Time Doctor is all about making accountability a no-brainer for employees. With the ability to take screenshots, and track apps and URLs visited, you'll never have to wonder whether your team is using their time effectively. Once employees start tracking their time, you'll be able to see how many hours they spend on important tasks every week.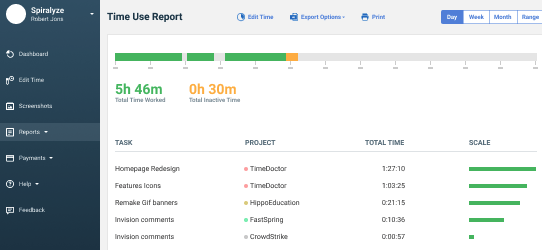 There are two methods to track time, "silent" (running in the background) and "visible" (manually or activated by employees). There are also three ways you can monitor employee activity: screenshots, URL tracking, and webcam shots.
When Time Doctor is in silent mode, it tracks sites visited or takes pictures as soon as an employee turns their computer on. But when it's in visible mode, employees turn on tracking when they start working on a task.
Depending on what you use, you'll also be able to assess how much of your employees' time is spent away from their computers, as well as what they're doing when they are there. This could give you more information about your employees' schedules and help make decisions about cutting down on meetings — or figure out who's on their lunch break for hours at a time.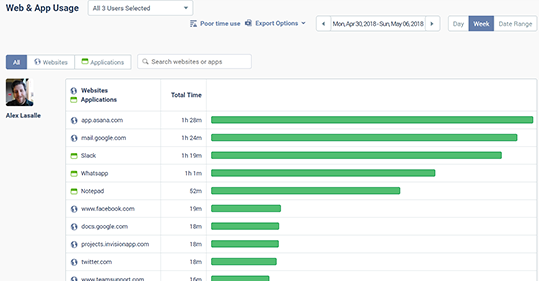 You can also check on employees who operate outside the office. They can use Time Doctor's mobile app to log their location so you can keep track of the time they spend at various job sites. They can also track their time spent on various assigned projects. The mobile app only works when it's turned on, so employees can heave a sigh of relief that their bosses won't be able to track them while on vacation.
Finally, if you have client-based projects, you can offer clients the ability to "check in" on project progress and see any screenshot or app usage data relevant to them in a client portal.
Budgeting
After tracking the hours your employees have spent on different tasks, you can calculate payroll and export the data to your payroll solution (Time Doctor doesn't currently offer a direct integration with any payroll system). However, if you need extensive labor cost reports, you'll probably have to use another solution or export data to a spreadsheet and create your own reports.
---
Benefits of using Time Doctor
As a manager, you can track how much time employees spend working on various projects and see which clients take up the most time. You can also use Time Doctor's desktop app to see how employees spend their time offline and track geolocations with its mobile app (when it's turned on).
All this data could help you make better decisions about which clients, projects, and jobs are profitable and which ones are too much of a time suck.
In addition to giving managers a better understanding of how their team uses their time, employees can also see reports about their own time usage. This understanding could motivate employees to use their time more effectively and identify apps and sites that distract them throughout the day.
---
Time Doctor pricing
Time Doctor has three tiers of pricing: Basic ($7/month per user), Standard ($10/month per user), and Premium ($20/month per user). All tiers include four basic functions: time tracking, tasks and projects, unlimited screenshots, and activity tracking.
The tiers also offer different levels of support and data storage, and the two lower tiers have limits on the number of groups/departments. You can try out any of the tiers with a 14-day free trial.
While Time Doctor offers many features that other similar tools don't offer, such as extensive activity monitoring, client portals, and productivity nudges, it also doesn't offer some pretty standard features. Time off requests and availability management, for example, aren't included in a tool that's supposed to make managing employee time easier.
If you think lack of employee productivity is your company's biggest issue — so much so that you're losing money due to time theft and constantly missed deadlines — maybe Time Doctor is worth the cost.
However, if employee time tracking and activity monitoring are tools you need in addition to other typical time clock tools (schedule building, PTO management, payroll integration, and invoicing), there are other tools on the market that offer all of these capabilities at a lower cost per user.
---
Ease of use
Since Time Doctor is largely an activity monitoring tool, it's pretty straightforward to use. All you have to do is download one of its time tracking apps and invite your team to do the same. Then you can accumulate time usage data to start analyzing trends.
There's one non-technical issue that you may experience before you even purchase Time Doctor. With its ability to run in the background and monitor all computer usage — even taking pictures of employees at their desks — some employees might feel that they have no privacy at work, which could be a drain on employee morale.
If you decide to use Time Doctor to track employee time, it'll be important to assess and gain employee buy-in beforehand so that workers understand why you're monitoring their activity so closely.
Getting started
The main thing you have to decide when setting up Time Doctor is how you want to track employee time. You can choose to make Time Doctor "visible" (allowing employees to track their time manually) or "silent" (running in the background to monitor employee activity).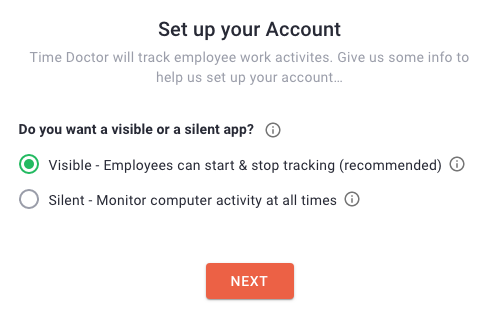 From there, you can create projects and tasks within Time Doctor and assign them to different employees or set up an integration with the project management tool you're currently using so you can track time within their systems.
When it comes to usability, my biggest issue with Time Doctor is that, although they do offer a Chrome extension and have a web app where you can access reports, it requires a desktop app to track time.
The need to download multiple apps — and the inability to track time exclusively with the Chrome extension or from Time Doctor's web app felt unnecessarily clunky and, honestly, outdated for a system whose whole mission is increasing productivity in 2019.
---
Frequently Asked Questions
Does Time Doctor have a free plan?
No, Time Doctor only offers a paid version of its product. However, you can sign up for a 14-day free trial of the system, which allows you to invite employees and gather time tracking data to see if Time Doctor is right for you.
Which industries does Time Doctor cater to?
Since Time Doctor relies on taking screenshots and tracking the apps and URLs your employees visit, it's not much use to you if the bulk of your employees' work takes place offscreen. While their mobile app allows employees to track their location, it doesn't record how they're actually spending their time.
In my opinion, businesses that bill by the hour or need to ensure that work hours are actually being spent on work — such as agencies or consulting firms — would benefit most from Time Doctor's monitoring tools.
Should I still use Time Doctor if I don't want to seem like I'm babysitting my employees' time usage?
Time Doctor is not only a tool that tracks the amount of time employees spend on productive or distracting activities, it also tracks how much time employees spend on different tasks. You can use this information to track client and project profitability or make hiring decisions by easily identifying when your team is short-staffed.

Best for teams that bill hourly, Time Doctor is a great tool for tracking exactly how your team spends time. Try out Time Doctor to see if it's right for you!
Best for teams that bill hourly, Time Doctor is a great tool for tracking exactly how your team spends time. Try out Time Doctor to see if it's right for you!
The Motley Fool has a Disclosure Policy. The Author and/or The Motley Fool may have an interest in companies mentioned.