As an HR professional, one of your key responsibilities is workforce planning. It's important to work out the optimal staffing level at all times if you want to ensure the business runs smoothly.
Too few workers, and you can't provide a high standard of service or develop a high-quality product. Too many workers and you spend too much money on staffing costs.
One of the key aspects of determining optimal staffing levels is factoring in time-off requests. There's a lot more to time-off requests than just submitting and approving.
You need a policy so you can work out how to handle these requests in a way that ensures optimal staffing levels, keeps employees happy, and is compliant with relevant legislation.
---
Overview: What is a time-off request policy?
A time-off request policy ensures you can handle any requests in a timely, fair, and legally compliant manner. A time-off request policy is often included in your employee handbook and explains details such as:
How to submit requests
How far in advance you should request time off
How much time off you can ask for
Any time of the year you can't request time off (such as busy periods around Thanksgiving and Black Friday)
How to handle overlapping requests
If you want to create a level playing field so employees feel their requests have been fairly handled, make sure this policy is fair, adheres to local legislation (for example, paid sick leave, which varies by state and country), and properly communicated.
If you make any changes, be sure to reflect the changes in policy manuals and inform employees immediately.
---
4 smart tips for handling time-off requests
The best companies are not all top down. It's important to give employees independence and autonomy when it comes to handling time-off requests. The below tips require collaboration between staff members and good communication and organization.
Tip 1: Create a culture that encourages time off
Contrary to some advice, taking time off is essential for employee wellbeing. If they don't take time off, they won't have the physical or mental energy to perform at an optimal level, and they are more likely to burn out.
If you discourage taking time off, you'll also create a toxic workplace culture that views your employees as robots rather than humans, and your employee retention rates will plummet.
Instead, set a minimum number of days you expect employees to take off a year and encourage them to use them. You'll end up with a happy, productive workforce who refer talented friends and former co-workers to apply for open positions.
If employees aren't taking time off, you can gently remind them of this either by email or through your HR software's self-service portal.
Tip 2: Process time-off requests in a timely manner
Don't make employees wait weeks to find out if their request is approved. Make sure you have the ability to approve or deny these requests within days. And make sure you don't miss the request because it gets lost in your email or you're snowed under with other tasks.
It's also important to notify not only the employee but any other members of staff who will be affected by the paid time off (PTO) request.
If you have overlapping PTO requests, and you're regularly having to turn these requests down, you should set up a shared calendar to help reduce the number of requests. If workers can see who has already requested time off, they can better plan their own requests and are less likely to ask for overlapping time off.
Tip 3: Allow shift trades
Instead of having to find replacements yourself, let your employees do the work for you. Let them automatically assign their shifts to a co-worker.
Managers can still approve the swap, but the hard work of finding a replacement is taken care of, especially if it is a last minute time-off request and getting someone to cover would be difficult.
To manage this properly, look for a scheduling tool that has an employee portal that gives them certain privileges, such as transferring their shifts to someone else.
Employee scheduling and time clock solution Homebase lets employees submit time-off requests through the self-service portal. Through the shared calendar, employees can pick up shifts that open up due to time-off requests, and managers can approve any shift trade requests.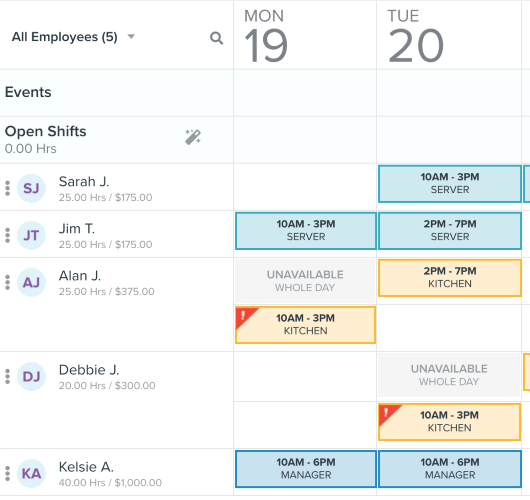 Tip 4: Use HR software
Trying to manually record, process, approve time-off requests, notify all relevant members of staff, and ensure you have cover, is a time-consuming and error-prone process. That's why a PTO tracker or human resources solution can make your life a lot easier.
Having a single place that centralizes all data prevents miscommunication, slow responses, inadequate staff to cover shifts, and customer dissatisfaction.
Instead, approved time-off requests are properly logged and not forgotten, shifts can be easily swapped, employees are fully informed, and the process works more smoothly.
With an HR and scheduling solution, you log on and immediately see the list of time-off requests you need to approve and other actions you need to take.
Take CakeHR. This solution lets you create and use multiple time-off policies, which is useful for remote teams based in multiple locations, as you can adhere to local laws. For example, you can create a policy for UK workers who are legally entitled to 5.6 weeks' paid vacation a year.
It also has a shared calendar so you can see when everyone has time off. The calendar is color coded according to policy and type of time off. You can filter the calendar by team and location.
---
The time-off request form
To create a time-off request form, identify the information your business requires to adequately process the request and to take necessary steps to ensure you have adequate staffing levels to support this PTO.
Typical information you might need to create a time-off request form includes:
Employee details (name, department, manager, etc.)
Type of time off (vacation, jury duty, sick leave, conference travel, etc.)
Start and end date
Date form is submitted
Approval or denial of time off
---
It's a balancing act
Even if you have a robust HR strategy in place, you're unlikely to be able to accommodate all time-off requests every time. This may upset some of your employees, but you need to balance that with ensuring you have the right staffing levels to serve your customers.
If you have a fair process in place for employee vacation tracking and reviewing other types of leave, plus the right software to be able to fully implement this process, then you stand a much greater chance of keeping customers and employees happy.