---
Who is TimeCamp for?
Single users of TimeCamp will find the time-tracking software helpful for tracking and managing productivity. Contractors and freelancers can also use TimeCamp's time-tracking and invoicing tools to more accurately bill clients and measure profitability.
Teams and organizations will find TimeCamp useful for its ability to track billable hours and keep individual team members on track.
---
TimeCamp's features
TimeCamp describes itself as a "Google Analytics for people's computer use and offline work time." As such, its main focus is helping you and your employees see where you spend the most time — and where you could be using it more effectively.
Scheduling
Since TimeCamp is more of a self-managed time-tracking tool, it doesn't offer traditional scheduling capabilities or the ability to clock in via a traditional time clock (where your total time spent at work is the only data you're recording). Instead, you log time spent on various tasks or projects, while TimeCamp's tracking tool works in the background to log the URLs and apps you've visited during the day.

This capability allows you to see where and how you and your employees are spending work hours. Upgraded versions of TimeCamp also offer the ability to see and track screenshots so you can verify productivity.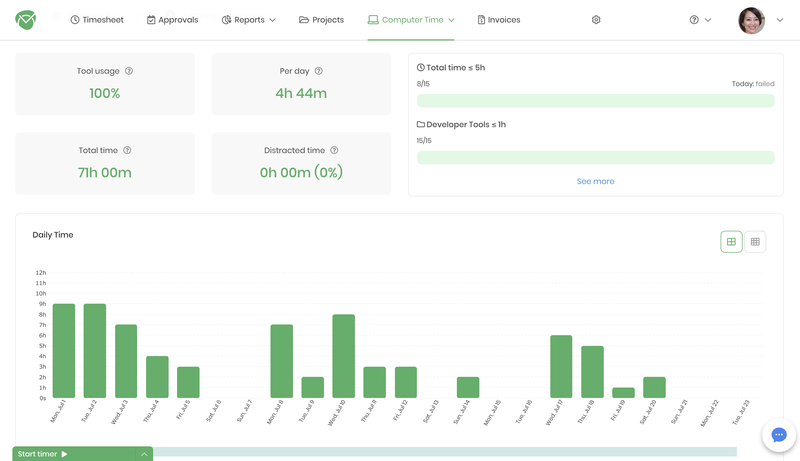 Accountability
The attendance reports show you how long everyone has worked. Although TimeCamp doesn't offer a traditional time clock for clocking in and out, the timestamps on its time-tracking tool show you when employees are logging work hours.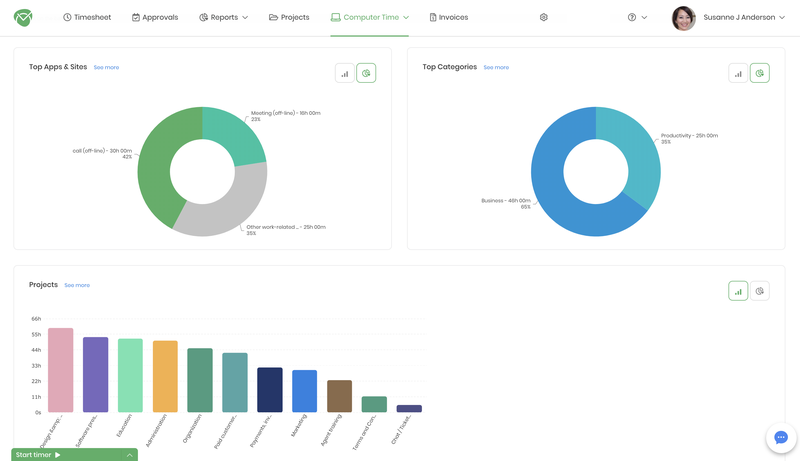 With TimeCamp's reports, you can also see a breakdown of how you're spending your time as a team. You can track time by client, project, and task type to get a better sense of where your time is going.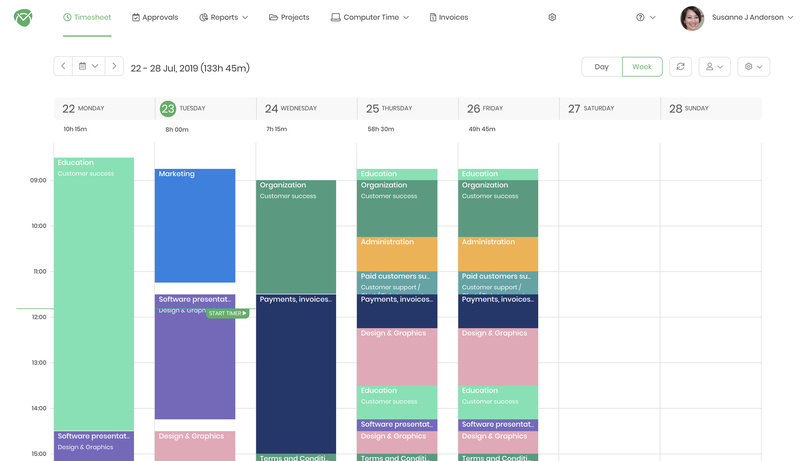 Budgeting
TimeCamp integrates with several popular accounting tools, like QuickBooks and Xero. Connecting these systems helps you more accurately track clients and budget from either system. Upgraded versions of TimeCamp also offer the ability to invoice clients directly from the system, ensuring that all billable hours have been recorded and will be paid for.
Teamwork and collaboration
Employees can track time from desktop, Android, and iOS apps, as well as a Chrome extension, which means they can record hours worked from anywhere. You can also create projects and tasks in TimeCamp to ensure that everyone is on the same page.
However, I didn't think TimeCamp was a very robust project management tool. Luckily, the system offers integrations with various popular tools, such as Asana, Trello, and Basecamp. If you use one of these integrations, your team can track their time directly from the project management tool, such as Trello (as shown in the picture), meaning they won't have to toggle between systems to record hours. And TimeCamp can stick more to its intended purpose: analyzing your team's productivity.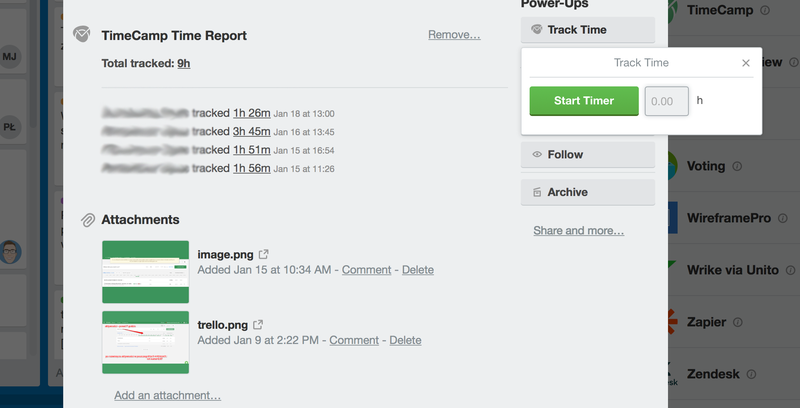 ---
Benefits of using TimeCamp
TimeCamp will help you better understand how you and your team use your time. If your employees often shift their attention between different projects and clients, you can see how this impacts their productivity. You can also more easily and accurately track billable hours for clients and projects and send invoices from the same system (if you have an upgraded version of TimeCamp).
Seeing how your employees use their time as a team and as individuals can help you make smarter management decisions, see who's overloaded with work, and decide who might need a talking-to about staying away from Facebook during work hours.
If you are a freelancer, you can use TimeCamp to self-correct any distracting habits and use your time more productively (and profitably). And (if you're willing and able to upgrade), you can use the data on your hours worked to invoice clients directly.
---
TimeCamp pricing
TimeCamp offers a free time-tracking plan for single users. However, plans for teams start at $5.25 per user, per month for an annual package. Month-to-month packages start at $7 per user, per month.
Upgrading to a team plan also gives you access to budgeting tools, access to integrations with various products you might already use (such as Asana for project management or QuickBooks for accounting), and the ability to export data. The "Pro" version of TimeCamp is where you'll gain access to invoicing capabilities and the ability to track screenshots from employees to verify time worked.

The cost of TimeCamp's basic team plan is about on par for the industry average for similar time-tracking tools. However, those looking to access more advanced features, making TimeCamp more of an all-in-one tool, will have a higher monthly bill.
---
TimeCamp's ease of use
If you're just using TimeCamp for its time-tracking capabilities, it's very straightforward: Just name your task or project and click the start button on the timer.
However, I think it's most efficient when integrated with other business software, especially if you want to track billable hours. You'll need a robust project management solution that works alongside TimeCamp to track project progress and ongoing tasks.
I think it's also worth mentioning that TimeCamp is a Polish product. Although this has no bearing on its technical capabilities, English speakers may find it takes a second read to understand some of the system copy and labeling. And while you can easily find answers to many of the questions you might have in TimeCamp's FAQ section and self-help articles, the clunky writing is occasionally present here, too. This re-reading only takes a few extra minutes, but it can be slightly disorienting when going through the setup process.
Getting started
You can start tracking time spent on various projects for your own purposes immediately after creating your account.
To start tracking and managing your team's time, all you have to do is invite your employees to create TimeCamp logins. You can then start adding them to projects and prompting them to track their time in the system.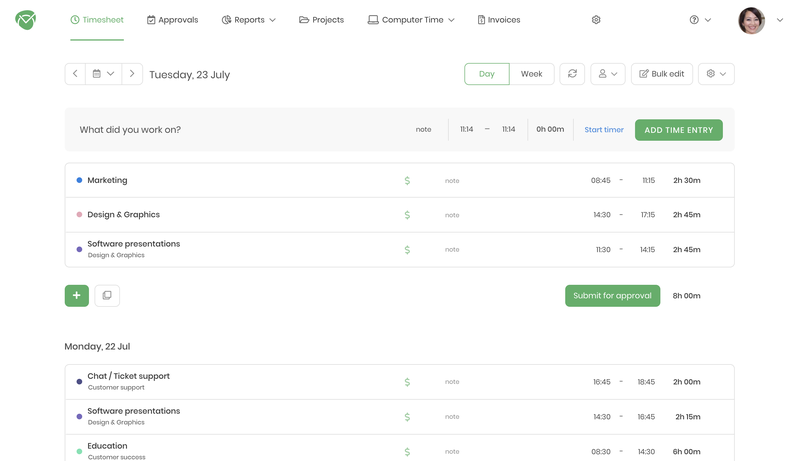 ---
Frequently Asked Questions
Does TimeCamp have a free plan for teams?
TimeCamp's free plan is only for individual users to log their own time usage. It only includes the ability to track time. Teams need to upgrade to a "Basic" or "Pro" plan to add users and gain access to advanced features, such as integrations or invoicing.
Which industries does TimeCamp cater to?
TimeCamp can be beneficial for any company who'd like to better understand how employees use their time. However, its ability to label and track billable hours and organize time by project and client, makes it ideal for agencies, freelancers, and nonprofits (to which it offers a 50% discount).
Should I use TimeCamp as a freelancer?
If all you want to do is track how you're spending your time, TimeCamp is free for single users. However, to gain access to other tools that freelancers might find useful, such as integrations with other business software or invoicing, you'll have to upgrade to a paid plan. However, these plans are pretty affordable ($10 per month or less, for one user), so TimeCamp might be worth shelling out for — especially if you want to hold yourself accountable for how you spend your time during your workdays.

If you want to gain insight on where your team's time goes during the workday, be sure to try out TimeCamp.
If you want to gain insight on where your team's time goes during the workday, be sure to try out TimeCamp.
The Motley Fool has a Disclosure Policy. The Author and/or The Motley Fool may have an interest in companies mentioned.