Improve the emails you send out by putting yourself in your customer's shoes. Transactional emails, or emails that are sent from a business to a customer, are usually purpose-oriented. When you shop at an online store, you receive emails that pertain to actions you've taken at that store. Think about what you like and don't like about those emails, and you'll be able to perfect your own small business's transactional emails.
---
Overview: What is a transactional email?
The Oxford American Dictionary defines a transactional email as — just kidding, they don't have a definition for that. Luckily, the internet does. When you hear the term transactional email, it refers to emails you receive from businesses such as password reminder emails, shipping notification emails, order confirmations, and other emails personalized to your interactions with a business.
It's important to distinguish between transactional emails and marketing emails. They're not the same. Marketing emails are sent to an email list to draw in customers in mass amounts for a general purpose, typically to generate sales.
---
Types of transactional emails
With a clear understanding of what a transactional email is and isn't, let's run through the different types. A few were mentioned above, but we'll go into more detail so you have a full understanding of transactional emails. The six types are explained below.
Order confirmation
After a customer has placed an order with your e-commerce business, you send out a follow-up email confirming the order. Since you're sending this email exclusively to the purchaser, it qualifies as a transactional email.
Shipping notification
Another common transactional email is the one you send once a customer's order has shipped. Many of these emails are automated by a transactional email service or provider, or an email API, which can make your life much easier. Mailchimp and SendGrid are two examples of popular email API providers.
Delivery confirmation
Not all online retailers send out this type of transactional email, but they're still on the list. Once the shipping company, whether UPS, FedEx, or USPS, scans the package as delivered, your business will send an email notifying the buyer their item has been delivered.
Account verification
When someone signs up for email correspondence with your business, they will receive an email to verify or confirm their email address. This email will include a link they must click to verify they actually meant to subscribe and that the email address is correct and active.
Password reset
When a customer buys an item from your business online, they must sign into their account if they've previously created one. If they've forgotten their password, they click a button to reset it. Whatever email automation service you use will then send an email with a link to do just that.
Unattended cart updates
If a customer has added something to their shopping cart but didn't complete the purchase, you can send transactional emails including any of the following subjects:
Item is selling out
Item is no longer available
Item has gone on sale
Item is still in your cart
You can tailor your message to fit whatever situation is appropriate. If the item is sold out, or if their color choice isn't available, you can direct them to similar items they might be happy with.
---
Top 3 benefits of transactional emails
It doesn't take much time to implement these personalized follow-up emails, and taking that extra time can go a long way. Let's have a look at the key benefits of transactional emails.
1. Builds trust
I've been in countless situations where I've bought from an online retailer, haven't received an order confirmation email, and immediately began to question the validity of that company. The next step is doing research to see if it's a scam.
That's not something you want customers thinking about with your business. Sending order confirmation, shipping confirmation, and other personalized emails to your customers is a great way to build customer confidence in your business. Personalized service like this builds customer loyalty.
2. Leads to more sales
When customers have a good experience with your business, they're more likely to return because they know they'll get good communication. Additionally, you can send them sales alerts based on their shopping habits.
You can go one step further and follow in the footsteps of Kohl's and Old Navy, implementing a program where customers earn cash discounts to redeem in future purchases. This encourages repeat business and customer loyalty.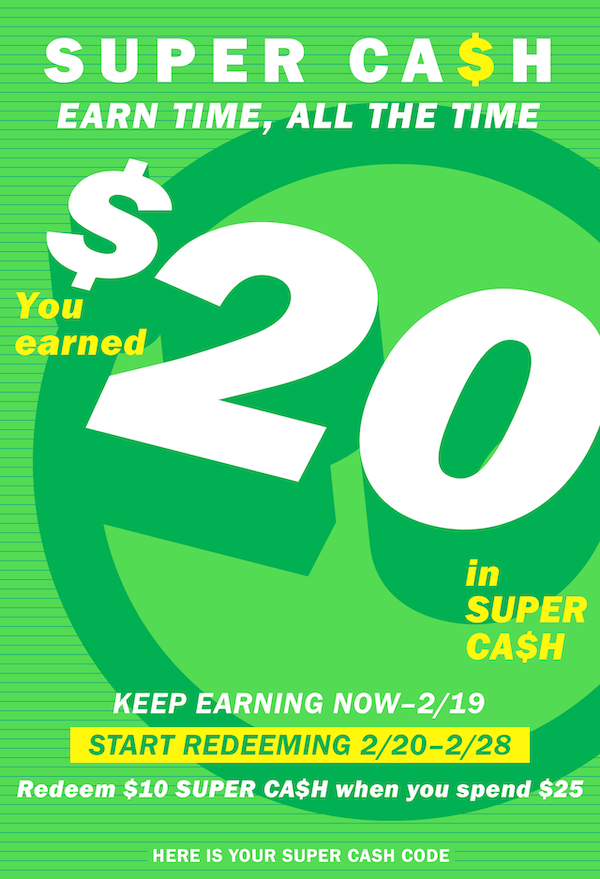 3. Creates brand loyalty
People constantly share their favorite places to shop with friends and family. Here are some things you can do to rise to the top of a customer's favorites list and build customer loyalty:
Use personalized communication
Offer useful information regarding a customer's order or account
Incent them to come back and shop, either with sales alerts or earned cash
---
5 best practices when sending transactional emails
Transactional emails have benefits, for sure, but don't send them without a well-thought-plan. You can do things to ensure you and your customer get the most out of your transactional emails. Here are the top five transactional email best practices.
1. Personalize in as many ways as you can
We emphasize this throughout this guide, but it's one of the main purposes of transactional emails. Since many correspondences directly correlate to an order, an account, a password, etc., it makes sense to use the person's name in the introduction of the email. You can also reference an order number, a specific item, or specific action so the recipient knows the email pertains to them.
2. Make it fun
Business email formats don't always have to be formal. If you're offering a discount, rewards cash, or other incentives based on previous activity at your online store, include vibrant colors, engaging content, buzz words, and anything else that would turn an email open into a click-through and possible purchase.
3. Include functional buttons
Clickable buttons always present better in emails than links do. If you're trying to direct a customer to your sale on a specific item that they added to their cart or viewed on your website, use a button. Take them directly to that item page, a page with similar items, or their shopping cart to encourage them to complete their purchase.
4. Say thank you
No matter how big or small your company is, customers like knowing they're appreciated. Whether you start an order confirmation with the words "thank you for your order," or you give customers a special discount code for being a loyal customer, a little gratitude makes a big impact.
5. Don't go overboard with marketing
One of the goals of transactional emails is to make sales and market your business. However, no more than 25% of your transactional emails should be marketing oriented. If you want to create marketing emails, do so with any of the email marketing software options available. Transactional emails are personalized to an individual customer and their needs.
---
The bottom line
Remember what it's like to be a customer and the transactional emails you receive, even when you're a business owner. When sending out transactional emails to your customers, make sure they're personalized, fun, eye-catching, and benefit both the customer and your business.