Trello was one of the very first project management software tools I was introduced to in my professional career as an event management content writer back in 2014, and five years later I see that it has barely changed.
The content team I worked with at the time was managed almost exclusively through Trello, especially our content calendar. Every step of the content creation process was managed using Trello and the Google office suite.
In fact, I came to see kanban board style as synonymous with this product and I've judged all other similar software options against this one.
---
Who is Trello for?
Trello is perfect for all kinds of projects or teams including content teams, marketing projects, customer support tracking, sales pipelines, HR tracking, and even Agile project management.
Even if you're just coming up with a project management plan before you move into the execution phase, Trello will help you track your progress.
It's an all-around great fit for most teams so long as they don't require any native budgeting tools or client invoicing features.
Since it is such a user-friendly tool, managing projects in Trello is great for beginner teams and seasoned professionals. The former will enjoy the simple onboarding process while the latter will appreciate the streamlined experience that Trello offers.
---
Trello's features
Trello is not a fully comprehensive project management software. This tool is a task management and collaboration tool, and Trello developers know this.
They lean very hard into this market by making sure each feature is simple, intuitive, and visually pleasing while covering most of the project management basics. Not to mention, if you're looking for additional features like metrics, issue tracking, or live team chats, there are hundreds of integrations to choose from.
Management and planning features
Task scheduler and prioritization: Trello uses a kanban board system for planning, scheduling, and prioritizing tasks complete with due dates and labels.
Shared team calendar: Trello offers a shared team calendar view with their "power up" (or Trello app) add-on options. This view shows tasks, due dates, and the relevant owners for each task.
Time tracking: Time tracking is available as an additional "power-up" option. Using this feature, you'll be able to track time spent on tasks and either bill that time to clients or use it to implement improvements for project execution.
Documentation features
Every card in Trello includes an attachment button that allows you to upload files and images as well as connect with other services such as Google Drive, Dropbox, and OneDrive.
Collaboration features
Communication: Each Trello card includes a commenting section at the bottom which allows you to upload attachments, tag other users, add emojis, or even attach other Trello cards.
File sharing: As mentioned before, every Trello card includes an attachment button as well as a file upload function within each card comment.
Team dashboards: Trello's entire main page functions as a team dashboard, which includes the tasks, how far along they are on the board, and who is working on what.
Budgeting features
There are no dedicated budgeting features offered by this tool.
---
Trello's ease of use
Trello was easy for me to understand five years ago, and I am glad to see that they haven't changed in that regard.
Everything about Trello is intuitive from the start. Even if you aren't familiar with their kanban board system, they make the learning process as simple as possible.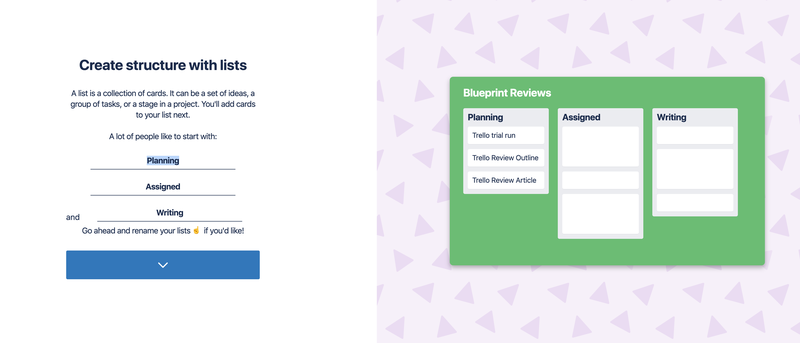 Right from the start, Trello walks you through the basics of creating your own board.
You can immediately create steps for your cards to live in, create cards, add due dates, create task checklists, add users, create task labels, and move the tasks along the board through drag-and-click motions.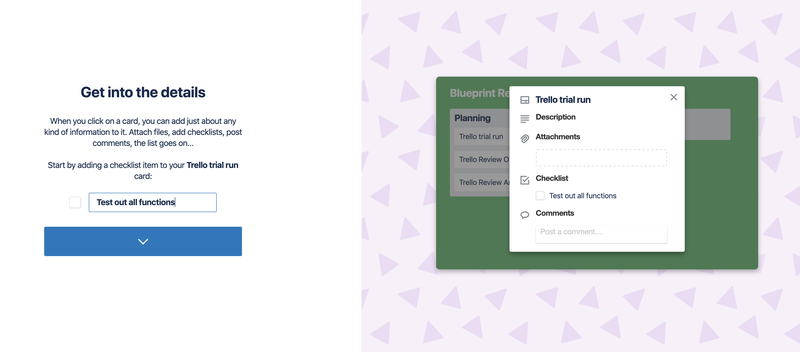 Normally when testing out new software options for a review I will go with one of the vendor's many templates in order to help me understand all of the features offered, but with Trello this wasn't necessary. After six years, Trello retains the same interface that I remembered.
Trello's main dashboard is simple and easy to understand with each step on the board in plain sight, all of the tasks I've created are right there for me to see, and navigating between tasks is a breeze.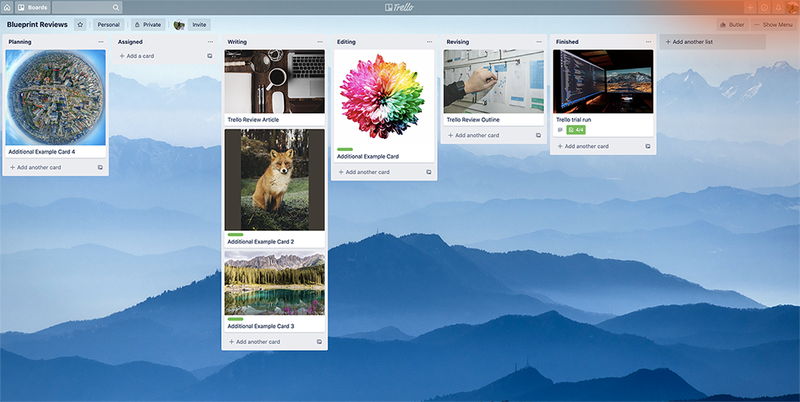 If I want to view the details and progress of a specific task, all I have to do is click on it and the card appears overtop of the rest of the board, unlike some programs which take me to an entirely new page.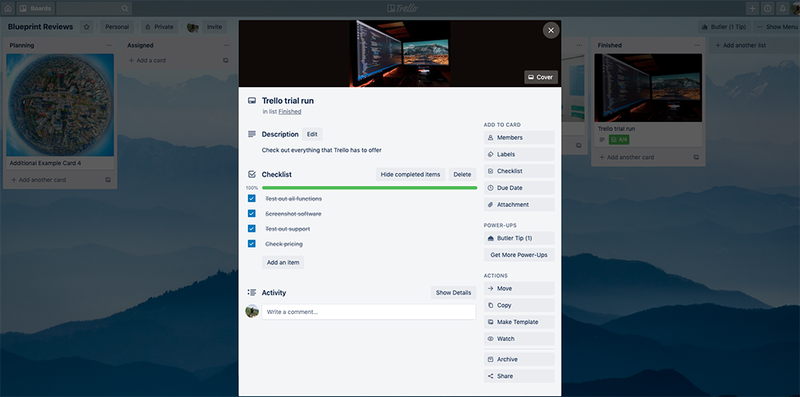 One feature I found interesting about Trello was the completion of tasks measured in percentages.
I've railed against using percentages to measure completion in the past with tools like Microsoft Project and TeamGantt since these tools leave it up to users to arbitrarily decide how "complete" their tasks are.
Trello fixes this problem by tying the completion percentage only to checklists, giving that percentage an objective value. Finally, someone got this function right.
Trello is one of the few project management tools that scores a perfect ten when it comes to ease of use in my book. It is simply unparalleled when it comes to a stellar user experience.
---
Trello's pricing
Trello offers a relatively reasonable pricing system. It's not the cheapest option that I've seen (that still goes to Podio), but for what this platform offers, Trello is a good value so long as you don't require any budgetary or client invoicing features.
One impressive feature of the free tier is two-factor authentication. This is not common when it comes to free software, but it's encouraging to know that at any price point, you can trust Trello's security.
Free - Unlimited personal boards, unlimited cards, unlimited lists, 10MB per file attachment limit, ten team boards, one power-up per board, 50 automated command runs per month, two-factor authentication.
Trello Business Class - $9.99/user/month - All previous features, 250MB per file attachment limit, priority support, custom board backgrounds, unlimited team boards, custom fields, calendar view, app integrations, 1,000 automated command runs per month, advanced admin permissions.
Trello Enterprise - Starts at $20.83/user/month with gradual rate decreases as more users are added - All previous features, unlimited command runs, attachment restrictions, power-up administration, personalized onboarding.
The pricing for Trello is very competitive with other simple task management and collaboration software options.
---
Working with Trello support
When it comes to customer support Trello is decent.
First off, Trello is owned by Atlassian, the same company that owns Jira, so the support structure is very similar. Most issues are solved through support ticket forms, however, priority phone support is offered to Business Class and Enterprise users.
Where Trello really shines in the support department is with its extensive knowledge base and its own blog which not only helps with Trello related topics, but also team management articles.
---
Benefits of Trello
Trello's greatest benefit is its ease of use.
Most, if not all, users will pick up this tool and understand it in under 20 minutes even if they aren't familiar with task management or collaboration software.
In fact, I'd love to see other project management tools try to match Trello with their beginner setup which doubles as a tour on rails.
The second Trello benefit is the price point.
As I said before, it's not the cheapest option on the market by far, but very few vendors take this much consideration into making such a user-friendly product at such an affordable price.
Not to mention most of the core features are offered in their free option so you can figure out if Trello is right for you at your own pace. That alone is worth an upgrade once you're looking for additional functionality.
---
Trello sets the bar for kanban-based software
When I reviewed Jira, I marveled at the improvements they'd made since the last time I'd used their product. I was especially surprised at how well their kanban feature worked, which makes complete sense given the fact that Atlassian (Jira's parent company) acquired Trello in 2017.
I remarked that their kanban system wasn't revolutionary, but that was only because it was so unbelievably similar to Trello and I wasn't even aware that Atlassian had acquired them. Jira's kanban system was so familiar to me because, in essence, it was Trello's board system.
That's why I hold Trello up as the gold standard for kanban board style project management software that's perfect for any team looking to track any task from ideation to fruition.
---
Frequently Asked Questions
Is there a free version of Trello?
Trello does offer a free version of its software and it's one of the best free versions I've seen. Most of Trello's core functionality is available with the free option with a few limitations put on the number of power-ups you can use, the size of attachments you can add to each card, and the number of boards you can create.
What kinds of teams and projects work best with Trello?
Trello is perfect for most project teams, so long as those teams don't require any kind of native financial management features such as budgeting or client invoicing. This platform even appeals to Agile project management users thanks to its Agile project template.
What kinds of customer support does Trello offer?
Trello offers plenty of how-to articles and troubleshooting guides in its extensive knowledge base as well as support ticket forms, but they do gatekeep their phone support capabilities for their paying customers only.

Get started on your next project quickly with Trello — a straightforward, affordable project management software.

Get started on your next project quickly with Trello — a straightforward, affordable project management software.

The Motley Fool has a Disclosure Policy. The Author and/or The Motley Fool may have an interest in companies mentioned.