After recently reviewing Trello, I was surprised how much it made me think about its competitor Asana.
It wasn't because I was longing to use Asana (despite how great it is), but because Trello was so user-friendly, just like its competitor. It doesn't matter how many features a software has to offer if it's so complicated that learning it becomes a project itself.
Trello and Asana are perfect examples of project management software (more specifically, collaboration software) done right. That's why I've decided to compare the two here so you can decide which one is right for you and your team.
---
Trello vs. Asana: An overview
Who is Trello for?
Trello is perfect for any user looking for kanban-style project management since it is easily the best kanban software on the market. That being said, this software doesn't offer any financial management features such as budget reports or client invoicing.
Unless you already have other solutions to cover those gaps, Trello is better suited for internal projects, team management, and collaboration purposes, such as managing a content team or directing new marketing efforts.
Who is Asana for?
Asana appeals to a similar market as Trello, but with a slightly longer list of features, focusing mostly on project management basics. Instead of focusing on one management style, Asana offers users their choice of task lists, kanban boards, or Gantt charts, as well as special features such as workload management.
Like Trello, Asana is more of a collaboration tool meant for internal projects that don't require any financial management.
If you're looking to handle client invoicing or project budgets, you'll have to look to supplementary solutions to fill in the missing functionality.
---
Trello vs. Asana: Features
What do these two tools have to offer? This is usually the first thing any software buyer looks for before exploring pricing, customer support, or integrations.
Let's find out whether Trello or Asana has the upper hand in the features category.
What Trello offers
If you use Trello for project management, you'll quickly notice it only offers a kanban board layout, but this isn't necessarily a bad thing.
Rather than extend into other styles where it might not be as knowledgeable, Trello seems content with perfecting its specialty style — and it shows. Trello has the best kanban setup I've ever seen in a project management software, hands down.
Most of the core staples of project management are readily apparent, including task management, resource sharing within tasks, communication through task comments, a shared team calendar, and time tracking.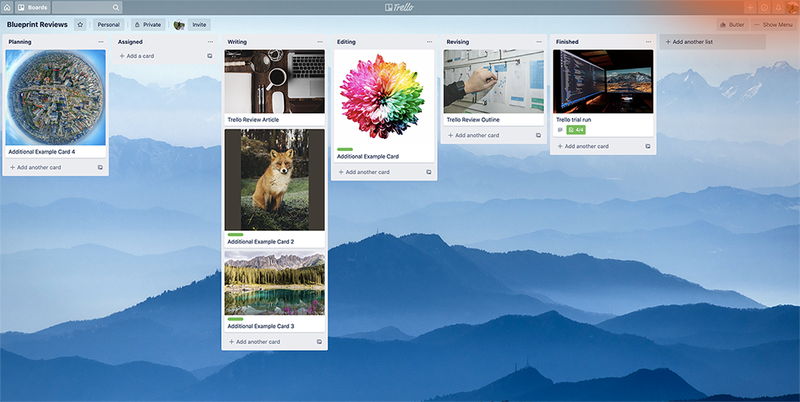 You'll find it easy to incorporate and manage all of the standard project management steps using Trello.
There aren't any native financial management features, but Trello does offer a substantial list of integrations with other programs, so if you're looking for that sort of functionality, you'll have to incorporate supplemental software.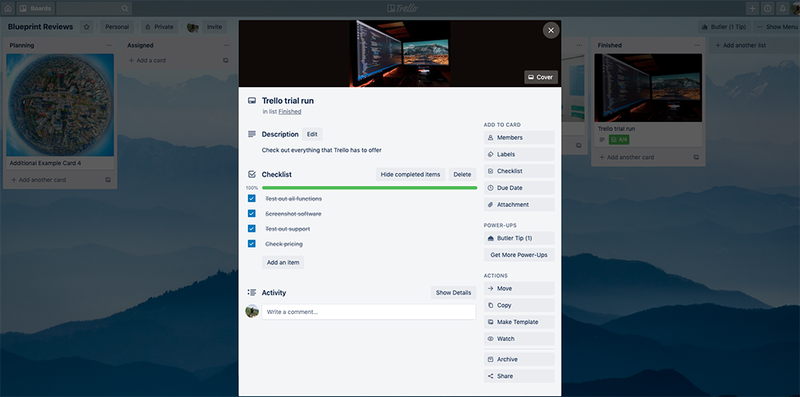 As for unique features, Trello takes one small detail and turns it into a truly beneficial function. Some project management tools give you the option to measure task completion using an arbitrary sliding percentage scale, which is a useless metric in most cases.
Trello improves upon this by tying the percentage completion of a task to internal checklists you can create, as shown in the image above. I love seeing creative details such as this when I use and review different software solutions.
What Asana offers
As I explained before, Asana is a collaboration tool that covers most of the project management basics, especially relating to team management. There aren't any native financial management features or in-depth reporting functions, but when it comes to task management, Asana goes above and beyond to give you a variety of options.
Asana offers task lists, Gantt charts, kanban boards, and shared team calendars that'll help you create and track your tasks throughout the execution phase of your project.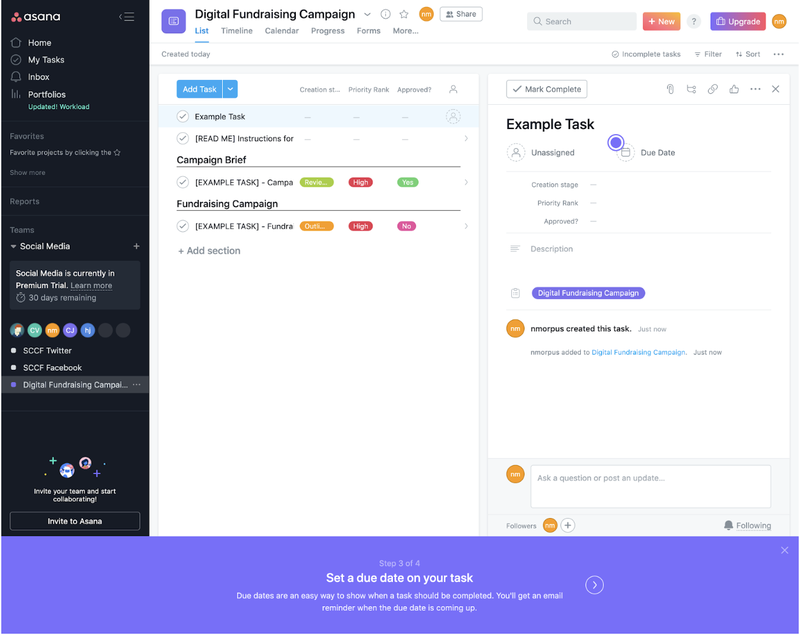 Asana really comes into its own when you use unique features such as its version of workload management. This feature allows you to track how much work each member of your team is juggling at one time and set limits on their workloads in order to prevent burnout.
Asana isn't the first project management tool to offer this feature, but as far as I've seen, its execution is the best. Workload is shown as a visual timeline, highlighting areas where team members are within their workload thresholds and when their work exceeds their capacity.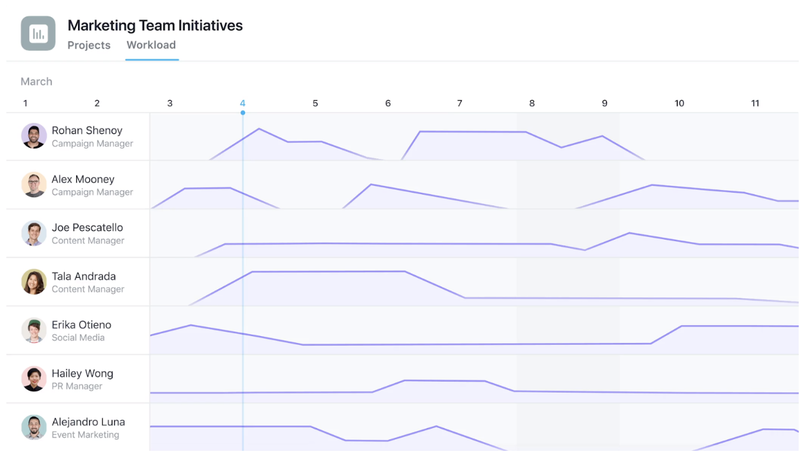 Asana offers a fresh take on these common features by trying to close the gaps between project managers and their team members. Everything about the software follows a philosophy of transparency, communication, and collaboration between team members and management at all points of a project.
Results
Winner: Asana
While Trello does very well with its limited features list, I have to give the nod to Asana based on the wide variety of management options available to its users.
---
Trello vs. Asana: Support
It doesn't matter how pretty your software is or how many features and integrations it has to offer if you can't get help when it breaks. That's why evaluating customer support is so important when choosing a project management tool.
What Trello offers
Trello is owned by Atlassian, the same company that owns Jira, so the support structure is very similar. Most of your issues will be solved by submitting support ticket forms; however, priority phone support is offered to Business Class and Enterprise users, which ensures a quicker response time.
Where Trello really shines in the support department is with its extensive knowledge base and blog, which not only help with Trello-related topics, but also provide team management articles and guides.
What Asana offers
I had a difficult time finding a phone number to get in touch with Asana's support team; I only found a contact form. After reaching out to Asana support through its form, I found its response time on the slow side. In fact, it took a whole day for Asana to get back to me with an answer. The answer was helpful, but ideally, it wouldn't take so long to receive a response.
However, Asana excels when it comes to help guides, FAQs, forums, webinars, and use cases — more so than Trello.
Results
Winner: Trello
That Trello offers some sort of phone support automatically puts it ahead of Asana. This phone support guarantees a quicker response than the day-long wait I experienced after submitting an issue to Asana through its form.
---
Trello vs. Asana: Ease of use
I've praised both of these tools as examples of user-friendly project management tools. They've both taken established functions and features of older platforms and presented them in simple, understandable packages, but which one is superior?
What Trello offers
Trello is the first and only project management tool to score a perfect 10 out of 10 on the ease of use metric (so far). Everything about Trello is intuitive from the start. It ensures you understand the core fundamentals of its user interface during the setup process of your Trello board.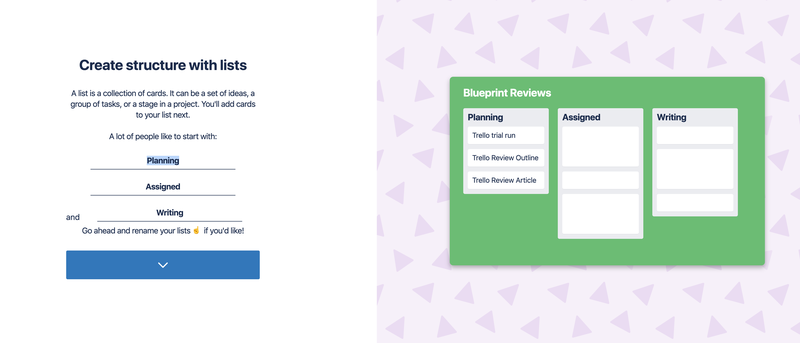 Right from the start, Trello walks you through the basics of creating your own board, from creating lists to implementing tasks. All of this is explained in a quick, step-by-step process.
These steps include creating project phases for your cards to live in, the task cards you'll move along the board, the task due dates, any additional task checklists, users, task labels, and the process for moving the tasks along the board.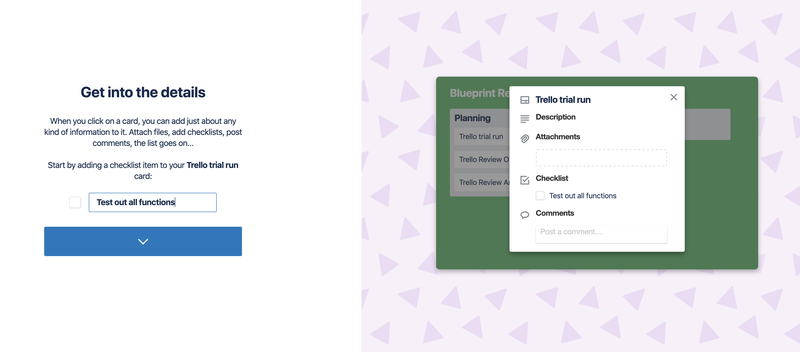 When testing and reviewing new software, I usually opt to use one of the vendor's many templates in order to help me understand a fully fleshed-out example of what the platform can do, but I didn't do that with Trello.
It was so easy to understand that I created my own project from scratch using its initial walkthrough as my guide, disregarding Trello's templates.
Trello has practically perfected the kanban board experience, making it one of the easiest project management platforms to use and understand. Given how common the kanban system is, that's saying a lot.
What Asana offers
When I spoke to one of Asana's lead developers, she claimed their goal for this tool was to give users as much functionality as possible while maintaining the easiest possible user experience. Developers challenged themselves to go back to the drawing board if the average user couldn't figure out how to use a specific function with very little instruction.
After testing Asana, I can say that the team has lived up to that challenge, because this tool is extremely easy to use.
Asana opts for a traditional project management user interface, with the navigation menu on the left, user options and the help center in the top right-hand corner, and task-management windows appearing in the center of the screen.
Asana's setup and walkthrough is also quite standard. It walks you through most of the basic functions, such as creating a new task, adding task information, and moving that task through the execution process.
However, this tool doesn't walk you through every function it has to offer; some things you have to discover for yourself, but nothing was too difficult to figure out.
Asana's user interface is not only very easy to navigate and understand, but it also gives you several different task management views to choose from in the planning phase. This is very convenient for managers looking to execute different types of projects with different needs.
Results
Winner: Trello
This is a close one, but I have to give the win to Trello. Its simplicity is unrivaled, in my experience, and I can't imagine any project manager or onboarding team member struggling to understand the fundamentals of this platform within a minute or two.
---
Trello vs. Asana: Pricing
This'll be a hard comparison to make since both Trello and Asana offer very similar pricing options. It'll likely come down to which software offers more unique functionality at different price points, including free options.
What Trello offers
Trello's pricing is exceptionally reasonable, especially when taken into context. It's not the cheapest option in its category, but for what the platform offers, Trello is a good value as long as you don't require any budgetary or client invoicing features.
What's really impressive about Trello is the extensive list of features you're given with the free version. It's hard to beat unlimited personal boards, unlimited cards, unlimited lists, unlimited users, 10 team boards, and even two-factor authentication.
This isn't a common feature when it comes to free software, but it's encouraging to know that at any price point, you can trust Trello's security.
Free: Unlimited personal boards, unlimited cards, unlimited lists, 10MB per file attachment limit, 10 team boards, one power-up per board, 50 automated command runs per month, and two-factor authentication.
Trello Business Class — $9.99/user per month: All previous features plus 250MB per file attachment limit, priority support, custom board backgrounds, unlimited team boards, custom fields, calendar view, app integrations, 1,000 automated command runs per month, and advanced admin permissions.
Trello Enterprise — Starts at $20.83/user per month with gradual rate decreases as more users are added: All previous features plus unlimited command runs, attachment restrictions, power-up administration, and personalized onboarding.
Trello's pricing is very competitive with other simple task-management and collaboration software options, but it's the free version that really puts Trello ahead of a lot of its competition.
What Asana offers
Asana starts off great by offering a free version of its software, which is perfect for someone dipping their toes into project management software for the first time. However, the free option is not without its limitations, which are more stringent when compared to what Trello allows its free users.
Still, Asana's paid pricing tiers are nearly identical to Trello's, making it a worthy competitor.
Basic — Free: Task lists, kanban boards, calendars, app integrations, and up to 15 users.
Premium — $9.99/user per month with an annual contract: All previous features plus timelines, advanced searches, custom field creation, premium Asana Academy content, and Admin privileges.
Business — $19.99/user per month with an annual contract: All previous features plus portfolios, Workload, forms, automatic proofing, and Adobe Creative Cloud integration.
Enterprise — Pricing negotiated with the client: All previous features plus user provisioning, data exporting, custom branding, and priority support.
As I said before, Asana's free option is good for project managers looking to dip their toes into this platform, but it probably won't be long before most teams outgrow that option and will be forced to upgrade to a paid tier.
Results
Winner: Trello
While both tools have similar pricing structures, Trello takes the (slim) win for this category based on the extensive list of features offered with the free version of its software.
---
Trello vs. Asana: Integration with other software
Both Asana and Trello are collaboration tools, meaning they don't deal with budgets or other financial needs of projects. That's why integrations are so important, since they fill in the gaps of those missing features.
What Trello offers
Trello offers lots of different integrations with many different tools, many of which enhance your user experience by filling in the gaps not covered by their collaborative-minded features, including:
What Asana offers
Asana offers over 100 different app integrations that'll help you manage any aspect of your projects, including some not offered by Asana's core features. Some of these integrations include:
Adobe Creative Cloud
Dropbox
Microsoft Outlook
Slack
Google Calendar
Everhour Reporting
Trello
Mailchimp
Results
Winner: Tie
Both tools offer integrations with some of the most popular tools used by teams and project managers alike. I have to call this one a tie since neither tool leaves any big integrations behind.
---
Trello vs. Asana: Getting started
Potential customers likely want to know which software makes it easiest to get up and running with its platform, whether that's an easy product sign-up, intuitive onboarding content, or helpful startup demonstrations.
What Trello offers
Trello offers a more standard sign-up experience. All you have to do is enter your email address on the homepage, click the "Sign up — it's free" button, enter some additional information, and you're off.
No payment information needed. Once you're in, you're given a step-by-step tour of the software and given control of your newly created project.
This information is easy to find since Trello is owned by Atlassian, and the content is stored just like Jira's. Trello has an extensive knowledge base and its own company-run blog, which contains posts about all different kinds of project management topics.
What Asana offers
Asana's startup process differs slightly from most other project management software platforms.
Once you enter your project info into the free trial form, Asana sends you an invitation email giving you access to the software rather than immediately sending you to the program once you've hit "submit." Not too inconvenient, but it is a slight delay.
Asana's onboarding content was a little harder to find than Trello's, but once I found it, I wasn't disappointed. It consists of guides for setting up your project, onboarding your team, and managing/planning tasks as well as use cases to help structure your experience.
Results
Winner: Trello
Again, Trello wins by a slight margin due to its simpler sign-up process, its easy startup guide, and the accessibility of its onboarding and support content.
---
How They Compare: Trello vs. Asana
| | Trello | Asana |
| --- | --- | --- |
| Task Lists | | |
| Gantt Timeline Charts | | |
| Shared Team Calendar | | |
| File Sharing | | |
| Communication | | |
| Budgeting | | |
| Time Tracking | | |
| Invoicing | | |
| Outside Integrations | | |
| Resource Management | | |
---
Trello is the overall winner, but Asana is more versatile
Comparing software options is a unique process, because the "best" software is simply what will work best for you and your team.
However, in a general comparison, Trello's overall ease of use, customer support, quicker onboarding, and features offered in its free option define it as the winner, even though it's a close fight in a few categories.
Asana comes out ahead when it comes to the versatility of task management and tracking options, making it a good choice for managers working with different teams or project types.
We hope this in-depth comparison has helped you decide which of these two platforms might better serve your needs when working through the project management process.