Twitter is the ultimate platform for trend-driven discussion. It has elevated the humble hashtag to such a lofty position that it can make or break companies. Getting the most out of this powerful tool is part science, part art. You need to research trending topics, post at the right time, and communicate with wit.
In this article, we will walk you through the process of finding and using popular topics to grow your business. Let's start by defining Twitter trending topics.
---
Overview: What is a Twitter trending topic?
A Twitter trending topic is a conversation topic that has grown rapidly in popularity on the social network within the past 24 hours. This sets them apart as 'trending' topics, as opposed to simply common themes people discuss on the platform.
Twitter identifies these topics by monitoring posts for common hashtags or phrases. If a particular phrase experiences significant growth, Twitter will promote it within its users' news feeds.
Twitter curates these trends for individual users, based on the user's interests and the accounts they follow. This personalization is still limited and trends are similar for all users, but this is worth considering for your Twitter marketing strategy.
Trending topics are Twitter's way of adding structure to what would otherwise be an overwhelming amount of information for users. Users can log on and quickly see what the world is discussing, without needing to piece it all together for themselves.
Some are recurring trends, like #TacoTuesday or #FridayFeeling. Others are based on breaking news stories or regular posts that have gone viral.
For businesses, this provides a fantastic opportunity to join the conversation. No matter how many followers you have, the right tweet with the right hashtag can get you in front of a huge audience.
---
How can you find Twitter trending topics?
Trending topics are available via the "Explore" tab on mobile and desktop, while the desktop version of Twitter also includes trends to the right of the user's news feed.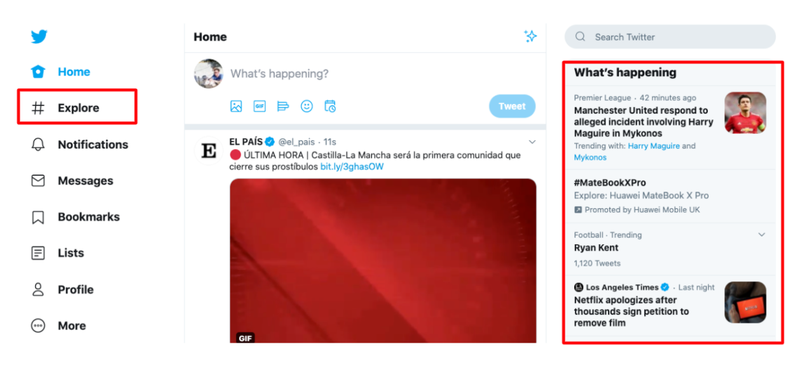 These are really the starting point for further exploration into trending topics. You can run searches within Twitter to see if topics related to your industry are trending, for example.
Twitter also curates what it calls "Moments," which bring together different viewpoints on a trending topic. Users can click on stories and a scrollable Moment will open for them.
You can use social media management tools to dig deeper into Twitter trends, too. Many of these technologies use social listening to monitor Twitter and flag popular themes.
This is usually a better way to get ahead of trends, rather than reacting to them when they arrive in the main Twitter news feed.
---
How to leverage trending Twitter topics for your business
These Twitter best practices will help you increase your engagement rates with trending topics.
Step 1: Follow relevant topics
It's important to engage with topics related to your industry to become a trusted authority. This helps establish credibility, which will lend weight to your posts on trending topics.
Twitter now offers the option to follow topics ongoing, as in the image below.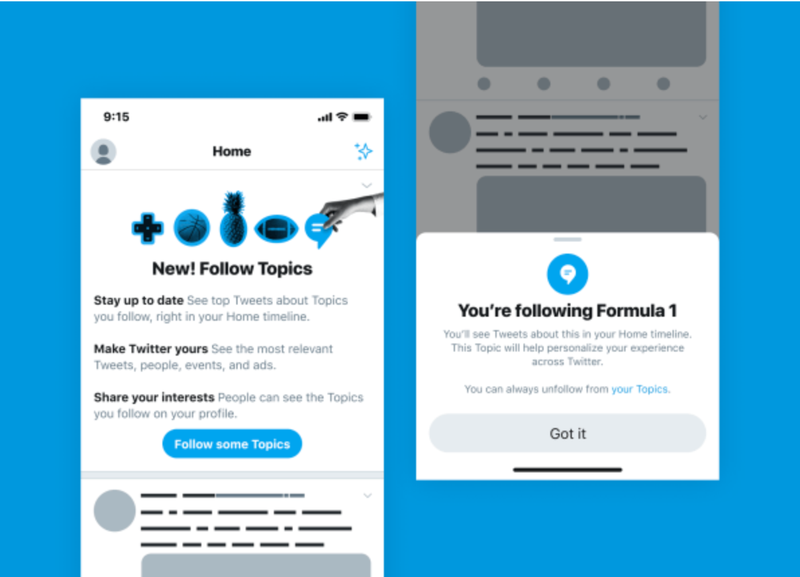 You can tap the "Follow" button in your feed when you see a relevant topic, or go to your settings to add new ones. This also helps you understand your audience and how they use the platform.
This is an overlooked aspect of social media strategy, with too many businesses trying to jump on the trending topic bandwagon without putting in the effort to establish their presence first.
You will notice that Twitter is slowly moving away from its dependence on hashtags towards a broader understanding of topics. Companies that post regularly on these themes may gain a boost in visibility when they post about trending topics, too.
Step 2: Use filters to narrow your search
Trending topics are broad, which is great for increasing the visibility of your profile. You can zone in on topics using a variety of filters, too. This will help you understand the content that performs best.
For example, perhaps image-based posts attract more instant engagement, but text-based posts are better for increasing a brand's follower count. It's also possible to filter down to specific geographic areas to understand what attracts users in a local area.
You can find these filter options by clicking through to 'Advanced search' beside the Twitter search bar.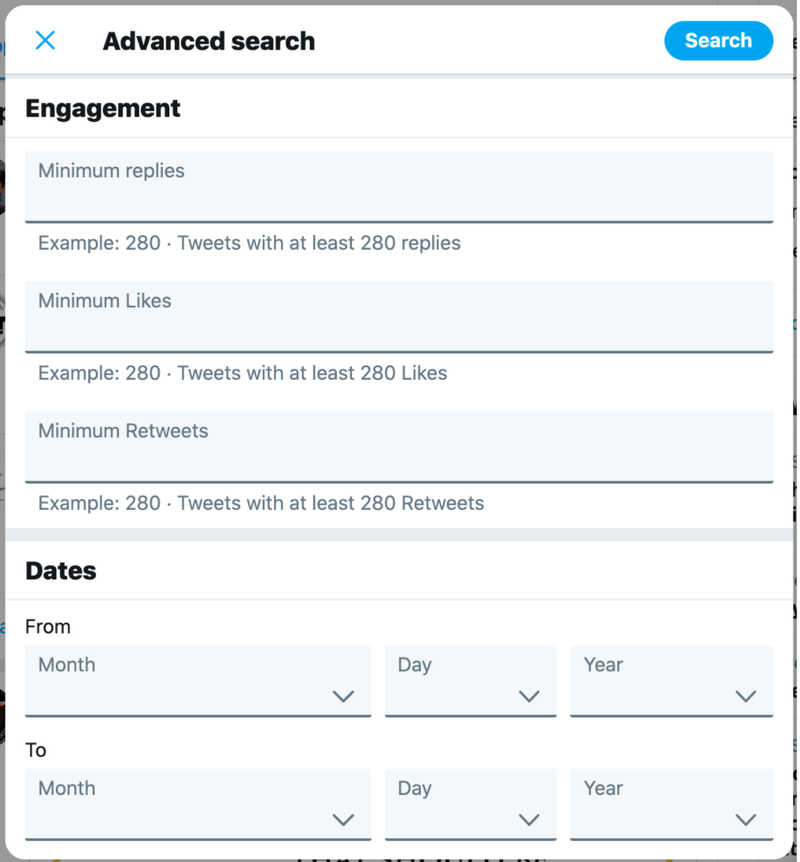 Step 3: Anticipate trends
Look at your social media content calendar to see which events are coming up. Analyze what happened last year during these periods. Then craft your strategy based on the trends you know will come up again this year.
You may not know precisely how the trending topic will unfold, but you will at least have your content ready to adapt and post quickly.
It's more challenging to achieve, but you could also attempt to create a trending topic. You can build out your audience list and engage them before the hashtag launches. Influencers can also be very helpful in amplifying this message.
The key here is to incentivize them to share the campaign. The content must provide value to their audience, as well as yours.
If you time it right and use a unique hashtag, it's possible to create a trending topic. This typically works best when your company has a cause to promote, rather than just a corporate slogan. In the case of the latter, paid promotion is the way to go.
Step 4: Join in the conversation
Twitter encourages and promotes interactions, not just broadcasts.
Businesses can quote popular tweets to join in conversations already promoted. This is quicker than posting new content about the trend, even if it means less control over the message.
It's also a good idea to analyze Twitter Moments to see the type of content Twitter uses in these longer posts. If your business can post similar content when new trends arise, you could be featured in Moments.
If your post does attract attention, respond to people, ask questions, and create more value for the audience
Step 5: Make the topic relevant to your business
You can craft a hilarious Twitter post and attract lots of attention, but is it worthwhile if it doesn't help your business in the end?
There should be some relevance to your business when you try to join a trending conversation. You need to be careful, too. An overly promotional message will lose people immediately.
If we look at the #ThrowbackThursday trend, we can see how some businesses use this weekly staple.
The tire company Michelin shared images each week of vintage cars. These tweets were highly popular and no one would doubt that the cars were the true attraction rather than the tires, but it's a creative way to draw attention to the product.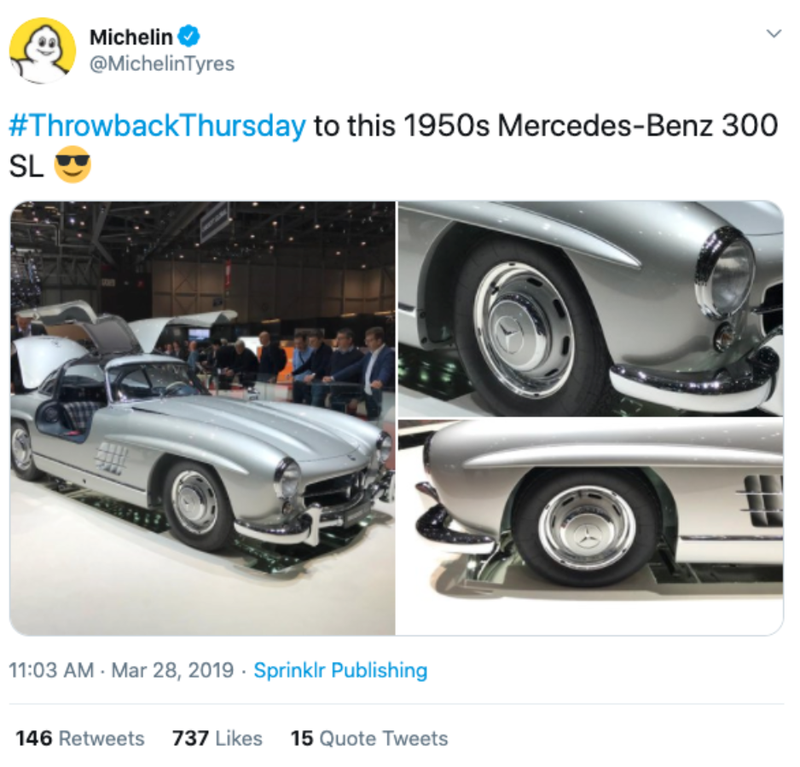 Combine these forces creatively within your social media campaign. You want to get the brand's name out there, but pushing the message too aggressively will have the opposite effect.
Step 6: Monitor engagement data
Twitter offers a wide range of analytics tools, which can be augmented if you use a third party tool such as Sprout Social or Buffer.
You can see how many times your posts have been viewed and how many people clicked on your hashtag. Then, compare this with the industry averages you can find using Twitter's advanced search filters, as described above.
By using trending topics, you will get a feel for what works and what doesn't. Until then, these analytics tools will be a steadfast companion.
---
Making your company trendy
Social media management is a complex task. Conversations come and go quickly, leaving brands with limited time to make their mark.
By following the tips outlined in this guide, you can use trending Twitter hashtags to your advantage.