Unleash programs for inventory control and create a wave of operational efficiency with a reliable inventory management system such as Unleashed Inventory. You can eliminate human error throughout your supply chain by leaning on automations to mitigate human error.
And the in-depth inventory analysis will help your leadership team spot key trends to exploit or fix to optimize operations.
Continue reading to learn more about Unleashed Inventory and see how it fits into the ever-growing software space.
---
Who is Unleashed for?
Unleashed Inventory is great for manufacturers, wholesalers, distributors, and other inventory-laden businesses that need to clean up processes and establish automations.
Retailers and e-commerce operators can easily fit Unleashed into their tech stacks. Along with inventory management, it can integrate with point-of-sale (POS) systems and accounting solutions to provide holistic reporting on the health of a business.
The tool provides everything you need to manage entire product catalogs, identify where a product is located, and determine quantity levels.
It allows you to conduct faster and more accurate stock inventory and better understand the state of current stock costs and project changes. Do all this and more, from anywhere, with the cloud-based Unleashed app.
---
Unleashed's features
Inventory management is essential for any product-centric business. Unleashed Inventory empowers you to always have accurate, real-time visibility into stock levels across locations.
Match that with inventory turnover ratio and other key insights that enable you to maximize your inventory control and make more informed, data-driven decisions. Such information can have an optimizing ripple effect throughout your organization.
The cloud-based solution means you can do this as easily at your computer as you can while you're on the go. Accurate, cross-organization inventory insights are especially critical for mobile-enabled sales teams operating in the field. They need the flexibility to make sales on the go.
Unleashed's cloud-based stock control app unlocks newfound confidence for your sales teams, ensuring that what they're selling is in stock and can be delivered to customers.
Here's a deeper dive into reporting and analytics, mobile sales, and other key features that make Unleashed a reliable inventory control software option for your business.
Inventory control
Unleashed provides inventory control capabilities that enable you to manage quantities, locations, and more for every product in your catalog. The tool features a stock inquiry feature that allows you to drill down to real-time stock levels, locations, costs, shipping information, and more.
Set minimum and maximum stock levels across multiple locations to suit your business needs.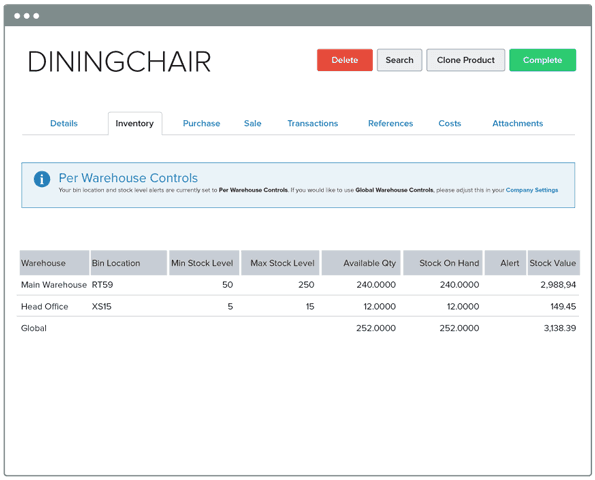 You can drill down to identify which warehouse products are in and where they're located in the warehouse. This provides immense efficiency for taking stock counts and gives you complete transparency into the costs for all your inventory on hand.
You can complete stock counting all at once, or you can count in batches if you can't step away from your business for that long. Unleashed gives you the option to collect your count over time and then push all the count updates through the app when you're ready.
The platform uses the average landed cost method to give you a more reliable cost of goods sold based on accurate total product costs.
And the perpetual nature of Unleashed Inventory provides benchmarks and valuable insight into your total inventory cost so you can monitor margin and profit at a product level, category level, and across the entire business.
Serial number and batch tracking
Valuable inventory program insights depend on the granularity with which a system operates, and Unleashed provides detailed granularity. Use both batch numbering tracking and serial number tracking to help you more precisely monitor products throughout your supply chain.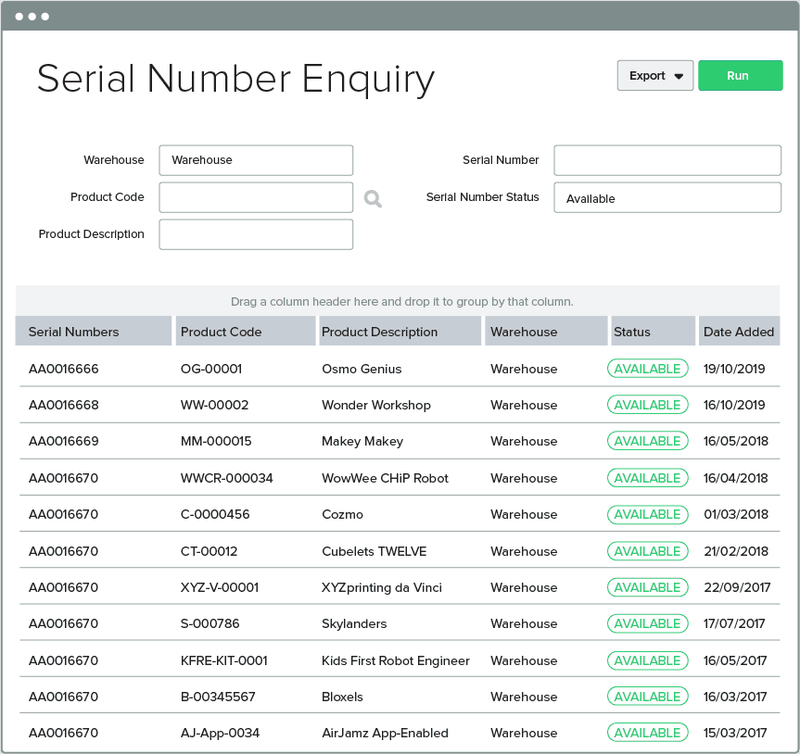 You can assign a serial number to a product anytime you add them to your system. That becomes a permanent serial code so you can have complete traceability for that item throughout its lifecycle.
Serial number tracking enables you to track products and product components, which is valuable for manufacturers needing to control inventory. The serial numbers operate as unique IDs that show you the entire history of your product once it's in your organization.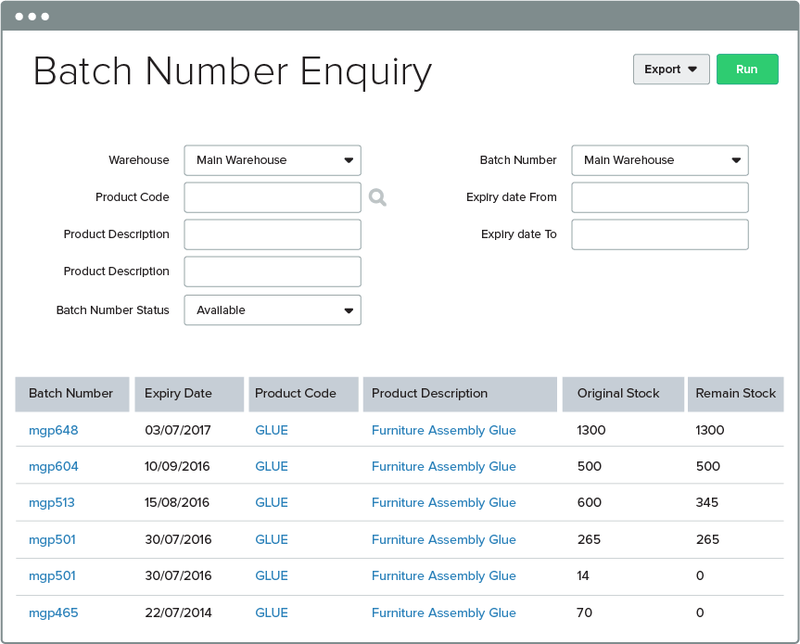 Batch numbers are another component built on top of serial numbers. With batch number tracking, you are assigning a group of serial numbers into a group. You can then collectively track that group of products from initial raw material to finalized sale and delivery.
Product management
Product management features provide greater granularity into the nuances and critical features of each product.
For example, you can list key details and product descriptions that influence manufacturing, storage, and shipment.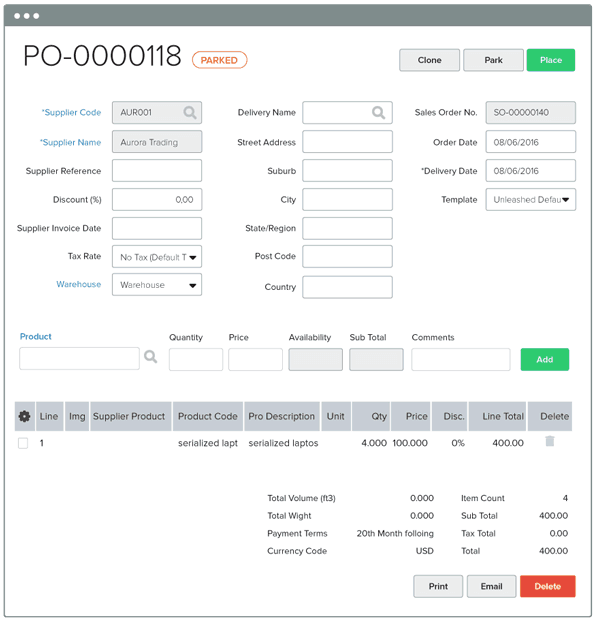 These features and attributes include sizes and dimensions, weight, and barcodes and serial numbers. You can also tag your products with their corresponding images to help stock pickers better visualize what they need to grab to fulfill orders.
This product management feature also enables you to set minimum and maximum inventory count levels so you're either alerted or a renewal order is automatically placed once an item falls below the set level.
Purchase management
Purchase management tools give you greater control over creating and automating purchase orders for raw materials and individual products.
You can set minimum inventory levels that trigger reorders for products and individual raw materials once they fall below the count threshold.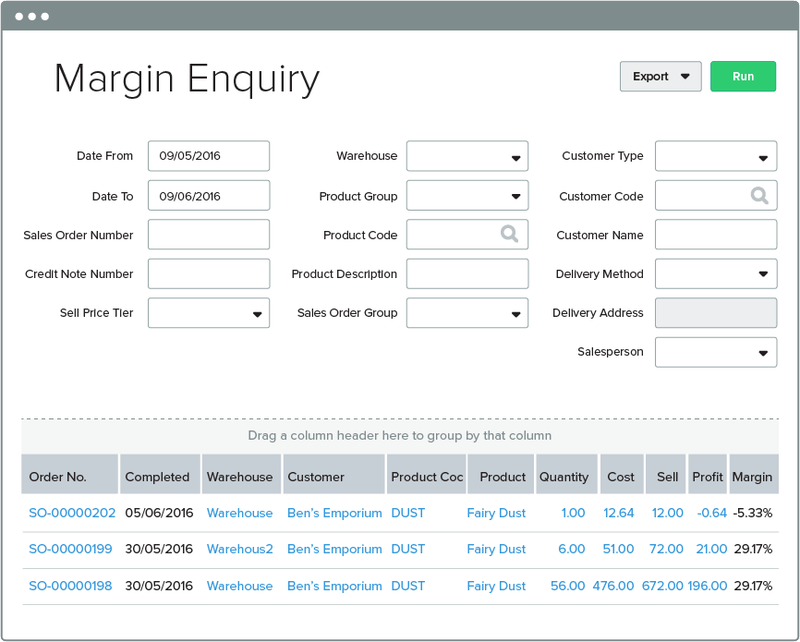 Unleashed also provides support on the other end of the spectrum by helping you create reorders based on minimum levels. This ensures that you're not unnecessarily investing in an oversupply of any product.
Manufacturing management
Manufacturing management features apply to organizations managing the assembly of goods into a final form or at least their next stage. These features won't apply to retailers selling pre-assembled goods.
Unleashed supports raw material tracking and management so you can track, store, and locate the components you need for assembling and building your products.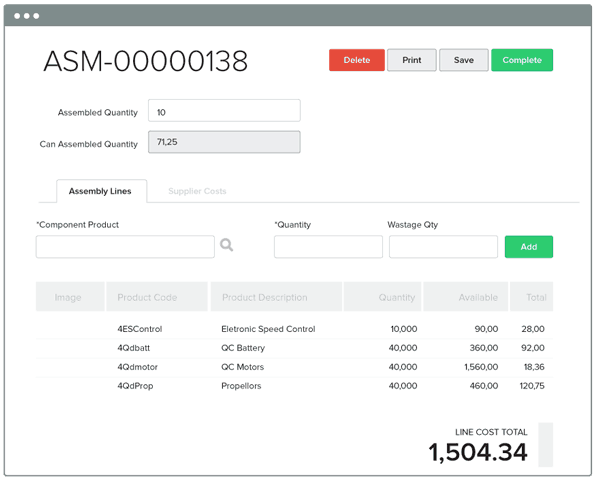 The detail and granularity of the tool ensure raw material costs and quantities are bundled into the report on the finished product. This provides accurate information for calculating margin, profit, and other key performance indicators.
Unleashed provides an accurate reflection of the manufacturing process, ensuring accuracy for your accounting records.
---
Unleashed's ease of use
Unleashed provides an easy-to-use platform for detailed inventory management. The robust feature set offers nearly everything an inventory manager in manufacturing, warehousing, or retail needs to make optimal product and stocking decisions.
The automations and triggers for reorders, raw materials, and ready-to-sell products are easy to set up and valuable for maintaining necessary inventory levels.
The ability to add extensive detail to individual product profiles allows you to get even more granular with data. The physical details also help you mitigate storing and shipping problems by always knowing dimensions, weight, and other crucial info.
Inventory reporting capabilities are a robust component of Unleashed Inventory, but it could be easier to create more nuanced and flexible reporting. It can also be difficult to search the system for individual products, although there are workarounds for it.
---
Unleashed's pricing
Unleashed offers a 14-day free trial. They offer three pricing options. The paid plans fall in line with U.S. fast-food soda sizes and include medium, large, and large plus.

The medium plan is $259 per month if paid annually. It includes three users and 125,000 monthly API calls, which count as any time your platform engages with an API whether it's initiated by you, your customers, or partners.
The large plan is $499 per month if paid annually. It comes with eight users, 250,000 API calls, and access to a free training portal. Large plus comes in at $819 per month if paid annually, with 20 users, 500,000 monthly API calls, training access, and special negotiations on support.
---
Unleashed's support
Unleashed support revolves around email and community outreach. Users have the option to pay extra for additional live support via phone and live chat.
They also offer a robust content hub they call their Unleashed Academy. It features different sets of content for beginner users and advanced users and for business insights.
The academy features training videos and podcasts on case studies, market insights, and more. There's also a blog on inventory best practices and other features.
Assisted onboarding is included with all payment plans to help get the platform set up correctly from the start.
---
Benefits of Unleashed
Unleashed Inventory provides a robust, easy-to-use platform for monitoring and controlling inventory across your organization. Manufacturers, suppliers, retailers, and other industries all stand to benefit from the data-driven decisions that Unleashed provides.
The automations that Unleashed unlocks also benefit users. Auto-reorders are essential. Growing businesses need the ability to automatically issue reorders once a product or raw material falls below a certain threshold.
---
Unleashed Inventory unlocks exponential efficiency
Unleashed Inventory offers users key abilities for managing and controlling inventory and automating key processes. The newfound efficiency provided by Unleashed Inventory will boost inventory optimizations, helping to improve capabilities and drive sustainable business growth.
---
Frequently Asked Questions for Unleashed
Can I track product serial numbers during the manufacturing process?
Yes, you can use the product master record to monitor individual materials or batch them together into the same product serial number.
Can I manage multiple locations?
Yes, you can centralize warehouse inventory counts and manage stock transfers from warehouses and stores.
Will I have consistent access to real-time inventory accounts?
Yes, Unleashed Inventory offers a perpetually updated look at your inventory, meaning you can see real-time inventory factoring in sales, warehouse updates, and other actions that impact inventory levels.

Unleashed Inventory is a pricier option, but it provides all the power you need to optimize decision-making for inventory management and beyond.
Unleashed Inventory is a pricier option, but it provides all the power you need to optimize decision-making for inventory management and beyond.
The Motley Fool has a Disclosure Policy. The Author and/or The Motley Fool may have an interest in companies mentioned.