Every online business has KPIs, or metrics, to gauge success or failure. A decade or two ago, business owners would consider sales, costs, and profits. Straightforward enough, right?
Today, with digital marketing and the rise of e-commerce, businesses are inundated with dozens if not hundreds of marketing KPIs. There's almost too much to keep track of, between impressions, social likes, page views, followers, retweets, and downloads.
We're here to help you figure out which metrics matter and which don't.
---
What are vanity metrics?
Vanity metrics are often somewhat superficial — they may measure something, sure, but they don't tell the true tale of what's going on in your business. A vanity metric may scrape the surface, but there's almost always something better you could be looking at to help your business thrive.
A good business owner or marketer will know the difference between a smart metric that should be tracked and a vanity metric that really doesn't offer much business insight.
---
What are actionable metrics?
The more actionable a metric is, the more valuable it should be for your business. So, one question to ask is, can you act on a particular metric's insight? Increasing sales is important, but reporting that "sales increased by $5,000" doesn't help you take any particular action.
On the other hand, knowing that "sales increased by $5,000 from Customer A" may help you double down on how you acquire more customers similar to Customer A. It's a subtle difference, but it's the kind of digital marketing tip you'll want to keep in mind.
---
Vanity metrics vs. actionable metrics: Which should you measure?
Here are three questions you can ask about the metrics you track to determine which ones your business or startup should track and prioritize.
1. Am I really seeing an impact on my bottom line?
I've often heard people say they've increased page views to their site, or they've tripled the number of followers they have on Facebook, and that's great. But then, when I ask them if they've seen an associated increase in their revenue or profit, they say "no."
This means you're not using your digital marketing analytics the right way. If the numbers you're moving are valuable, then eventually, they should affect your revenue or profit.
It may not always be immediate, especially if you're in a business with a longer sales cycle, but at some point, you should see a corresponding increase in the money you're making.
2. What can I do differently, or double down on, now that I've analyzed this metric?
Vanity metrics may seem nice — "oh wow, I've doubled this number" — but there are no immediate takeaways from them. For instance, let's say traffic to your website doubled one day, but it was because some marketing channel picked up an article you wrote and syndicated it to its readers.
As a result, your traffic went from 10,000 page views to 20,000 page views, which is great. But that increase was out of your control, and there's not much you can do to replicate it. That single page view number is more of a vanity metric because what happened isn't something you can double down on.
Furthermore, maybe the traffic was unqualified, and the people who went to your site weren't even looking for what you were selling. So, even worse, the extra 10,000 page views could be totally useless to your bottom line.
3. Is there a better, or more granular, metric I could be tracking?
A classic example of this is when an app company says they have X number of downloads in a month. Downloads can be good, but it's only the first step in a consumer's journey.
What did they do after they downloaded your app? Did they register? Did they take action? If you own a food delivery service, the only thing that matters is whether or not they registered, input their address, and took meaningful steps toward getting that first food delivery.
If you tripled your downloads, but no prospects turned into actual customers, then it's a useless metric to track.
Lastly, some people will report large or seemingly impressive numbers with no context. For example, say you grew your customers 200% month over month. On the surface, that sounds great. But if you only had 10 customers to begin with, then perhaps growing at 200% isn't as good or meaningful as you might assume.
Providing yourself and your stakeholders with context to your growth metrics is as important as the metrics themselves.
---
Actionable metrics your small business can track
For each potential vanity metric you can track, there's usually a better — more actionable — metric you could be tracking instead.
Below is a list of a few small business marketing metrics you might be hearing about, watching, or even tracking yourself — and the corresponding metric I'd recommend tracking instead.
| Vanity Metric | Actionable Metric |
| --- | --- |
| Overall page views | Sessions from source/medium |
| Downloads | Registered users |
| Social media followers | Social media shares |
| Impressions (from search engines) | Click-through rate (CTR%) |
| Marketing spend | Return on investment (ROI) on marketing spend |
| Renewal revenue | Renewal rates |
Tracking traffic
When you look in Google Analytics, you might be excited to see your site has increased traffic — that's a good thing. But it's still a vanity metric. Why? Because you have no idea where that traffic came from. Was it a tracking error? Was it a bot? Was it from a source you don't expect to see often? Or worse: Was it unqualified traffic?
Here's a screenshot of a site I've been working on. It shows overall traffic for two months.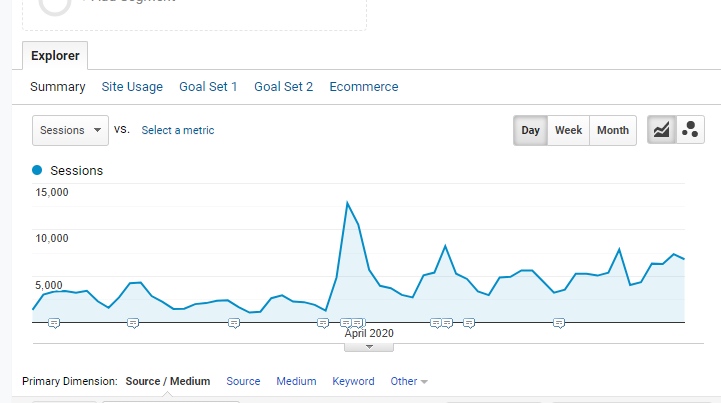 As you can see, there was a huge jump in traffic on March 30, so you might be inclined, in the short run, to celebrate.
However, when you drill down into the sources of that traffic, you quickly notice that most of the increase in traffic isn't organic, where you hope it's from. Rather, it's because an article you wrote was picked up by Flipboard, a content aggregator, and you saw some high-volume traffic from it.
That's not exactly replicable — and it's lower-quality traffic.
As I mentioned before, downloads for an app could be a typical vanity metric. Maybe your app was featured somewhere, or you got some press and lots of people downloaded it — and that's great. But if nobody registered with the app or engaged with it in the way you wanted them to, then it's basically worthless. You need engagement, not just downloads.
Tracking social media metrics
Social media followers is another one I find lacking. People or companies may boast they have thousands or millions of followers, but if those people aren't engaging with your brand or buying your products, there's no point in having them.
You can still measure and track things on social media, but instead of tracking followers, track something like shares. For example, this is a graph of a particular Facebook account. You can see how followers — and more importantly, how shares, impact a business. The dark blue line is shares, and the lavender line is followers.

You can see that following days when there were big spikes in shares, there was a noticeable increase in followers a few days later. Obviously the more people who share your content, the more exposure your company gets — and the more followers you'll ultimately get.
If this doesn't happen, maybe that tells you that the people sharing your content are lower value (to your business, not in life!) and aren't sharing your brand with the right audience.
I would always rather have a smaller group of people that engage with my brand, visit my website, and buy my products than a much larger group of quiet or irrelevant followers on my site. Make sure you're getting the right people to follow you, whether it's on Twitter, Facebook, or LinkedIn.
---
Use metrics the right way
It's okay to use vanity metrics as a signal or a first step. There's nothing inherently wrong with looking at downloads, page views, or followers. I'd be lying if I said I never looked at those numbers — I do.
But you need to always be willing to double down and go deeper to the metrics that matter.
As famous marketer and author Seth Godin has said regarding vanity metrics, "Those clicks, views, and likes are only there because they're easy, not relevant."
The more actionable, important, and insightful metrics may be harder to calculate — and take more time to digest — but they'll always give you more impactful information. And eventually, that'll drive your business the furthest.