Veeqo unlocks critical capabilities and automations for growing businesses to manage their inventory supply chain, from ordering and inputting products to shipping and order fulfillment.
Veeqo splits its platform and capabilities into inventory control, shipping and fulfillment, and warehousing management. It hits all the critical inventory management needs while incorporating valuable automations and add-ons that boost customer experiences by ensuring accurate and timely fulfillment.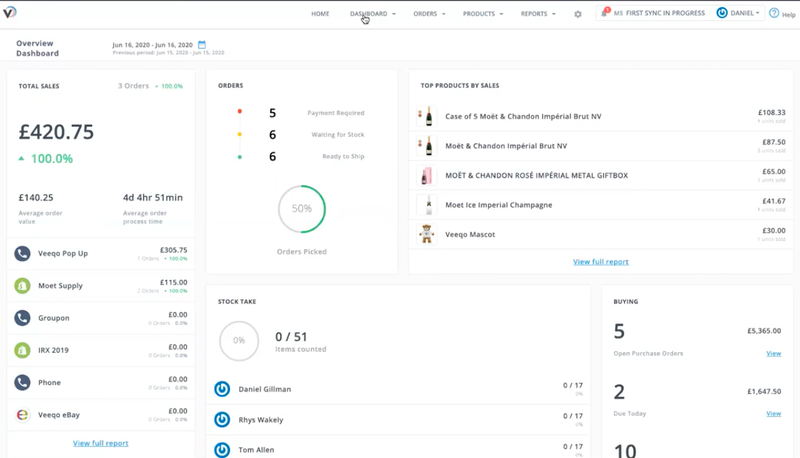 Continue reading to learn more about Veeqo's robust feature set and see if it may be the right inventory management option for your business.
---
Who is Veeqo for?
Startup and small but growing retail brands will get the most out of Veeqo's inventory management system. The platform supports retail brands and delivers the best experience to customers in online sales and order fulfillment. It's built to help retailers manage high volumes of sales with ease.
Easy-to-use pick, pack, and ship tools are at the center of the platform. And helpful automations and other time-savers are abundant throughout the system.
Barcode scanning is one such time-saving tool; it enables you to digitally pick and pack orders, resulting in a paperless warehouse with reduced error and increased efficiency.
---
Veeqo's features
Veeqo offers abundant capabilities across inventory, warehousing, and shipping management. These three disciplines combine to support the entire supply chain of order fulfillment and give you key insights such as inventory turnover ratio, product quantities across locations, and more.
Here is a detailed look at seven of these specific capabilities.
Inventory automation
Veeqo provides helpful inventory automations that will give you back your day. You can create rules that automate tedious and repetitive tasks. Automations include tagging orders, printing templated order forms and other documentation, and adding critical internal notes and shipping carrier preferences on each order.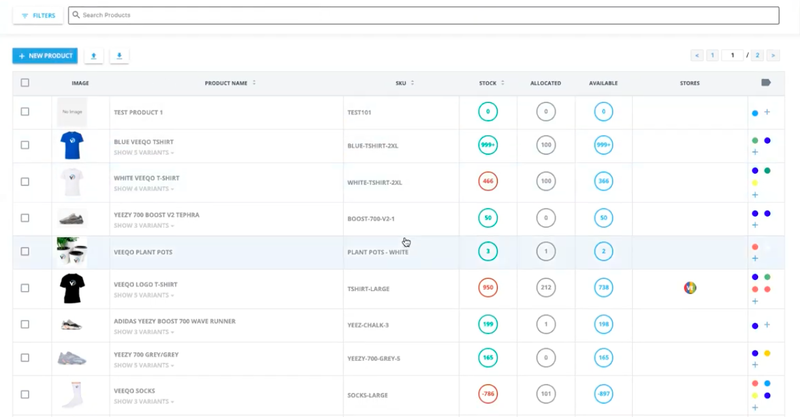 Veeqo also automatically updates inventory across channels to support your multi-channel sales model. These unified inventory levels help you maintain accurate counts across all the places you sell and limit backorders and out-of-stock products.
But backorders are inevitable, and Veeqo provides automations there as well. You can set rules to hold backorders when inventory isn't available, and then trigger them to run once the items are restocked.
But if you'd prefer to split orders with multiple products, you can ship what's on hand and then fulfill the remaining products in the order once you've restocked.
Inventory insights
Veeqo's inventory insights include the ability to conduct detailed reports on your product data for status updates and trends. In-depth filtering enables you to look at your data from whichever angle you prefer to gain the insight you're seeking.
Common reports include deep dives into total sales, sales by location, stock levels, product and bundle margins, supply chain movement, and much more.
Veeqo offers a powerful forecast tool to help you predict and plan for future inventory requirements. The forecasting is powered by past sales analysis, current stock levels, fulfillment requirements and status, backorders and purchase orders, and stock transfers.
It compares existing inventory against projected sales across locations to determine where you need to bolster inventory and which products are most likely needed.
Warehousing
Veeqo's robust warehouse management tools empower you to quickly book new stock into your system, optimally organize it, and get it ready for order fulfillment. Assign valuable warehousing details to all your products, such as bin locations, weekly cycle counting needs, and additional tasks for your warehouse staff.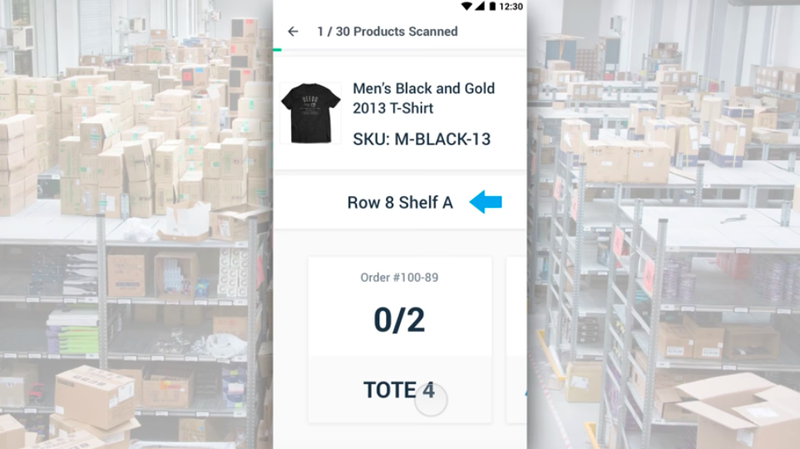 Veeqo's warehouse capabilities enable you to gather and analyze performance metrics for individual warehouse employees and the team's collective efficiency. This helps you pinpoint areas for improvement regarding errors in inputting, pulling, and packing products to kick off order fulfillment.
You can employ Veeqo's warehouse management tool across multiple locations. Centralize the management of all your warehouses into one platform.
This helps you drill down to inventory counts across warehouses and transfer goods between warehouses rather than having a surplus at one location while ordering more goods for another.
Shipping management
Veeqo's shipping management tool is truly a single, omni-discipline platform that manages your entire inventory movement. You can easily process multi-channel sales and get orders packed and shipped.
Advanced features like discounted shipping rates help you do more with your resources and take advantage of price breaks earned by shipping volume.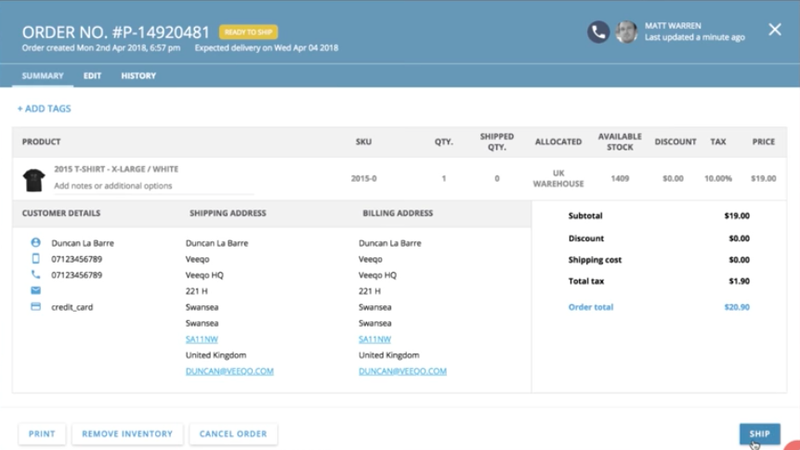 Veeqo centralizes everything you need to get packages in the fulfillment pipeline shipped. You can easily print shipping labels in bulk with one click, even across different shipping carriers.
And shipping workflows help you automate commonly tedious and repeated manual processes, such as expedited shipping for next-day deliveries.
Product management
Veeqo's product management tools show your product catalog and let you monitor critical details. Centralize your entire product catalog and review real-time data on inventory counts in-store, at the warehouse, and in transit, across your organization.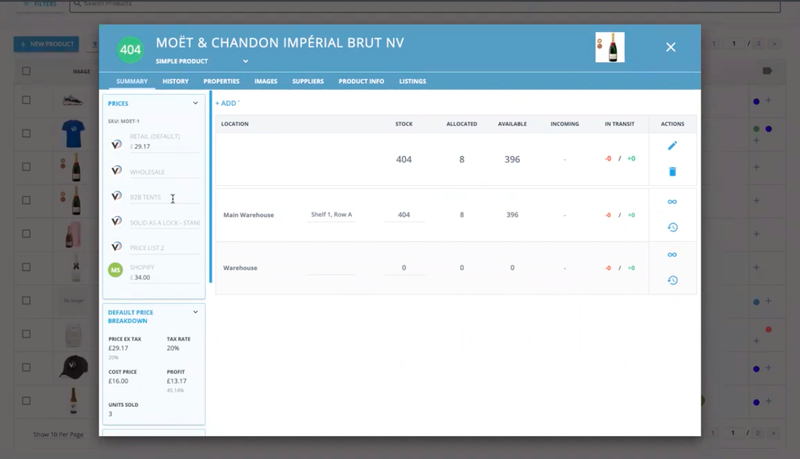 Product management provides tools to create, organize, and maintain product variants. This could include sizes, colors, bundles, annual releases, and more. You can even adjust prices and generate unique SKUs across these variants different from the original product profile.
Creating bundles and product kits in Veeqo is simple. These kits allow you to move more product and increase your revenue while balancing out products to maintain ideal margins.
Bundles make great marketing promotion ideas around holidays and other one-off occasions. Veeqo automatically adjusts individual product levels for everything included in sold bundles.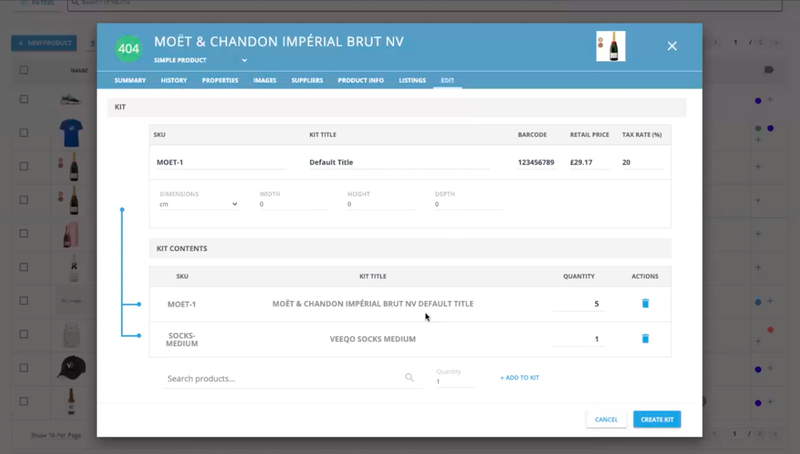 Purchasing tools
Veeqo's purchasing tool helps you manage and automate purchasing decisions. You can set automatic reorder levels so new inventory is ordered any time a product quantity dips below a threshold. Purchasing tools also help forecast upcoming inventory needs across your organization by referencing past sales data.
You can keep things simple with Veeqo's one-click purchase orders options. You can generate reorders for all products that have fallen below your defined threshold. Give it a quick review then send the right orders off to the correct suppliers.
Veeqo also makes it easy to track your product reorders status so you can be prepared for the incoming new inventory. You can keep track of purchase orders and note which are ordered, processing, shipped, in transit, delivered, and paid for.
Barcode scanning
Veeqo's built-in barcode scanning capabilities simplify inventory identification, inputting, tracking, and more. You can use Veeqo barcode scanning to accurately and efficiently receive and input purchase orders from suppliers and products from warehouse transfers.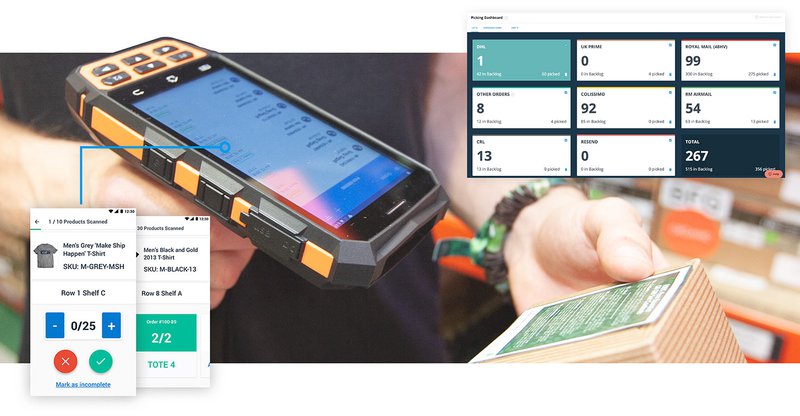 Veeqo offers its own laser scanner. It's a wireless device that seamlessly integrates with the inventory management software. It's sold separately from your system for a one-time payment.
The beauty of its scanner and barcode scanning is that they reduce the risk of human error in your inventory process. Barcode scanners eliminate the need to manually write down, record, and input SKU numbers, quantities, and other product details.
---
Veeqo's ease of use
Veeqo provides an easy-to-use platform with a simple user interface. Implementation and onboarding can offer a challenge and often require Veeqo support. But once everything is operational, the platform puts newfound capabilities just a few clicks away to unlock efficiencies and improve fulfillment accuracy.
---
Veeqo's pricing
Veeqo pricing options include a 14-day free trial, a forever free lite plan, and three payment tiers. The free option is limited to one user and excludes the tool's inventory features. It's strictly a shipping and basic warehouse management tool.
Paid options clock in at $156, $202, and $260/month, paid annually, for 500 monthly shipped orders. Each tier increases, reflecting your monthly shipments. For example, at 2,500 shipped orders per month, prices jump to $218, $306, and $494.
Outside the sliding shipments scale, all three tiers offer the same shipping features and varying levels of inventory and warehousing tools. The number of users increases as you go up in price. And there's also a negotiable enterprise option for large-scale businesses.
---
Veeqo's support
Veeqo support options include phone, live chat, and email communications between the hours of 9 a.m. and 5 p.m. London time. It also provides enterprise clients with dedicated experts to assist with e-commerce integrations, other nuanced tasks, and implementation and onboarding needs.
There is a help center full of documentation for learning and troubleshooting issues as well as a Veeqo academy with training content.
---
Benefits of Veeqo
Veeqo packs everything you need to process sales on the back end and get them shipped and delivered to your customers. Helpful automations, barcode scanning, and advanced shipping and carrier management tools boost your efficiency and allow you and your teams to get more done in a day.
Growing retailers can lean on Veeqo to support their entire order fulfillment process and deliver customer satisfaction. The starting price is on the lower end of the space, making this a great low-risk system to give a shot at managing your needs.
---
Veeqo delivers a fulfilling and comprehensive inventory needs
Veeqo offers an easy-to-use platform with tools spanning inventory management and analysis to warehousing and shipping needs. It's built to support modern retailers that sell goods across different channels by offering a centralized inventory and fulfillment process.
The onboarding and implementation can be lengthy for customers with tons of inventory to port over. And many of Veeqo's competitors provide basic point of sale (POS) tools for retailers to centralize their entire sales process, but Veeqo instead focuses on the post-sale back end.
It also looks like there are a few integrations with sales channels and other essential software that need to be cleaned up. Overall, this is a comprehensive, feature-rich tool offered at a fair price point.
---
Frequently Asked Questions for Veeqo
How long do product scans need to take effect in my inventory system?
Veeqo's inventory system and barcode operate with real-time inventory updates, so scans are instantly reflected in your system.
Where is Veeqo headquartered?
Veeqo is based in the U.K. with a U.S. headquarters in Austin, Texas. However, its website indicates that live support staff keeps U.K. hours.
Does Veeqo provide an API?
Yes, you can design custom apps to work with Veeqo

Veeqo is a solid option for growing retailers of any size that need more back-end support. You can boost efficiency, hit fulfillment goals, save money, and increase customer satisfaction with Veeqo managing your inventory, warehousing, and shipping processes.
Veeqo is a solid option for growing retailers of any size that need more back-end support. You can boost efficiency, hit fulfillment goals, save money, and increase customer satisfaction with Veeqo managing your inventory, warehousing, and shipping processes.
The Motley Fool has a Disclosure Policy. The Author and/or The Motley Fool may have an interest in companies mentioned.