---
Who is VerticalResponse for?
VerticalResponse is a simple and straightforward email marketing software with limited features.
It's ideal for small businesses or freelancers who don't want to spend a lot of time creating email marketing campaigns. It's also a useful tool for inexperienced marketers who don't know much about email marketing or haven't used this type of software before. That's because it's easy to get up and running quickly so you can get the most out of all the features.
However, because it lacks advanced segmentation and personalization features, VerticalResponse won't suit email marketers who want to create highly targeted campaigns.
---
VerticalResponse's features
VerticalResponse lacks the advanced features of other email marketing software on the market, but it still has enough to offer to make it a worthwhile tool for time-pushed marketers.
Easy email creation and list building
VerticalResponse includes the standard email creation options:
Use (and edit) one of their templates
Create an email from scratch (and save it as a template)
Import HTML
But what it does particularly well is offer a ton of customization options. Most email marketing solutions either let you create an email yourself from scratch or do some basic editing on one of their templates.

One benefit of VerticalResponse is that it lets you fully edit and customize its templates by adding loads of differently designed content blocks, and allows you to get granular with page style by changing elements such as shading and borders. You get the same customization options if you need to create a signup form to build your email list or design a landing page.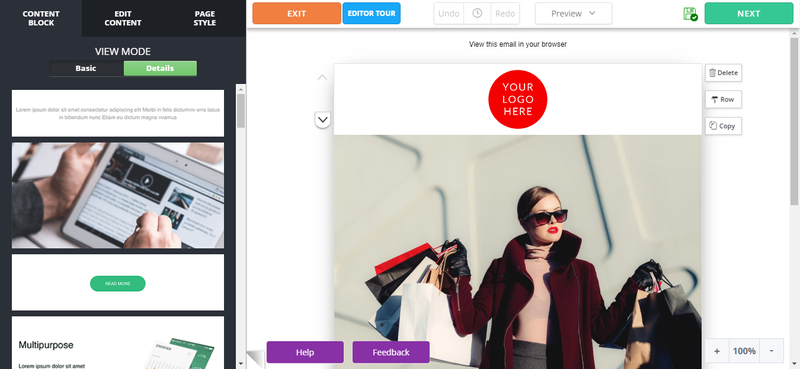 While VerticalResponse can help you capture these leads, its contact management functionality is basic. Other email marketing software let you apply specific filters to contacts, such as past purchase history, which includes transaction data such as order value, or custom fields that match the needs of your business.
The same goes for its segmentation capabilities. The only options are to segment by demographic data such as location, gender, or age, or by people who have (or haven't) clicked and opened previous emails.
Other email marketing software lets you segment contacts according to more specific behavioral data, such as past purchases, visits to product and category pages, and any affinities for certain brands. Whether you need more specific segmentation is dependent on whether you collect this data, and how much time and effort you want to put into targeting certain groups of customers.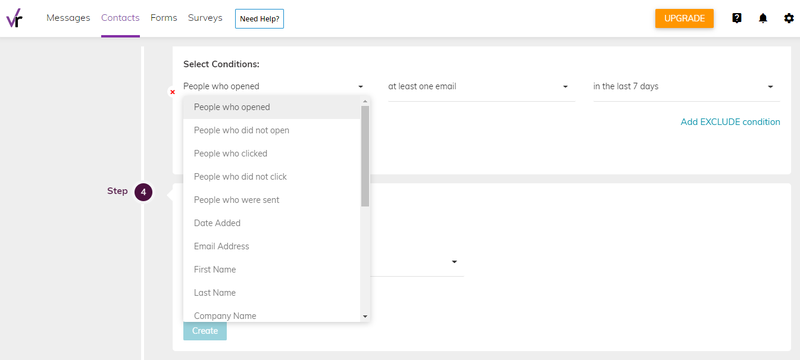 Advanced email preview options
User experience is a key part of email marketing — sending an email with content that looks weird or doesn't show up right is a major issue. That's why one feature that makes VerticalResponse stand out is its email preview options.
Most email marketing software only lets you test what your email will look like on desktop or mobile, but VerticalResponse goes a step further with a feature it calls its Test Kit. This shows you a screenshot of how your email will look in different email clients, including Gmail, Outlook and Yahoo, as well as run a test to see if the subject line is the right length for all email providers.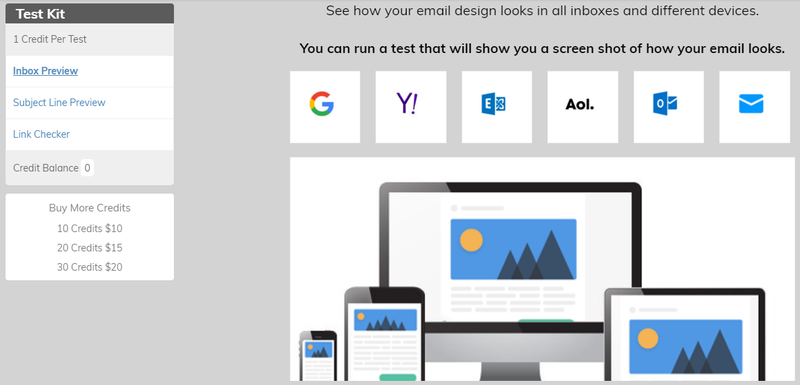 Another key part of the Test Kit is the test that shows you a screenshot of your links, so you can make sure you don't have any broken links.
Testing and optimization tools
A key part of email marketing is testing what performs well so you can constantly optimize your campaigns. VerticalResponse is all over this. With its A/B testing (also known as split testing) functionality, you can test both the body text and subject lines to see which performs best.
Another way that VerticalResponse helps you understand what resonates with your customers is its heat map functionality. A heat map shows you which parts of your email or webpage users are browsing and clicking on (and at what levels), and where they are dropping off, so you can understand which elements are performing well. While you can get data about what content your customers like from the number of link clicks, heat mapping gives you more detail about what isn't working, which is just as important.
For example, if your customers never click on any links in the second half of your email, then you can experiment with shorter emails. Or if you can see from the heatmaps that they spend time reading the copy but not clicking, then you can experiment with more snappy copywriting.
A key part of testing and optimization in today's always-on society includes sending emails at the optimal time. VerticalResponse lacks the advanced options of other solutions here, only allowing you to manually specify a time to send your email.
This is compared to other email marketing software that send out emails at an optimal time for opens and clicks based on past user behavior or can tailor the send time based on each customer's time zone.
Granular reporting tools
Another key way to optimize your campaigns to boost return on investment (ROI) is by delving deep into the success (and failure) of your emails to see if your customers are happy. VerticalResponse gives actionable insight into:
Performance on device and browser (mobile vs desktop)
Performance on email client
Geographic performance
You can compare the performance of each email side-by-side to see if there are elements that make them more appealing to customers. The only issue with this is that the metrics it reports on are mostly focused on subject line, such as the optimal number of words and characters. This feature would be much more useful if VerticalResponse could expand the metrics it tracks.
VerticalResponse also offers a preference center, which is useful in helping customers manage the emails they want to receive at any time, rather than having to click on an "update your preferences" link in an email. This also helps improve opens and click-through rates, as customers are only receiving the emails they really want, and the information is more likely to be up to date.
Basic email automation
Creating a behaviorally triggered email campaign is a key way to ensure your message is reaching the right customer at the right time, but doing this manually is pretty much impossible.
VerticalResponse lets you create automated campaigns by selecting the email you want to use (a welcome email, for example) at a timed interval based on behavior such as if they opened a certain email. These emails can be sent to a specific customer segment.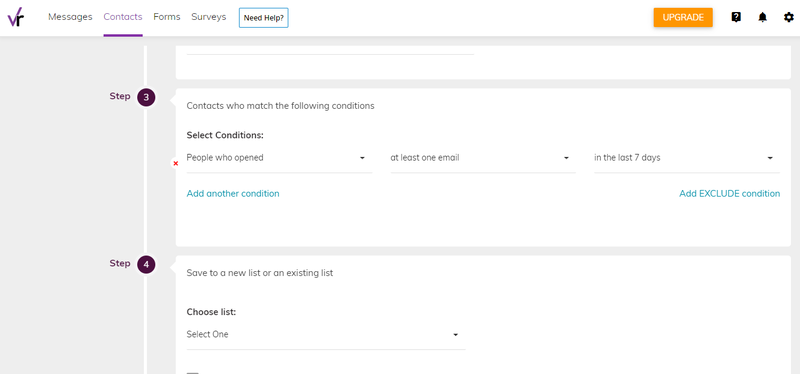 Thumbs up for the simple workflow, but a recurring theme with VerticalResponse is that the options it offers are basic compared to other email marketing software.
---
Benefits of using VerticalResponse
Not all businesses want to spend ages creating a perfectly crafted email; some just want a simple option that looks good but doesn't take a lot of effort. VerticalResponse is a straightforward solution and a good entry point into the world of email marketing software, as it's easy to learn how to use all the features.
It's an ideal solution for novice marketers who aren't familiar with advanced email marketing concepts, or who haven't used email marketing software before. VerticalResponse's easy-to-use email design editor, coupled with its advanced email preview options, helps companies quickly create attractive campaigns that lead to high rates of opens, clicks, and conversions.
---
Working with VerticalResponse's support
Considering that VerticalResponse is one of the simpler email marketing solutions, it excels when it comes to online support and helping you out at all stages of the process across multiple channels. Some of the help options include:
A help button that is always visible
Video tutorials for each tab
An "Editor Tour" button embedded in email templates that explains how to edit and create emails
Email support
An online VerticalResponse community where you can get peer support
However, if you have a problem that can't be solved through its online knowledge base, finding the support you need is much more difficult.
Help available at all times
VerticalResponse focuses on providing a self-guided help approach that means you can access support and get feature tours at any time you need — these help options don't disappear as soon as you start using the software. You can get self-guided "tours" for:
Message (i.e., email) creation
Contact management
Creating a contact list
Hard to get help from a human
But if you want to get to speak to a real person (on the phone or via live chat — although these options are only available during business hours), or you need to report a problem, then that is much more difficult. VerticalResponse buries these options within a question mark button in the top corner that you could easily miss.
When you click on that button, you are then directed to a separate page outside of the software where you must then click on "contact us" to get in touch.
Phone and live support are only available for paid plans, so if you're on the free plan your only option is contacting VerticalResponse via email.
---
VerticalResponse pricing
VerticalResponse no longer offers a free plan — it removed this option in early 2020 — but it does offer a generous free trial period of 60 days with no credit card needed to sign up.
VerticalResponse has two paid pricing plans, both of which allow you to send unlimited emails. The pricing is like most other email marketing software in that the charges reflect the number of contacts.
The Basic plan starts at $11 /month for 500 contacts, and the Pro plan starts at $16 /month for 500 contacts.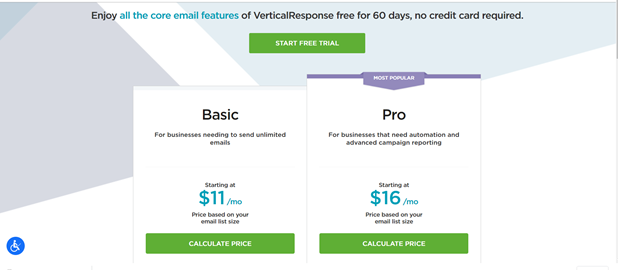 The Pro plan has the following additional features:
Automated follow-up emails
Advanced reporting
Delivery rate review
A/B subject line testing
There is also a pay-as-you go plan where you can buy credits to send emails and unlock features. This is useful for infrequent users who don't need a regular subscription.
Overall, VerticalResponse's paid plans aren't a great value for the money compared to other email marketing software in terms of the features you get. The paid plans lack the contact management and segmentation functionality you need to send highly personalized and targeted emails that can help improve engagement and conversions.
---
VerticalResponse's ease of use
VerticalResponse is so easy to use; that is its major selling point. It is not going to win a battle with other email marketing software when it comes to features, but its stripped-back, focused approach is a competitive advantage.
VerticalResponse is ideal for individuals and companies that don't have loads of time to spend learning a complicated solution and don't need all the bells and whistles you get with other email marketing software.
It's great for novice users who aren't familiar with email marketing software, as it's clear what each feature does and how they can be used. However, experienced marketers who want to create highly targeted campaigns may find the features limited.
VerticalResponse lacks the personalization and advanced segmentation capabilities that allow you to send tailored content to customers according to their past behavior and interactions with your brand, as well as their stage in the customer lifecycle. This limits the success rates of your email campaigns, and will be especially annoying if you are used to granularly segmenting customers.
Self-guided onboarding approach
These days, nobody wants to have to sit through hours of training or read a long product manual to get started. We all want to dive in and get started straight away.
Once you've signed up with your name and email address, VerticalResponse offers you the option of a guided tour of the software instead of having to read a list of instructions. It's a useful tour to help you get the most out of all the features.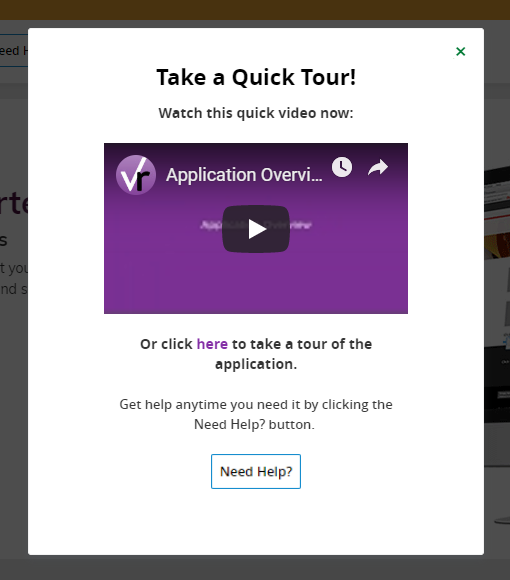 Easily accessible functionality
As VerticalResponse doesn't overload its product with features, it's easy to quickly find what you're looking for. While the user interface does look a bit dated, and isn't as modern or attractive as other email marketing solutions, that doesn't detract from the overall user experience.
The main menu is arranged into four self-explanatory sections:
Messages
Contacts
Forms
Surveys
Renaming the messages tab as "create an email" or something similar would help with navigation, as would separating out email automation into a separate menu from email campaigns. Saying that, as there are only four main tabs to choose from, it takes you seconds to find the option you need.
Each tab has a submenu and the positive here is that VerticalResponse doesn't use any fancy industry jargon to describe each option, making it a very accessible solution even for users who have no experience with email marketing.
Only having four main tabs means you never get lost and waste valuable time looking for the option you need, and you don't suddenly discover new features that you never knew existed years after you start using the solution.
---
Frequently Asked Questions for VerticalResponse
Is VerticalResponse free?
No, there is no free plan, but you can get a free trial of all core email marketing features for 60 days.
What are VerticalResponse credits?
Under VerticalResponse's pay-as-you go pricing model, you can buy credits that allow you to pay for each email you send.
Does VerticalResponse include automated drip campaigns?
Yes, but only in a basic way based on criteria such as when a customer opens a certain amount of emails.
Does VerticalResponse allow you to schedule your emails?
Yes, but only at a certain time that you choose. It does not let you schedule your emails at an optimal time according to your customers' past behavior or to send at the best time for your customers' location.

If you want an email marketing solution that's super straightforward and makes creating campaigns a breeze, check out VerticalResponse.
If you want an email marketing solution that's super straightforward and makes creating campaigns a breeze, check out VerticalResponse.
---
How VerticalResponse Compares
The Motley Fool has a Disclosure Policy. The Author and/or The Motley Fool may have an interest in companies mentioned.