When it's time to start building your website, both Wix and Weebly are well-liked content management platforms delivering user-friendly experiences at a low cost.
Since both systems' back ends are tech novice–friendly, you are free to spend more time customizing Wix themes and Weebly templates. You can't go wrong with either platform, from features to digital marketing analytics dashboards and drag-and-drop building.
---
Weebly vs. Wix: An overview
We looked at a few essential categories when deciding if Weebly is superior to Wix for site building and content management. Which option has the most robust assortment of features? Is it reasonably priced? Which one is easier to use? These are all crucial factors when deciding what system to use.
Who is Weebly for?
Weebly is an excellent alternative to Wix for people who don't want to stress over building a website. If you are looking to get your site up and running quickly, Weebly offers a pre-built website that you can tweak to make your own. It is ideal for small businesses, restaurants, creative showcases, etc.
While it doesn't allow you total control, that is not going to bother the majority of its target demographic, as Weebly users typically aren't looking for complicated site builds.
Who is Wix for?
Wix is similarly uncomplicated by nature. The back end is easy to use and equally well suited for small businesses and creatives looking to create a portfolio. Wix shines when it is used for simple sites since the back end is not built to scale.
---
Weebly vs. Wix: Features
A solid foundation is great, but the best site builders stand out because of reliable and useful functionalities.
What Weebly offers
Weebly offers faster load times by hosting sites on their servers. Also, by being hosted in-house, Weebly has a tight grip on security. Drag-and-drop building is also offered, making site building a smooth and rather enjoyable experience.
By being able to build and visualize at the same time, you can customize more of your site. You can also drag to upload your logo and then use it as a central aesthetic theme.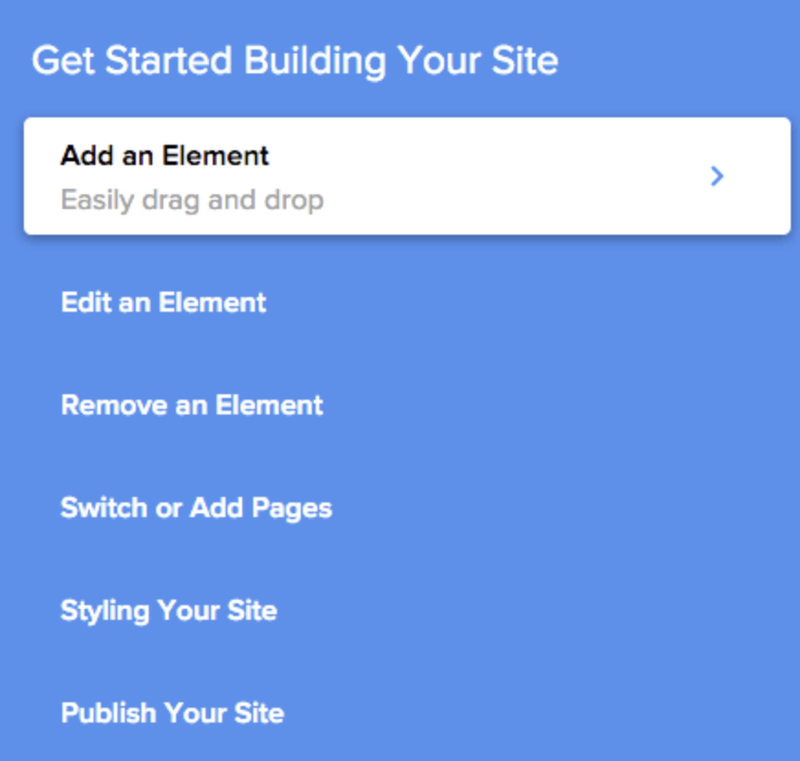 What Wix offers
Right off the bat, Wix is a great choice for customization. It offers a unique option to design an entire color palette around a central brand logo or image, ensuring seamless brand cohesion.
It also lets you animate images and text snippets — in fact, it's the only site builders to do so! When it comes to actually building your site, the drag-and-drop feature makes customizing a template easy and foolproof.
You can also add multiple users to manage your site, or set yourself up to manage several other sites, all from one dashboard and login.
Results
Winner: Weebly
Though both site builders produce solid offerings, Weebly's features are just a bit more robust and necessary than Wix's. While something like animating text is a cool perk, it can't compete with fast page loading speeds.
---
Weebly vs. Wix: Support
Building a site can be unchartered territory, so having reliable support is a must.
What Weebly offers
Weebly not only has a large knowledge base of resources, it also has multiple options for contacting support representatives. Paid accounts receive live chat and phone support, while even free accounts have access to email support.
All three options are known for their prompt and helpful responses. If you can't find your answer in the resource library, you'll certainly find it with some one-on-one help.
What Wix offers
Wix takes support seriously and it shows. When it comes to direct responses, it utilizes an efficient online ticketing system and prioritizes great customer service.
All representatives are quick and helpful in answering direct questions and help is available to everyone, even free accounts. Phone support runs from 8 a.m. to 8 p.m. weekdays and its chatbot responds in moments.
It also has quite a large library of online resources designed to provide contextual support on a huge array of topics, covering not only the basics of building sites, but also helpful subjects such as marketing tips so you feel truly supported.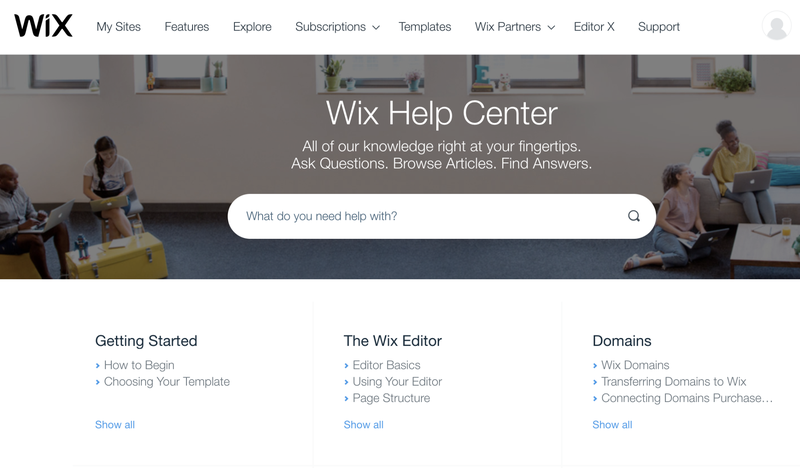 Results
Winner: Wix
Again, both Wix and Weebly have rather legendary support. Wix takes just a slight edge over Weebly, thanks in part to its automated chatbot and ticketing system that really speeds along the question-and-answer process.
---
Weebly vs. Wix: Ease of use
All the great features and customer service representatives in the world aren't going to mean a thing if you struggle to use the content management system. That's why a user-friendly back end is a must.
What Weebly offers
Weebly is definitely a straightforward system. From setup to management, it's frustration-free. With a navigation bar that is easy to understand, a setup page that helps you intuitively build your first pages and more, you are never on your own building a site.

What Wix offers
Wix starts you off with two options: The first is the Wix Editor, a drag-and-drop builder that gives you full control over your layout and doesn't require you to build and code the back-end infrastructure.
The second option is Wix ADI, which essentially builds your site for you by having you answer a few questions about what you want your website to do. It then delivers a page ready for editing and customization.
Editing itself is super easy. Wix offers live editing, so you can see how your pages will appear online as you're building; you don't have to take them down before editing or go at it blind. You can also copy a site, delete it, or add contributors from the dashboard. Overall, basic website management is a breeze.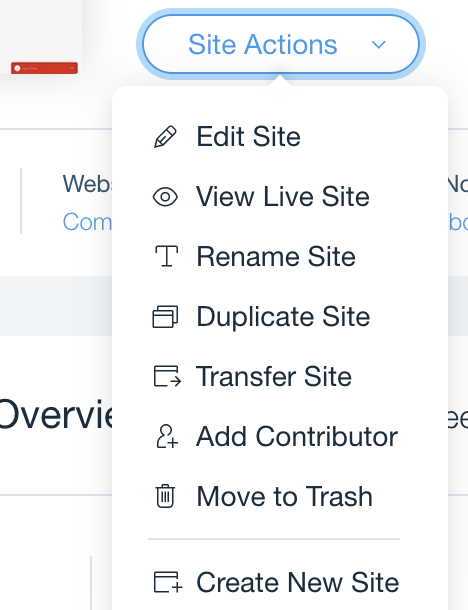 Results
Winner: It's a tie!
Both builders are intuitive and easy to learn without making you feel overwhelmed at all.
---
Weebly vs. Wix: Pricing
Many questions come up when getting new software or a tool, like: Is there an option for a Wix free website plan? Is Weebly free? And how much do I need to spend on paid versions? If you're concerned about budget when buying software, this should clarify all your questions.
What Weebly offers
Weebly offers a long-term free plan that works pretty well for basic websites and personal blogs. However, the Weebly logo and advertising will be embedded on your site.
The next pricing tier, the Personal plan, lets you connect a custom domain name and includes site stats for $6 per month when billed annually.
The Professional plan, recommended for small businesses, provides a free domain, unlimited storage, and eliminates Weebly ads. Pricing is $12 per month when billed annually.
The highest pricing tier is the Performance plan, which includes a free domain and expands e-commerce capabilities for $26/ per month when billed annually.
Teachers can create free classroom websites by using Weebly for education.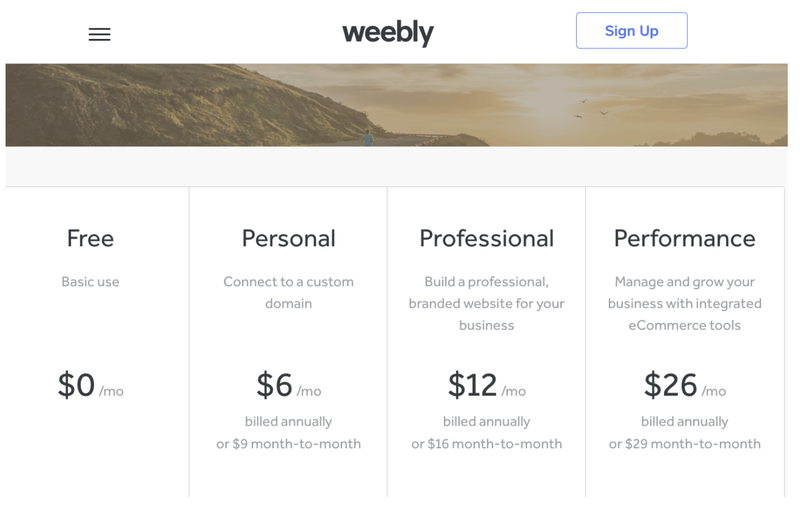 What Wix offers
Wix also offers a long-term free plan with Wix ads that works well for portfolios and blogs. For $13 per month, you can remove Wix advertising and connect a domain name for free.
The most expensive plan is $39 per month. It provides priority support, more storage (20GB), and a professional logo for your brand and social media.
The Wix student discount offers 50% off yearly premium plans for student portfolio websites.
Results
Winner: Weebly
Both sites offer a free plan and are reasonably priced, but Weebly can't be beaten with a basic paid plan that starts at only $6 per month.
---
Weebly vs. Wix: Integration with other software
These content management platforms are great on their own. Still, capabilities can be expanded when other specialized software and apps are integrated.
What Weebly offers
Weebly has a library of apps to assist you with everything from website marketing to social media. The integrations go a long way to increase the functionality of your site without overloading the back end with features you don't need.
The ability to pick and choose integrations is vital to create a streamlined and customized experience.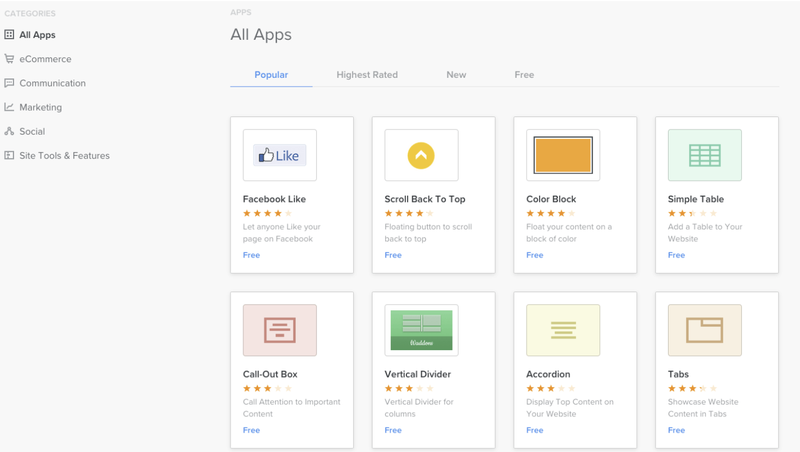 What Wix offers
Wix offers a lot of add-ons, expanding its basic capabilities to be so much more. From PDF creation to form and landing page builders, you can customize your site on just about anything you need.
Results
Winner: It's a tie!
Wix and Weebly both operate from the same starting point: Do the basics well and offer a lot of additional integrations as options. With a similar number of offerings in a wide array of categories, there's no clear winner.
---
Weebly vs. Wix: E-commerce option
If the day comes when you want to sell products online, you should have an easy way to convert your existing website into an e-commerce shop. Let's take a look at how that works with both software platforms.
What Weebly offers
The highest tier of Weebly plans allows you to turn your site into an online shop. It includes several features to enhance sales as you build your online store with Weebly e-commerce. Just like your previous Weebly site, creating product pages is easy and intuitive, with site tools that are just as familiar.
What Wix offers
Wix also offers features for e-commerce CMS, so you can upgrade your primary site to be an online store if needed. Your basic dashboard comes ready to analyze sales and marketing.
The free Wix plan is e-commerce ready with a pre-built storefront. Simply turn on that feature, and you can start selling.
Once your shop is live, you can turn on sales automation to ask customers for feedback, recover abandoned carts, and much more.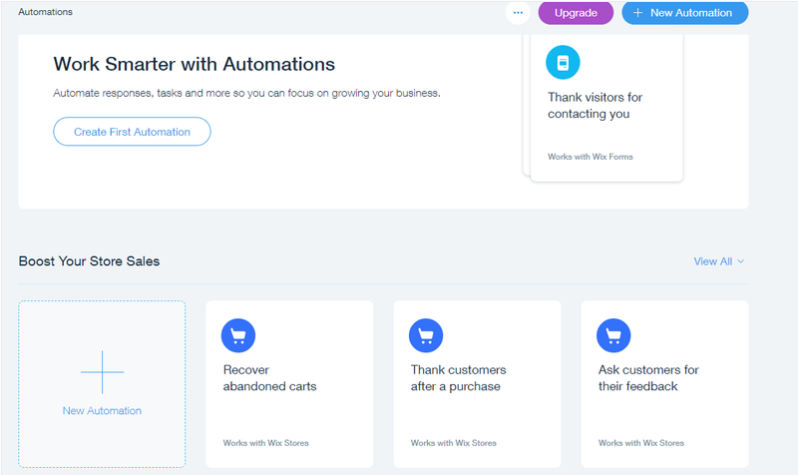 Results
Winner: It's a tie!
These two builders offer two different but similarly user-friendly e-commerce options.
With Wix, you get an online store that you can turn on with the click of a button. Weebly has a dedicated e-commerce site builder. Both have all the features you need to be successful with minimal setup.
---
How They Compare: Weebly vs. Wix
| | Weebly | Wix |
| --- | --- | --- |
| Features | | |
| Support | | |
| Ease of use | | |
| Pricing | | |
| Integrations | | |
| E-commerce ability | | |
---
The winner by a slight margin...
The winner is Weebly, but it wins by one category. Weebly is a fan favorite because it offers a lot of features and integrations for a lower price.
It's one of the original site builders designed for ease of use, and it keeps features upgraded and updated.
However, Wix is certainly not a straight "loser" here, as it is just as easy to use and employs intuitive customizations.
If you're stuck choosing between the two platforms, it will likely come down to budget, as you are well set up for success either way.