When you run a brick-and-mortar retail store, one of the most important choices you make is which retail point-of-sale system (POS) to use in your business.
First, whichever POS system you choose needs to have the right POS features to help support your business. Second, you need to know it offers at least the basics in POS hardware — as your business grows, your POS should be able to support that journey.
Square is a popular POS choice for many merchants due to its versatility as a business payments solution. In this article, we'll break down what Square point of sale is, and what features it offers merchants.
We'll also clarify when using Square might make sense for your business, and when it's time to look elsewhere for a POS solution.
---
Overview: What is Square?
Square is a point of sale system that combines hardware and its free mobile Square app that can be used on any mobile device.
Besides its basic point of sale functionality, Square offers a large suite of intelligent features such as inventory management, sales analytics, payroll management, email marketing, and even a virtual terminal for card-not-present situations.
Square doesn't charge monthly fees and there's no monthly minimum payment processing required. Instead, Square charges a processing fee of 2.6% + $0.10 per each tapped (mobile payments), dipped (chip cards), and swiped (magstripe cards) payment.
Unlike many point of sale apps, Square is suitable for businesses of all sizes and offers a feature-rich solution at a cost-friendly price point. As of 2020, more than 64 million businesses use Square to facilitate credit card payments.
---
What does Square offer?
Square goes beyond payment processing. It has several features that help merchants manage sales, employees, and their stock, and it offers a dashboard where users can manage everything related to their sales, customers, and teams.
Let's look at some of Square's most notable features.
1. Inventory management
Inventory management is the cornerstone of any business selling physical goods. Square's inventory management functionality is probably not as strong as the likes of Lightspeed or ShopKeep.
For example, this feature doesn't offer a search bar for easy access to specific stock. This could be a show-stopper for larger businesses with larger inventories.
However, remembering Square is a free tool, it does offer several easy-to-use and practical inventory management features. They allow users to:
Adjust stock levels and apply reasons (stock received, inventory recount, damage, theft, loss, and return)
Update products individually or in bulk
Import items in bulk via a CSV file
Transfer inventory across multiple store locations
Download inventory stock levels to a printable spreadsheet
Receive daily stock alerts indicating when stock is low
Set different price points and product variants
Businesses that want to use Square's POS system but need more robust inventory functionality can upgrade to Square for Retail.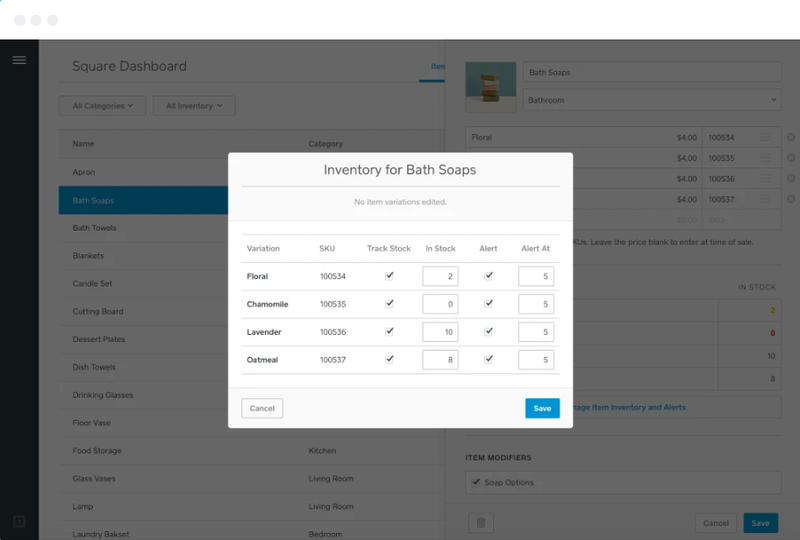 2. Analytics and reporting
Square lets users view important insights into the health of their business. With its visual representations of sales data, users can understand trends and customers and make more informed business decisions.
Examples of Square's reporting and analytics functionality include:
Breakdowns on the most important items and categories
Analysis of new and returning customers, what they're buying, and their average spend
Sales summaries by days, weeks, and months
Viewable reports at any time on any device
Real-time CSV downloads of sales summaries
3. Dashboard
Square's dashboard gives users a quick overview of business operations. It's a central hub where users can quickly access all Square modules.
The dashboard gives users an overview of their gross sales, transfers, transactions, and top items, and they can customize the dashboard's interface by using drag-and-drop moves to move widgets onto the home screen for quick access.
Users can access the dashboard from any device, and if they're using Square's virtual terminal, they can access it directly from the dashboard.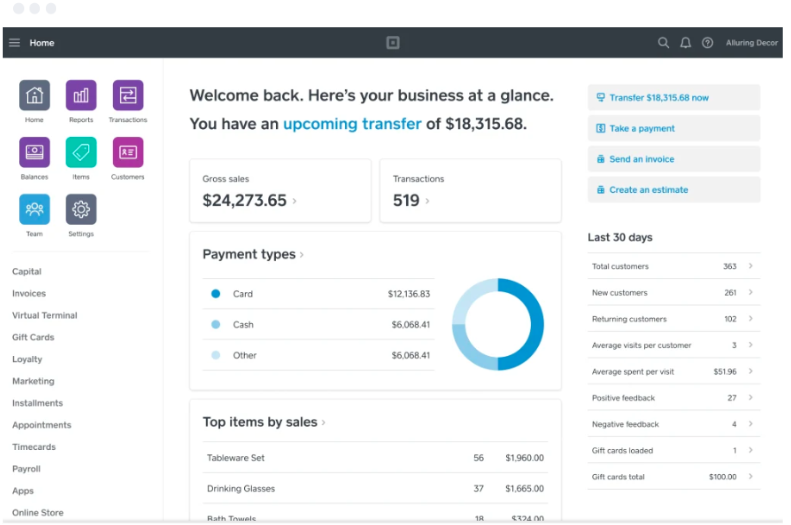 4. Team management
Square POS also offers team management functionality for businesses that need to manage multiple employees.
The basic feature allows users to take payments and issue refunds, but businesses looking for more comprehensive staff management features will need to upgrade to Square's employee management feature, which costs $35/month, per location.
With this function, businesses can:
Access employee-specific sales reporting
Set different employee permissions and controls
Allow employees to clock in and out
View labor versus sales reports to evaluate labor costs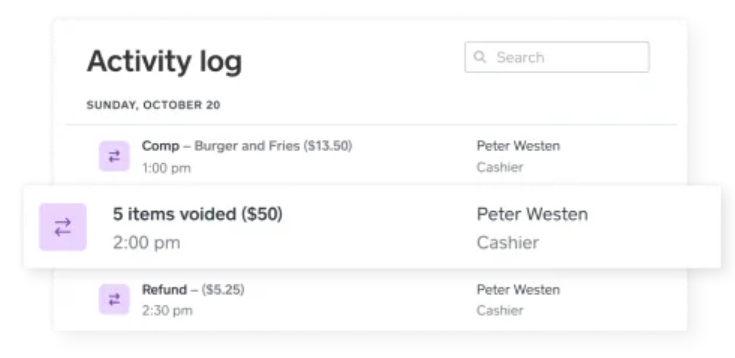 5. Square products
Square offers a range of hardware that goes hand-in-hand with its software packages. Square's core products include:
Square POS terminal
Mobile card readers that also accept near-field communications (NFC) payments
Touch screen registers
Countertop POS setups
Square offers other hardware accessories to complement its hardware setups, such as:
Cash drawers
Receipt printers
Barcode scanners
Bluetooth scales
If you choose Square hardware, you won't be able to use another third-party payment processor. Depending on your business requirements, you'll need to assess whether Square's hardware options fit within your budget, on top of Square's transaction fees.
However, Square offers financing on purchases above $49, with payback terms of 3, 6, 12, or 24 months.
---
Is Square right for your small business?
Despite its rich features and low overhead costs, Square won't be the best fit for every business. Read on to discover when Square might be a good fit for your business, and when you might consider other POS options.
When Square makes sense
Square could be a great option for your business if:
You're just starting out — with low overhead costs and a reliable flat fee for payment processing, Square is an uncomplicated solution for new owners.
You're looking for an all-in-one business solution with plenty of useful add-ons.
You don't want to sign a locked-in contract or pay early termination fees.
You've never used a cloud POS system before and are looking for a platform that's easy to use with an easy learning curve.
When you should explore other options
Square might not be the perfect match for your business if:
Your business runs with lower-ticket items at a high transaction volume, as the 2.6% + $0.10 fee for each transaction can add up quickly.
You want to use a payment processor that isn't Square.
Your business falls under one of their many

unsupported industries

.
You run a multi-location business and are looking for a more powerful solution to support inventory management across all stores.
---
Rich features and great pricing make Square a solid option for small businesses
Square is a great choice for businesses looking for an affordable yet reliable POS solution. This article gives you a sample of what users can expect from the software, but our full Square POS review has even more in-depth information to help you make an informed choice.
Finally, if you like the sound of Square and are running a restaurant or bar, check out Square for Restaurants.