When you are creating a new business website, you want a site builder that is streamlined, easy to use, and proven in the industry. The Wix CMS is very popular and has a large hold on the market for good reason. But is Wix always the right choice? It depends on your web design knowledge, content goals, and if you'll be doing site updates and maintenance.
---
The 4 pros of using Wix to build your website
Wix wouldn't have been around for so long if it weren't a decent site builder. For many users out there looking to build a site quickly and update content, it will fit your needs just fine. Here are some things we love about Wix.
1. Wix pricing
Wix is pretty affordable and offers a free website option. But, the free site will include Wix's branding. If you want to remove it and have your own domain, you'll have to upgrade to one of Wix's premium plans.
Pricing starts at $14 per month, and e-commerce Wix plans start at $23 per month. These professional plans come with an included Wix domain and a plethora of features while also upgrading your bandwidth, removing Wix branding, etc., for a relatively low cost.
2. Professional designs
You have two distinct paths to take when you design your Wix site and both yield great-looking results. You can choose to tell the platform a little about your site needs, brand, logo, colors, etc., and Wix's AI will build a sharp-looking site for you that you can edit within boundaries.
The second way has you selecting from its extensive library of Wix website templates to find a theme and then use the easy drag-and-drop builder to edit your site.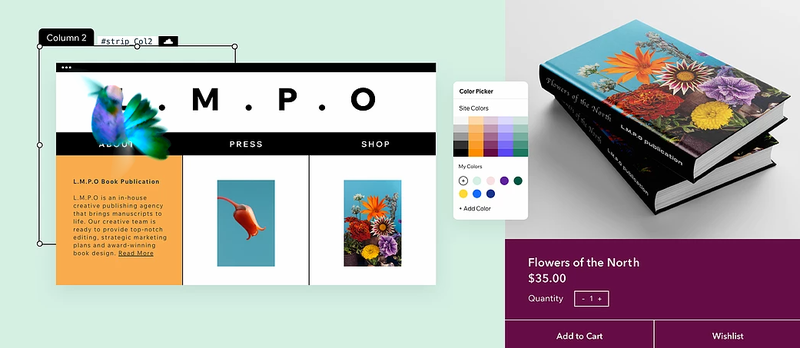 3. Live editing
As we cover in our Wix step-by-step tutorial, editing itself is painless and stress-free. Wix offers live editing, so you can play around and see exactly how your pages will appear online as you're building them. That way, you don't have to take down your page before jumping into editing or publish the website blind on a wing and a prayer. You can also make edits and manage your website from the Wix mobile app.
4. Support
Wix customer service truly is great, and it's offered at all plan levels; even free plans get customer support. There are online resources available, plus a ticketing system and helpful chatbot option.
If that's not enough to solve your problem, you can get a pretty quick response from the Wix support team on weekdays (Monday to Friday) from 8 a.m. to 8 p.m. EST.
---
The 3 cons of using Wix to build your website
Of course, the Wix website builder isn't perfect, and many of its downsides are what inspire businesses to look into alternatives to Wix.
1. Lack of deep analytics
While the Wix dashboard does provide some basic analytics and traffic tracking, it doesn't dive in too deep or get too specific. If you really want to get nerdy with data, you're better off using another platform.
2. Slow page loads
This disadvantage is a big one. Not only do fast page loads mean a happier customer base, but loading time also is a factor in search engine ranking. The algorithm takes into account load times, and the faster you are, the higher ranked you are likely to be.
3. Unable to switch templates after going live
If you value flexibility and the prerogative to change your mind, you may not love that once you choose a template and publish, you're stuck. If you want to switch it up, you have to take the whole site down and start all over.

---
Wix has its ups and downs
There's no one-size-fits-all for website builders, so don't worry if Wix doesn't tick all your boxes. While it does what it's good at really well (free website, easy to build, and pretty templates), its downsides (data analysis, load times, and customization) might be just too important to ignore.