Ranking high in ease of use and affordability, Wix is a go-to option for many content managers when it comes to selecting a content management system (CMS). It offers up a unique and highly covetable cross-section of near-complete creative control abilities without requiring its users to know a single stitch of code.
Though many people are pretty HTML-savvy, there are many more of us (my hand is firmly raised) who dread the thought of coding — it simply doesn't come naturally.
Wix allows you the freedom to create a site that looks as customized as if you had coded it yourself without ever having to look at a string of numbers and symbols.
You don't need any backend research, nor is there a learning curve with Wix — simply hop in and use drag-and-drop templates and clickable dashboards to build your pages.
Wix is sort of the iOS equivalent of the CMS world; like Wix, iPhones are made for people who prefer efficiency and a professional feel but aren't as savvy with the technical aspects as people who are in the market for Androids.
Because of this archetype, Wix is more about the full experience than additions, so if you like your CMS to have a variety of optional features, you may feel a little stuck with Wix.
---
Who is Wix for?
Wix is for portfolio owners (artists, photographers, writers, musicians, graphic designers), small businesses, restaurants, and startups — it's for anyone who has other things to worry about than developing code and maintaining an elaborate backend.
The platform adapts itself to a variety of industries, so there are no pre-built limitations. While larger enterprises may need something more prominent and more codable on the backend, for everyone else, Wix is an excellent choice.
---
Wix's features
Creating a website that's unique to your brand means you need your CMS to be more than a basic Google form.
Though Wix's big-picture mindset means it doesn't have as many features as some other CMS software solutions, it offers a lot of what matters in an efficient and customizable way.
E-commerce automation
Just because Wix is an excellent showcase for creative work or restaurant menus, don't count it out for e-commerce.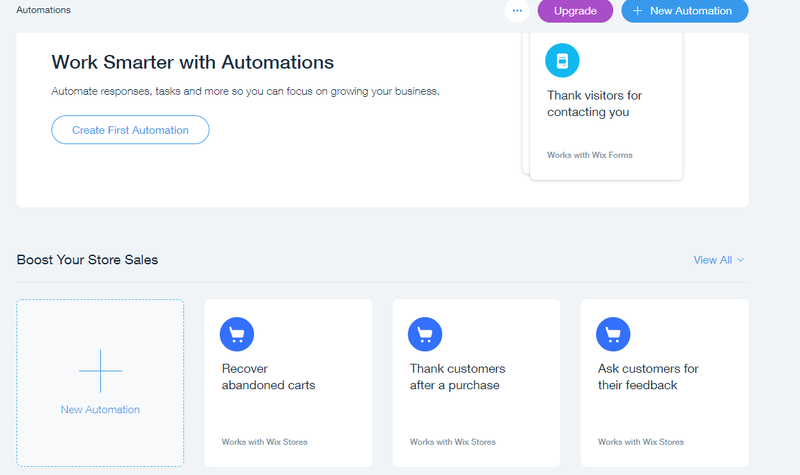 Its easy-to-use product pages make selling your wares almost as simple as drag-and-drop, and you can set up automation for sales right in your site builder.
Templates
Wix offers an abundance of templates and even breaks them down into best fits by industry. There's a wealth of choices, but Wix can help you narrow down a direction.
App market
Comprised of hundreds of optional add-ons, the app market is a great place to increase the functionality of your Wix site.
Each app is a third-party offering, and while there aren't as many options as with WordPress, Wix's add-on options still cover a wide variety of needs.
Some apps work to increase your site's capabilities, such as form builders, e-commerce enhancers, PDF previews of printed works, and much more.
Customer communication
Keeping in touch with your audience is a must, and Wix allows for built-in communication.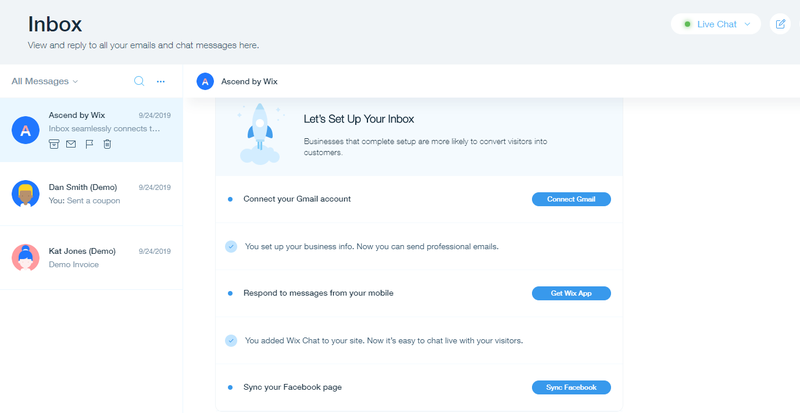 From chat to synced email options, you can stay on top of your conversations, and your audience doesn't feel left out.
Animations
Wix is one of the only website makers that offers the ability to animate text and images.
While it can be easy to go overboard with this feature, a bit of gif-ing and animated text is a great way to catch a reader's eye.
Intuitive design and editing
Aside from the many templates it offers, as mentioned earlier, Wix allows for incredible customization (without having to code that customization yourself).
Since logos and brand visuals are essential, Wix can pull entire site themes and color palettes from an uploaded image or logo.
Simple navigation
Switching between editing your pages is easy. Rather than needing to go all the way back to an editing homepage, or the start of a navigation flow (a significant drawback of other systems, such as Joomla), you can jump around between pages with ease and do so without worry, as they autosave while you are working as well as before you navigate away.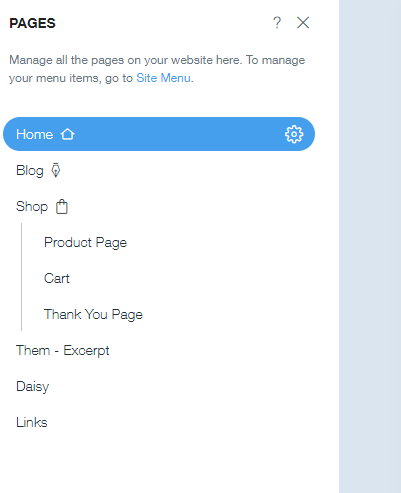 Multiple sites
Do you manage more than one site? Wix is ready to help. If you have multiple websites, manage content for various brands, or even have various offshoots of your own brand, you can manage everything from one Wix account with one login.

The ability to toggle through roles as needed is a blessing for us multitaskers.
---
Wix's ease of use
Wix offers two options for building a site, and both are easy and intuitive.
The first option is Wix Editor, which uses a drag-and-drop approach for building out your pages. The editor allows you to build your website in terms of visual layout and flow, not by building complicated backend infrastructure.
The second option, Wix ADI, goes a step further by building your site for you. All you have to do is answer a few simple questions about what you need from a website, and in seconds, Wix can build your perfect site structure and deliver it to you, ready to be edited.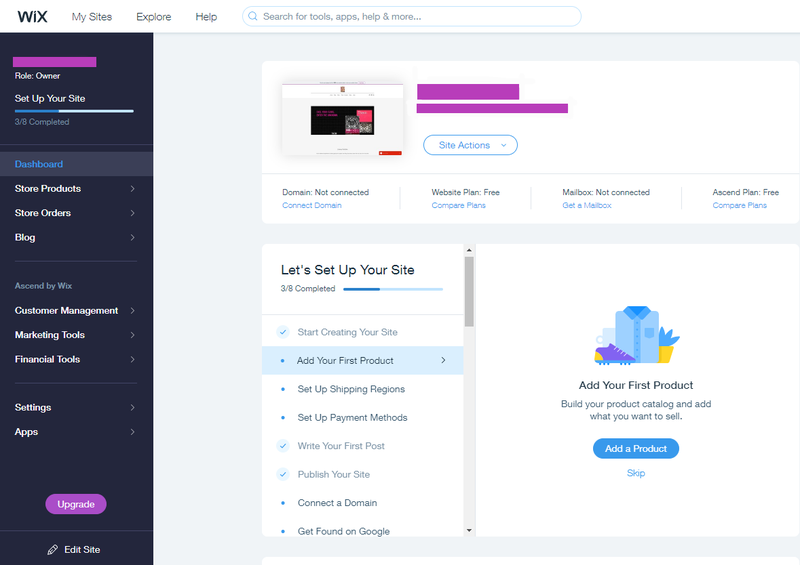 Thanks to a comprehensive dashboard, you can access all aspects of your site from one place. Whether you need to update shopping information or edit pages, it's not difficult to find where you need to go.
---
Wix's pricing
Wix's pricing is pretty appealing. For starters, Wix offers a basic, long-term website builder for free.
If you never expect to need to grow your online presence to a more professional level (say, if you need only a personal site or an online portfolio), you can continue using Wix's basic — but still pretty comprehensive — plan for free, forever.
For more professional options, the monthly plans range from $13 to $23 per month and allow for your own domain name, increased bandwidth, no ads, premium apps, etc. The cost is minimal, and the return is excellent.
---
Working with Wix support
Another jewel in the Wix crown is its excellent support. There are online resources available to peruse in the help center, and Wix also has an online ticketing system for more direct help on specific questions.
After submitting a ticket via a user-friendly chatbot, if the bot isn't able to fix your problem then and there, you can expect a reply quickly (within minutes) as Wix's phone support is operational 8 a.m. to 8 p.m. EST, Monday through Friday.
Wix's support is unique, too, in the fact that this level of help is available to everyone, even free accounts.
Even better? Since Wix is so intuitive, it's less likely you'll need to contact support. Not only does that means a smooth user experience, it also means when you do need to contact support, your wait time is minimal, and someone is available to help.
---
Benefits of Wix
Wix's benefits fall under a few general categories: peace of mind, lack of stress, and ease of use.
Using Wix as a CMS allows you to focus on the content: what you're publishing, how it looks, what the aesthetics are, etc. If your role is a content manager, first and foremost, you have the benefit of knowing the techy stuff is handled for you.
You also don't need to worry about feeling out of control. Wix has built-in suggestions for you that will guide you, step-by-step, through completing your site.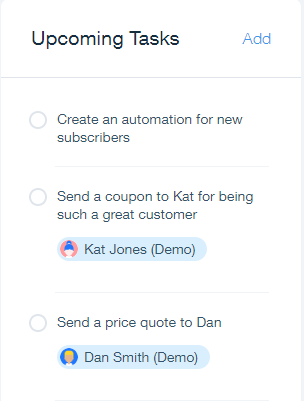 There's also something to be said for the safety net of Wix support. You don't ever feel lost, and most problems can be solved quite easily. Plus, with a low price point, you aren't breaking your budget to create professional-looking pages.
---
Wix is a winner for small business owners
From the standpoint of a content manager or business owner, Wix delivers just about everything you need to do your job. By taking away the stress of web development, Wix lets you focus on looking professional, managing customer life cycles, creating and publishing content, and setting automation.
For a very low price, you have access to not only a highly customizable experience, but engaged support should you ever feel stuck. As someone whose job is to worry about the marketing, and not the building, Wix makes me feel safe and professional.
---
Frequently Asked Questions
A whole lot of people use Wix — it supports hundreds of millions of sites, in fact. Wix is mainly preferred by portfolio hosters, the service industry, and small business owners.
Do you need to hire a web developer?
Since Wix is an intuitive builder, you don't need an outside developer to build your site for you. You are in control of your website, and you don't need a third party to write any code.
Does Wix allow multiple users?
Yes, Wix allows for a team approach. You can grant multiple editors access to your site and assign varying levels of permission.
The Motley Fool has a Disclosure Policy. The Author and/or The Motley Fool may have an interest in companies mentioned.