As two of our favorite site builders (and the favorites of many users), Wix and Shopify are often the top two contenders for people trying to decide on a platform to use as a website builder.
---
Wix vs. Shopify: An overview
Shopify is an e-commerce platform designed specifically for building online stores, although it also offers other great content management features.
Wix targets a wider audience as a website builder for all kinds of sites, not just sales. It has basic features that come standard and optional sales-focused integrations that make Wix a strong contender for e-commerce.
We are big fans of both of these platforms here at The Blueprint, so the devil is in the details. What functions matter most to you is what will help you decide between Shopify or Wix.
Who is Wix for?
As noted in our Wix review, this platform is useful for a variety of industries. It's an all-encompassing content management system, offering the ability to build and design sites for any purpose, including e-commerce.
Who is Shopify for?
Shopify is for anyone with a business. Our Shopify review mentions how it's designed for those ready to launch a store or expand a brand, and the platform has minimal technical knowledge requirements.
Essentially, it's an e-commerce platform, meaning you first need to have a store to run, although you can add additional content and pages, too.
---
Wix vs. Shopify: Features
Both platforms offer solid features that are easy to use and boost your site's functionality.
What Wix offers
As mentioned, Wix is not a full e-commerce system, but it does offer e-commerce marketing and automation — and even a fully integrated option for e-commerce email marketing to hit those key customer touchpoints along the purchasing process.
Wix also offers an array of shipping options, allowing you to set up shipping rules and automations that can make your life easier.
When it comes to regular site-building, Wix makes it easy to build and design beautiful sites, from homepages to blogs to landing pages, with its built-in, dynamic templates. Wix also prioritizes customer and site visitor communication, with even the free plans offering live chat and Gmail integration.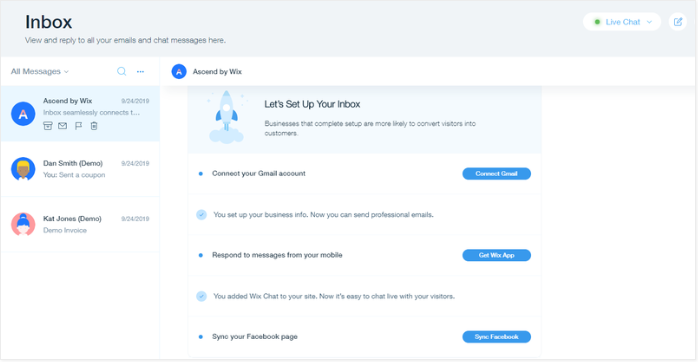 Another nifty feature unique to Wix is the ability to animate text and images when you want to add a pop of interest.
What Shopify offers
Metrics are important to a thriving business, and Shopify gives you data insights into sales, order tracking, marketing analytics, customer journeys after a purchase order, and much more.
Shopify also makes product management a breeze thanks to its inventory management tools, order tracking, and customer management functionalities, which come standard.
Marketing, too, is an important focus of Shopify, as it allows you to integrate with social media in advanced ways (including social media buy buttons and Snapchat advertising) as well as send customized sales emails, etc.

There are also several dynamic themes available, with many even including embedded video headers and the ability to tie related products into blog entries.
Results
Winner: Shopify
Thanks to its e-commerce focus, Shopify wins this round by a little. It offers more sales-oriented features as well as a ton of non-e-commerce features that come standard.
---
Wix vs. Shopify: Support
Feeling stuck? You need a system that allows you to turn to someone for help.
What Wix offers
The intuitive nature of Wix means your problems will likely be minimal. But if you do find yourself stuck, its support is world-class. First up, Wix offers an automated chatbot that's surprisingly good at answering questions.
There's also weekday phone support and an online customer service rep chat feature. Wix provides support for its free plans, too, which is pretty special.
What Shopify offers
With a huge library of online resources, you are often able to answer your own Shopify questions without much trouble. If you do come to an impasse, though, you have access to a customer service rep by phone or online ticketing who will help you through your problem.
The response time is fast, and the representatives are very well-versed in the ins and outs of Shopify.
Results
Both Shopify and Wix are known for their excellent support, so this one's a tie.
---
Wix vs. Shopify: Ease of use
You can only get the most out of your platform if you feel comfortable using it and navigating the back end.
What Wix offers
Many people flock to Wix thanks to its drag-and-drop capabilities, making page-building easy and fun. Wix understands that its users are looking to build and run sites with minimal complications, so it doesn't assume you're a web developer or a tech genius.
The back end is easy to understand, and the steps to building a page are intuitive, down to the fact that you can upload a logo or image, and Wix will offer color palettes and style suggestions based on it.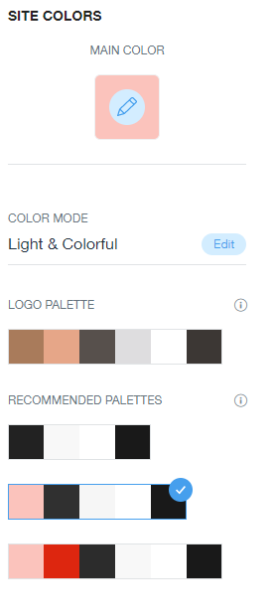 Another bonus is that Wix makes editing easier with live editing, so you don't have to take pages offline before making changes to them. Live editing also lets you see how your changes will look published right then and there. Further, this live editing autosaves your work, making the process that much easier.
Wix makes getting started easy, too, by suggesting next steps and suggesting upcoming tasks for you to do to complete your site.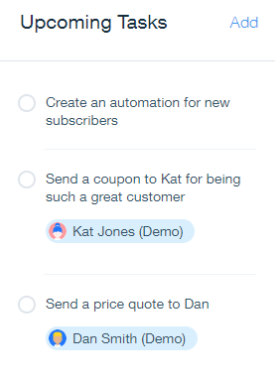 What Shopify offers
The Shopify website builder is pretty straightforward, making the whole process a lot easier than it may sound when you're starting from scratch.
Not only does Shopify offer easy-to-customize templates, but you also have the benefit of knowing your only tasks are to fine-tune the details and put your brand's DNA into the store — Shopify takes care of all of the technical stuff that makes a site work. Page-building in Shopify is easy, and its toolbars and dashboards are well-organized.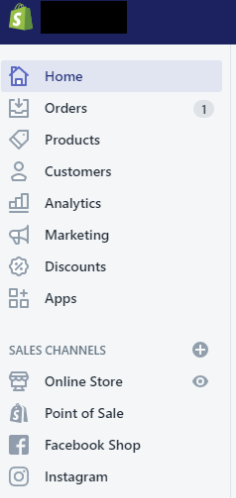 Shopify also makes it pretty easy to perform functions outside of basic use, such as social media integration and website marketing for your brand.
Results
Both platforms are very intuitive and user-friendly, so calling a winner here is too difficult. They are similar enough in intent and design that you can't do much better than either Wix or Shopify.
---
Wix vs. Shopify: Pricing
No one likes to talk about money, but you do need to make sure your choice fits into your budget.
What Wix offers
Wix is not only affordable, but it also offers the ability to run a site for free. You won't have access to those great e-commerce features, but you can still run a successful non-sales site. If and when you do decide to opt for a paid plan, pricing is very reasonable, running just $13 to $23 per month.
What Shopify offers
Unlike Wix, Shopify doesn't offer a free plan, but it's very reasonably priced. The cheapest plan is only $29 per month, but you can get a discount for paying annually. And the basic plan provides you with so many features, you likely won't even need to upgrade for a long time — if at all.
You get everything you need for a successful online store: integrated selling, payment options, even an offline POS system integration for sales done outside of your online store.
Results
Winner: Shopify
It's another close round, but Shopify snags the win thanks to the number of more significant e-commerce features you get for a relatively low cost. However, if you don't need e-commerce features, then Wix's free plan might be a better choice for you.
---
Wix vs. Shopify: Integration with other software
While offering a lot of internal features is great, the best platforms expand their own boundaries by allowing you to add other features and integrate with specialized platforms.
What Wix offers
Wix offers a lot of integrations, accessed via an app market where you can browse hundreds of add-ons to increase your site's functionality in a plethora of ways, from print previews to advanced form builders to enhanced marketing features.
The secret up Wix's sleeve is that you can actually connect Shopify to Wix so you can have the best of both worlds. You will need to do a bit of code embedding, though.
What Shopify offers
Shopify wants your store to succeed, so it sets you up for success with access to a ton of outside integrations. From marketing to content management, you can improve your store with any number of add-ons.
And, as mentioned above, Wix and Shopify go hand in hand with the Wix-Shopify integration. You can embed Shopify's "buy" button on your Wix site and start selling your Shopify products in your Wix store in moments.
Results
This is another tie, mainly because the two software solutions integrate well with each other. You have access to a whole fleet of add-ons with each solution, so you won't feel underserved by either solution.
---
Wix vs. Shopify: Starting not from scratch
Maybe you want to run a store, but you don't feel like starting from the bottom up. Or, you'd rather take over an existing business than create your own.
What Wix offers
Wix offers you the ability to create your own site, but you can't buy or take over someone else's. You can always broker your own back-room deals, but the risk of that runs high.
What Shopify offers
Shopify has a unique and popular solution in the form of the Exchange, where you can safely and securely purchase an already existing Shopify store and take over its operations.
Think of it like buying a physical store that's already successful, and then putting up one of those "under new management" signs. You can run a successful business without the startup risks or time sucks.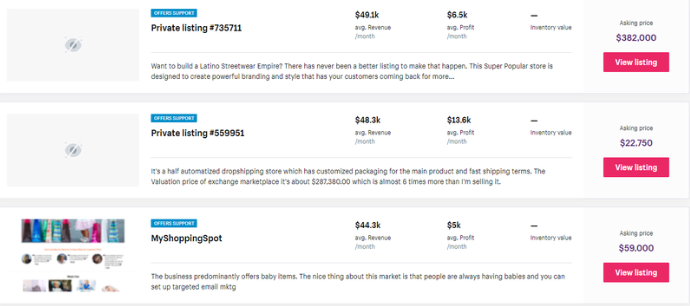 Results
Since Wix doesn't offer this option, Shopify fully wins this round.
---
How They Compare: Wix vs. Shopify
| | Wix | Shopify |
| --- | --- | --- |
| Animations | | |
| Sales analytics | | |
| Customer communication | | |
| Templates | | |
| Purchasing automations | | |
| Buying existing sites | | |
| Detailed inventory management | | |
| Multiple site management | | |
| Blogging | | |
| Extensive built-in analytics | | |
| Responsive support | | |
---
A close call that comes down to intent
Although several Shopify vs. Wix comparisons ended in ties, Shopify wins by a nose if you're looking specifically for e-commerce functionality. Still, the two solutions are just about neck and neck. Wix is an all-around high performer with a lot to offer for websites of all types.
If you're in the market to launch an online business, though, Shopify is quite thoughtfully designed to do that exceedingly well, and it has a number of sales-specific features to enable success.
But if e-commerce isn't your main focus, Wix may be the right choice, as it offers e-commerce functionality along with a broader approach to industry and purpose in site-building. If you simply can't choose, though, always remember that you can build a Wix site and integrate Shopify later.