They say not to judge a book by its cover, or an online store by its theme. Still, we have to admit that when we visit a new website, the visual appeal of the site shapes our first impression. Research shows that this first impression is formed in just 0.5 seconds.
That means if you want visitors to your WooCommerce site to stay, browse, and ultimately buy, choosing the right WooCommerce theme matters.
---
Overview: What is WooCommerce?
WooCommerce is one of our favorite e-commerce solutions for small businesses. It's a plug-in that integrates with WordPress, easily transforming your existing WordPress site into an online store. Like WordPress, it's intuitive and straightforward to use.
The plug-in itself is free and open source, but you may pay for hosting, domain name, development, and other customization and enhancements. WooCommerce also offers more than 450 extensions and a variety of themes. While some are free, most carry a reasonable cost.
---
What to consider when searching for a WooCommerce theme
WooCommerce offers a wide variety of attractive and professional-looking themes. If you feel overwhelmed by your many options, here are a few factors to consider when choosing the best theme for your store.
Good fit for your products
Many themes are designed to showcase certain product types, like clothing, books, or food. Themes are searchable by industry, so you can choose a look that fits aesthetically with the products you offer.
You should also consider how you can best showcase your products. Do you want to focus on pictures of your products? Choose a theme that emphasizes visual content. If you'd rather highlight dimensions, materials, or other specific features, select a theme that lets you use icons to represent them.
Integrates with WooCommerce
WooCommerce works with all WordPress themes and WordPress free templates. As an e-commerce business owner, however, you may prefer a theme that highlights your site's commercial aspect — ensuring a consistent look across your pages, products, and posts.
For this reason, it's best to search for a WordPress e-commerce theme or a WooCommerce template or theme. If you're browsing WordPress themes, look for "WooCommerce integration" in the theme's list of features.
Loads quickly
If customers have to wait too long for your page to load, they'll simply shop elsewhere. 40% of online shoppers will abandon a website that takes over three seconds to load, and 52% say that quick page loading is important to their site loyalty.
Your theme affects the speed of your site. View a live demo of the WooCommerce theme you're considering, then test the speed with a tool like GTmetrix. If the demo loads too slowly, find other options.
Additionally, don't choose a theme with tons of features you don't need. Excessive features can also make your website slow to load.
Mobile friendly
Many consumers — about half, in fact — browse websites on mobile devices. Make sure your theme is mobile-friendly, or you'll risk losing potential customers. Run the theme's live demo through Google's mobile-friendly test to see how it performs. You don't want to risk alienating mobile users — that's a lot of people.
You can also make your store more mobile-friendly with a plug-in like Woomobify. The plug-in detects when a site visitor uses a mobile device, then replaces your existing theme with an optimized WooCommerce mobile theme.
Easy to use
Consider your level of experience with WordPress when choosing a theme. Read through the documentation and FAQs. Does it make sense to you? Is the information thorough? Does it seem like something you could easily manage?
If your skills are more advanced, or if you have a website developer on your team, go for a theme that's highly customizable and easy to build on.
You should also ensure that the theme developer offers some form of support. If you have an issue or question, is it clear how you can contact the developer?
Has good reviews
Finally, read reviews of your theme. The star rating is a good place to start. Still, reviews will help you anticipate specific issues like glitches, slow loading, or infrequent updates. If the theme has too many negative reviews or reviews that point to a serious problem, look elsewhere.
---
10 best WooCommerce themes for your online shop
Now that you know what to consider, browse these 10 excellent WooCommerce themes for your online shop. These themes come directly from WooCommerce and WordPress, meaning they have gone through rigorous quality checks and been carefully vetted.
If these don't catch your eye, you can also find paid marketplaces offering themes.
Theme 1: Storefront
Storefront is one of the most intuitive WooCommerce themes. It integrates seamlessly with WordPress and WooCommerce, and it's easy to customize. Because WooCommerce Storefront is built and maintained by WooCommerce core developers, it's always up-to-date.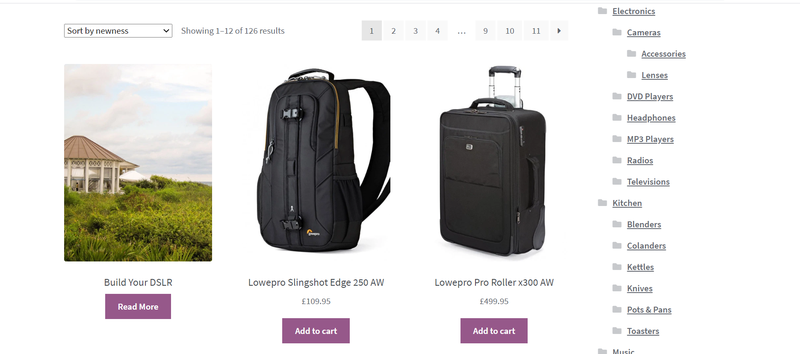 Storefront features an e-commerce focused homepage, a responsive layout, enhanced SEO performance, and clean and simple design.
Theme 2: Block Shop
Block Shop is another minimalistic design option that emphasizes efficiency. It provides simple customization options and is easy to use and maintain.
Without coding, you can set different color schemes, upload your logo, and choose between three different pagination styles: infinite loading, classic pagination, or load more buttons.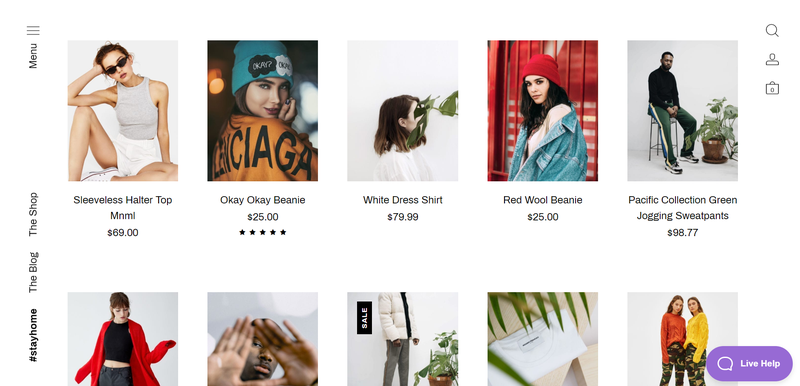 Block Shop fully integrates with WooCommerce and the Gutenberg Block Editor.
Theme 3: OceanWP
The fastest-growing theme on WordPress, OceanWP is a free, multipurpose theme. It comes with several WooCommerce sites that you can quickly and easily import to create your online store. WooCommerce features are built directly into the theme.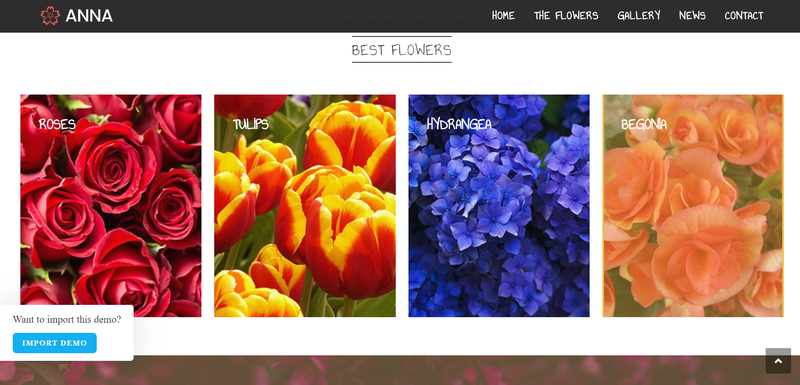 OceanWP is one of the fastest themes. It offers a wide variety of premium extensions and features built-in SEO.
Theme 4: Boutique
Boutique is a Storefront child theme, so it's built on the solid foundation and integration of Storefront. It's traditionally designed and ideal for small stores and boutiques.

You can change the color scheme and add your logo in just a few clicks. Boutique has an e-commerce focused homepage and is highly responsive, easily adapting to display beautifully on handheld devices.
Theme 5: Artisan
Do you sell handmade goods? Artisan is designed for "makers, artisans, craftsmen, and DIYers." It's the perfect theme to showcase your work, with a neatly organized and elegant layout to feature your products.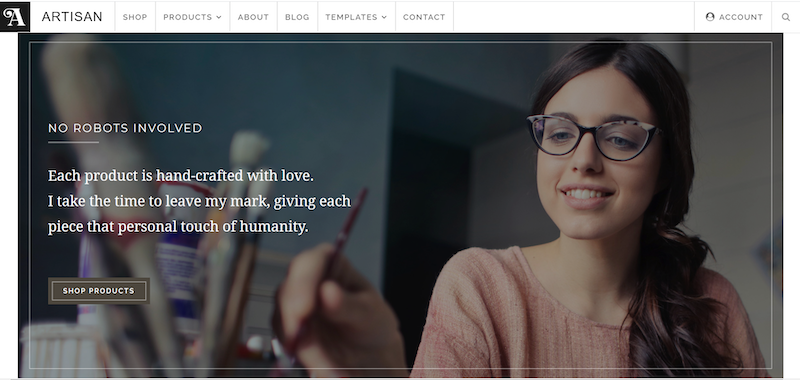 Install Artisan's demo content with a single click, then easily modify any page using the WordPress block editor. The theme is also designed for easy navigation and attractive product display on mobile devices.
Theme 6: Threads
Threads features a bold, full-width layout ideal for apparel brands. It uses solely WooCommerce and WordPress blocks within the Gutenberg editor which is WordPress's new page builder for adding content in blocks.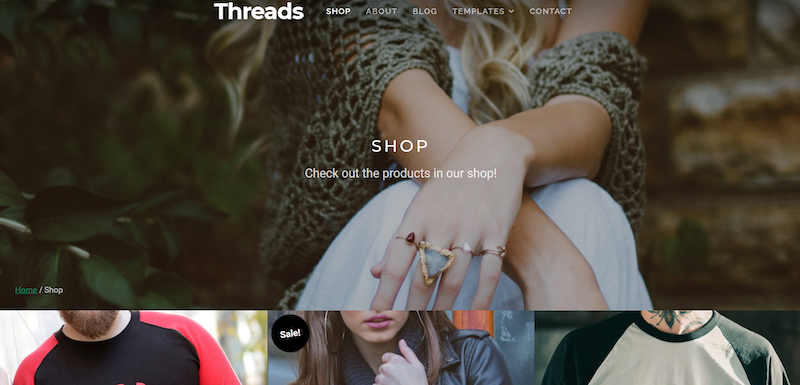 You can install demo content with a single click, enjoy simple and intuitive mobile navigation, and ultimately create a stunning website to display your apparel.
Theme 7: Ultra
A powerful WordPress multipurpose theme, Ultra comes with premade design skins and demo sites for WooCommerce. You can easily use these layouts to set up your product categories, product pages, and additional shop pages.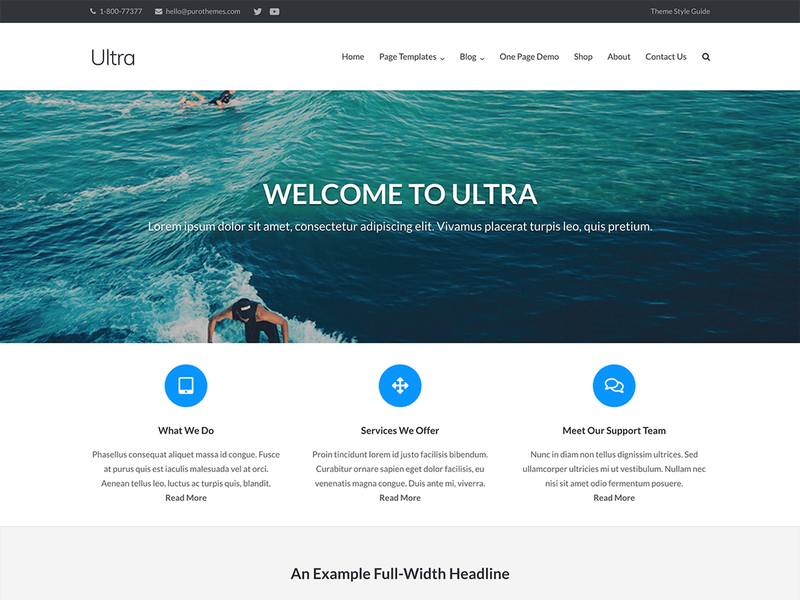 Ultra offers WooCommerce integration that matches your shop with the overall theme, creating a seamless experience for your customers. It includes a drag-and-drop builder, customization panel, social icons, and SEO optimization.
Theme 8: Matthew
Matthew offers a clean, accessible, Gutenberg-powered WordPress theme for WooCommerce. It emphasizes readability and presents your products in a professional and elegant display that's easy to navigate.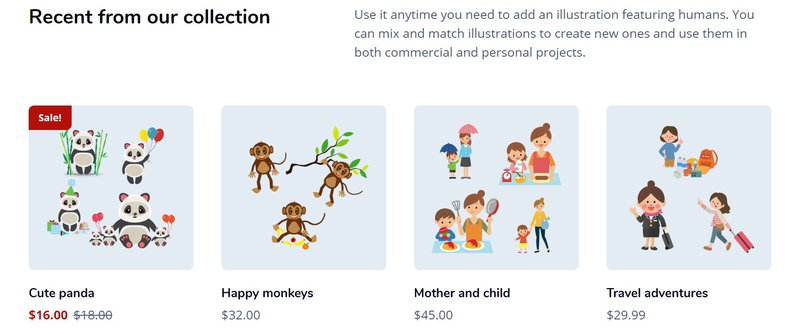 Matthew is designed to showcase both digital and physical products. It features a mobile-first design, customizer support, and SEO optimization. The theme is performance-oriented and fully integrates with WooCommerce and the Wordpress block editor.
Theme 9: Own Shop
Own Shop is a free WordPress theme with a stylish and creative design. It's compatible with WooCommerce and designed as an e-commerce solution.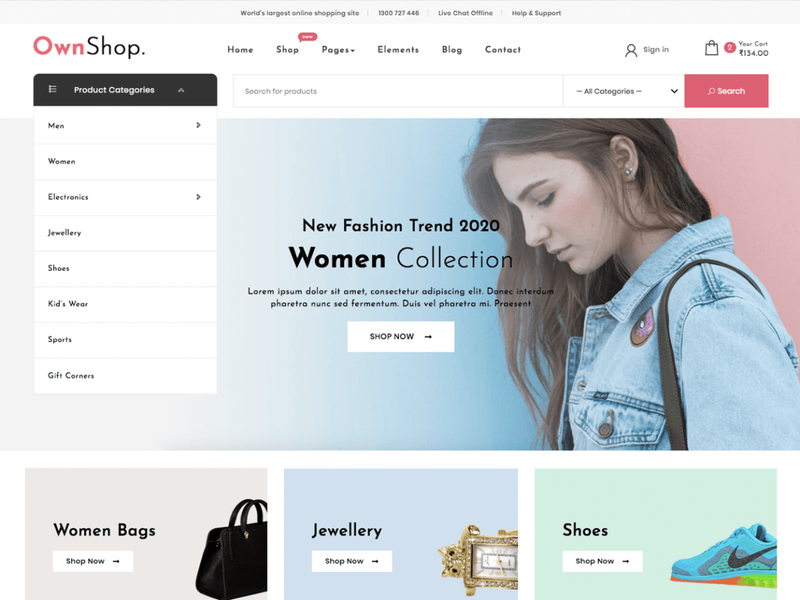 The theme is fully responsive and supports RTL language, Gutenberg compatibility, and cross-browser compatibility. It's also SEO-friendly and comes with free customer support.
Theme 10: Fifth Avenue
Although suitable for fashion stores, Fifth Avenue is adaptable for any type of online shop. It uses a Gutenberg block-based page builder, customizable home page blocks, widget areas, and a variety of colors.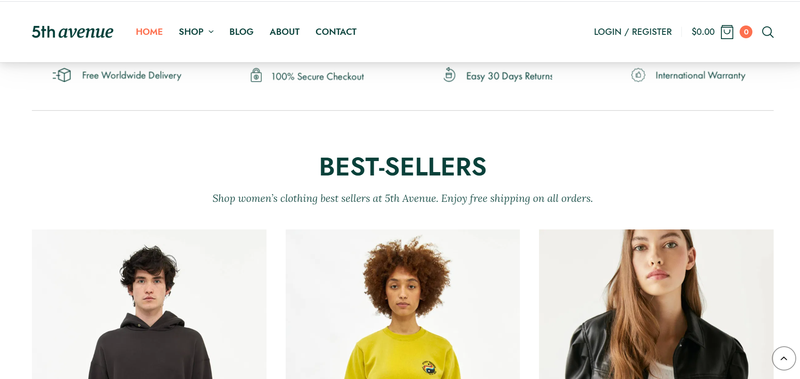 It's mobile-first, responsive, and utilizes a hassle-free, one-click import process for easy setup of your homepage and shop pages. The theme is frequently updated and supports attractive blog and content pages.
Fifth Avenue is compatible with the Jetpack plug-in, a toolkit for WordPress that helps with customizing your site, keeping it secure, and scaling as it grows.
It includes an AJAX search bar, a live search feature that suggests search terms as your customers' type. Fifth Avenue also offers an AJAX add-to-cart button to add products in the cart without reloading the entire site.
---
Build your ideal online store with WooCommerce themes
The many creative and beautiful WooCommerce themes available are just one reason that WooCommerce is one of our favorite platforms for building your online store.
When it comes to WooCommerce themes, there truly is something for everyone. As you choose the perfect theme for your store, consider ease of use, load speed, compatibility with mobile, and how well the theme fits your products and meets your specific needs.