With the rise of virtual meetings and events that do not require travel or in-person interactions, there is no better time to take physical events and turn them into virtual events.
However, if you were the one tasked with turning an in-person event into a virtual event, how would you do it? What would be your process, and what challenges do you think you might face?
You would likely use the in-person event agenda and work to replicate the content and format. You may set up a registration page and then launch the event using a virtual platform with video capabilities. In theory, that process makes a lot of sense. Unfortunately, it may not be a successful approach.
Turning an in-person event into a virtual event requires experience and creative thinking, two capabilities WorkCast offers its customers. As a veteran in the virtual event space, WorkCast explains to customers that attendee behaviors are different in the virtual space, and expectations, session length, and the overall experience must be reimagined.
WorkCast has the expertise to provide consultation to event hosts turning to virtual platforms. The WorkCast success team offers creative solutions for making content work in the virtual space so virtual events such as webinars, webcasts, and full-blown virtual conferences are successful.
---
Who is WorkCast for?
From evaluating and editing an agenda to offering soundchecks and live support, WorkCast is the platform for event organizers who want to host robust virtual events that engage, entertain, and educate. While the most basic use of WorkCast is its self-service webinars, its virtual event capabilities rise above others with a professional look and top-rated user experience.
Used for a host of events worldwide, including virtual corporate events, virtual career fairs, virtual trade shows, virtual conferences, and college open houses, WorkCast boasts a healthy history of hosting more than 8,000 successful events. According to the most recent statistics, the platform supported virtual events in more than 20 countries totaling over 1 million attendees.
---
WorkCast's features
WorkCast offers a combination of self-service and full-service virtual event options. The basics include the self-service webinar and webcasting functions, which have a simple, streamlined user experience. However, the larger, more diverse virtual events include a full-service option.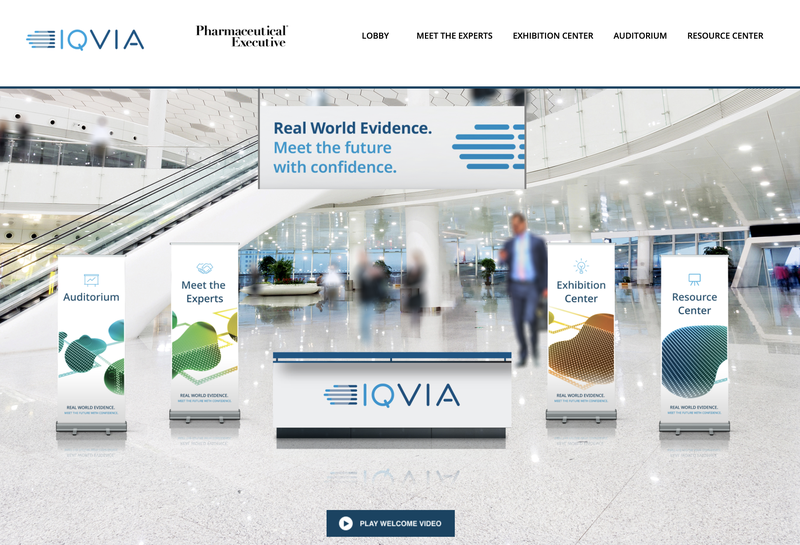 The full-service virtual event includes:
An interactive studio
Project management for the setup and implementation
Real-time support during rehearsal and the live event
Advanced event reports and analytics
Capabilities that encourage attendee engagement
The span of functionality definitely makes the platform attractive. The features create a desirable experience for hosts who want to focus on the event and leave the technical side to the experts.
Webinars and webcasts
The most basic use of the WorkCast platform is the standard self-service plan. Through this basic plan, a subscriber can host webinars and webcasts with up to 50,000 attendees. The platform invites the host to create a fully customized space to offer a seamless brand experience and back-end analytics to evaluate the event's success.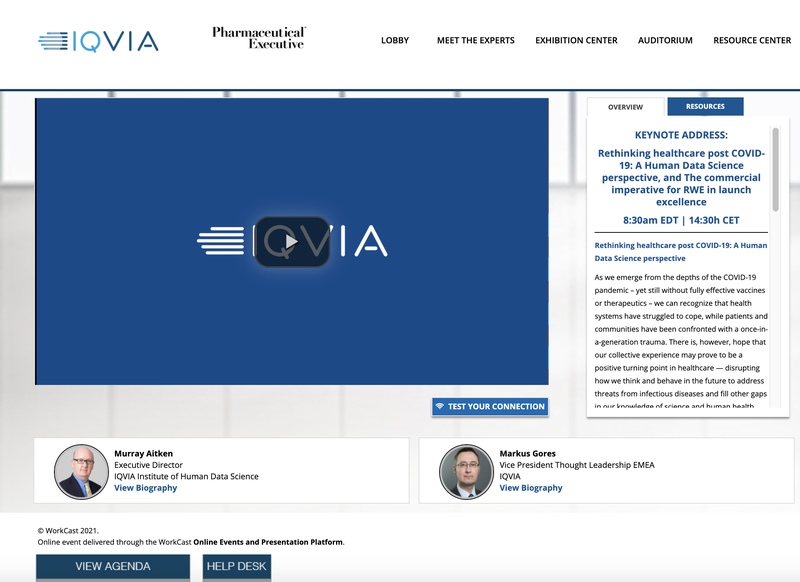 It is a bit confusing to understand the difference between a webinar and a webcast and which option is best. From the research and information provided by WorkCast, a webinar is described as a live or simulive scheduled event (although it can also be replayed on demand after the event is created).
A live webinar generally includes a presenter accompanied by a slide presentation, webcam, screen share, and potentially supplemental audio or video content.
Also, recorded webinars can be presented with or without an audience and then made available on demand. A webinar audience is usually an intimate, interactive, and targeted group.
Popular uses for webinars include:
Communication
Lead generation
Product demonstrations
General information
Corporate communication
WorkCast supports the following types of webinars:
Live
On-Demand
Simulive
Sponsored
A webcast is a one-to-many broadcast of a presentation or information for a larger audience and viewed at any time. Webcasts require an audience to tune in, watch the stream, and possibly engage by submitting questions and participating in polls.
Virtual events (and integrations)
Virtual events are large, multi-session online events that integrate webinars and webcasts and can include sponsor and partner booths. Virtual events are highly interactive, and WorkCast offers three options: self-service, monitored events, and managed events. Each event type is based on the level of support provided by WorkCast.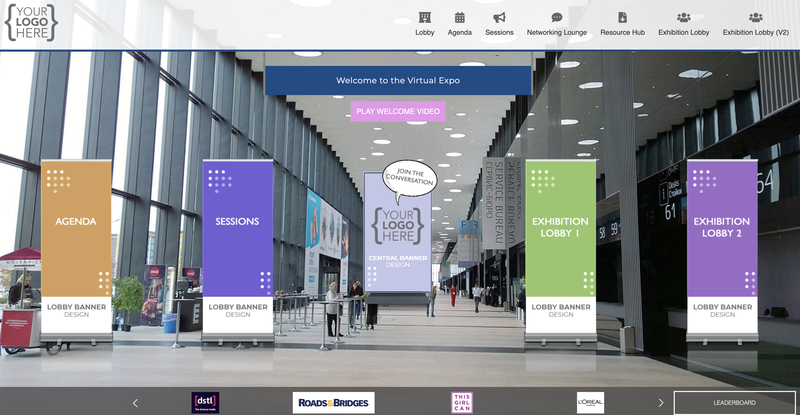 WorkCast's virtual event software is cloud-based, so it does not require plugins or downloads, removing potential barriers for event hosts and attendees. The platform also offers advanced data mapping that integrates with marketing and sales platforms such as HubSpot, Eloqua, Marketo, and Salesforce.
The event data, including registration, attendance data, and engagement metrics, can be imported into the marketing platform and used for remarketing and relationship management strategies.
Customizable event templates
The format and layout of the event type are just as important as the content. With tested designs, both off-the-shelf and customized, it is simple to create an event consistent with a brand's look and feel.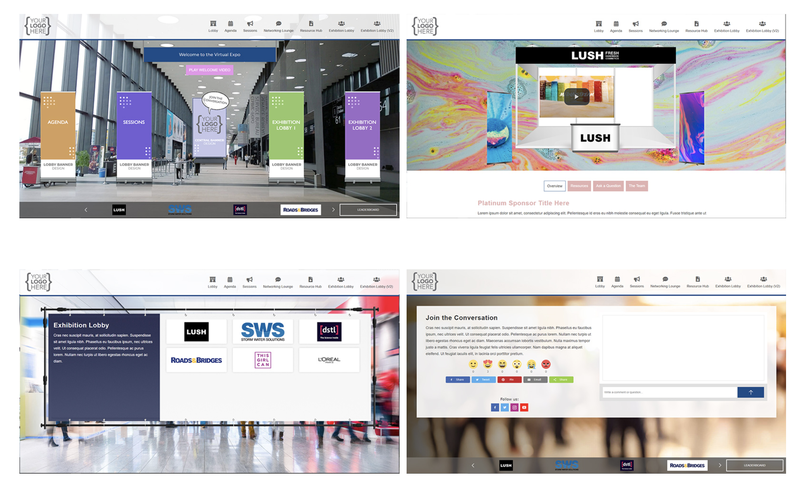 Based on the type of event and amount of content, the virtual event template will highlight the event's most important content and encourage attendee engagement.
Project management
Depending on the package subscriptions, event hosts receive support from the WorkCast team to help with everything from event design and configuration to audio and video checks before and during the event.
Once a host is on the platform, WorkCast project managers provide a checklist of tasks and deadlines. This ensures the event is configured correctly and optimized for performance. The WorkCast team vows to take care of the technical aspects so the event host can focus on event content and marketing.
Real-time event support
There are very few things worse during a live event than hosting a great speaker or session that attendees have trouble hearing or seeing. In other words, no one wants to experience technical difficulties. And often, unexpected technical issues lead to dissatisfied attendees.
With the WorkCast platform's monitored or managed event services, hosts do not have to worry about technical issues. The WorkCast event success team will help plan and execute a dress rehearsal to ensure speakers and presenters know how to work the technology on their end and are ready to present.
During the event, there is always someone to monitor the sessions and other aspects of the event. The team ensures the technology is working correctly, and it is available to troubleshoot any issues attendees may experience.
With full support, the event host can let WorkCast handle the virtual event logistics and technical concerns and focus on marketing, recruiting great speakers, and refining session content.
Advanced reporting and analytics
The WorkCast platform offers advanced reporting capabilities. The reports provide insights into the event's overall and individual-level data.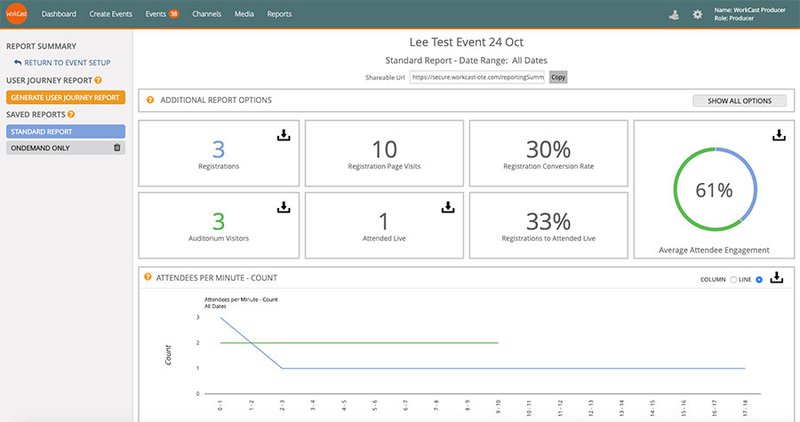 Event analytics include:
Registrations: This is the total number of unique registrants for the event.
Registration page visits: This is the total number of times the event registration page was visited.
Registration conversion rate: This is the total number of registrations divided by the total number of registration page visits.
Auditorium visits: This refers to the total of unique attendees who visited the main event presentation page at any time before, during, or after the live event date and time.
Live attendance: This includes the total number of unique attendees who attended the event during the live event date and time.
Average event engagement: This is based on the average individual attendee engagement scores.
Attendee engagement
WorkCast offers a variety of opportunities to engage individuals and encourage participation.
WorkCast invites attendees to get involved through:
Q&A chats
Live chats
Networking rooms
Leaderboards
Each attendee receives an engagement score based on the actions completed during the event.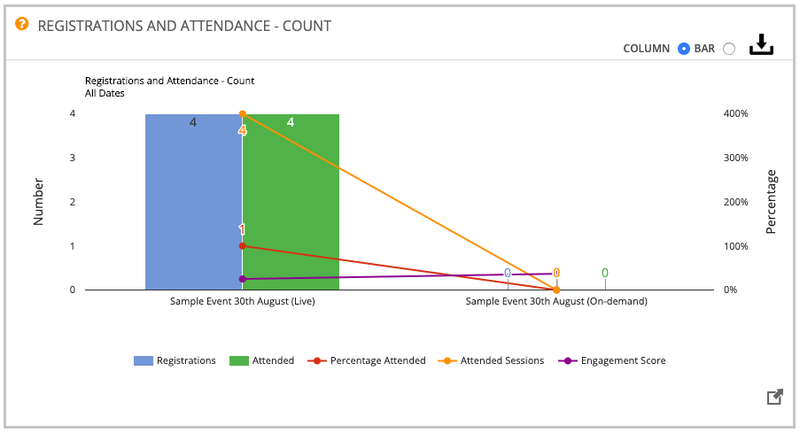 The engagement score calculation uses the following formula:
Total Individual Engagement Score = Event Viewing Duration % + Polls Answered % + Text Question or Chat % + Document or Link Downloads %
Here is the breakdown:
Event viewing duration (60%): If a live event scheduled is scheduled for 30 minutes and an attendee is active on the page for the entire 30 minutes, the attendee will achieve a score of 60% for the event viewing duration. If they attended for only 15 minutes of the live event duration, they get a score of 30% for the event viewing duration.
Polls answered (10%): If an attendee answers one or more polls during an event, they receive a score of 10% for polls answered.
Question or chat (20%): If an attendee asks one or more questions or submits one or more chat messages, they receive a score of 20%.
Document or link downloads (10%): If an attendee clicks one or more document or download links in the documents section, they receive a score of 10%.
This engagement data helps the event host understand who was the most involved in the event, the actions each person took, and which strategies engaged the highest number of people.
---
WorkCast's ease of use
Overall, WorkCast makes it simple to use its platform.
From the self-service standpoint, the user interface is simple and straightforward, which makes setting up any event and streaming live and recorded video content easy. However, one thing to consider is the images that will be used for customization. Images that are not high-quality or need to be cropped may require some editing for size or formatting to ensure they work well with the chosen design template.
For monitored and managed events, the WorkCast customer success team will help with setup and execution. Leveraging the team and its expertise makes it even simpler for a host to get an event up and running and successfully troubleshoot any issues.
---
WorkCast's pricing
WorkCast has a variety of pricing options based on the platform's use and level of service provided.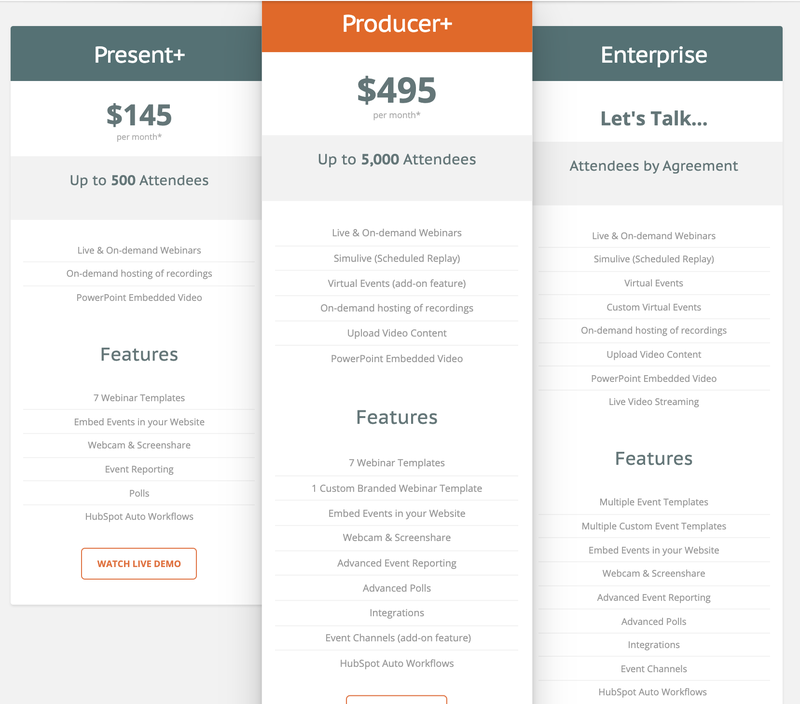 The Present+ self-service package is about $145/month and offers up to three live and on-demand webinars per month for up to 500 attendees per event. Features include event embedding on your website, webcam and screen share functionality during events, polls, event reporting, and integration workflows.
The Producer package costs about $495/month and offers up to five event experiences for up to 5,000 total attendees per month. This plan includes on-demand recordings, video content uploads, one custom experience, event embedding on your website, custom polls, and webcam and screen sharing capabilities.
The Enterprise package is the top tier plan and is coined the "full white-glove experience" by the WorkCast team. The package includes full support by the success team and custom platform capabilities that include bespoke requirements, live on-demand webinars, virtual events, live video streams, and webcasts for up to 50,000 people. Features include multiple event experiences, advanced reporting and polling, integrations, and other custom options. The total cost is based on the custom requirements, and a WorkCast team member can provide a quote.
---
WorkCast's support
WorkCast is a friendly company, and there are team members always available and ready to help with any aspect of virtual events and products.
WorkCast offers a monitored event service. This service provides WorkCast experts who review an event 24 hours before going live. They ensure everything is set up and will work as expected. The event support team will monitor the event, proactively address any issues, and support the event team with any technical and data-related queries.
The next level is a managed event service, which includes support for just about everything outside the content.
The event support team will handle all aspects of the event execution, including:
Setup
Registration workflow
Presenter assistance
Rehearsal monitoring
Live event management
With full support, the event host can let WorkCast handle the virtual event logistics and technical concerns and focus on marketing, recruiting great speakers, and refining session content.
---
Benefits of WorkCast
WorkCast is a robust virtual event platform for hosting live and on-demand webinars, webcasts, and virtual events. WorkCast has its own streaming platform and does not require any integrations for event execution. However, the most striking feature is the visual aspect of the platform. Virtual events can be configured to look like an actual expo center with kiosks and banners, genuinely bringing the event to life.
Based on the platform's capacity and the event host's investment, WorkCast's platform is best for large virtual events targeted to host 500 to 50,000 attendees.
These include professional and corporate events, college open houses, and expos and conferences that encourage engagement and translate a business's brand look and feel into an online space. WorkCast is about more than just the event and creating an immersive experience.
---
When a virtual event is the next best thing
A first-round pick for organizations that need to pivot a traditionally in-person event onto a virtual platform, WorkCast is an optimal choice. From the support team that can translate an event format and agenda into an effective virtual event to the visual experience that is the next best thing to reality, WorkCast is an excellent choice if it fits your budget.
---
Frequently Asked Questions for WorkCast
Does WorkCast host live or on-demand events?
WorkCast hosts live, on-demand, and simulive webinars, webcasts, and virtual events. Based on the event and goal, the WorkCast team will offer advice on which is best and how to customize and execute.
How many events can a user host on the platform?
Based on the subscription level, users can host any number of events and types. The best option is to speak to a sales representative at WorkCast who can customize a quote based on your individual event needs.
Is it hard to set up an event?
Setting up an event is simple and can be done with or without the customer success team's help. Since the platform is web-based, users can access the platform from any browser and use customizable templates to add logos, images, content, and branding.

WorkCast is a full-service, powerful platform that offers an engaging and immersive visual experience for event attendees. Not sure if WorkCast will work for your event? Reach out to its team for help.
WorkCast is a full-service, powerful platform that offers an engaging and immersive visual experience for event attendees. Not sure if WorkCast will work for your event? Reach out to its team for help.
The Motley Fool has a Disclosure Policy. The Author and/or The Motley Fool may have an interest in companies mentioned.