When I first played around with Workday, I was both impressed and slightly overwhelmed with its feature set. I've used and reviewed a lot of HR software, but it took me a while to get used to Workday. That's because it has a lot of features, and generally, the more functionality a solution has, the more time it'll take you to find your way around.
Workday's tools include workforce management, recruiting, benefits administration, and HR analytics. It allows you to manage the entire range of HR functions in one place.
But not all businesses need this functionality. Many businesses need a simple tool to help better manage their workforce while staying compliant, which is why we've put together a list of Workday competitors.
Here are the top alternatives to Workday for HR software:
---
What to look for in a great Workday alternative
No HR software is perfect, and Workday HRIS software has areas where it could improve, and aspects that might make it a less-than-ideal fit for your business. Here's what you should look for in a Workday alternative.
1. Transparent pricing
When you're looking for software, you want to be able to easily compare the attributes of different solutions. This includes pricing. But when you have to contact a company's sales department to find out the cost for your business, it makes the software selection process long and complicated.
Unfortunately, a lot of HR software vendors — including Workday — don't publish their pricing publicly. That's why transparent pricing is an important factor when sizing up the competitors of Workday.
2. A small-business focus
Workday isn't designed for small businesses. The Workday human capital management solution is built for enterprises. It's got a ton of features and, as such, a steep learning curve.
If you're a small business with one or two HR professionals, you won't need or use all of Workday's functionality, but you'll be paying for it anyway. That's why you might be looking for a software vendor and solution that caters to the needs of startups and small businesses.
3. A range of support options
Workday takes a different approach to support. When you're logged into the system, you have to fill out a form listing the details of your complaint and specifying the issue's severity.
You can choose whether you want the Workday help desk to call you back or to contact you online via your Workday login. The response time depends on the severity of your issue.
The problem is that you can't call Workday directly, and you don't know when you'll get a response. You might need to look for a solution that has multiple support options and that lets you contact it directly.
---
Our top five picks for Workday competitors
We've picked five HR solutions that all offer something that Workday doesn't. Read on to find out which one is right for your business.
1. Zenefits
Zenefits is suitable for businesses of all sizes. It's an all-in-one HR solution that includes onboarding, talent management, benefits, performance management, time and attendance, compensation management, well-being, and workforce planning functionality.
But if you're a small business, and you don't need all of those features, you can choose the least expensive (Essentials) pricing plan, which doesn't include features such as performance management or well-being. As your business grows, though, you can upgrade your plan and access additional features.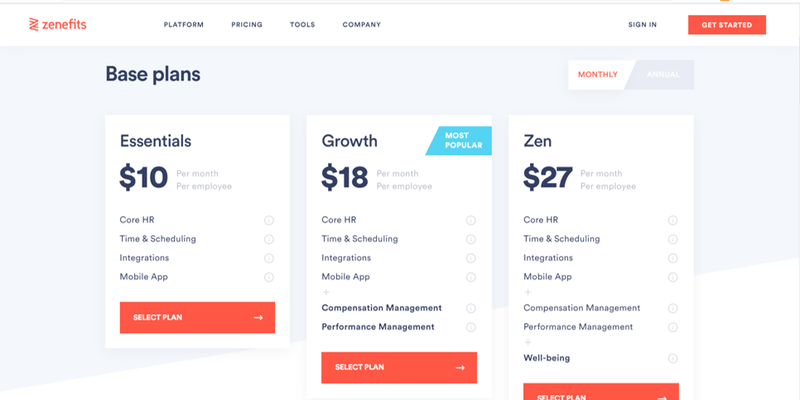 Zenefits also offers add-ons that extend its functionality. These add-ons include payroll, which costs $6/month per employee, expert advice from HR experts at $10/month per employee, and the ability to use your own brokers to work out your benefits at $5/month per employee.
Zenefits is also fully transparent about its pricing, with the cost of all plans publicly available.
Read The Blueprint's full Zenefits review
2. Zoho People
Zoho People is one of the only HR solutions on the market that has a free plan. If you sign up for the 15-day free trial and don't upgrade during that period, you are automatically moved onto the free plan.
The free plan is for up to five users and provides basic HR functionality, such as time and attendance, workforce planning, document management, and reporting.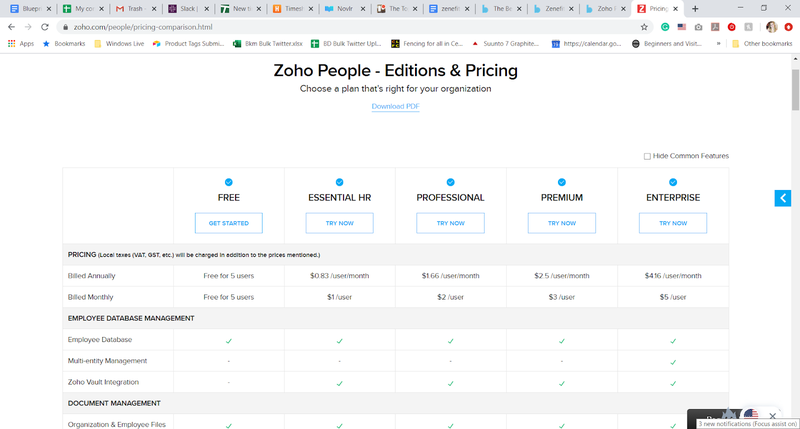 As your business grows, you can upgrade to one of Zoho People's four paid pricing plans, which start at an affordable $1/month per user. As you upgrade, you get access to more functionality, such as onboarding and performance management.
Read The Blueprint's full Zoho People review
3. Workable
Workday has robust recruiting functionality, but it takes time to get up to speed with the way the system works, and it's not easy to use unless you're an experienced hiring manager.
If you prioritize recruiting and talent acquisition and want a solution that helps even novice recruiters source and hire the best candidates, then Workable is a great option.
Workable walks you through every step of the recruitment process and provides explanations as to why you should take certain actions and fill out forms.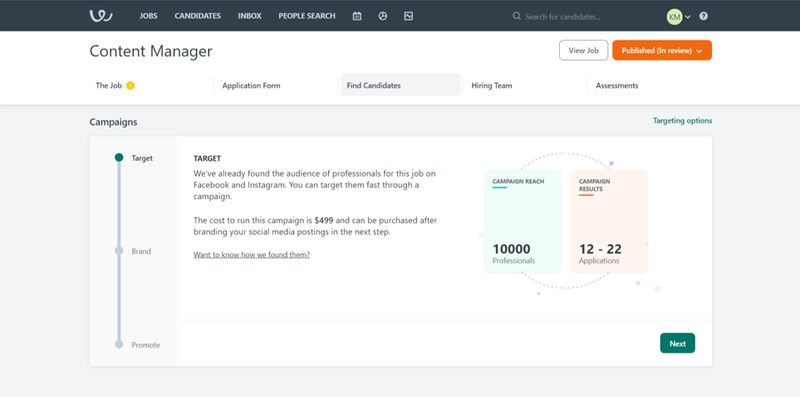 You can customize your job ads and application forms, create a structured interview process, and screen candidates on the phone using scorecards, practical assessments, and video interviews.
Its artificial intelligence-based candidate sourcing functionality gives you access to many more relevant candidates than you could ever hope to find manually.
Read The Blueprint's full Workable review
4. BambooHR
BambooHR is an excellent option for small businesses that want a quick and easy way to manage their human resource planning and processes. It's a modern, intuitive, and easy-to-use solution that suits companies without a dedicated human resources department or a full-time HR professional.
Its basic plans combine hiring, workforce management, and reporting functionality, but you can add performance management, time tracking, and employee satisfaction features for an extra cost.
It has some standout features, including HR analytics functionality, which helps you helps you create, edit, and share reports for:
Benefits
Headcount and turnover
Time off
Employee salary history
Candidate funnel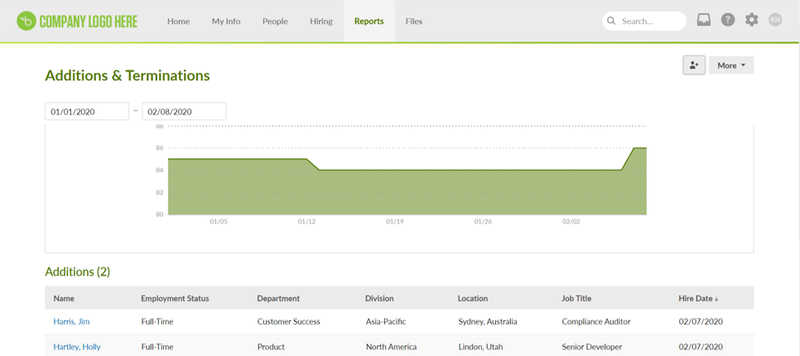 While it doesn't have the same breadth of features as Workday, BambooHR offers enough functionality to help small and growing businesses better run their human resources departments.
Read The Blueprint's full BambooHR review
5. Namely
While Namely's approach to pricing is similar to Workday's in its lack of transparency — the company doesn't even have a pricing page on its website — it has a great range of support options.
Its live chat support connects you with real humans with real names, rather than forcing you to talk to a bot. Namely provides phone and email support, listing the details for each both within the software and on its contact pages.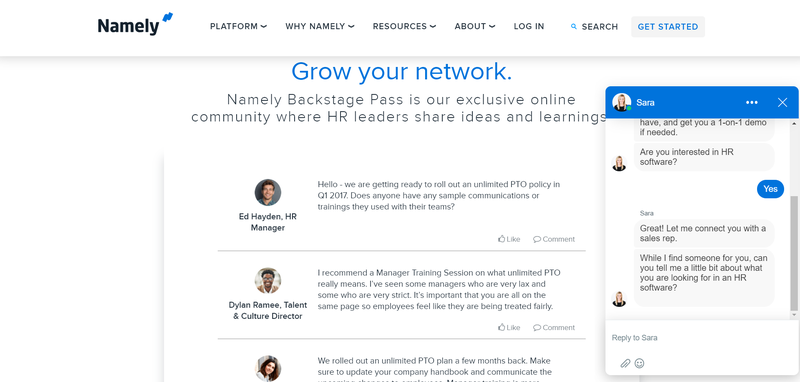 Namely also has an active support community where you can connect with other software users to not only get help with using the features, but to access tips on using the app to its fullest and find ways you can improve your HR processes and practices.
Read The Blueprint's full Namely review
---
Focused software selection
Businesses often choose software simply because they've heard of it, have used it before, or the solution is a market leader. But, no matter how popular a solution is, no matter how good of an experience you've had when using it in the past, that doesn't mean it's right for your business.
Workday is an enterprise solution. If you're a startup with four employees, you're likely not going to use half of Workday's impressive feature set. It's a great option once your business grows a little larger, but you should look for software that suits your business right now.