Workday was founded in somewhat acrimonious circumstances back in 2005 after Oracle's hostile takeover of PeopleSoft. The former CEO and the former chief strategist of PeopleSoft set up Workday to take on the industry titans of the HR software industry, namely Oracle and SAP. And it's working.
Half of the Fortune 100 have already bought Workday, and it now counts 725 companies as customers.
Workday doesn't have the resources nor the industry recognition that help Oracle and SAP keep their grip on the market, yet Workday continues to secure big-name customers, with Deutsche Bank and Home Depot two important customers that went live in 2019.
So just what is it that makes Workday software such a compelling proposition for some of the world-leading HR departments? That's what we'll explore in our Workday review below.
---
Who is Workday for?
Workday HR software is not for startups, very small businesses, or solopreneurs. Workday is a complex HR solution that contains features that aren't applicable or necessary for small businesses.
For example, if you've only got three employees, you won't need to undergo a complicated restructuring or worry about succession planning.
However, if you're running a larger business or your organization is growing quickly, then Workday can support you in streamlining your HR processes and helping your HR department become more efficient and effective.
---
Workday's features
Workday helps HR professionals get both an overview and a detailed breakdown of the performance of both employees and the business as a whole. This helps the HR department play more of a role in overall business strategy and resource management.
Workforce management and planning
Workday provides a dashboard packed full of features to help business leaders better manage their teams. Managers can create job ads themselves without having to get the input of the hiring manager, as well as set up performance reviews, give feedback, evaluate compensation, and set up plans to help employees grow and learn.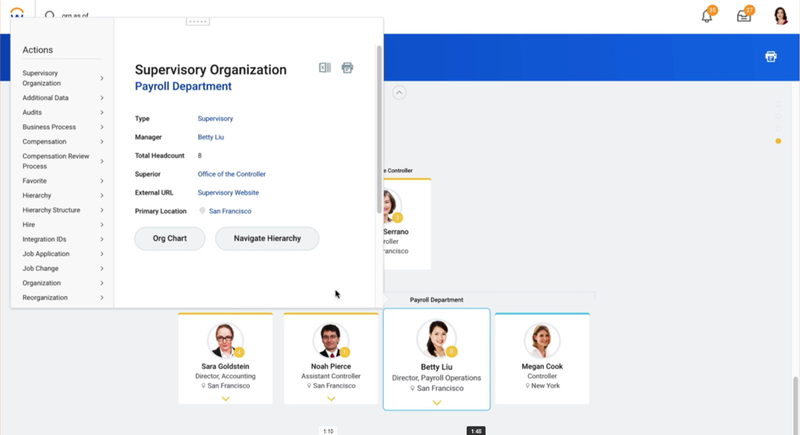 Workday makes tasks that can often seem very complex pretty simple. Take organizational restructuring. With Workday's modern, intuitive user interface, you can easily visualize the org chart and see what improvements can be made, plus make changes simply by dragging and dropping different staff members. This workforce planning functionality extends to reorganizing org charts, changing pay structures, and rearranging cost centers.
Reporting and analytics
Workday has a comprehensive reporting dashboard, which provides an overview of the performance of all the different aspects of HR.
Its dashboard displays easy-to-digest visual representations of factors that influence the smooth running of any workforce. This includes the total cost, i.e., compensation, of your workforce, as well as what percentage of that cost is contingent freelance or contract workers.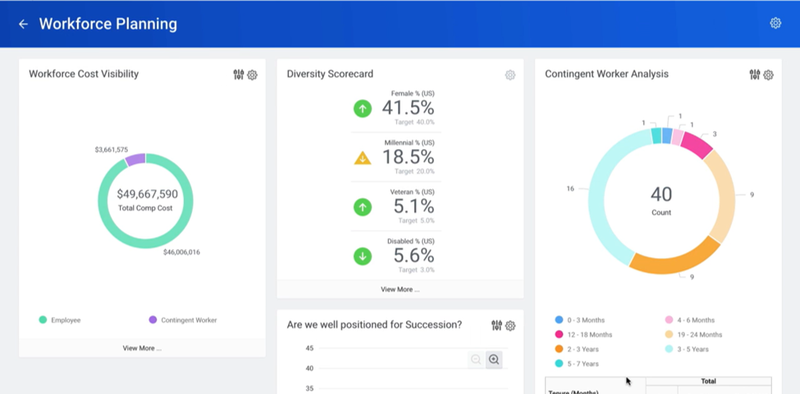 As companies hire more and more contingent workers, it's important to get a complete picture of your company's use of freelancers. Workday analyzes factors such as compensation per company, department, and project, as well as contract length, and overall cost.
Other important workforce analytics reporting functionality includes the ability to keep track of your workforce diversity. This is supplemented by Workday's pay equity dashboard, which helps you understand where your compensation is outside average pay rates by country and gender.
Recruitment and talent management
The Workday recruiting module acts like an applicant tracking system (ATS) by helping you handle all aspects of the hiring process from start to finish.
The Workday ATS capabilities allow you to create an attractive, on-brand ad and application form, as well as source and communicate with candidates, carry out interviews, and collaborate with coworkers to ensure the right candidate gets the role.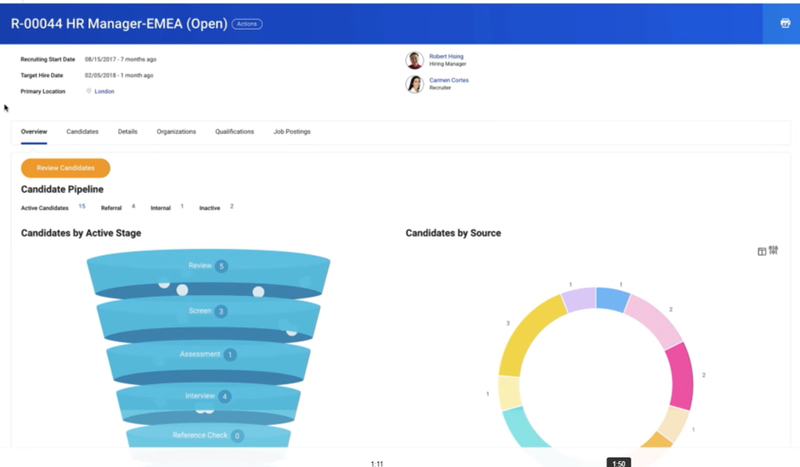 You can keep up on the progress of each role through Workday's pipeline management capabilities that show you how many candidates are in each stage.
Employee portal
Employees can access Workday's self-service portal from both a browser and a cell phone. The portal provides onboarding information with important company documents to help new starters get up to speed quickly.
Managers can tailor the onboarding experience to each individual employee, with a checklist that displays the worker's progress through the different steps. This helps make the onboarding experience quicker and more relevant.
Workday time tracking is another key part of the employee portal, as workers can check in and out from anywhere in the world using the mobile app.
Employees can also log time manually, add cost center and project codes to all of their hours worked, and include very specific details, such as why a meal break was waived. They can then keep track of regular, overtime, and premium hours worked, when they next get paid, and any vacation time that they have taken.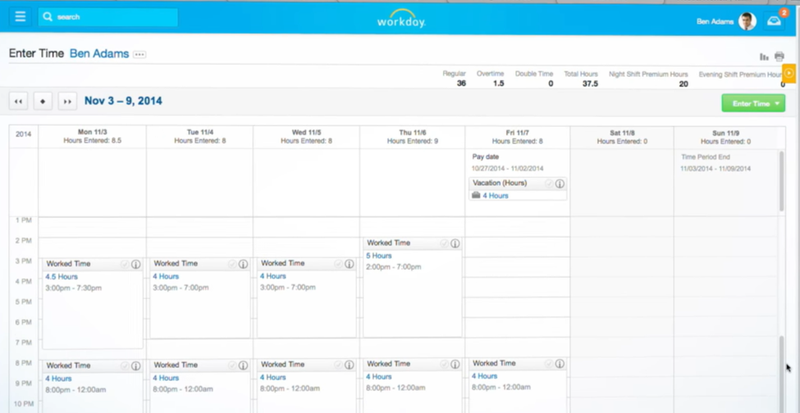 Employees can also enroll in benefits from this portal, as well as gain access to open job opportunities and view learning and development opportunities, all from one main menu.
---
Workday's ease of use
At a previous job, as a result of a company acquisition, I ended up having to use two completely different HR systems to record the same information.
One of those was a modern, SaaS solution that had been released in the last few years, was slick and easy to use, and was regularly updated. The other was the HR software that the parent company had been using for years and that was designed for enterprises. It was a nightmare. It was slow, the user interface was ugly, and it took ages to find the right option.
I feared Workday would be like that. But it isn't. Possibly due to the company's relative youth (SAP HR was released almost 20 years earlier than Workday), Workday has managed to maintain the look and feel of a modern SaaS solution. This is despite the fact that it comes with almost every feature you could think of.
Workday does take more time to get to know, as it has a lot of different menus. But all of those menus are easily accessible, and each option is clearly marked. It is then split into sub-menus, which help you drill down to even more granular options.
Even if you're knee-deep in workforce management, you can easily find your way to another task, such as performance management, through the menus or the back arrows.
---
Workday's pricing
Workday doesn't publicly provide information on its pricing, and there is no free plan. You have to contact sales to find out what kind of pricing Workday offers for your organization. You can contact sales by filling in a form, phoning them, or using the live chat option.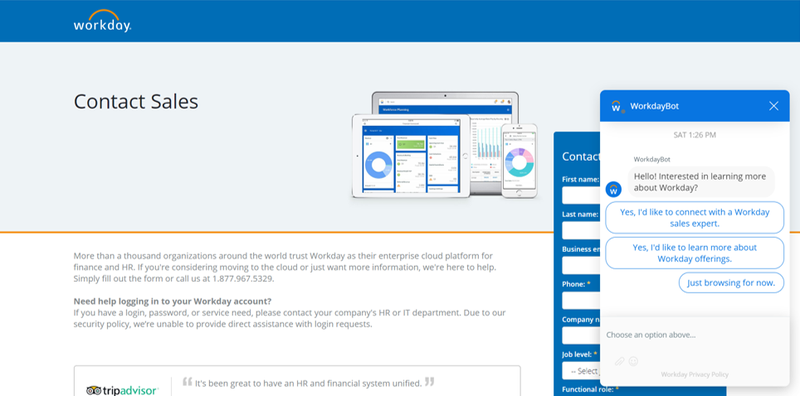 When you contact them, they will provide a quote specifically for your business. This is partly to ensure you get the right package for your needs, whether that is standalone HR software or a combined HR and finance solution.
---
Workday's support
Workday provides 24/7 custom support options. If you have an issue, you can either submit your question to the Workday community or contact Workday to get them to resolve the problem.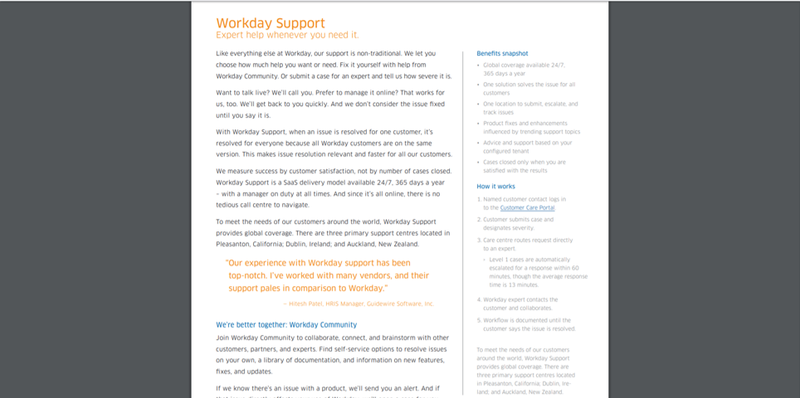 To get help from Workday, you have to fill out a form listing complaint details and specify the issue's severity. You can choose whether you want Workday to call you back or to contact you online via your Workday login.
According to Workday, the average response time for a severe complaint is 13 minutes.
---
Benefits of Workday
Workday is a one-stop shop when it comes to managing your workforce. Whether you want to get insight into how your workforce is performing, standardize compensation, manage talent, implement learning opportunities, or optimize all these processes to drive business growth, Workday can help you do it.
Workday is also surprisingly easy to use for a solution of such complexity and with so many different features.
---
Better for bigger companies
Workday isn't for everyone. Not because it isn't any good — it's a fantastic solution — but because it will have too many features for solopreneurs or businesses with only a few employees. You won't use half the features, and you'll be forking out a lot for the privilege, so you might be better off with a Workday competitor built with small businesses in mind.
If you run a bigger organization, though, and you need a solution that can help you manage a large workforce, including budgets, performance management, training, diversity, compensation management, and restructures and reorganizations, then Workday is a great option.
Its attractive look and feel, intuitive user interface, and well-organized navigation is a breath of fresh air in a market that is often slow to modernize and frequently offers a poor user experience.
---
Frequently Asked Questions
No, Workday doesn't offer a free plan. If you want to find out more about Workday's pricing, you have to contact the sales team to get a quote specifically tailored to your business's needs.
Is Workday an enterprise resource planning (ERP) system?
While the company does not market itself as such, Workday ERP capabilities include the ability to manage business processes and optimize budgets and resources. This solution does, however, focus on HR and workforce management, while there is also a Workday payroll module called Workday Financials.
Who are Workday's competitors?
While Workday was set up to target larger businesses, which put it in direct competition with Oracle and SAP, other leading HR systems that it competes with for market share include BambooHR, Zenefits, Zoho People, and ADP Workforce Now.

If you need an HR software solution a need extensive features to manage performance, review reports and analytics, and recruit new hires? Be sure to take a look at Workday's software platform.
If you need an HR software solution a need extensive features to manage performance, review reports and analytics, and recruit new hires? Be sure to take a look at Workday's software platform.