It's official: As of this writing, we're now four months into the COVID-19 pandemic with virtually no end in sight, especially where I live, in Portland, OR.
While working from home is the norm for me, I can understand if the stress and anxiety of spending every day in your house is getting to you. Maybe you're finding it harder and harder to concentrate on your assignments as each day blends into the next. Trust me — I get it.
That's why I've put together a guide full of my strategies for eliminating distractions and improving work performance.
5 strategies for working from home without distractions:
Maintain a separate workspace
Set regular working hours
Lock your browser to work-related tasks only
Leave your house
Do something about your smartphone
---
5 strategies you can use to work effectively from home
I've had to rely on these strategies more than usual lately because, like you, most of my personal life has evaporated thanks to the pandemic. And when the fun goes away, everything else becomes far more distracting. So, let's get to it.
---
1. Maintain a separate workspace
Separate your workspace from your living areas. I know this isn't possible for everyone, especially those living in one-bedroom or studio apartments. But if you can make it happen, the benefits of segmenting your personal space from your workspace are staggering.
When you mix your personal and workspaces, the pressures of working never truly leave. Instead of decompressing after a long day tapping the keys of your laptop, your living space will become a never-ending productivity purgatory you can't escape.
You'll always wonder if you should be answering emails, or continue chipping away at a project. This pressure and mixing of spaces also creates distractions when you do settle down to do something.
All you'll see is personal distraction when you finally decide to work, and you'll rationalize to yourself that it's only fair that you have some fun now since work was constantly in the way during your supposed "free time" the night before. You have to create that work-play distinction to avoid those distractions.
Tips for maintaining a separate workspace:
If your house or apartment has a separate room you can use for your workspace, then congratulations! You're already one step ahead. These tips are for those who aren't so lucky and need to find different ways to segment their workspace and personal space effectively.
Section off a part of your living room or bedroom: Segment off a part of your living space as solely dedicated to work. You won't conduct any personal business in this space or store any distracting materials in this area. It's best if this area is not within a direct line of sight of your TV.
Put away all work materials once you're done for the day: Leaving your work papers, computer, and other materials out after the day is done is just an invitation for stress. Once you've completed your work for the day, store it all out of sight so you aren't constantly badgered by the thought of productivity.
---
2. Set regular working hours
I'm lucky that I can set my own hours to the times that I know I'll be most productive, which is usually late at night. Fewer things going on means fewer distractions when I write. No matter what time you want to work, create a regular schedule you can stick to.
Many jobs require strict 9-5 availability, even when working from home, but if you have the freedom to create your own hours, be sure you set and stick to them. Regularity and repetition are the best ways to create stability in your work-from-home strategy.
Maintaining this regular schedule also allows you to eliminate distractions by setting periods of unavailability. A predictable schedule means you can tell your coworkers when they can reach you and when you'll be busy.
Tips for setting regular working hours:
Block out working sprints in your public calendar: This was a trick I learned from my old writing mentor and friend, Rachel Burger. You can't count on everyone to remember your schedule, so it's crucial you put it on display for everyone to see. The best way to do this is by blocking out segments of time in your public calendar (Gmail, Outlook, etc.) that indicate when you're working. This means no one can call (unless it's an emergency) or schedule any meetings with you during these times.
Set alarms for breaks: We aren't machines (I'm not, I promise), and we can't expect to work nonstop all eight hours of the day. It's easy to lose track of time in an assignment and burn through your entire day. Make sure you set regular alarms or notifications for breaks so you can recoup and collect yourself throughout the day to prevent burnouts that ultimately lead to distraction.
---
3. Lock your browser to work-related tasks only
This strategy was a lifesaver for me. I have ADHD, so almost anything can distract me. To minimize that possibility, I use a browser add-on that locks my functionality to my work tasks only.
During certain times of the day, I can block entire websites so I'm not tempted to distract myself with non-work-related content. This way I can focus on my writing without the temptation to scroll aimlessly through social media or browse videos on YouTube.
Honestly, I'd recommend this strategy to anyone, whether they're working from home or back in the office. Eliminating internet distractions is one of the unofficial project management best practices I ought to add to my list in a future update.
Apps for locking your browser:
This strategy is self-explanatory, so instead of giving you tips, here are a few productivity tools that'll help you focus on your work.
---
4. Leave the house
Just because we're dealing with a pandemic doesn't mean we can't get out of the house occasionally. I don't just mean for grocery shopping trips — I mean really get out of the house.
Go for a walk around your neighborhood, have lunch at the nearby park, go on a hike (my favorite), or just stand outside your house or apartment.
Getting outside and soaking in a little sun is a great way to take your mind off of work for a bit, rest your eyes from computer screens, and recharge your brain before your next sprint of work.
Ways to get out of the house:
How hard could leaving the house be? Easy, to be honest. Here's a list of ideas for getting out of the house during the COVID pandemic.
Go for a run
Take a hike
Go for a bike ride
Try gardening
Take your dog for a walk
Read a book in the park
---
5. Do something about your smartphone
Just like mindless social media scrolling on your computer, your smartphone is probably one of the most distracting items in your house. It's so easy to pick it up and click on whatever app you want. The worst part is you probably don't even think about it when you do it.
It's just muscle memory at this point, sort of like the thousands of times you touch your face each day. Have you checked the screen time reports on your smartphone lately? I guarantee you'll be shocked at the amount of time you're wasting on Facebook, Twitter, and Instagram.
If you can't hide away or turn off your smartphone due to the nature of your job, you'll have to have to get creative with minimizing the distractions it creates.
Tips for minimizing smartphone distraction:
Yes, the almighty smartphone has taken over much of our lives, but there are a few ways to reclaim your agency and your productivity. Here are a couple of tips to get you started.
Lock certain apps: Both iPhone and Android can lock certain applications for certain times and days of the week. If you struggle with distracting apps on your smartphone, this is the perfect way to remove that temptation.
Put your phone on airplane mode: If your work doesn't involve phone calls, placing your phone on airplane mode (or turning it off) is a great way to ensure you won't receive any distracting notifications.
---
The best tools to help you stay on track when working from home
I've named a few useful apps and browser tools for eliminating distractions, but what about best organization apps meant for keeping your work on track? We specialize in organization here at The Blueprint and I've put together a short list of three powerful project management tools best suited for those working at home. Additionally, these tools are great for single users as well as teams, in case you want to bring others along.
1. Trello
What can I say about Trello that I haven't already said a million times before? Trello is hands-down my favorite tool for managing my workflow, project planning, and tracking deliverables. This platform is simple, user-friendly, and easy to learn.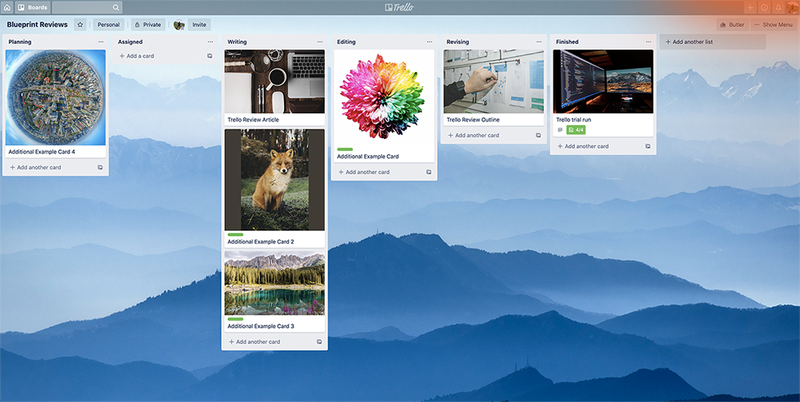 Trello runs on a kanban board management system, which uses task cards and completion steps for tracking task progress. You can create task categories, add attachments, and discuss task progress on each card.
You can add contributors so you can remotely manage your group efforts and analytics for creating work reports, and you can even create subtask checklists for managing those minute details.
On top of everything, Trello even offers a free version of the platform (with a few limitations, of course), making it perfect for sole users with limited budgets.
2. Basecamp
I'm keeping it simple for this list and leaving out the enterprise-level platforms. With that in mind, you can't get much simpler than Basecamp without moving down to a basic to-do list.
I've used Basecamp on many occasions, including for remote work. If you're not up for kanban boards, then Basecamp is the perfect alternative.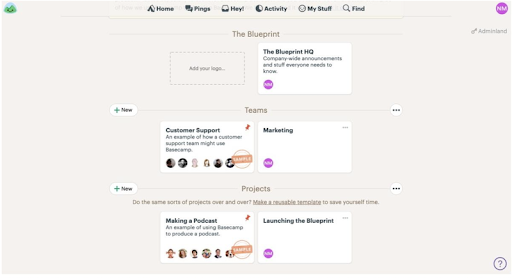 Basecamp offers lots of work management features, including task lists, shared team calendars for team management, file attachments, group forums, and even check-in features for keeping yourself accountable.
What's more, Basecamp recently started offering a free version of its software to freelancers and students that allows users to manage up to three projects at a time.
3. Microsoft To Do
Finally, Microsoft To Do is the most basic tool on this list, but don't discount it. This is probably my favorite to-do list application I've used since I moved over from Todoist.
I even used this application to track my entire move from Washington, D.C., to Portland, OR. This app is more than just a simple task list tracker. You can add detailed descriptions to each task, upload attachments, set reminders, create checklists, and even add outside users to your lists.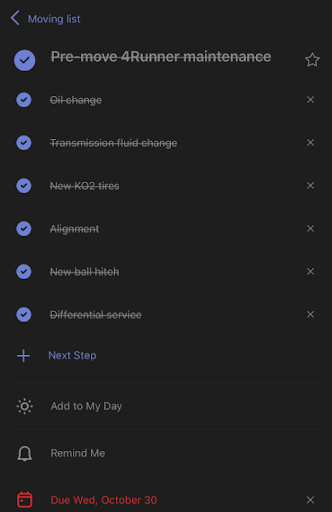 It's a powerful little tool for keeping track of your day-to-day work if you're not in need of a complete project management system. I still use this app today to keep track of important project schedules and assignments I'm managing in my personal and professional life.
Unlike other to-do list apps, Microsoft To Do is completely free without any features hidden behind paywalls. Not a bad deal.
---
The Blueprint has your back in and out of the office
We're always looking for new ways to help you manage your projects, no matter if you're working from home or back at your desk at the office. We're constantly writing and updating our how-to guides, software reviews, alternatives lists, and beginner lessons so you can stay profitable and productive with any project.
We've even put together an archive of COVID-19 related content that'll help your business and employees through this uncertain time. The bottom line is, we're here for you, and we hope you'll subscribe to our free newsletter for more useful content as we publish it.