If you suffer from chronic impatience and a deep-seated aversion to instruction manuals, you are going to love WorkRamp. This user-friendly learning management system (LMS) comes out of the box with all the features you need to share exciting training programs with employees, partners, and customers.
WorkRamp's admin interface is intuitive and clean, with drag-and-drop course creation tools and a wide range of ready-built elements. On the learner side, it's just as appealing and easy to navigate, with interactive elements that create truly engaging learning experiences.
Here's a quick tour of WorkRamp's key features and functionality.
---
Who is WorkRamp for?
WorkRamp LMS is ideal for businesses that want to create immersive training for employees as well as customers and vendors. It is also equipped for e-commerce with branded interfaces for selling courses online.
WorkRamp also integrates with powerful platforms such as Salesforce and Slack so you can incorporate training into your existing processes and routines to drive engagement and support a culture of continuous learning.
WorkRamp's pricing is quoted individually at an average of $25 to $35/user per month, placing WorkRamp in the middle of the range for business LMS pricing. There are no user tiers, so that price includes all of WorkRamp's features, integrations, and support. Basically, everyone gets the VIP treatment for that price.
---
WorkRamp's features
WorkRamp ticks all the boxes with a full set of features for building immersive courses, sharing them with internal and external audiences, and managing your training program. It supports live and on-demand training and is fully mobile-friendly through the WorkRamp app. You can even use WorkRamp to create a white-labeled online academy for sharing and selling your courses.
In WorkRamp, you'll find a feature set focused on business training and onboarding for internal and external audiences. Anything you don't see in WorkRamp today, you're likely to see in an upcoming release, as the company unveils new features every Wednesday.
Let's take a look at what WorkRamp has to offer to see if it's a good fit for your business.
Clear, simple navigation
WorkRamp has a clean, intuitive interface for admins. From the main menu, you can click to create guides, paths, challenges, libraries, and other learning elements.
Guides are basically courses, which can be connected into learning paths for roles or skills such as onboarding, sales, and customer service. Challenges are interactive units for employees to practice key skills and get feedback from managers and coworkers.
Admins can also schedule live training events, upload Shareable Content Object Reference Model (SCORM) courses, and create resources from the main dashboard.
The software supports three roles: admin, editor, and viewer. WorkRamp curates content based on data such as role, custom tags, or location.
Easy user management
User management is also easy to set up and navigate, with built-in automations to save time on rote administrative tasks. Admins can create custom learning paths, send group notifications, and create calendar templates for different training groups.

WorkRamp's calendar templates let managers schedule onboarding in a handful of clicks, complete with due dates and event invitations. They can also track employees' progress as they complete each phase of their training.
Features such as single sign-on (SSO) and advanced security ensure a secure, frictionless user experience.
Drag-and-drop course building
WorkRamp's course building tools make it easy to create interactive, media-rich learning experiences. Instructors can upload or drag and drop videos, documents, images, and WorkRamp embedded web elements. A built-in recorder also lets you incorporate audio, video, and screen captures.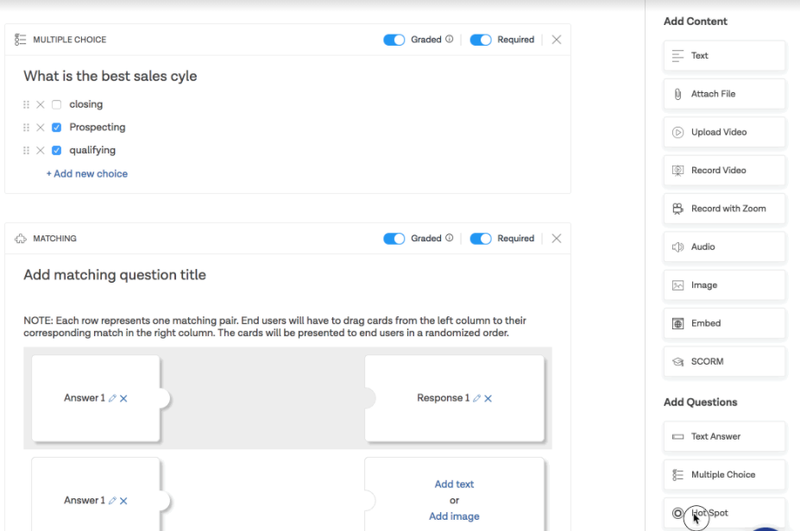 WorkRamp's assessment tools include an exceptional range of question types. In addition to multiple choice, true or false, open text, and matching questions, WorkRamp provides interactive elements such as flip cards.
One unique element is the Hot Spot feature, which requires learners to register clicks on an image. I can imagine this being especially useful for software training.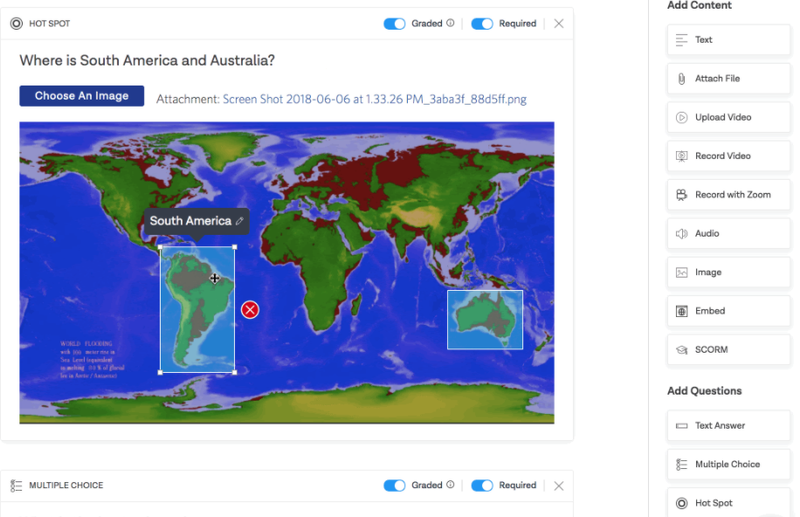 For example, if you're training new team members on a customer relationship management (CRM) system, you could include questions requiring them to navigate through various steps to complete a task, recording their clicks along the way.
The variety of media and assessment options available to content creators will make it easy for content creators to build engaging lessons that stick with the learner.
Challenges and certifications
Challenges are an exciting feature in WorkRamp's package that you won't find in many competing systems. Challenges are basically a coaching tool that allows users to practice skills and receive feedback on their performances.
For example, a manager could assign a customer service rep to respond to a support request. Learners can upload audio, video, or screen recordings of their responses directly through WorkRamp.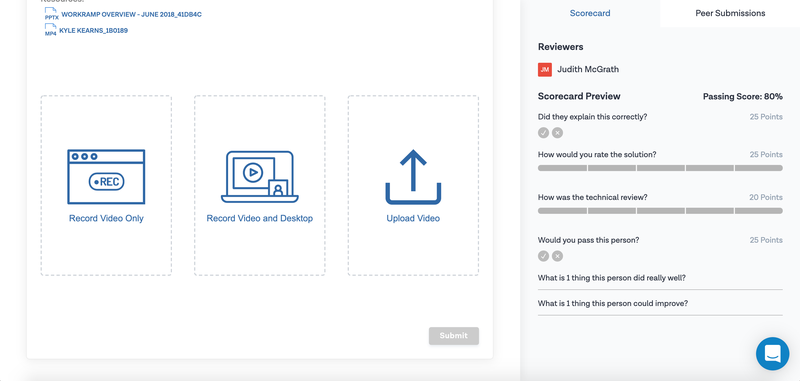 They can share the results for scoring and also view peer submissions and share feedback. WorkRamp also supports live, two-way coaching sessions through Zoom.
WorkRamp's scorecard makes it easy for managers to quickly score submissions according to criteria they set. Certifications can also be awarded for successful challenges.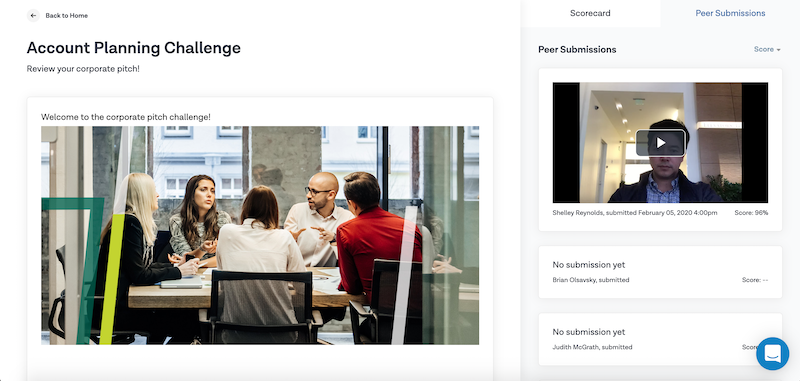 These collaborative coaching tools are a powerful way to engage employees in their training and build team skills.
Ample free integrations
WorkRamp's integrations are another key differentiator, with all integrations available with every package.
With WorkRamp's Slack integration, trainers and employees can receive notifications of deadlines and events in their Slack feed.

Some examples of WorkRamp's integrations include:
Content management systems
Learning Experience Platform (LXP), Degreed, Highspot, Seismic, and Guru
Content providers such as Udemy for Business, Go1, OpenSesame, SCORM, SCIM, xAPI, and cmi5
Salesforce (plus Service Cloud), Zendesk, Chrome, Slack, and Google Suite
Stripe and PayPal for e-commerce
Human resources (HR) systems such as Workday
You can also integrate your systems through WorkRamp's open application programming interface (API).
White-labeled training academies
WorkRamp's web editor lets you create your own custom-branded training academy on any domain for sharing courses with partners, customers, and the public. Here's an example of Zoom's training academy created and managed through WorkRamp.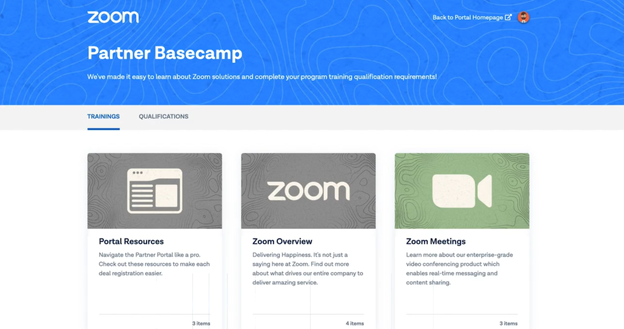 WorkRamp is fully equipped for e-commerce so you can monetize your training content. Checkout is managed through Stripe and PayPal integrations, with promo codes and discounts available. You can also incorporate your choice of more than 7,000 Udemy for Business courses into your interface.
WorkRamp also lets you provide badges and certifications to external learners, which can be shared on their LinkedIn profiles.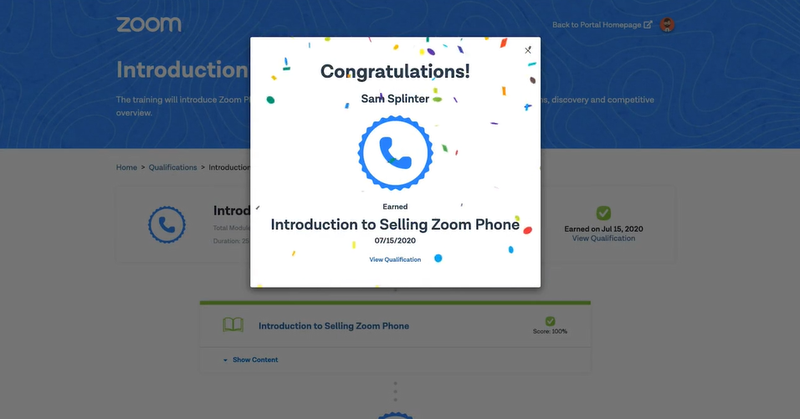 Giving partners and clients an inviting portal for learning about your offerings can help you enhance customer engagement and retention.
Reporting
WorkRamp includes built-in reports through the manager dashboard. Once again, the report builder is easy and intuitive to use. Reports can be customized, saved, and shared automatically with user groups on a schedule.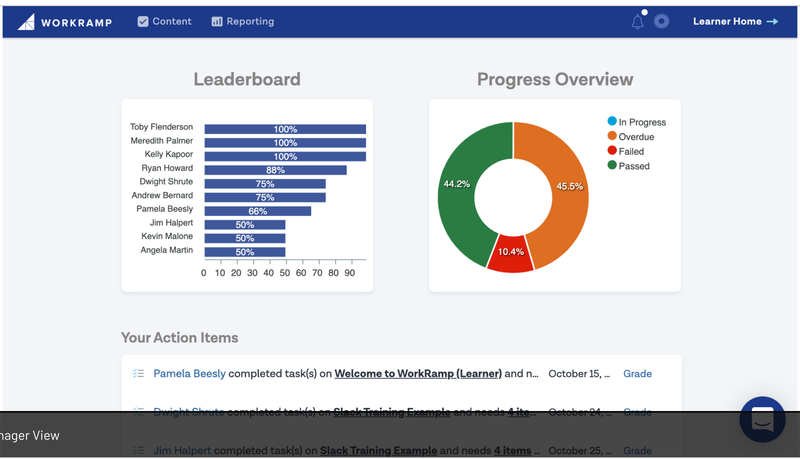 WorkRamp's integration with Salesforce lets you connect training with key performance indicators such as sales, revenue, and customer retention.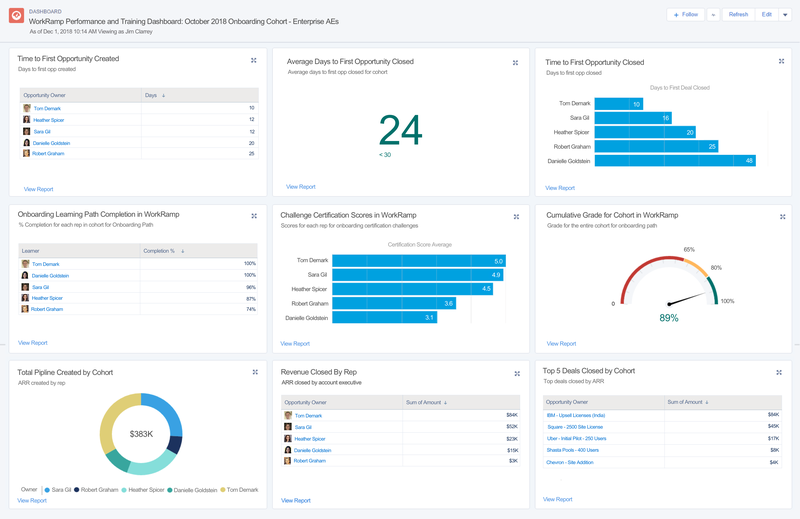 This is a deluxe feature some competing LMS providers include as an upcharge.
---
WorkRamp's ease of use
WorkRamp is very intuitive and easy to use. The LMS was born in the cloud and designed for business onboarding and skill building. The result is clear, simple pathways to basically everything you need to create outstanding internal and external training programs.
---
WorkRamp's pricing
WorkRamp provides pricing by quote in the range of $25 to $35/user, with annual contracts required. That places WorkRamp in the middle of the pack for LMS pricing for businesses. Its pricing includes many features and support avenues that are add-ons in other systems, so be sure you're comparing similar features and functionalities if you're shopping for an LMS.
---
WorkRamp's support
WorkRamp provides email support plus live chat support Monday through Friday from 9 p.m. to 3 p.m. EST. Its median first-response time in chat is less than two minutes. The company also has a help center for customers.
In addition, WorkRamp gives every account a dedicated Slack channel where you can reach your account manager as well as reps from support and marketing. The company also has a unique VIP program for trainers who have built a successful system in WorkRamp and want to share ideas and best practices with others.
In addition to all that, WorkRamp holds quarterly workshops and VIP events to connect with customers and it publishes monthly product roundups.
---
Benefits of WorkRamp
WorkRamp is an up-and-comer in the LMS space, with rapidly developing features and an impressive breadth of offerings for training employees and customers. Its user interface is simple and straightforward, requiring little or no training to get in and get started.
WorkRamp's benefits include deluxe features such as customizable training portals, WorkRamp SSO, interactive coaching, and integrations with key software platforms. Every customer gets the full package of benefits, making WorkRamp a strong contender for businesses looking for an end-to-end training solution.
---
Ramp up your training program
If you want to enhance employee training and build programs for customers and partners, WorkRamp deserves a spot on your shortlist. Its coaching features and customizable learning portals set the stage for truly immersive, engaging learning experiences. Sign up for a WorkRamp demo to explore its features and capabilities before settling on an LMS.
---
Frequently Asked Questions for WorkRamp
How much does WorkRamp cost?
WorkRamp provides pricing by quote, but the average cost is $25 to $35 per registered user. Annual contracts are required. There are no tiered packages with WorkRamp; pricing includes full features and support for every client.
Is WorkRamp mobile-friendly?
Yes, WorkRamp is fully mobile. Its functionality is adapted expressly for mobile devices, not simply scaled down for smaller screens.
What is the difference between learning paths, guides, and challenges?
Guides are basically courses. They can include a mix of smaller learning units such as videos, documents, and tests. Courses can be connected into learning paths based on roles or skills such as onboarding, sales, and customer service. Challenges are coaching activities that let employees practice key skills — such as delivering a sales pitch — and get feedback from managers and coworkers. Challenges often culminate in a certification.

WorkRamp is designed to provide exciting, immersive learning experiences for employees, customers, and partners. Find out how WorkRamp could transform your training efforts.
WorkRamp is designed to provide exciting, immersive learning experiences for employees, customers, and partners. Find out how WorkRamp could transform your training efforts.