Wrike can do it all in an acceptable fashion for a reasonable price. That is probably the best summation of this tool that I can come up with.
It'll handle Agile methodologies (one of the many project management terms you need to know), track your tasks, produce reports, help you manage your budgets, and encourage communication between your team members.
It's also quite easy to navigate as well, which is a plus for inexperienced software users. Wrike is the swiss army knife of project management techniques.
This jack-of-all-trades approach to software is helpful for those who don't know exactly what they need, but what if you're looking for something specialized for your business? Even if jack-of-all-trades is what you're looking for, you'll find better options out there.
That's why I've put together a list of eight alternatives to Wrike that you ought to consider before pulling the trigger on a new purchase.
At a glance: The best Wrike alternatives to use for project management
---
What to look for in a Wrike alternative
Wrike is an extremely competent project management software product. It is easy to navigate, can do most anything you need it to, and is priced reasonably well, with their lowest tier starting at $9.80/month per user. It isn't a mindblowing option, but it's acceptable in pretty much every standard that I measure.
To be a viable Wrike replacement, I look for alternatives to have specific characteristics or criteria. My alternatives meet at least one or more of these three criteria in order to make the cut:
1. Easier to use
Wrike is exceptionally user-friendly when it comes to project management software, but it isn't without its faults.
All of the alternatives in this list either meet Wrike's standard when it comes to ease of use or exceed it entirely.
2. Comparable pricing
Wrike's pricing isn't dirt cheap, but it also isn't the most budget friendly option that I've reviewed. Nearly all of the options I've selected for this list, with the exception of two which exceed the threshold, either meet or beat Wrike's pricing.
If saving money on your project tool is important to you, this list has you covered.
3. Offers additional functionality
Wrike has a lot to offer, but it can't do absolutely everything. In fact, Wrike is not particularly unique when it comes to functionality and its user interface is a little underdeveloped.
Several options on this list offer new ways to manage and complete projects with their one-of-a-kind user-interfaces.
---
The best Wrike alternatives for project management
These are the top eight alternatives that either meet or exceed Wrike's offering. Each alternative has its own superlative that it excels in, so all you have to do is choose the tool that's right for your business.
---
Best for easy onboarding: Jira
I've recently put Jira through the wringer while writing an in-depth overview of this software's capabilities.
While writing that overview I put Jira's onboarding and setup process to the test by trying out different management styles and project types. This only further strengthened my view that Jira is the champion of PM software onboarding.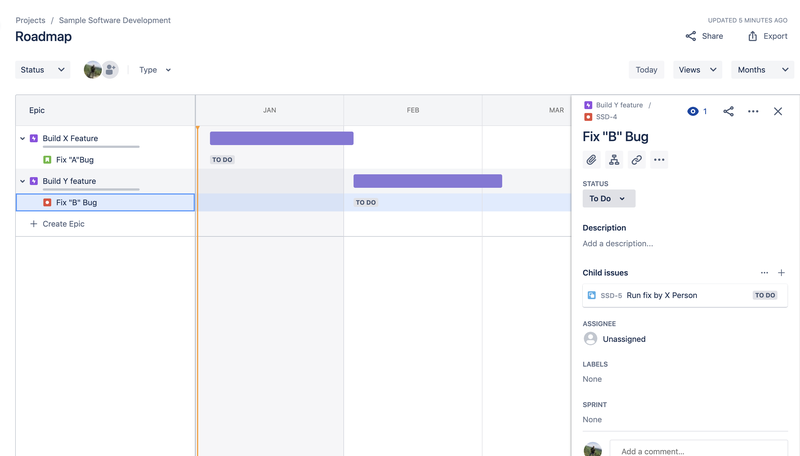 Atlassian, Jira's parent, goes above and beyond to ensure that Jira will conform to your project in the best way possible, rather than forcing you to mold your project to fit their software.
On top of it all, Jira's onboarding instructions were clear, short, and concise, which allowed me to understand what I needed to do to move my projects along without a hitch.
As for functionality, Jira offers plenty of methodology options, including kanban boards, critical path, and scrum, as well as plenty of templates to go along with them.
Jira's pricing is also comparable to Wrike's since both offer a limited free version of their software and their standard options average around $10/month per user.
The one area where Jira falls short of Wrike is in the budgeting department. While Wrike offers budgeting features, Jira works better as collaboration software. So, if your project has lots of moving parts, including expenses, you'll either have to make do with a third-party application or opt for a different project management tool.
---
Best for the price: Podio
Podio is the perfect option for an experienced project manager looking for a customizable, yet affordable, software platform.
As of writing this, Podio is the most affordable paid project management software that I've reviewed so far, with its most expensive option topping out at $24 per month. That's not a per user, per month structure. That is a flat rate each month no matter how many features you use or users you onboard.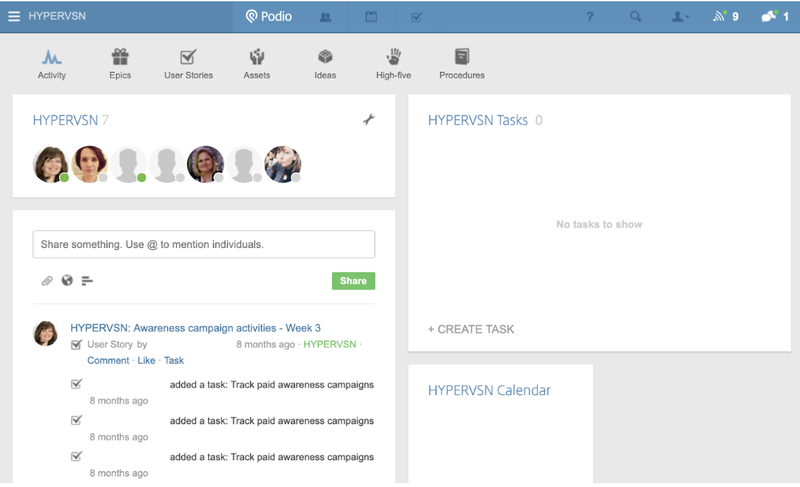 Despite being the cheapest paid option on this list, Podio doesn't skimp out on the features list. Using Podio, you can manage and schedule your tasks, track your time, create reports, develop budgets, create shared calendars, and share project files with your teams.
Its setup is even friendly to Agile methodology just like Wrike, which is perfect for teams looking to try something new for a cheaper price.
That being said, I have to stress that this is not a project management tool for those new to this kind of software since the learning curve is a lot steeper than Wrike's.
---
Best for enterprise: Scoro
Scoro earned its place on this list by offering an idiot-proof corporate workhorse that'll handle nearly any project task or need that you throw at it throughout the project life cycle.
The comprehensive features list includes the ability to create and manage tasks, view those tasks in a shared calendar, create financial quotes for projects, send invoices to your clients, manage your team workloads, track your budgets, create detailed reports, and the list goes on and on.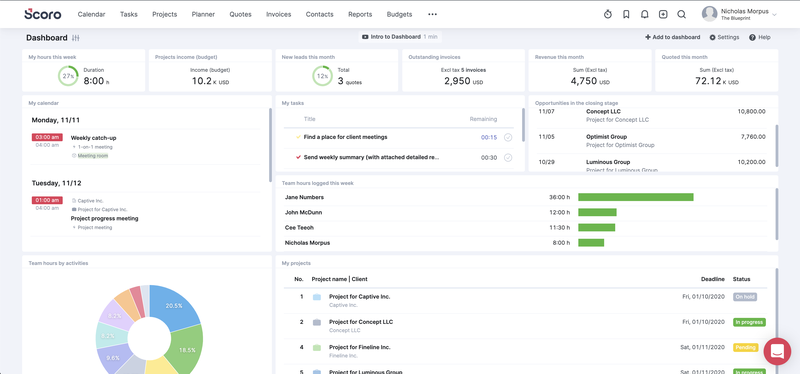 It covers all of the project management basics and then some, earning itself a 9 out of 10 in my features score category. What stopped it from earning a perfect 10 was the lack of any unique features that separate it from its competition.
That being said, I guess this means Scoro knows its audience since the corporate world is particularly risk-averse and doesn't typically opt for "unique" software solutions.
Obviously, Scoro is not a direct market competitor to Wrike, since this tool is more tailored to the corporate world, whereas Wrike's features and pricing are geared more toward smaller businesses.
---
Best for free software: Freedcamp
When reviewing and ranking software options, it's important to remember that the comparison is not always apples to apples. Context is extremely important, and when you take certain factors into account, platforms that otherwise would rank poorly, end up ranking much higher.
This brings me to Freedcamp. When considering their paid options, users could do far better than this software, but the free version is where Freedcamp truly excels.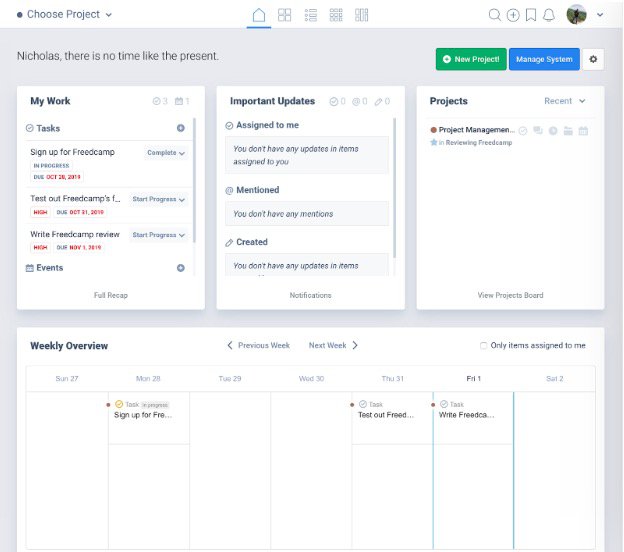 This platform offers nearly all of the project management basics as well as unlimited projects, tasks, storage, and users with its free option. Additionally, Freedcamp has also invested in its security capabilities — particularly important during 2020, which saw a dramatic increase in cyberattacks. Along with its SSO, 2FA, and account permissions features, Freedcamp has partnered with Cyberoo, an Italian cybersecurity firm, to perform regular penetration tests. This is an exceptional effort on Freedcamp's part, considering the price tag.
The benefits begin to drop off once you start paying for it, but considering the extensive functionality of its free version, minus the lack of reporting and templates, this is an exceptional alternative to other higher priced options like Wrike.
---
Best for team empowerment: Asana
Asana is the people's software. All kidding aside, Asana is the best option when it comes to worker-centric functionality that levels the playing field between project managers and the team members that work under them.
Unlike other tools that encourage a top-down management approach, Asana strives to create transparency, drive collaboration, and encourage communication during the project management process.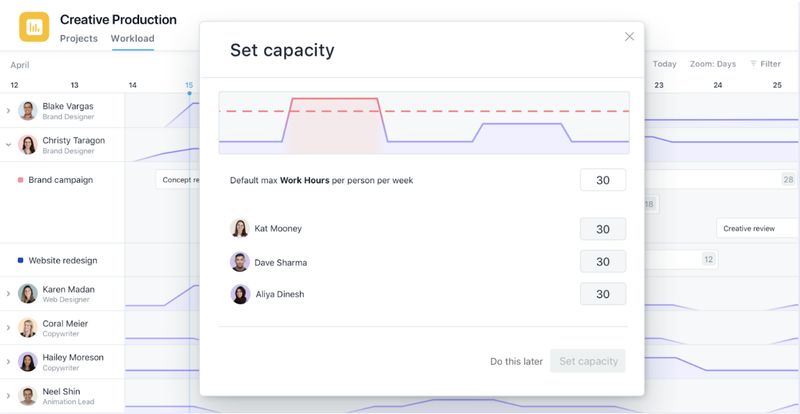 The most obvious example of this is Asana's version of workload management features that are easy to use and visually informative. Unlike its competitors that use boring charts, Asana takes a different approach by offering live workload tracking graphs and warning notifications in the event of overages, preventing worker burnout.
On top of everything, Asana's pricing is very comparable to Wrike's while offering a platform that is far more visually appealing.
When I originally reviewed Asana, I remarked on the lack of any reporting or budgeting features. This made it difficult to recommend outside of a collaborative setting and set it below tools such as Wrike. Once I brought up these concerns to a development head at Asana, she let me know that this was something the company took seriously, and it now offers these features.
---
Best for creative projects: Airtable
Not only is Airtable one of the most fun project management software platforms that I've reviewed, but it also does nearly anything I need it to, making it a fantastic choice for creative minds.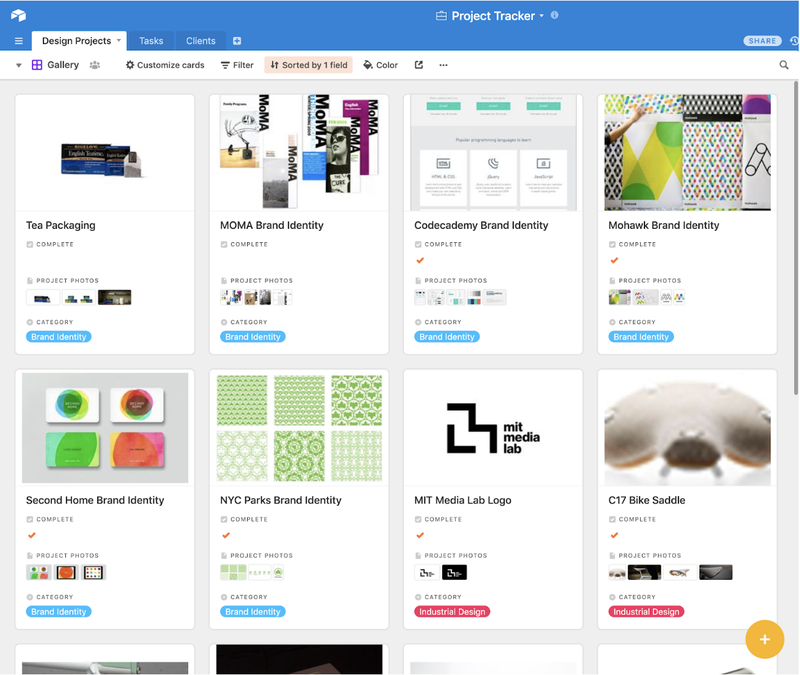 Airtable offers lots of functionality, including kanban boards, customizable spreadsheet systems, and gallery-style task management that'll help you work through the project management steps. Recently, the Airtable developers created their own Gantt chart functionality. While this isn't necessarily groundbreaking, its execution of this feature is fantastic. Just like the rest of the platform, the Gantt charts are clear and colorful, which melds well with the look of the tool and also improves planning capabilities.
However, the only major drawback when choosing Airtable over Wrike is working through the confusing setup process, which is unsurprising considering this platform's unique presentation.
If you decide to go with this tool, you'll want to take advantage of all of the onboarding content available in order to get the most out of it.
When it comes to pricing, Airtable isn't prohibitively expensive, but don't expect anything comparable to Podio. In fact, Airtable's pricing is comparable in some ways to Wrike with its cheapest option starting at $10/user per month.
---
Best for simple projects: Basecamp
Earlier in this piece, I described the nature of reviewing software as an exercise in considering all factors despite the fact that not all comparisons are apples to apples. I've given the nod to Trello as the "easiest" project management software to use based on everything that it had to offer versus the time it took to fully understand its capability. That balance of features and ease of use made it the logical choice.
However, when it comes to just pure "ease of use" without taking its short list of functions into account, Basecamp is definitely the simplest project management software I've reviewed so far.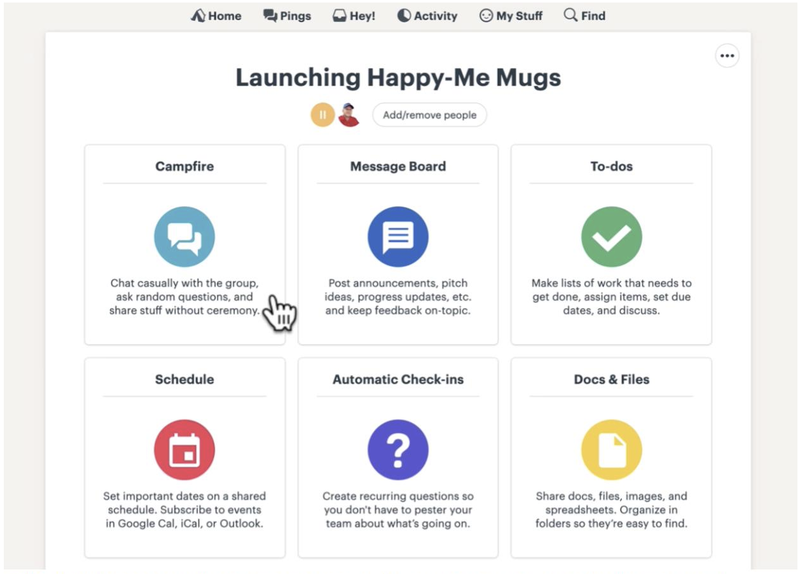 When I say "short," I mean it. Basecamp only offers a short list of features, but for what it does offer, it certainly excels.
Basecamp is best when used to track and manage small projects since it does lack a lot of the core features one would expect in a project management software product.
In fact, the only management style it offers is a task list format complete with comments, a shared team calendar, file uploads, and project forums.
Don't expect budgeting, invoicing, or major reporting features from Basecamp, because it doesn't have any.
Basecamp differs greatly from Wrike in its pricing model. Instead of paying a per user, per month subscription, you pay a flat $99 per month, no matter how many users you have or features you use. That's it.
This means it is more expensive for smaller teams, but as you add on more users, you'll spend fewer dollars per user each month, making its pricing exceptionally scalable.
---
Best all-around choice: monday.com
monday.com is the best at balancing everything you'd need from a project management tool. It offers an extensive features list, a unique user interface, customizability, and a simple learning curve to boot.
monday.com uses its own proprietary task management and dashboard system meant for all kinds of functions including task management, time tracking, resource management, and even budgeting.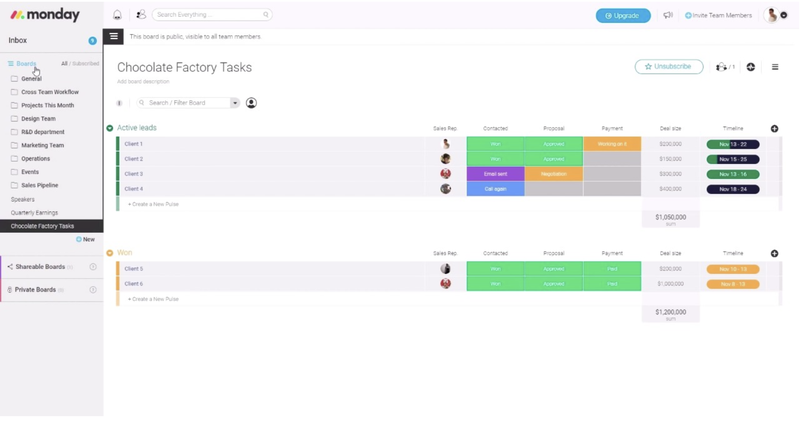 The only area where monday.com slightly struggles is in the pricing department, but you get what you pay for with this platform. There is no free version and the most basic option starts at $17/month for two users, making it a little more expensive than Wrike.
Besides that, this tool is a fantastic option all around, which is why I rated it as the top pick for The Blueprint.
---
Choosing the right software for your business
Wrike may not be the right option for your organization, but that doesn't mean you have to choose one from this list either.
If you're still not sold on any of the alternatives that I've listed above, you're in luck. I've reviewed some of the best project management software options on the market here on The Blueprint.
Be sure to check them out so you can make the right decision for your team the first time.