These are the comparison pieces that I love writing. Both Wrike and Asana appeal to nearly identical user-bases and the winner is selected based on its qualities alone.
Some project management software comparisons pit two completely different options against each other. They are so different that one will be extremely strong in say, collaboration, and the other will have outstanding financial tracking. There is no real winner, it depends completely on the needs of your team. Luckily this is not the case here.
Find out which tool won out this nailbiter of a comparison.
---
Wrike vs. Asana: An overview
Who is Wrike for?
Software developer Andrew Filev founded Wrike in 2006 and it released its beta version of his software that same year to much acclaim.
Since the initial launch, Wrike has stayed true to its vision of providing an easy-to-use project management software focused on improving workflows, assignments, reviews, and approvals.
When you consider the long list of features and task management options offered by Wrike, this tool fits the bill for most teams and projects, as long as money isn't an object.
The first paid tier of Wrike isn't the most expensive plan I've seen, in fact, their pricing is quite comparable to Asana's in many ways with a few slight differences.
If I had to recommend Wrike for anyone, it would be for more established project teams with some money to spare.
Who is Asana for?
Asana was founded with the mission to simplify team-based work management. This statement was envisioned in 2008 by Facebook co-founder Dustin Moskovitz and ex-Google engineer Justin Rosenstein.
The first version of Asana took off in 2011 and since then, they've looked to improve and grow their software by adding a mobile app, kanban boards, integrations with outside programs, and project timelines.
Unfortunately, this tool does lack in-depth reporting and budgeting tools, so if you're looking past the project management basics and for out of the box financial management, you'll need to use outside integrations with Asana.
This is why I believe this tool is best for any company or team that is looking to boost their collaboration without tracking budgets or invoicing.
---
Wrike vs. Asana: Features
Wrike and Asana are two of the most popular project management tools on the market today. And although Asana is newer Wrike alternative, it turns out that Wrike has the upper hand when it comes to features.
What Wrike offers
Wrike offers so many features that it's hard to narrow down which ones really stand out. And while it isn't the prettiest project management tool to grace my desktop, I loved the variety of choice when it comes to task tracking — especially if I'm planning to use it for different types of projects.
If I'm looking for a kanban system, I've got it. If I want to use Gantt timeline charts, no problem. If I want a simple task list, it's all right there for me.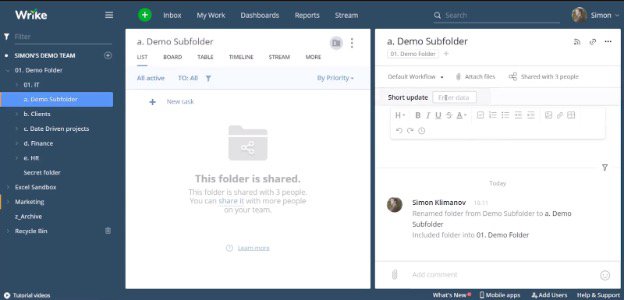 This kind of flexibility is important, especially if one method is better suited to a specific team or project than another.
Each basic task management function in Wrike was pretty standard and by-the-numbers. If I want to create a task, all I do is hit the green "+" button in the top right-hand corner and fill in all of the relevant information.
This information includes:
Task name
Due date
Assigned team member
Task files
Task dependencies (what should be completed before this task)
Task description
Task comments
In terms of the task management and collaborative aspects of this software, there wasn't anything that really blew my mind. It was everything I'd come to expect from your average project management software.
Where Wrike separates itself from other tools is the elaborate report building system. Wrike does a lot of the heavy lifting for you and walks you through a step-by-step process to measure out your project management plan, including task completion times, project issues, and project budgets.
Building reports felt more like a simple task than an arduous chore.
What Asana offers
Asana is a collaboration tool and it never ceases to remind you of that at every turn. When it comes to task management, Asana gives you the variety you're looking for right off the bat.
Whether you're in need of task lists, Gantt timeline charts, Kanban boards, or shared team calendars for your project management process, Asana has you covered.
That said, I do see the lack of financial management features or in-depth reporting as a major oversight.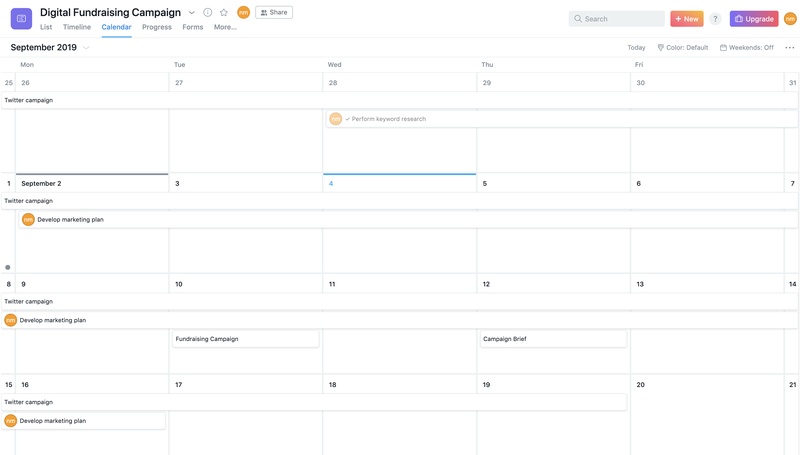 Of course, Wrike offers all of this too, so what makes Asana different?
Well, my favorite Asana feature is also their most unique: Workload Tracking.
It's hard to know what everyone on your team is working on at the same time and Workload allows you to visualize it all in real-time. You can track and set limits on each individual workload in order to prevent burnouts and encourage your team to stay on top of their current tasks.
Features such as these prove that Asana is more than just a management tool. It's a team-building tool focused on improving relationships between managers and their teams to improve efficiency.
Results
Winner: Wrike
While I love the user-interface and unique Workload feature of Asana, Wrike wins based on the availability of core features like project reporting. At the end of the day, the question is which software will cover all of your needs, not which one will cover some of your needs in an appealing way.
---
Wrike vs. Asana: Support
Once you've purchased your software, it's comforting to know that the software vendor will be there for you if you need help. Find out which project management software will offer you the support you need to keep their tool running day-in and day-out.
What Wrike offers
Wrike shines in this category. They offer a phone support line, a contact form, a help portal full of webinars, video tutorials, community forums, interactive training programs, and guides.
I was very pleased to see such a wide variety of support avenues, rather only one or two like some vendors offer.
Response time with Wrike was also surprisingly fast. Wrike makes an immediate effort to establish a relationship with you through your very own customer specialist once you've signed up for your free trial. If you're looking for guidance, this specialist will walk you through anything you need to know.
What Asana offers
I couldn't find any kind of phone support for Asana and I only discovered a contact form on their website. When I used the form to reach out to Asana support, their response time was on the slow side. In fact, it took a whole day for Asana to get back to me.
Luckily it was about a billing issue I was having with their product and not anything more pressing.
This is one area I would really like to see Asana make improvements in. Luckily I never had any technical issues with their software, but if I had, I might've found myself feeling frustrated.
Results
Winner: Wrike
Wrike wins this category hands down. Not only does Wrike offer more support avenues than Asana, but from my experience, their response time beat the competition with ease.
---
Wrike vs. Asana: Ease of use
I can tell you straight away that both Wrike and Asana are incredibly convenient project management tools. This was a hard comparison to make, but in the end, one product had the advantage.
What Wrike offers
Wrike was particularly easy to get to grips with during my trial period. I've used Wrike before, but this version is very different and much simpler than the earlier build.
Despite my previous experience, it was like learning to use a whole new project management software.
Navigating Wrike is particularly easy. Everything I need is located either on the main menu at the top of the screen or on the left sidebar. All of my projects are listed on the left of the screen with a collapsable subfolder system attached to each project with key details I can create and navigate through.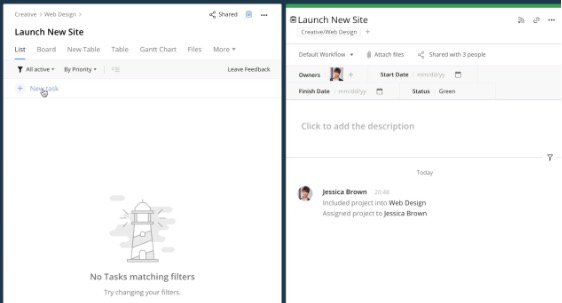 I was able to locate most major functions with little to no instruction, which is a crucial point I look for in any software platform. The truth is project managers want to get right to work once they've installed their new program, they don't have time to make the software into a project in its own right.
Wrike succeeds in providing most functions I'd expect from a popular project management tool. I have access to all of the information and detail that I want without losing track of where I am or what I am trying to accomplish.
What Asana offers
When I started using Asana I spoke to one of their lead developers and she told me that their goal was to give users as much functionality as possible while maintaining the easiest possible user experience.
If the average user couldn't figure out how to use a specific function with little instruction, their development teams would go back to the drawing board until they got it right.
I am very impressed with the simple and convenient user-interface Asana offers and I'd love to see more project management software vendors take a few notes. Asana opts for a traditional user-interface with the navigation menu on the left, user options and help center in the top right-hand corner, and your task management windows in the center of the screen.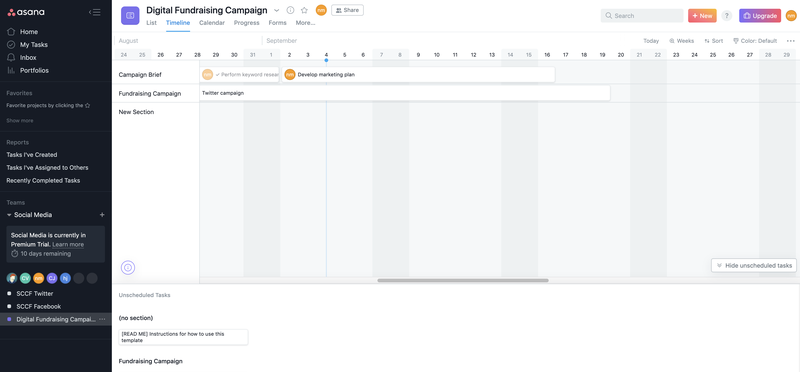 As shown above, this Gantt timeline view in Asana is easy to figure out. Project tracking is a breeze as I can see where a task belongs, who owns the task, and when it begins and ends.
I can view all of my tasks in either list, timeline, or calendar format and these options are listed right under the project name. Asana's user-interface is not only very easy to navigate and understand but also gives you several different task management views to choose from when planning out your projects.
Results
Winner: Asana
This was a difficult section to judge since both tools make an incredible effort to deliver a near foolproof user-experience. However, Asana has the upper hand with its extremely simple user-interface that outshines some of the little Wrike quirks such as project subfolders.
---
Wrike vs. Asana: Pricing
Yet another hard comparison to draw between these two project management platforms. Both offer a free version of their software and both offer strikingly similar pricing models for their tiers, but once you go beyond those surface details you'll find one has the advantage.
What Wrike offers
The Wrike pricing system is relatively affordable considering all of the functionality it provides. However, the one drawback is their cap on users within each pricing tier, unlike Asana which prices their tiers based on features alone.
The good thing is, Wrike does offer a free option, which is perfect for small teams, and their Professional tier is pretty affordable considering everything that comes with it.
These monthly rates are all billed annually. Wrike's pricing page doesn't show a monthly pricing structure, which leads me to believe such an option doesn't exist.
Free – Up to 5 users, simple task lists.
Professional – $9.80/user/month: Up to 15 users, full project planning and collaboration features.
Business – $24.80/user/month: Up to 200 users, all previous features, additional customization abilities, detailed reporting.
Marketers – Pricing negotiated with the client: Unlimited users, tailor-made system.
Enterprise – Pricing negotiated with the client: Unlimited users, tailor-made system with advanced security and control features.
What Asana offers
Asana starts off great by offering a free version, which is perfect for someone dipping their toes into project management software for the first time. However, the paid options in Asana pricing tiers certainly do add up over time, especially if you choose the Business option which includes their unique Workload features and integrations.
Basic – Free: Task lists, kanban boards, calendars, app integrations, up to 15 users.
Premium – $9.99/user/month with an annual contract: All previous features, timelines, advanced searches, custom field creation, premium Asana Academy content, admin privileges.
Business – $19.99/user/month with an annual contract: All previous features, portfolios, Workload, forms, automatic proofing, Adobe Creative Cloud integration.
Enterprise – Pricing negotiated with the client: All previous features, user provisioning, data exporting, custom branding, priority support.
Results
Winner: Asana
This was a very close call. Each tool offers extremely similar pricing models, but Asana offers more users with their free option and doesn't cap user numbers based on your tier as Wrike does.
---
Wrike vs. Asana: Integration with other software
When it comes to project management, there are dozens upon dozens of applications your team will use or are currently using and the best project management tools will work well with most of them. This was another difficult criterion to judge between Wrike and Asana.
What Wrike offers
Wrike has a long list of integrations with other popular applications that'll help you plan, manage, and execute your projects from every aspect. These apps include:
Tableau
Microsoft Teams
Google Hangouts
Google Drive
Adobe Creative Cloud
Microsoft Outlook
Slack
What Asana offers
Asana offers lots of different app integrations that'll help you manage any aspect of your projects, including some not offered by Asana's core features. Some of these integrations include:
Results
Winner: Tie
Our first tie of this comparison. It's too hard to give the nod to either tool since both offer integrations with some of the most popular office suites, calendars, and team collaboration platforms. If integrations are your focus you can't go wrong with either Wrike or Asana.
---
Wrike vs. Asana: Getting started
Which software is the easiest to get started with? Well, yet again this was not an easy comparison to make since both tools offer an extremely simple onboarding process.
What Wrike offers
Like most tools I've tested, the Wrike project management system offers a very quick startup by getting you to enter your work email and some brief details about your team. Once you've entered your information you're taken to the project dashboard and given a full product tour by the Wrike Bot, including task creation, task management, team management, report building, etc.
If you're looking for any content once you've completed the tour, Wrike offers plenty of help guides, tutorials, and webinars, including a Wrike Deployment Guide which will help you learn everything you need to know to get your project up and running.
What Asana offers
Asana's startup process differs slightly from most other project management software platforms that I've tested recently. Once I entered my project info into Asana's free trial form, I didn't immediately go to the dashboard. Instead, I was sent an invitation email that took me there. Of course, this isn't a massive inconvenience, just different from other tools.
Asana's onboarding content was a little harder to find than Wrike's, but once I found it, I definitely wasn't disappointed by the breadth of help they offer. Asana's onboarding content consists of guides on getting started, onboarding your team, managing/planning tasks, and it uses cases to help structure your experience.
Results
Winner: Wrike
Both Asana and Wrike offer straightforward onboarding processes that are easy to understand, however, the latter takes this category thanks to the thorough Wrike Bot tour. This tour was very informative, especially when it came to Wrike's project subfolder system.
---
How They Compare: Wrike vs. Asana
| Feature | Wrike | Asana |
| --- | --- | --- |
| Task Lists | | |
| Gantt Timeline Charts | | |
| Shared Team Calendar | | |
| File Sharing | | |
| Communication | | |
| Budgeting | | |
| Time Tracking | | |
| Invoicing | | |
| Outside Integrations | | |
| Resource Management | | |
---
Which software is better, Wrike or Asana?
When looking at these two tools category by category, I found it hard to choose which one I thought was better. Wrike and Asana offer a lot of the same features, but Wrike edged out Asana thanks to its reporting functionality. Wrike won out over Asana when in customer support and both tools tied when it came to outside integrations.
While it was difficult to decide based on individual characteristics, when I step back and look at the whole picture, it's clear that Wrike has the upper hand. Of course, Wrike has had longer than Asana to perfect their software and, with time, the latter could close the gaps.