Perhaps you've read our accounting software reviews but remain confused about which of these two, popular accounting tools is right for you.
To make the decision a little easier, we're comparing Xero and QuickBooks Online, side-by-side based on features, pricing, ease of use, and more.
---
Xero vs. QuickBooks Online: An overview
Who is Xero for?
Xero is an excellent accounting software option for startups and small business owners, and it's particularly well suited for business owners who know absolutely nothing about accounting but still need to properly manage their finances.
The Xero accounting interface is clean and uncluttered, and new users have access to a demo company where they can manipulate data without worrying about entering or deleting important information.
Who is QuickBooks Online for?
QuickBooks Online, an offshoot of the popular QuickBooks Desktop application, is a good fit for small and growing businesses.
Originally designed for very small businesses, when compared to the desktop version, QuickBooks Online now offers growing businesses the option to use an application they won't outgrow in a short amount of time.
---
Xero vs. QuickBooks Online: Features
Xero and QuickBooks Online both offer a ton of features all designed for small business owners.
While the vocabulary may vary between the two products, they both offer electronic banking, excellent invoicing, payment acceptance, and bill management capabilities.
What Xero offers
Xero places its features into five main categories: Dashboard, Business, Accounting, Projects, and Contacts. Xero's accounting dashboard offers a nice summary of your business, including bank balances, invoices owed, and total cash in and out of your business, with the dashboard completely customizable.
The Business category is where you'll find invoicing, bills to pay, purchase orders, and products and services. The invoices option in Xero displays a nice summary view of all invoices and their current status.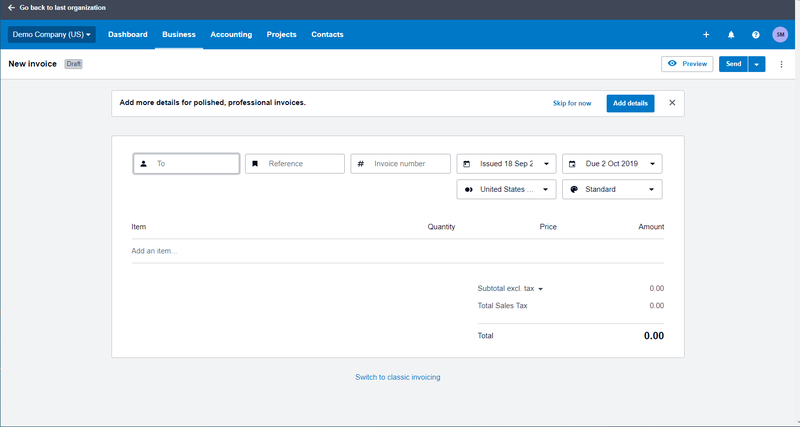 Xero's invoice entry screen, seen above, is clean and uncluttered with easy look-up options available for most fields. Once the invoice is completed, you can send it via email with online bill payment options included in the email. Once payment is received, Xero will automatically apply the payment if paid online, or you can process the payment during your regular bank reconciliation process.
The Accounting category in Xero is where you'll handle all of your banking transactions, as well as manage your chart of accounts and financial statements. The Projects category lets you manage any projects and record time spent using the time tracking feature.
The Contacts category lets you manage all contacts, from customers to suppliers to contractors, from one location. Reporting in Xero is solid, with a variety of financial statements and management reports available.
A mobile app for both iOS and Android devices is available in Xero, offering the ability to handle common tasks such as receipt management, contact management, bank reconciliation, and invoice creation.
What QuickBooks Online offers
Like Xero, QuickBooks Online offers standard features like electronic banking, solid invoicing capability, bill management, and payment acceptance, but it breaks them down into more specific categories rather than lumping them together into one category.
User preference can play a role in which style you prefer, but generally, the more self-explanatory a central navigation screen is, the easier it is for new users to find their way around.
Entering an invoice in QuickBooks Online is simple, and it offers the ability to add a credit card or bank account number to a customer's account – a nice feature that allows you to immediately process an online payment for that customer.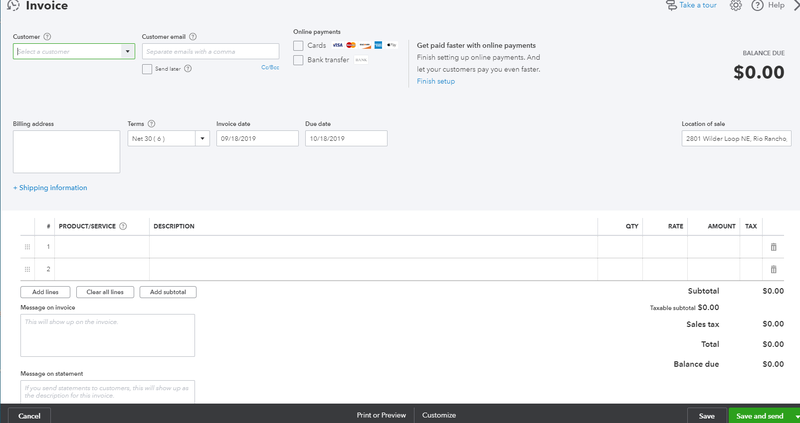 QuickBooks Online also gives you the option to have customer payments applied automatically once they're deposited, or leave that option to the user. The Expense category lets you add vendor invoices and get them ready for payment, and QuickBooks Online lets you manage customers, vendors, and employees in the system, with a payroll option available through Intuit.
The Report Center in QuickBooks Online offers a central location to process reports, which include all standard financial statements as well as a healthy selection of management reports.
Results
This one is a tie. Xero and QuickBooks Online offer very similar features and functionality along with summary dashboards to measure business health.
---
Xero vs. QuickBooks Online: Support
You tried importing data, but it's not showing up. You've entered a transaction, but it won't post. The product won't let you log in. All of these things can cause extreme frustration, and you'll need the assistance of product support to solve these problems.
While both of these accounting tools offer a ton of help articles, knowledge bases, and robust user communities, who will win in the Xero, QuickBooks Online comparison in the battle of support personnel?
What Xero offers
Here is the list of Xero's customer service support offerings:
Email support
User guides
Knowledgebase
Help articles
In-product help
User community
Product training
Xero's accounting functionalities are fairly simple to navigate, so it's likely these resources will be sufficient if and when something goes wrong.
What QuickBooks offers
Here are the support options offered by QuickBooks Online:
In-product help
User community
Knowledge base
Product training
Help articles
Connect with a support agent through email
Connect with a support agent through messaging
Connect with a support agent through a call back
You'll rarely be asking yourself how to use QuickBooks Online as they offer plenty of guidance throughout the application; users can click on the question mark anytime they need assistance.
Results
The winner here is QuickBooks Online. Live support will always beat chat or text support. You may never need to call support, but it's nice to know it's an option.
---
Xero vs. QuickBooks Online: Ease of use
An important though often overlooked component of any software product is how easy it is to use.
That's one of the most important reasons for downloading a demo (if possible) of any accounting application in which you may be interested, because preferences differ, and something I like may be something you absolutely hate.
What Xero offers
For those who like everything in neat compartments, Xero may be your best option. Instead of the "add what you need" process many other accounting software applications employ, Xero requires you to set up your business completely before you can start using the software.
If you just want to get started and add things as you go, Xero may not be for you.
Xero's main entry screen uses a menu bar at the top of the screen for access to system functions. This pared-down menu makes it easy for new users to find their way around the application without too much trouble.
Help is accessible from any data-entry screen, and a demo company is available for those who want to enter practice transactions without worrying about messing up their own data.
For those on the go, Xero has a mobile app accounting tool for both iOS and Android devices, though the app does not give you access to all of the features found in the full version. You can import data such as customers into Xero, but you'll have to download the CSV file template in Xero in order to import the data correctly.
What QuickBooks Online offers
The QuickBooks Online setup is designed to be, well, quick. You can enter as much or as little information as you need, and simply add the rest when it's necessary.
One of the things I like about this Xero alternative is the fact that you can place your cursor over one of the categories listed in the vertical menu to see what features are available in that category.
For those moving their small business' accounting over from another application, you can import data into QuickBooks Online using the Import Data function.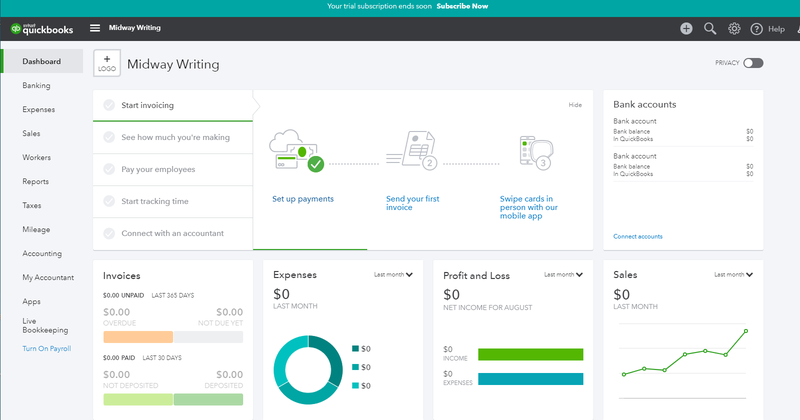 The QuickBooks Online accounting dashboard provides much of the same information that's included in Xero's dashboard, but it also provides quick links to tasks such as invoicing, time tracking, and payroll.
Results
The edge goes to Xero for ease of use. Its data-entry screens are more minimalist than those of QuickBooks Online, and its invoice and billing entries require less in the way of data entry. However, QuickBooks Online edges out Xero for dashboard features.
---
Xero vs. QuickBooks Online: Pricing
Pricing levels for Xero and QuickBooks Online are very similar, with both applications offering three pricing plans. For example, both mid-level plans are similar in price and scope, with the Growing plan in Xero costing you $32, while QuickBooks Online's Plus plan is $35.
What Xero offers
Xero offers three pricing levels:
Early — $11/user/month
Growing — $32/user/month
Established — $62/user/month
A 50% discount will be applied to the above prices for the first two months.
Xero's Early plan offers limited capability (send five invoices, enter five bills, reconcile limited bank transactions), while the Growing plan includes unlimited invoicing and bill processing, along with unlimited bank transactions.
Features found only in the Established plan include multicurrency capability, project tracking, and expense management capability.
What QuickBooks offers
QuickBooks Online also offers three pricing plans:
Simple Start — $25/month for one user
Plus — $70/month for up to five users
Advanced — $150/month for up to 25 users
A 50% discount will be applied to the above prices for the first three months.
All QuickBooks Online plans include income and expense tracking, invoicing, payment acceptance, estimates, sales tax tracking, and receipt organization.
Moving up to the more expensive plans will get you features such as inventory, custom user permissions, and accelerated invoicing, with all plans providing the basic functionality your business needs.
Results
QuickBooks Online is the winner, here. While Xero might be a good application to start with, growing businesses will appreciate the scalability offered by QuickBooks Online.
Yes, QuickBooks' accounting tools do come in a little higher in overall pricing, but the plan options are more flexible and offer more features than Xero's plans.
---
Xero vs. QuickBooks Online: Integration with other software
The ability to integrate a software product with other applications can increase its functionality tremendously. Both Xero and QuickBooks Online offer excellent integration with hundreds of apps.
What Xero offers
Xero offers integration with more than 700 apps in a variety of categories, including payment acceptance apps such as Stripe, PayPal, and GoCardless, as well as CRM, inventory, payroll, point of dale, e-commerce, and time tracking applications.
What QuickBooks offers
QuickBooks Online offers integration with hundreds of apps, making it great for small business owners. These integrations including PayPal, TSheets, Bill Pay for QuickBooks Online, and Stripe, with apps available for inventory, payroll, CRM, and time tracking.
Results
Xero is the winner in this category, offering more than 700 apps that can connect with its core application.
---
Xero vs. QuickBooks Online: Setup
One of the major differences between Xero and QuickBooks Online is the setup process.
Xero's accounting functions use a very structured setup process that requires eight distinct steps, whereas QuickBooks Online allows users to enter only the bare minimum and get started quickly, adding additional details when they become necessary.
While this, again, can come down to user preference, I like the ability to just jump in and get started.
What Xero offers
Xero uses a very structured setup process, which is great for those who like to have everything in place prior to starting work.
What QuickBooks Online offers
QuickBooks Online's accounting software has a looser setup structure, allowing you to enter the bare minimum and add the rest as you go along.
Results
QuickBooks Online is the setup winner for me, but you more organized folks may disagree.
---
How They Compare: Xero vs. QuickBooks
| | Xero | QuickBooks |
| --- | --- | --- |
| Bill Payment | | |
| Free Version Available | | |
| Invoice Customization | | |
| Live Support | | |
| Mobile Apps | | |
| Multiple Plans Available | | |
| Reporting | | |
---
And the winner is?
QuickBooks Online by a nose, a very small nose. While there are some distinct benefits found in this QuickBooks' competitor, their offers the one thing Xero does not: live support.
I have learned never to underestimate the importance of live product support, particularly when it comes to managing my money. Another benefit is that QuickBooks Online is better for small businesses, as you're able to scale with your growing company.