I find myself remarking on the simplicity software developers are incorporating into the user interface and user experience of their tools more and more.
The days of bland, boring, and complicated corporate software are slowly being left behind in favor of sleek designs and nearly instinctual software layouts.
This was created by major players like Apple and now the design philosophy of sweet and simple is bleeding into nearly every piece of technology, even ticket management systems.
That's where Zendesk comes in. We've also reviewed Zendesk as a customer service solution, but this review focuses on using Zendesk as IT support software — for managing the issues relating to your internal teams and IT needs. Read the review that matches your needs, or read both to get a full picture of Zendesk's complete capabilities.
---
Who is Zendesk for?
In terms of usability, Zendesk is a great software tool for users of all experience levels. Sure, the layout and design of this platform are a little different from the competition but once you get through the initial tutorial you'll find that those differences make a huge difference for the user experience.
Zendesk pricing is also quite versatile. There are multiple pricing tiers meaning companies of all sizes and needs should be able to find one that is right for them. So, who is Zendesk for? Just about anybody.
---
Zendesk's features
Issue tracking
Issue management: Zendesk lets you view, search, update, and interact with issue task cards.
Email to ticket: Zendesk will convert issue and request email submissions into support tickets.
Request management: Like issue management, you can create, view, search, update, and interact with IT request task cards.
Asset management
Zendesk doesn't offer any native asset management features.
Service desk
Self-service portal: Lets end users access their own support tickets to track solution progress and check for outages and other updates.
Live chat: Manage all live chats with end users so you can provide quick solutions without relying on the formal ticket submission system.
Content management
Knowledge base management: Manage all support articles and release notes through SysAid.
Monitoring
Reporting and analytics: Track and measure support success through the many reporting and analytics tools offered by Zendesk.
Dashboards: Track help desk activity and ITIL (Information Technology Infrastructure Library) processes in real-time using Zendesk's detailed dashboards.
Additional features
Permission controls: Limit who can create, view, update, and delete the information within your systems and asset lists.
---
Zendesk's ease of use
I've never used any of the Zendesk products before this review, so I was relieved when my first trial was an overall positive experience. The first thing I noticed when I began my trial was how the software incorporates elementary colors and shapes to represent the different uses of this software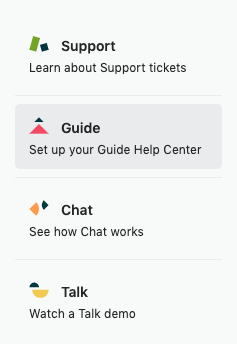 It's as if the creators of Zendesk understand the features of their software are the crucial building blocks of a successful help desk system. However, they seem to be missing a crucial foundational block.
Instead of building a user-friendly and streamlined asset management system into their software, Zendesk opts to outsource those capabilities to third-party apps, which I believe undermines their entire mission. Integrations, while helpful, tend to over complicate the way a software system is used.
Outsourcing functions only creates more moving parts that must depend on one another to function properly. The moment one vendor changes something that Zendesk isn't ready for, all you're left with is a disconnect that they can't answer for because they aren't in control of those changes.
If other help desk software vendors can create their own asset management functions within their overall platforms, why can't Zendesk? I believe this undermines their design simplicity philosophy.
This is unfortunate because after testing out other Zendesk features, I was very impressed with the unique and simple system the developers have created. My favorite unique function is the issue creation and management system.
Most software vendors use the same order of operations in order to create and manage issues and request tasks:
Navigate to the software's issue management window
Click on the "Create new issue" button or whatever variation they use for this function
Create the issue card and fill out the details
Issue card is added to the task list and moved along the workflow to completion
Zendesk does things a little differently. They've adopted the web browser idea by treating issues and requests as their own "tabs" which are created at the top of the window.
You can create or view these cards at any point while working on anything within the software, just like a web browser. This makes multitasking and navigation so much easier than the average task list. This is the kind of innovation that sets Zendesk apart from the competition.
You don't have to worry about clutter at the top of your window either. If you're dealing with too many issue tabs at once all you have to do is close them and they'll still remain in your task list until they're completed. It's like Google Chrome for your IT help desk.
This simplicity even translates into their knowledge base management features, especially the content creation tool. While many content management systems prefer to copy the boring WordPress-like interface, Zendesk opts for a cleaner and simpler route.
You'll easily learn how to put together support articles and release notes for your end users with Zendesk so long as you've used some kind of word document generator before.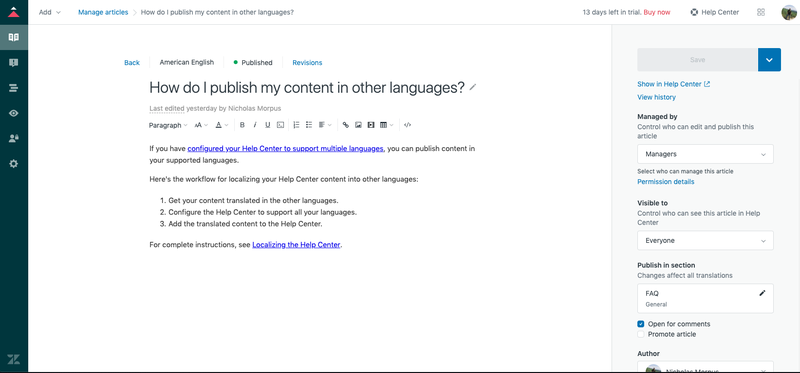 This kind of design and simplicity is what makes Zendesk such a fantastic tool.
Unfortunately it doesn't reach the levels of other tools I've reviewed due to the lack of any native asset management capabilities, and if Zendesk were to change this I'm sure it'd be just as innovative and clean as the rest of the platform. I can dream, can't I?
---
Zendesk's pricing
With pricing, Zendesk does things a little differently compared to other software vendors. Where some vendors offer three or four different pricing tiers, Zendesk splits their pricing into two main tiers, each having their own sub-tiers based on features and user counts like so:
Support

Essential — $5/month, per user: Support ticket management, email support channels, social support channels, interaction history
Team — $19/month, per user: All previous features, custom business rules, performance dashboards, apps and integrations
Professional — $49/month, per user: All previous features, multilingual content, surveys, dashboards and reporting powered by Zendesk Explore
Enterprise — $99/month, per user: All previous features, multiple ticket forms, skills-based routing, contextual workspaces, satisfaction prediction, multibrand support
Elite — $199/month, per user: All previous features, unlimited light agents, 1-hour service level objective, advanced encryption, choice of data center location

Support Suite

Professional — $89/month, per user: All previous features, social messaging, knowledge base, agent workspaces, dashboards for every channel, Zendesk Talk, multiple ticket forms
Enterprise — $149/month, per user: All previous features, roles and permissions, chat widget branding, 24/7 phone support, custom objects
You can also work with Zendesk to build your own custom solution for your business, and the price is negotiated between you and the vendor. While some Zendesk plans run pretty steep, I applaud them for their transparency.
---
Zendesk's support
Zendesk offers several customer support options, including support articles, user forums, product updates, webinars, industry articles, email support, live chat, and even 24/7 phone support for specific pricing tiers.
As for the quality of that support, I've heard mixed opinions on the speed of the live support, however when I tested out the live chat function I received very quick responses to my questions and concerns.
---
Benefits of Zendesk
Zendesk's biggest benefit is its unique and user-friendly platform. I love when software vendors borrow something easy or beneficial about another tool or platform and find creative ways to bring those solutions to their own platform.
This is especially apparent with the issue creation and management system which borrows the idea of browser tabs for dealing with those tasks.
Another Zendesk benefit is the wide variety of pricing options they offer. Some of these options are expensive but they are geared towards large enterprises, while on the other hand, you can subscribe to a barebones Zendesk ticketing system software for as little as $5/per month per user.
It all depends on your business needs.
---
Zendesk has room for improvement but it is on the right track
I love what Zendesk is trying to accomplish with their unique take on help desk software. They're striving for simplicity and looking for inspiration outside their niche market. This makes them a key player in this industry in my opinion.
If they can just shore up some of those missing features, I guarantee they'd see fantastic results. Make it happen, Zendesk.
---
Frequently Asked Questions for Zendesk
Is there a free version of Zendesk?
Nope. If you want to use Zendesk you're going to have to break out your wallet as soon as the free two-week trial is up. Now, that doesn't mean you can't negotiate for a longer trial period.
Buying software is an expensive and time-consuming endeavor, and in my experience, vendors are willing to work with you if you still need more time to make a decision.
Is Zendesk suited for less experienced software users?
Zendesk is a very user-friendly IT help desk platform that doesn't take long to learn, which makes it great for less experienced users.
What kind of customer support does Zendesk offer?
Zendesk offers multiple forms of customer support, including support articles, user forums, product updates, webinars, industry articles, email support, live chat, and even 24/7 phone support for higher end pricing tiers.