ZipBooks is accounting software designed to meet the accounting and bookkeeping needs of small businesses, including freelancers, consultants, contractors, and sole proprietors.
In addition to its free plan, ZipBooks also offers two monthly fee-based plans, with all plans offering custom quote and estimate creation, custom invoicing, multiple currency capability, and customer and vendor management.
Though lacking in some areas, such as inventory management and solid product support options, ZipBooks offers an easy-to-use interface, an easy setup process, and bank connectivity, though you'll probably want to familiarize yourself with the accounting process prior to using the application.
---
Who is ZipBooks for?
ZipBooks is a solid online accounting software application well-suited for sole proprietors, freelancers, and consultants, but with new payroll integration, will now work well for small businesses with employees.
Better suited for service businesses than retailers because of the lack of an inventory management feature, ZipBooks offers excellent time tracking capability, perfect if you need to bill customers for your time and services.
---
ZipBooks' features
ZipBooks free plan, called the Starter plan, offers a good selection of features, including the ability to connect a single bank account, track unlimited customer and vendor details.
It also allows you to track 1099 expenses, track receipts, and manage sales, expenses, and other bookkeeping and accounting transactions, including accounts receivable.
Their Smarter plan includes additional features such as custom invoice emails, the ability to connect multiple bank accounts, an auto-billing option, and the ability to create automated payment reminders.
At this time, ZipBooks offers an iOS app, but does not have an app for Android devices.
Accounting functionality
ZipBooks offers solid accounting capability, including double-entry accounting. You can link your bank accounts (one in the Starter plan) to the application, eliminating the need to enter a large number of transactions.
ZipBooks includes a default chart of accounts that should be suitable for any small business, with the option to add additional accounts if you need to. ZipBooks also uses auto-categorization, a built-in algorithm that remembers how you categorize your transactions and implements that process automatically, reducing the need to classify each transaction entered.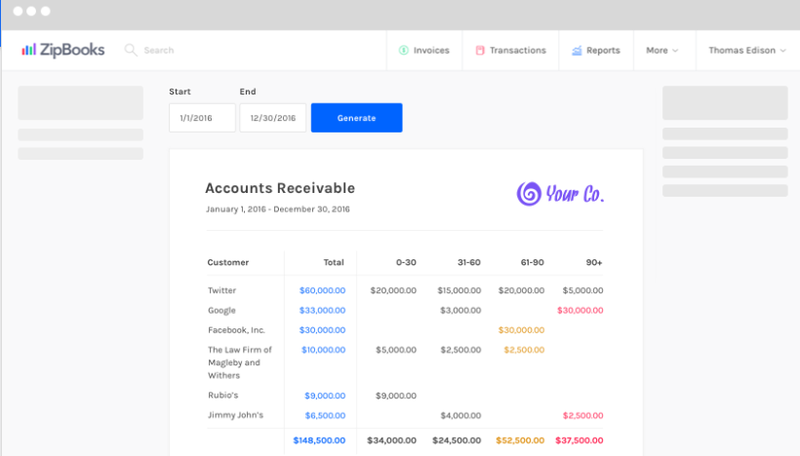 You can easily manage accounts receivable balances in ZipBooks for prompt follow-up on past due accounts. Project management capability is included in the application as well.
Invoicing
If you need assistance in writing invoices, ZipBooks offers excellent invoicing options. You can set up general invoice preferences in the software application, including adding your logo and accent color, the ability to accept credit card and PayPal payments, and the ability to track taxes as payables for easier future payments.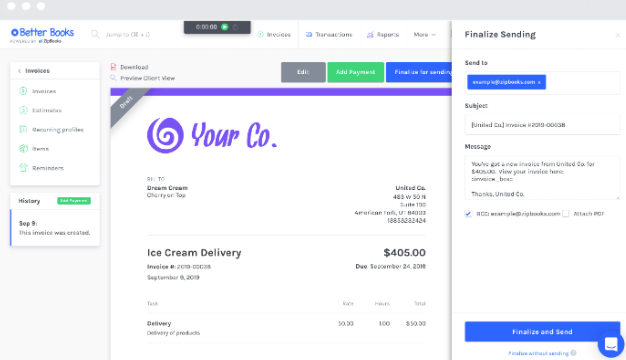 You can further customize invoices by adding a note or message on customer invoices. A default customer email can be created when you set up your invoice preferences, to be used when sending an invoice to a customer.
You can also create an invoice template for all future invoices.
Time tracking
ZipBooks offers excellent time tracking capability, making it ideal for consultants, independent contractors, or anybody that needs to track their time. A timer is conveniently displayed at the top of the user dashboard.
Just click on the green arrow, choose a customer or project, add notes, and begin tracking your time. You can stop and restart the timer as many times as you wish, keeping notes along the way for billing purposes.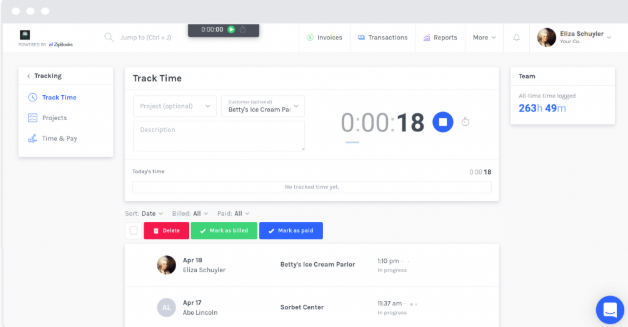 Any time recorded by the timer will show under the time entries option, where you can assign it to a customer or a project.
Reports
ZipBooks offers a good selection of standard reports in a variety of categories including standard financial statements, accounting & tax reports, sales, expenses, and tracking reports.
Reports offer little in the way of customization, and export options are limited to a CSV file, with no option to create a PDF. As an added bonus, ZIpBooks also offers Intelligence reporting, providing you with advanced reporting options.
Other Intelligence features include a Business Health Score, which lets you see how your business is performing financially, an Invoice Quality Score, and a Smart Search function, which makes it easy to locate vendors, customers, invoices, or bills that have been entered in the system.
Vendor and customer management
The contacts option in ZipBooks allows you to track both customers and vendors from the same screen. Once a contact is entered, if they are paid in ZipBooks, they are considered vendors, while if you receive payment from them, they are classified as customers.
If a contact is a vendor, you also have the option to check the 1099 contractor box next to their name, which will track all of their payments, allowing you to send a 1099 at year end.
---
ZipBooks' ease of use
ZipBooks offers intuitive navigation, with a financial performance dashboard displayed at sign-in. Navigating through ZipBooks is easy. Even new users will get the application set up and operational in little time.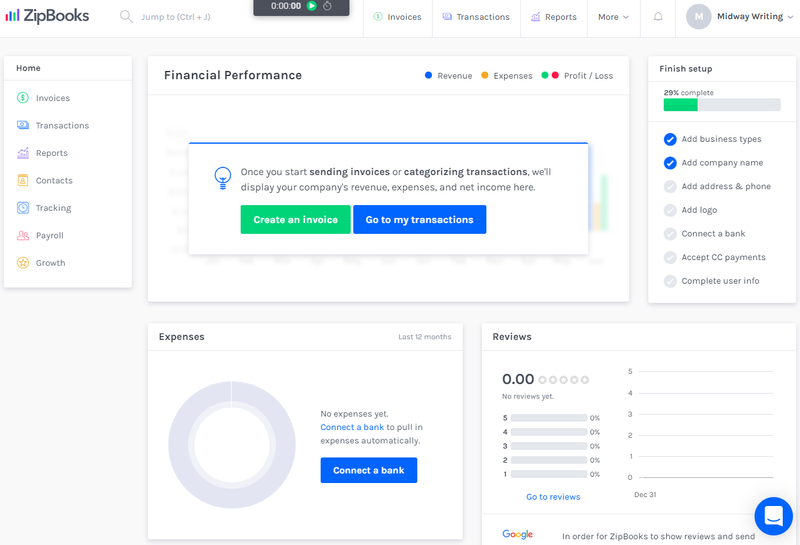 To the left of the navigation screen is a vertical menu bar with access to all system functions including invoices, transactions, reports, contacts, and tracking.
A payroll option through Gusto Payroll is also available for businesses that need to pay employees.
---
ZipBooks' pricing
ZipBooks is a scalable small business accounting application, offering three plans ideal for small business owners, along with an Accountant plan ideal for those handling bookkeeping or accounting for a variety of clients.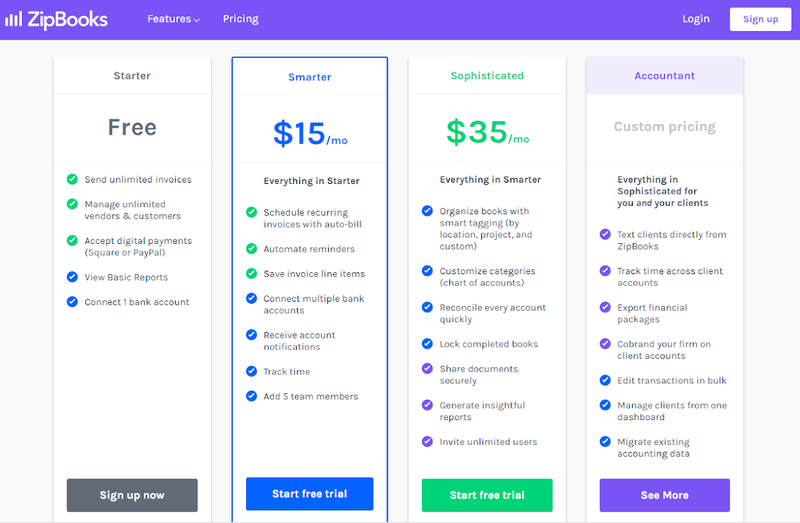 ZipBooks plans include:
Starter: The Starter plan is the ZipBooks free plan, supporting a single user. The Starter plan includes unlimited invoicing, customer and vendor management, connection to a single bank account, and the ability to accept online payments.
Smarter: The Smarter plan supports up to five users, and along with Starter features, also includes recurring invoicing, automated reminders, time tracking, and the ability to connect to multiple bank accounts.
Sophisticated: The Sophisticated plan supports an unlimited number of users, and offers all of the features found in the Starter and Smarter plans. In addition, it offers a custom chart of accounts management, more robust reporting capability, and the ability to share documents.
Accountant: Designed for accounting professionals, the Accountant plan is ideal for those that handle bookkeeping or accounting tasks for a variety of clients.
If you prefer the hands-off approach, ZipBooks can connect your business with a ZipBooks Pro.
They will serve as a personal bookkeeper for your small business. This service runs $125 per month, somewhat steep if you're just starting out.
---
Working with ZipBooks support
ZipBooks only offers chat support, which is available from the ZipBooks website, or from within the application.
A completely searchable knowledge base is also available, but is only accessible from the ZipBooks website, not from within the application itself.
---
Benefits of ZipBooks
One of the biggest benefits of ZipBooks is one of the most obvious ones as well: It's free.
This can be a tremendous benefit for brand new businesses, sole proprietors, and freelancers with limited funds to spend on accounting software. You can connect your bank accounts to ZipBooks for automatic tracking and posting of both income and expenses.
Smaller businesses can start out with the Starter plan and scale up to more features and functions when necessary.
Unfortunately, ZipBooks does not have an app for Android devices at this time, but does offer one for iOS users.
---
Is ZipBooks right for you?
If you're a small business looking for an easy-to-use accounting application with solid accounting capability, ZipBooks is worth a second look. The price is appealing, since even scaling up to a paid version will only cost you a maximum of $35 per month.
ZipBooks is better suited for service and consulting businesses, with its excellent time tracking capability and excellent invoicing and document sharing features.
---
Frequently Asked Questions
Does ZipBooks have a free plan?
Yes, the ZipBooks Starter plan offers a good selection of features, including unlimited invoicing, online payment acceptance, and basic reporting.
Is there a payroll feature in ZipBooks?
While there is not a payroll feature in ZipBooks, it does offer integration with Gusto Payroll.
How many users does ZipBooks support?
While the free Starter plan only supports one user, the Sophisticated plan supports an unlimited number of users.
The Motley Fool has a Disclosure Policy. The Author and/or The Motley Fool may have an interest in companies mentioned.