---
Who is Zoho Books for?
If you're a sole proprietor, freelancer, or just starting out, Zoho Books is made for you. Designed with a long list of comprehensive features, this accounting software works particularly well if you have inventory to manage. The only downside to the application is the lack of integration with a payroll application, which can create additional work for you if you have employees to pay.
---
Zoho Books' features
Zoho Books offers a long list of features in the Professional plan, including inventory, customer and vendor management, estimates, sales orders, invoices, payments received, recurring invoices, recurring expenses, purchase orders, recurring bills, payments made, time tracking, and a client portal.
The following features are available in all three Zoho Books plans:
Automated workflows
Expense tracking
Projects and timesheets
Recurring transactions
Sales approval
Zoho Books includes a dashboard where you can view metrics such as receivables and payables totals, income and expenses for the year, and top expenses, so you can see where your money is going.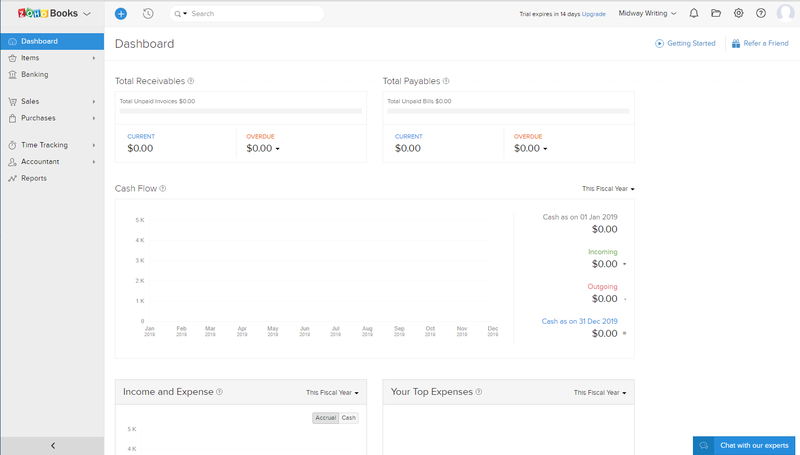 Additional features such as bills, vendor credits, reporting tags, and purchase approvals are available in the Standard plan, and the Professional plan also includes purchase orders, sales orders, inventory, and a client portal.
For those selling online, or who wish to offer their customers online payment options, Zoho Books integrates with a dozen payment gateways as well as ACH payments, giving your customers a lot of ways to pay their bills on time. A mobile app for iOS and Android smartphones is available as well.
Items
Zoho Books includes good inventory management capability, though you can also use it if you sell services instead of products. Items can be tracked in different units of measurement, and you can add both the selling price and the cost price to any item entered into inventory. However, you'll need to remember that once you create a transaction for a product, you cannot turn the inventory tracking feature off.
Banking
You can connect all of your bank accounts and credit cards directly to Zoho Books if you choose. In turn, all transactions will be automatically imported to the application, allowing easy categorization of both income and expense transactions.
Sales
You'll likely spend the majority of your time in the Sales function in Zoho Books, which is chock full of features, including customer tracking, estimates, sales orders, invoices, payments received, recurring invoices, and credit notes.
If you're new to invoicing, check out the "Life cycle of an Invoice" at the bottom of the invoice entry screen.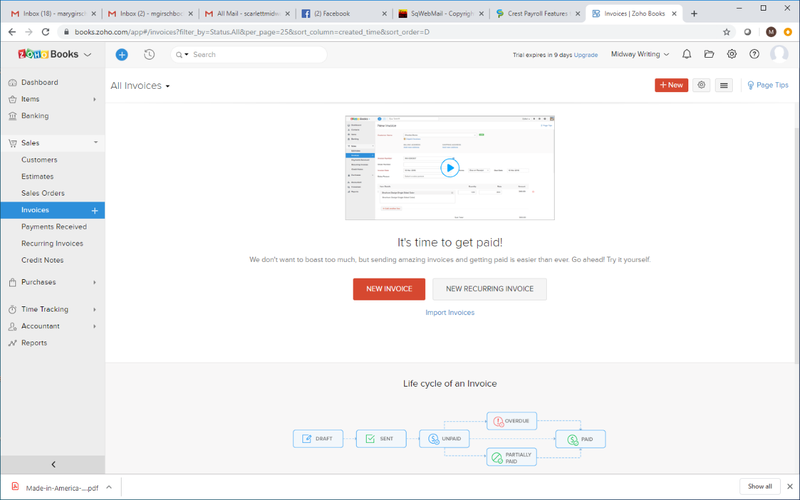 These types of helpful features are found throughout Zoho Books and go a long way toward making you comfortable with the application. You can also create a sales order, which can later be converted to an invoice when you're ready to bill. When your customer pays an invoice, you can record it in the Payments Received function.
Zoho Books also offers excellent customer management, so you can track a lot of details about your customers. You'll also be able to create credit notes for returned products or cancelled orders and issue a refund or add the credit to the customer account.
Purchases
The Purchases function offers a ton of features, including good vendor management and custom fields to track additional details. Payment terms and currency preferences can be assigned to vendors — a great option if you sell your products globally.
Easily enter your expenses in Zoho Books, where you can also record mileage or add expenses in bulk. Purchase orders can be entered and managed in the application, and for bill payment, head over to the Bill option to enter the details, and then return to the Payments Made option when you're ready to pay them. Like invoicing, you can add recurring bills as well, and when you return an item, you can record the vendor issued credit in the Credits option.
Time tracking
The time tracking function in Zoho Books lets you create a project and then access the timesheet feature to track all of the time spent on that project. You can enter time manually, or start the timer to track your time automatically.
Accountant
You or your accountant can set up your chart of accounts, add sub-accounts, and access features such as manual and recurring journal entries in Zoho Books' Accountant feature. If you're comfortable handling accounting transactions, go for it; otherwise, this is the area most likely accessed by your accountant or CPA.
Portals
One of the best features in Zoho Books is the client portal, which lets you share invoices and estimates with your customers. You can decide if you want to share the portal with a client when you're entering their details.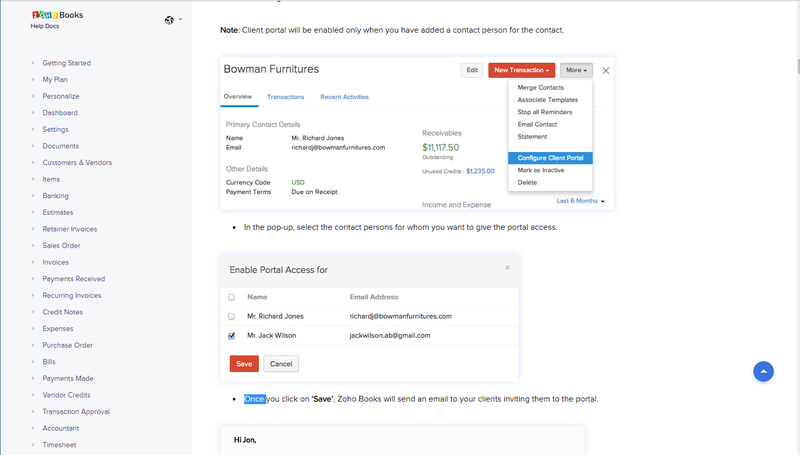 You can enable the portal for each customer contact by sending an email to invite them to share the portal. You can also choose to only share information you upload to the portal, or you can allow customers to upload documents to it as well.
Reports
Zoho Books offers an excellent selection of standard reports in a variety of categories, including:
Business Overview
Receivables
Payables
Sales
Payments Received
Purchases and Expenses
Inventory
Recurring Invoices
Taxes
Project and Timesheets
Activity
Accountant
Currency
Easily customize any of these reports in Zoho Books, and you can also schedule reports to run automatically. All reports can be exported to a CSV format or to Microsoft Excel for further customization. You can also export them to Zoho Sheet if you're using other Zoho applications.
Support
Zoho Books offers terrific help and support options. Don't worry about getting stuck; you can easily contact support via telephone or email during regular business hours. Be sure to take a few minutes to watch the video overview or access the setup webinar to learn how Zoho Books works. You can also click on any of the icons below the video screen to learn more about specific features.
A Migration Guide is available if you're moving to Zoho Books from another application, and a Quick Navigation Guide will help you feel comfortable in the application at record speed. In fact, Zoho Books probably offers the most comprehensive selection of resources for new users that I've ever seen.
If this information isn't enough, there's also a FAQs page as well as additional product videos available to view any time. You can join the Zoho Books user community to ask or answer questions, register for an upcoming webinar, and review the Welcome Guide.
If all of the above isn't enough, you can access help and support from anywhere in Zoho Books by clicking on the Help and Support icon.
---
Benefits of using Zoho Books
If you're a new business owner and new to accounting, Zoho Books is probably one of the best applications for you. There are a ton of resources geared towards the non-accountant.
While Zoho Books is designed to help you to easily keep track of your business finances, it also spends some time explaining why a particular task needs to be done. Scalability is another key benefit, so you can start small and grow into a more advanced plan over time.
---
Zoho Books pricing
Zoho Books offers three plans: Basic, Standard, and Professional.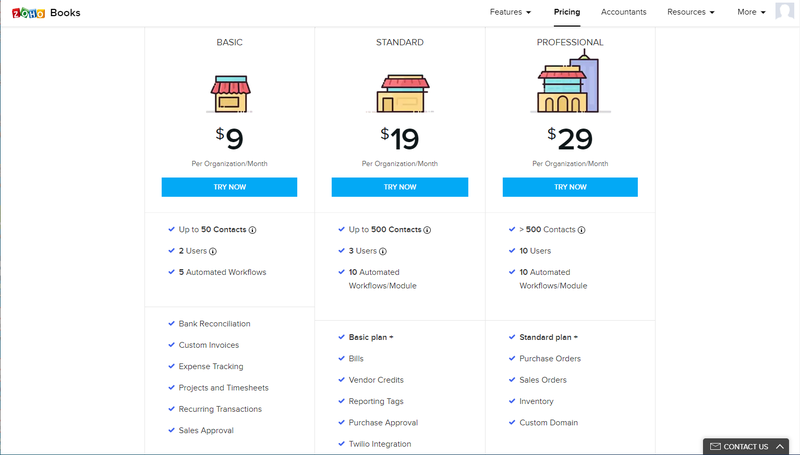 All of the pricing levels are easily affordable for even the tightest budget. You can start at the Basic level and scale up as your business grows, although the Basic plan includes enough features that you can actually use it. For instance, the Basic plan lets you add up to 50 contacts and up to two system users — more than enough for you to start if you're freelancing or just starting out.
I also like that pricing is based on the plan, not the number of users, so even if you move up to the Professional plan, you'll only be paying $29 per month for up to 10 users, a deal compared to comparable pricing levels from QuickBooks Online and Sage 50cloud Accounting.
---
Ease of use
Zoho Books makes it easy to get started. During the initial setup, you'll enter details about your business, including industry and business type. Then you can add tax details, or just connect to Avalara, a good idea, particularly if you sell outside of your home state. Connecting with Avalara also ensures that you'll be taxing your customers at the correct rate.
Next, enable the modules you want to use in your business, with multiple choices available. Finally, you can connect to a variety of online payment apps. Zoho makes it clear that you can go back at any time and change the information you add during setup.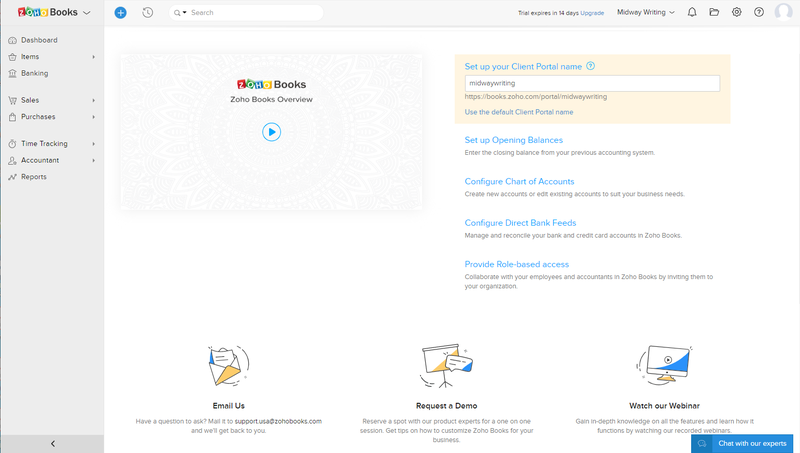 Once you complete your initial setup, Zoho Books will display the getting started screen above, which offers a short video overview and your client portal name, and it gives you options to set up your opening balances and configure your bank feed and chart of accounts.
A vertical navigation bar on the left side the dashboard provides drop-down menu access to all of Zoho Books features, and all data-entry screens are easily navigated, with a brief explanation about the feature you're using, making even novices comfortable.
---
Frequently Asked Questions
What's a portal, and why do I need one?
A portal lets you share information and documents with your customers and, more importantly, makes it easier for them to pay you.
Can I track services in Zoho Books?
Yes. The items feature in Zoho Books lets you track products, services, or both.
Can my accountant access Zoho Books?
Yes. Set them up as a user with Admin rights, and they will be able to access all of the information they need.

If you're jumping into the accounting software pond for the first time, Zoho Books can keep you afloat with three affordably priced plans ideally suited for sole proprietors and freelancers. Get $200 in Zoho Wallet Credits valid for 30 days when you sign-up using a business email. These wallet credits can be used to purchase any Zoho app or edition upgrade. T&C Apply
If you're jumping into the accounting software pond for the first time, Zoho Books can keep you afloat with three affordably priced plans ideally suited for sole proprietors and freelancers.
The Motley Fool has a Disclosure Policy. The Author and/or The Motley Fool may have an interest in companies mentioned.