---
Overview of Zoho CRM
We like Zoho for its intuitive design, ample power, substantial variety of features, and third-party integration capability. Compared to other CRM software, Zoho is an ideal fit for a variety of business sizes, and the various tier options make it fantastic for company growth. There is no shortage of features with Zoho.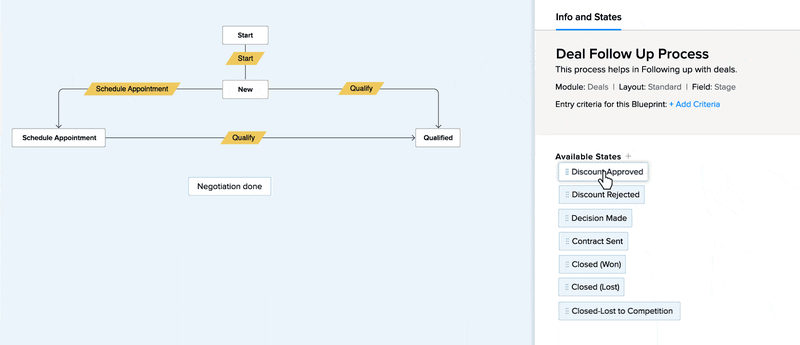 While other CRMs might be slightly more focused on specific areas, such as sales tracking and reports, we like that Zoho stays up-to-date by using options such as social media integration and mobile for Android and iOS.
"With this deep understanding of business requirements, we have crafted dashboards that decision-makers and executives can use out-of-the-box from within Zoho Analytics, a unique analytics solution in the self-service BI market. Now, organizations can leverage AI-powered technologies via Zoho Analytics, to correlate data that traditionally resided in departmental silos, into meaningful metrics that span across business functions. For example, being able to determine the impact of marketing spend on new sales." – Raju Vegesna, Zoho's Chief Evangelist.
Who and what is Zoho CRM?
Zoho CRM is currently a private company (at the time of this writing), headquartered in Chennai, India. Their US headquarters are in Pleasanton, California right now, but are said to be planning a move to Austin, Texas. The majority of Zoho's businesses are companies in the industries of consulting, media, tech, and various real estate businesses needing a CRM. However, their pricing tiers allow use for businesses of virtually all sizes and fields.
Zoho's mission is to help businesses of all sizes "sell smarter, better, and faster" with the help of their cloud-based customer relationship management software. With automation features and customer support, Zoho is able to seamlessly and effectively connect with their customers whether they are in the office or on-the-go. Zoho strives to make doing business easy for every business owner.
---
Who is Zoho CRM for?
Zoho is a decent CRM for most types of businesses. Their pricing is quite competitive, coming in under that of Microsoft CRM and Salesforce. Zoho's capability is still robust even for larger enterprises, though.
They are certainly a good option for small to midsize businesses, but since there are so many features, there's room to grow with Zoho as your business grows as well. The plus? You can always check out the free trial.
With several tiers of plans, ranging from the free option to their Enterprise solution, we found them to be a strong option for virtually any size company. Zoho's array of apps and features all in one suite make them worth investigating for almost any business.
We found Zoho's lead and contact management to be its best primary use. The system also certainly works well for sales pipelines and all sorts of data reporting and analytics as well.
---
What are Zoho CRM's key features?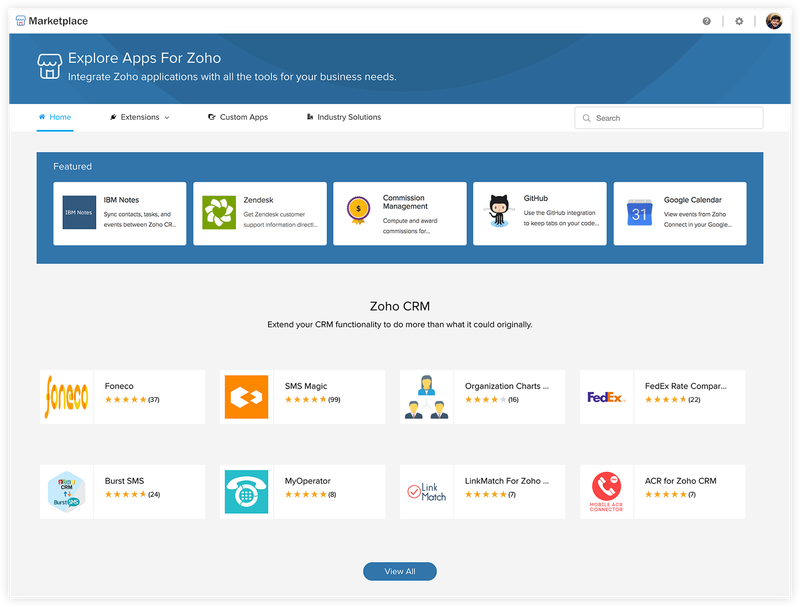 If you've already started browsing CRMs or even tried some trial versions, you might notice that Zoho is practically overflowing with features. You could say this in itself is a benefit of Zoho, especially as you move up in their pricing plans. For a complete list of features in each tier, you can check them out here, but in general, you can expect the following:
Zoho Free
Up to three users
Integration with social media accounts
Sales tasks
Call log and notes
Up to ten email templates
Zoho Standard (same as free, plus)
Calendar sync via CalDAV and Google
Website visitor live tracking
Zoho Professional (same as standard, plus)
Generate leads from social media accounts
CRM for Google AdWords Campaigns
Inventory management
Zoho Enterprise (same as professional, plus)
Business hours customer support
Management of up to 150 of your territories
Custom modules and page layouts
Zoho CRM Plus (same as enterprise, plus)
Campaigns
Zoho reports
Social media integration
Dedicated database cluster
Enhanced storage
Better customization
---
Benefits of using Zoho CRM
Zoho is designed to be a single data area for your company. They've brought their various apps such as surveys, forms, and campaigns together in one place, making them simple to navigate and use.
The user interface on Zoho is fantastic. We found the main page to be clean, user-friendly, intuitive, and generally uncluttered. The mobile apps were also easy to understand.
The home screen currently has ten components with a navigation panel at the top to search for other applications. The screen is customizable to make it more specific for your company or industry. Overall, the system is easy to navigate and user-friendly.
A stand out benefit is the software's potential for third-party integration, especially in this day and age when so many companies utilize programs such as Mailchimp and QuickBooks. You can integrate these as well as other applications such as CloudWork, ConstantConnects, and Google apps.
Potential downsides
Like every CRM, there are things that could be better about Zoho. Some businesses may find Zoho to be limiting while others might think there's just too much to choose from. The upside, if you feel a little overwhelmed, is that the free level is a great starting point and you can always "level up" later on.
---
Zoho CRM pricing
Zoho has a free option for up to 3 users. With the free version, you get the benefit of incorporation with social media accounts, logging of sales tasks, events, call logs, and notes. Additionally, you can save up to 10 email templates with the free version. So, is Zoho CRM really free? In this initial version, yes, it is. You do not need to input your credit card details.
The Standard, Professional and Enterprise versions all allow for a 15-day trial period before charging your card, while the Ultimate Edition offers a 30-day free trial. If you sign up for an annual deal, Zoho Standard starts at $12/user per month. The next pricing tiers are $20/user per month for Zoho Professional and $35/user per month for Zoho Enterprise. The Zoho Ultimate Edition comes in at $45/user per month.
Zoho Standard provides features such as scoring rules, email analytics, workflow conversion, tags and groups, forms, unique fields, customized reports, and dashboards, as well as 100,000 records.
Zoho Professional offers everything in the standard package, plus upgraded features. These include real-time sales notifications, process management, web-to-case forms, macros, inventory management, validation rules, automatic field updates, Google Ads assimilation, webhooks, and unlimited records.
Zoho Enterprise has all the perks of Standard and Professional, along with tools for large companies. Some of the features are conversational AI, email for specifically for salespeople, and visual CRM view.
It also has BI Tools such as a target meter, comparator, anomaly detector, as well as multi-user portals, custom modules and buttons, sub-forms, mobile SDK and app distribution, autoresponders, email parser, conditional fields, and data encryption (EAR).
Finally, the Zoho CRM Ultimate Edition has a dedicated database cluster, advanced customization, automation suggestions, data enrichment, enhanced storage, and email sentiment analysis. The Ultimate Edition offers a 30-day free trial.
---
Zoho CRM ease of use
I'll be honest — Zoho can look a bit old school. Even after recent refreshes, the look and feel of the software always manages to look a bit dated. In terms of functionality and navigating the major features that you need to run the CRM, it's fine. The layout is quite straightforward, and all the features work well, though they can be a bit slow at times when importing large datasets.
It just looks a bit … meh. And while that might come across as a bit of a petulant thing to complain about, you have to remember: this is a bit of software that someone could be using every day, often for hours at a time. It has to look a little bit appealing so that people will want to login. Whether Zoho succeeds with that is up for debate, in my view.
---
Getting started
Setting up Zoho CRM is pretty straightforward. You can select the version you want, get a confirmation link in your email, then set up your company information to customize your profile. You can then either take a virtual tour of the site or skip that and go right to a tutorial on how to migrate what you want into the suite.
To make sure you get the 15-day free trial, click the profile icon in the top right corner of the setup page, click "try other editions" and in the bottom left of the pop-up, click "switch to free version" to get a free trial. You can then customize your CRM to your liking.
After an investigation of Zoho CRM, I am a fan of the software for most businesses or industries. The differently priced packages, combined with up-to-date features, make Zoho worth checking out. Give them a try in the free version or with a 15-day free trial. There's not much to lose. You might find it completely changes the way you work, improving efficiency and workflow.
---
Frequently Asked Questions for Zoho CRM
Among reviewers, the consensus seems to be positive. Zoho tends to rank between four and five stars (out of five) within the professional reviewing community. Among actual business owners, the overwhelming amount of feedback is also optimistic. As one Quora reviewer responded, "[Zoho CRM] is the best software I have come across." This comment was by no means unique. We found the interface simple to navigate, smooth running, and very intuitive.
Zoho makes it easy to keep up with new features or updates on the software. The easy-to-follow timeline on their website posts new functionalities in the suite regularly. As of 2019, several new upgrades were added, such as UI enhancement, Zia Voice for Android, the ability to create surveys within campaigns, the capability to build relationships between multiple reports.
A new feature allowing customers to book meetings with you was added this year, as well as identifying duplicate records, monitoring the finance flow of an event, cloning your Blueprints, and several others.
When you check into the background of Zoho, the reviews of the company itself seem favorable. With over 1,000 reviews on Glassdoor, Zoho has an overall rating of 4.3, and a score of 4.4 on Indeed. On their website, Zoho claims it plans to stay a private company indefinitely. They also hire many high school students and train them through Zoho university, claiming 15% of their engineers come from the program.
One of the more admirable traits of the company is that they state that they purposely keep the cost of marketing low to save the customer money. Zoho also seems to be quite stringent about your privacy and refusing to sell your information or track your clicks.
Does Zoho integrate with Microsoft Outlook?
Yes. Zoho has a Microsoft Outlook plug-in for both Windows and Mac users. You can sync events, contacts, and automate tasks with Outlook via Zoho CRM.

Make faster sales with these extensive automation and integration features. Get started with Zoho CRM today! Get $200 in Zoho Wallet Credits valid for 30 days when you sign-up using a business email. These wallet credits can be used to purchase any Zoho app or edition upgrade. T&C Apply
Make faster sales with these extensive automation and integration features. Get started with Zoho CRM today!
The Motley Fool has a Disclosure Policy. The Author and/or The Motley Fool may have an interest in companies mentioned.