Zoho Office Suite is an excellent alternative to Microsoft or Google programs. The tools are user-friendly and integrate well with other Zoho tools.
If you're searching for an alternative but don't want to sacrifice functionality, go through the Zoho Office Suite review to see how these tools can function for you and your team.
---
Who is Zoho Office Suite for?
Zoho Office Suite is perfect for small teams and freelancers searching for a free office suite. It supplies the basic tools, features an attractive interface, and is free for groups of up to five users.
Small business owners needing spreadsheet, word processor, or slideshow software also use Zoho Office Suite. You can create professional documents, import or export files in various formats, and collaborate in real-time.
However, before selecting from various office suites, consider Zoho Workplace. This software includes the Zoho Office Suite but also comes with email, instant messaging, and video meetings.
Although both suites offer a forever free plan, paid Zoho Workplace plans currently cost less per user per month than paid Zoho Office Suite plans.
---
Zoho Office Suite's features
The Zoho Office suite contains four applications. You can use the web-based programs separately or as part of the all-in-one office suite, Zoho Workplace.
All Zoho plans come with:
Writer: Distraction-free word processor with an AI-powered writing assistant
Sheet: Robust spreadsheet application with AI-capabilities
Show: A slideshow and presentation app featuring interactive design elements
Notebook: A simple note-taking application
Zoho Writer
Zoho Writer is an online word editing and processing program. You can import Microsoft Word documents with few formatting issues or save programs as Word docs. Zoho Writer has an offline mode, giving you access to your most recent 20 documents.
The interface is clean, limits distractions, and offers a dark mode or focus version. The stand-out feature in Zoho Writer is Zia, the AI writing assistant.
Zia adds colored lines to highlight spelling or grammar errors. It also provides a readability analysis.
Like Google Docs or Microsoft Word, you can comment in the application in real-time to collaborate on projects or track changes during the review process.
Zoho Writer integrates with WordPress, making it easy to publish new blog posts quickly. Additionally, it works great for creating contracts. Use a template or design your own, merge it with a form, and use the built-in e-signature tool.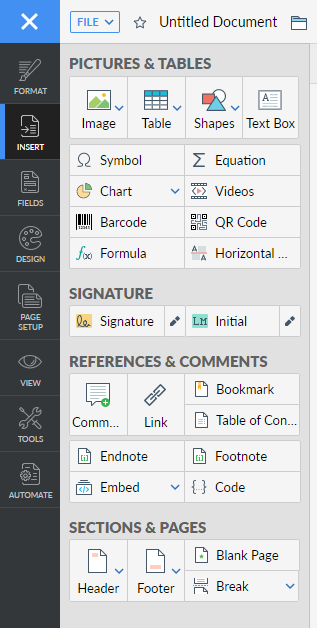 Zoho Sheet
Zoho Sheet is a spreadsheet application that's compatible with Microsoft Excel and offers over 350 predefined functions. It uses the AI tool, Insights by Zia to make it easier to design charts or explore datasets.
Simply ask a question, such as "What are Q1 sales?", and Zia pulls data from your spreadsheet cells to give an answer or recommend a chart. Other neat features include:
A

data-cleaning tool

to find errors and duplicate content
Many chart types, including histogram, Pareto, bubble, and word cloud
Drag-and-drop columns
Integrates with Zoho Forms, Zoho Flow, and Zapier
Can embed partial or entire spreadsheets on a web page
However, Zoho Sheet doesn't offer any prebuilt templates in the application and has only 13 font options.

Zoho Show
Zoho Show provides 30 templates, 36 themes, and over 100 fonts. You can create slideshows and broadcast them on Apple or Android TVs or use Chromecast with Google while using your smartphone as a remote control.
Just like other Zoho tools, you can collaborate in real-time and use "@" mentions to instantly notify team members of your comments.
Zoho Show is compatible with PowerPoint, so you can import or export files with ease. It functions like other presentation software, with various elements and edit points to alter shapes.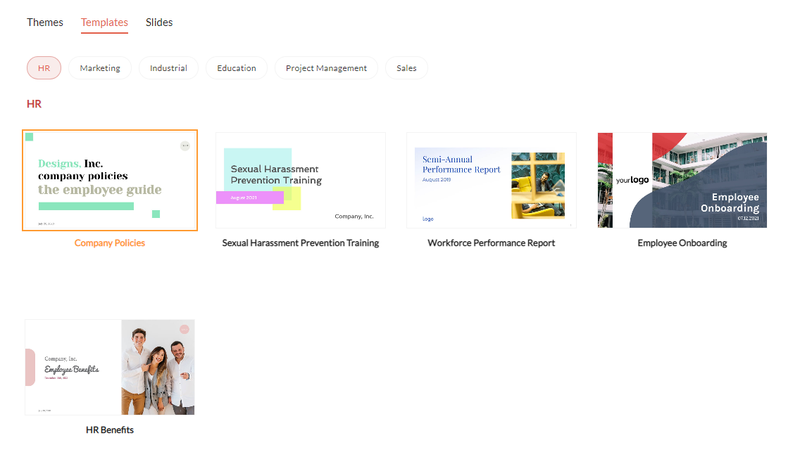 Zoho Notebook
Zoho Notebook is similar to Google Keep or Evernote. You can choose from more than 30 hand-drawn notebook covers or select your own design. The application features seven different types of notes, including:
Text: This card combines functions from all cards into one, so you can type notes, add a checklist, or snap a photo.
Checklist: Add your tasks to a checklist card, drag and drop to prioritize, or check off a completed job to drop it to the bottom.
Audio: Record meetings or conversations from your phone or Apple watch. When using iOS 10 or above, Notebook automatically transcribes your audio into searchable notes.
Sketch: Use an Apple pencil or Samsung S pen stylus to create custom pencil, marker, or pen sketches.
File: Drag your files from your desktop, scan a document, and then place your file into a group to keep your project-related research in one spot.
Smart: A smart card adjusts to your content. Add a video link, and you'll see a video preview on your card. Or add an article, and the headline and main image pop up.
Photo: Scan a document, snap a new photo, or save a web image to Zoho Notebook.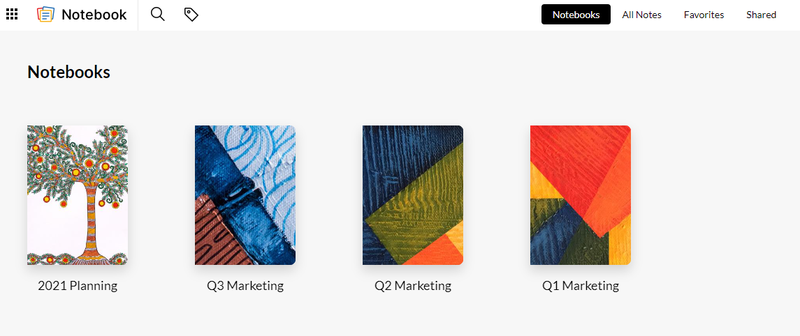 ---
Zoho Office Suite's ease of use
The Zoho Office Suite is designed for distraction-free work. Each application allows for drag and drop functionality, making it easy to personalize your documents or slideshows. Zoho's AI tool is a great assistant, and in word processing documents, it rivals software tools like Grammarly.
Overall, the Zoho Office Suite scores higher usability ratings than the average word processor, spreadsheet, slideshow, and note-keeping applications.
---
Zoho Office Suite's pricing
Many of the Zoho applications are free. Sign-up using your email address or connect to your web domain to get started. Before selecting a paid plan, consider the different types of Zoho packages and how you want to use the service.
Zoho Office Suite
Monthly plan costs are based on month-to-month payments, but you can save extra money by making an annual payment.
The three Zoho Office Suite packages include:
Free: Zoho Office Suite is free to use for up to 5GB of cloud storage, up to 25 file versions, and the ability to upload files of 1GB at a time.
Standard: $5/month per user for up to 100GB of storage, unlimited file versions, group sharing capabilities, and 15GB upload limit.
Premium: $8/month per user for up to 1TB of cloud storage and a 256GB upload limit per file.
However, you can get Zoho Office Suite as part of Zoho Workplace for a lower cost.
Zoho Workplace
Similar to other Zoho plans, you can save about a dollar per month by paying annually. Zoho Workplace gives you access to the Zoho Office Suite as well as extra productivity and collaboration apps.
The Zoho Workplace plans are:
Forever Free plan: There's no cost for up to five users, 5GB storage per user, single domain email hosting, Zoho Cliq, and the free office suite via web access.
Standard: $4/month per user for 5GB of storage and 30GB of email storage. It comes with Zoho Cliq, Notes, Tasks, Calendar, Writer, Sheet, Show, Mail, and WorkDrive.
Professional: $7/month per user for 100GB of cloud storage and 100GB of email storage. This version adds Zoho Connect and Showtime. Plus, get Zoho Meeting for video conferences with up to 100 participants.
Mail-Only plan: $1/month per user for multiple domain email hosting, iOS and Android apps, shared calendar, and offline access.
---
Zoho Office Suite's support
Zoho provides a good-sized knowledge base with how-to articles, tutorials, and on-demand webinars. You can access customer service via email, a toll-free number, or in-app chat.
There's also a customer self-service portal to submit and track help tickets. With all paid plans, Zoho offers 24/7 technical support.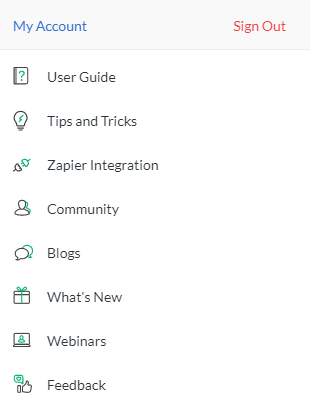 ---
Benefits of Zoho Office Suite
Today's workforce doesn't limit themselves to a desktop computer. Instead, people sign contracts on their smartphones or complete research on a tablet. Cloud computing lets you and your teams work when and where they want.
Using the Zoho Office Suite can save your company money and improve remote collaboration while giving you a secure space to store your files.
Low-cost tools
Per-user subscription costs get expensive when adding your whole team. With Microsoft 365 or Google Workspace, you'll pay $60-$240 per employee per year. However, you can get Zoho Workplace for $48-$84 per employee per year, leading to significant savings.
Cloud-based storage
Keeping track of contracts, spreadsheets, and documents across multiple devices and workplaces is challenging. The free office suite versions give you 5GB of storage per user shareable among your team.
Paid plans offer additional storage for emails and higher cloud storage limits.
Virtual collaboration
Stay connected with teams and increase productivity with Zoho Office Suite. With Zoho, you can interact in real-time. Mention team members, add comments, or invite an external stakeholder by sharing a link.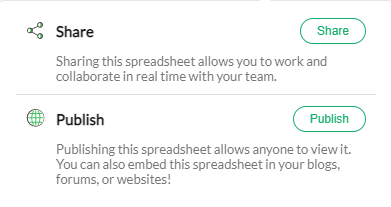 ---
Organize your online workplace
Online office suite software is something that every business owner or freelancer needs. Zoho's tools are easy to use, yet you're not giving up functionality compared to downloadable software. Plus, Zoho offers many other integrated programs, such as Zoho CRM and Zoho Inventory, making it a scalable solution.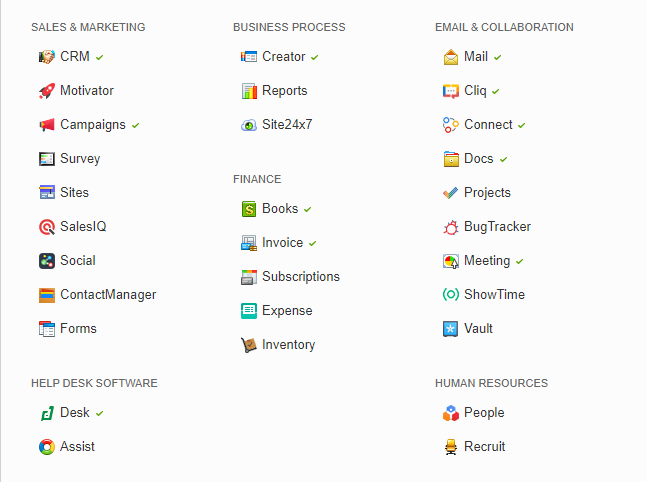 ---
Frequently Asked Questions for Zoho Office Suite
Is Zoho Office Suite free?
Yes, the Zoho Office Suite applications are free to use and include Zoho Writer, Sheet, Show, and Notebook. Zoho also offers several other free tools, such as Zoho Workplace, which adds video meetings, an intranet, and instant messaging.
Is Zoho compatible with Microsoft Office?
Yes, you can import Microsoft Word, Excel, or PowerPoint documents into your Zoho Office Suite applications. Or you can save files with .docx, .xlsx, or .ppt extensions and open them in Microsoft Office software.
Can you share a document with someone outside your company?
Yes, you can add external stakeholders or clients to Zoho Office Suite programs. Click the Share button to invite anyone on your team or outside of your company to collaborate or view content in Zoho Writer, Zoho Sheet, or Zoho Show.

Get started by using the free version of the Zoho Office Suite or take advantage of a 15-day free trial, with no credit card required.
Get started by using the free version of the Zoho Office Suite or take advantage of a 15-day free trial, with no credit card required.