You can always tell when someone puts all of their effort and passion into something they create. When you care about a product you make, it shows in the little details and differences you create that give your creation a niche of its own.
On the flip side, you can also easily tell when something is phoned in.
Unfortunately, when it comes to Zoho Projects, I can't help but feel like this software was created simply because Zoho knew they could. They created an office suite and decided that they wouldn't stop there.
Since then, Zoho has created solutions in all sorts of industries and markets, including: HR, finance, IT, email hosting, marketing, and sales.
My point is, with so many different tools vying for Zoho's attention, it's clear after using Projects that this company either doesn't have the drive or the resources to build this tool into something other than a cursory offering.
---
Who is Zoho Projects for?
This was a tough nut to crack. Who is this software for? The only answer I can come up with that makes any real sense would have to be other Zoho users.
If your organization or team is already invested in the Zoho ecosystem (I'll get into more of that later) then Zoho Projects will fit right into your established office suite.
If this is the case, then Zoho Projects is for anyone looking for a tool that will do any of the project management basics like task creation, issue tracking, or task tracking through Gantt charts.
---
Zoho Projects' features
Zoho Projects offers most of the basic features one would expect from a project management software and nothing more.
In fact, Zoho Project is missing a few features, such as budgeting and invoicing because they've taken that functionality and only made it available through other products like Zoho Books and Zoho Invoice.
Management and planning features
Task prioritization and scheduler: Zoho Projects uses several different forms of task management, including standard task lists, kanban boards, and Gantt timeline charts. Each task has priority settings as well as dependencies to help you decide which tasks you have to complete first.
Time tracking: Zoho Projects includes time tracking for both billing or team management purposes and can be designated as such.
Documentation features
You can store project files in tasks on Zoho Projects using the attachment button.
Zoho Projects also includes a centralized file storage database on the left-hand navigation menu so your entire team will have access to any relevant resources, documents, images, spreadsheets, or PDFs.
Collaboration features
Communication: Each task in Zoho Projects includes a comment section to allow team collaboration and discussion. Each comment section also includes an attachment field for sharing relevant task materials.
File sharing: Sharing files in Zoho Projects is as simple as uploading new files into the comment sections in tasks or uploading files into the centralized storage area on the left-hand menu.
Team dashboards: Everything you need to know about your teams and projects is available on the main dashboard. This dashboard includes task progress, team status, a weekly digest, overdue tasks, and timesheet summaries.
Budgeting features
Zoho Projects is one of many tools created by Zoho, including invoicing and booking software, but these functions do not come with this project management subscription.
---
Zoho Projects' ease of use
It's hard to talk about Zoho Projects without first explaining its parent company. Zoho is an elaborate business suite company that creates software for every aspect of your organization, from event planning to accounting. There are tons of different available tools, including:
Zoho Workplace
Zoho Finance
Zoho IT Management
Zoho Mail
Why is this important? It looks as if Zoho wants to do it all and make as much money as possible while doing it. In fact, Zoho segments some of its crucial features out of Projects and into other Zoho products, kind of like Microsoft Project.
While this is convenient for businesses looking to transition over to Zoho's office suite, this leaves buyers only looking to adopt a new project management platform out in the cold. These buyers either have to buy into other Zoho options or deal with the gaps in functionality.
While Zoho Projects isn't as barebones without the support of its ecosystem like Microsoft Project is (don't get me started on that again), this "do-it-all" approach creates some rough patches for your average user.
Zoho Projects has a fairly simple and streamlined setup process. Once I enter my information on the homepage, I am taken to a setup screen that includes my time zone and the option to select the industry that I work in.
At first, I believed this selection would impact the type of experience I would have with this tool, but after creating a couple of projects, I was disappointed.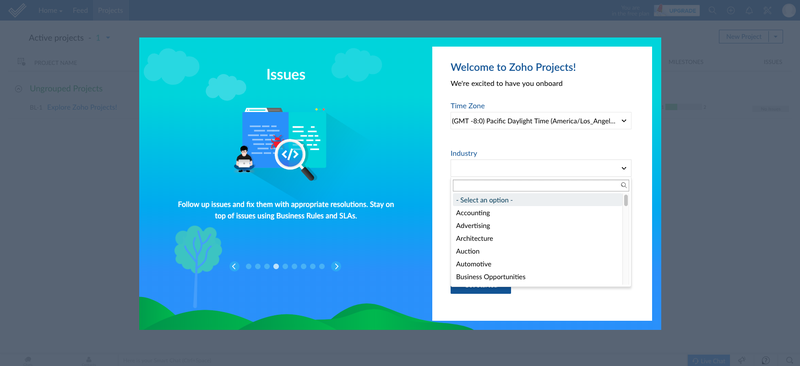 I've grown accustomed to project management software platforms that change their user experience based on the needs of my industry, and it's unfortunate when that isn't the case.
After a while, it becomes apparent that this half-baked entry into project management software is quite lackluster and run-of-the-mill.
As I venture further into this tool, I find myself staring at an exceptionally uninspired user interface. The boring white, blue, and gray palette reminds me of a hospital room.
It has all of the tools I need, but there is nothing very interesting to look at and nothing unique that sets it apart from other rooms. It's what I would expect if I gave an artificial intelligence (AI) system a basic description of what a project management software was supposed to be, and this is what it created.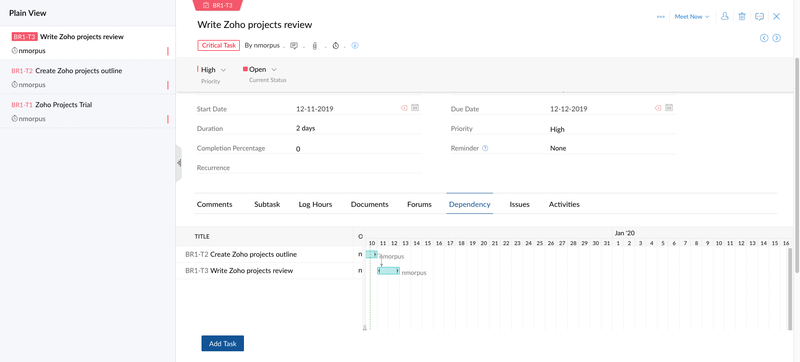 Sure, I can navigate around this software as easily as any other project management tool, probably because it feels like it's trying to be the Sam's Club equivalent of Asana or Mavenlink without any of the interesting features.
There aren't any interesting workload tracking tools or clever ways of setting up tasks. This software does the bare minimum of what any full-stack project management tool ought to do:
Create tasks (add due dates, users, comments, subtasks, dependencies, attachments, etc.)
View those tasks in Gantt timeline charts, calendars, or kanban boards
Upload documents to a centralized database
Create project milestones
View your project on the main dashboard
Track user time
Track issues
It's not that this project management tool is bad, necessarily. It just doesn't do anything to justify its existence, while simultaneously gatekeeping other crucial project functions, such as financial management, which brings me to my next gripe.
My biggest issue with Microsoft Project was the fact that almost every necessary function of project management was dependent on whether or not you used the rest of the Microsoft Office suite.
While Zoho is not nearly as bad as Microsoft Projects in this regard, it does occasionally hide these functions in other programs which you'll have to purchase separately.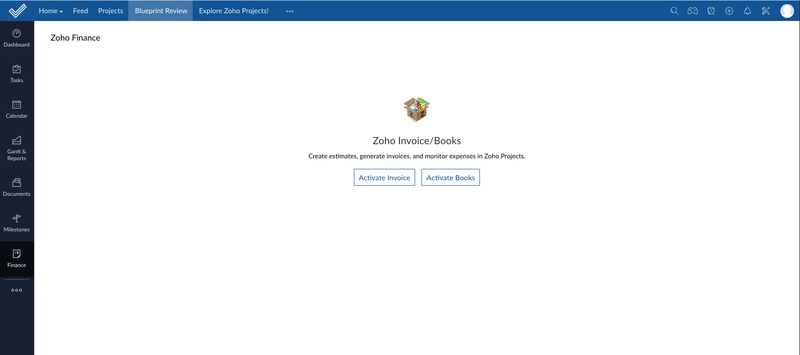 Tracking the finances of some projects is crucial and it's bad enough if your tool doesn't offer these features, but to build that capability and hide it in another tool at additional cost is astounding to me.
I understand if you want to build a dedicated software for budgeting, accounting, and invoicing (which Zoho has done), but the least you can do is offer a project focused version of that functionality into your project management software.
I stand by what I said earlier, Zoho Projects is easy. It's easy to get in bed with this software and realize you have four or five other tools you have to sign up for in order to get everything you need to manage your projects.
Which brings me back to what I said earlier about the "do-it-all" approach. Can any software company really do it all effectively? I criticized Microsoft because they have what any software company would kill to have:
Lots of money
Lots of talent
And a considerable market share in lots of industries
Microsoft is worth $717 billion, so they can afford to dabble in pretty much everything (and it's unfortunate when they put out half-baked products). On the other hand, Sridhar Vembu, who privately owns Zoho, is worth roughly $1.1 billion.
My point is, based on my experience using Zoho Project, this company needs to find a specific market they want to corner and master. In my opinion, this "do everything" mindset, as well as the inherent greediness of hiding key features behind the paywalls of other products, are affecting the quality of their product.
Like I said before, Zoho Projects isn't a bad software option, if you ignore the nonexistent native financial management features. There's just nothing about it that justifies its existence, whether it's the user experience, the features list, or the price.
---
Zoho Projects pricing
Zoho Projects isn't the most expensive project management software I've ever reviewed, but it isn't the cheapest either. They do make the effort to put together a highly customizable pricing system based on the number of users you bring onto the platform, as well as the feature tier you subscribe to.
Zoho Projects' pricing is separated into four tiers:
Free: Up to 5 users, 2 projects, 5 client users, Google Apps integration, activity feeds, calendars, 10MB file attachment limit
Standard: Up to 10 users, 10 projects, 10 client users, 5 project templates, 5GB file attachment limit, time tracking, subtasks, reminders, Google Task Sync, issue tracking, Zoho CRM integration
Express: All previous features, unlimited projects, 15 client users, 10 project templates, 20GB file attachment limit, custom views, recurring tasks, Gantt charts, Zoho Books and Invoice integration (but no subscription)
Premium: All previous features, 20 client users, 20 project templates, 100GB file attachment limit, work planned vs. actual, task dependencies, automation of issue categorization
Enterprise: All previous features, 25 client users, 30 project templates, 120GB file attachment limit, custom fields, custom profiles and roles, custom domain, task dependencies across projects, critical paths
The pricing itself is based on user counts, so I've created this chart to help show some of the variations in price per year when accounting for feature tiers and the number of users:
| | Standard | Express | Premium | Enterprise |
| --- | --- | --- | --- | --- |
| 6 Users | $150 | | | |
| 7 Users | $175 | | | |
| 8 Users | $200 | | | |
| 9 Users | $225 | | | |
| 10 Users | $240 | | | |
| 15 Users | | $480 | | |
| 20 Users | | $600 | $1,020 | |
| 25 Users | | $720 | $1,260 | $1,500 |
| 50 Users | | $1,320 | $2,460 | $3,000 |
| 100 Users | | $2,220 | $3,960 | $5,100 |
| 200 Users | | | $6,360 | $9,300 |
| 300 Users | | | | $13,500 |
| 400 Users | | | | $14,700 |
| 500 Users | | | | $15,900 |
| 1000 Users | | | | $21,900 |
| 2000 Users | | | | $30,900 |
| 3000 Users | | | | $36,900 |
| 4000 Users | | | | $40,500 |
| 5000 Users | | | | $44,100 |
Like I said, not the most expensive, yet not the cheapest. Of course, most project management software options get expensive once you start talking about thousands of users.
---
Working with Zoho Projects' support
Finally a real bright spot for Zoho. Not only do they provide you with an extensive knowledge base, a user guide, webinars, help videos, a blog, an API guide for developers, and a projects community, but they even have a customer service number.
The only problem is their support number isn't easy to find on their website. In fact, I had to Google "Zoho support" in order to find it.
This doesn't give me confidence that Zoho is looking forward to any support calls, but I could be wrong. After some digging, I finally found a few sales team phone numbers by clicking on the tiny "contact" button down at the bottom of their website.
That being said, the vast ocean of support content on their website does, in some part, make up for this issue.
---
Benefits of Zoho Project
This is gonna be a hard one because Zoho Project's biggest benefit is also its greatest weakness.
Zoho does offer a long list of other software options for all kinds of business needs, which makes Projects an extremely versatile tool so long as you have the rest of the suite to back it up.
So, if you are already invested in the Zoho suite, you'll have access to a CRM platform, financing, IT, HR, and other aspects of business management to go along with your project management solution.
In terms of feature benefits, Zoho's bug tracker is decent and runs off of a similar setup as your task management functions.
All of your issues are tracked using an issue list or managed with a kanban board to show your resolution progress. Zoho reports are also quite easy to use, due to their basic setup. Using this reporting function, you can track everything from task completion to timesheets.
As for other benefits, I initially considered pricing as a benefit, but this also came up short. While Zoho Project is relatively affordable, I can't use that as a benefit since there are other project management tools I would recommend over this one at an equal or better price point.
However, if you're looking for a free project management software, you could do worse than Zoho Project.
---
You can do better than Zoho Projects
I'm finding it very hard to find reasons to use this software over its competitors unless you're already invested in the Zoho ecosystem. There are so many other options to choose from that either match or beat Zoho's pricing, such as:
Even when considering their free option, there are other products that surpass Zoho Projects in that category as well, like Freedcamp or Trello.
---
Frequently Asked Questions
Is there a free version of Zoho Projects?
Yes, there is a free option for Zoho Projects. This free option is limited to five users and two projects, so it's best for small teams with simple projects in mind. Additionally, Zoho offers a ten-day free trial upon request for any of the pricing tiers that they offer.
What kinds of teams and projects work best with Zoho Projects?
Zoho Projects is good for teams that already use other solutions from Zoho. The user experience of this software is exceptionally average, making it a decent fit for most projects. However, more experienced project managers will find this product lacking any unique features that set it apart from other software options. It'll help you with your project management plan and track your team progress, but anything more complicated will be a challenge for Zoho Projects.
What kinds of customer support does Zoho offer?
Zoho offers a wide variety of customer support options, such as an extensive knowledge base, a user guide, webinars, help videos, a blog, an API guide for developers, a projects community, and a customer support phone number. No matter what you are working on, Zoho has support content that'll work you through any roadblock.

For teams that want to stay in the Zoho ecosystem, add Zoho Projects to your software suite to add project management functionality. Get $200 in Zoho Wallet Credits valid for 30 days when you sign-up using a business email. These wallet credits can be used to purchase any Zoho app or edition upgrade. T&C Apply
For teams that want to stay in the Zoho ecosystem, add Zoho Projects to your software suite to add project management functionality.
---
How Zoho Project Compares
The Motley Fool has a Disclosure Policy. The Author and/or The Motley Fool may have an interest in companies mentioned.