7 Things to Consider Before Opening a Kids Savings Account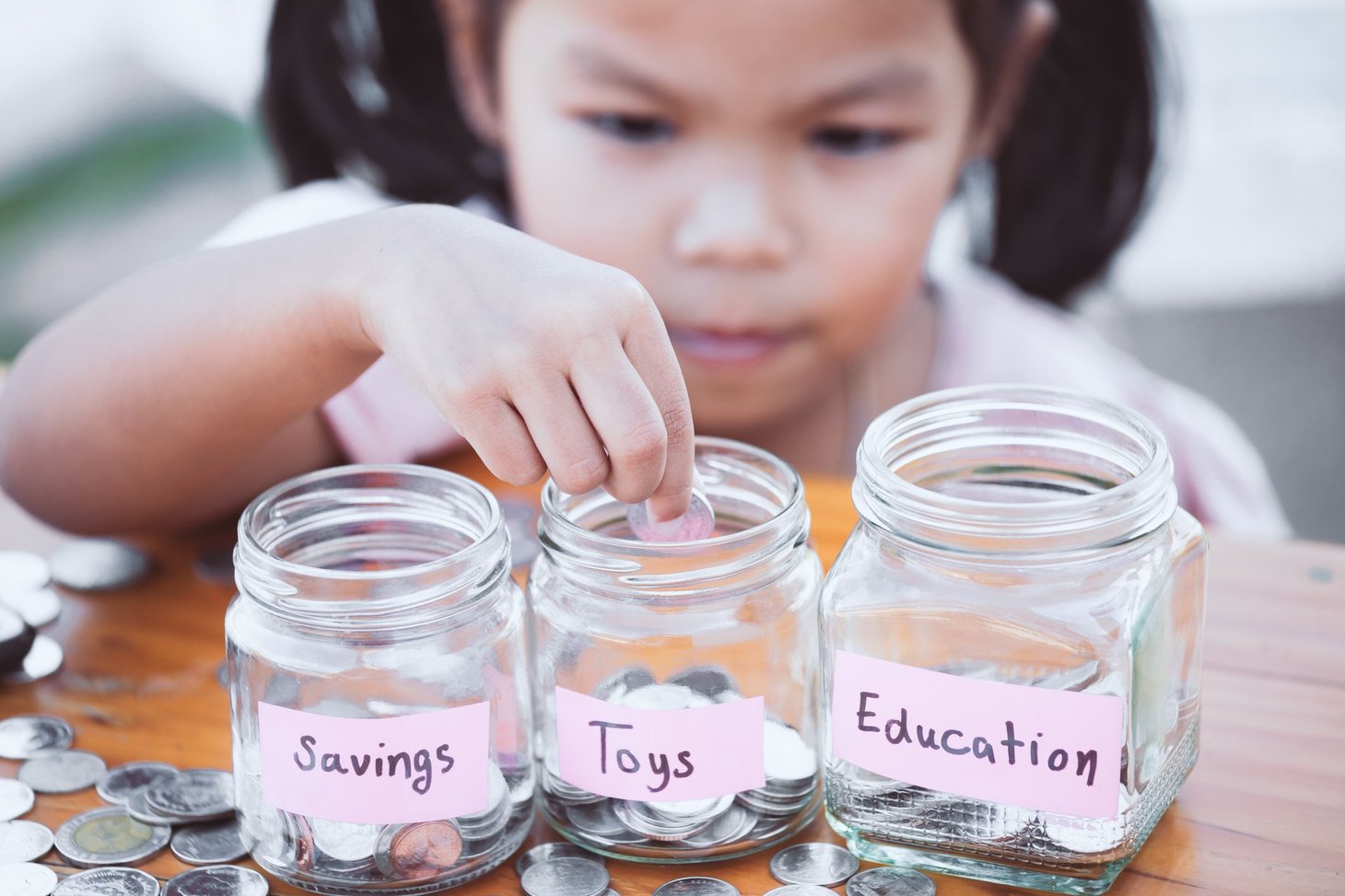 Many or all of the products here are from our partners that compensate us. It's how we make money. But our editorial integrity ensures our experts' opinions aren't influenced by compensation. Terms may apply to offers listed on this page.
A kids savings account can be a great way to teach kids about money.
A kids savings account can be a great way to teach your kids about money.
Whether eating healthy, staying active, or learning to manage household responsibilities, it's clear that healthy habits begin early. Studies show that habits and routines are solidified during childhood at ages as young as 9 years old.
This includes establishing healthy financial habits. Luckily, banks now offer products specifically designed to help children learn solid money habits.
What is a kids savings account?
Kids savings accounts are savings accounts that can be opened at most traditional banks and credit unions on behalf of a child. They must be opened jointly, so both the child and parent or guardian's name is on the account. Many have no minimum age requirement, although as the child ages, they may have to shift their funds to youth, student, and eventually, adult savings accounts. Kids savings accounts often come with waived fees and financial education programs that help teach kids healthy savings habits.
What you need to know before opening a kids savings account
While you might be considering options to help boost your child's financial accountability, here are some things to consider before you rush out to open a kids savings account in their name.
1. You'll have to open the account with them
Banks require someone 18 years or older in order to open a savings account. This means a parent will need to sign on as a joint account holder. This will give you control of the account, but you won't have sole authority of money coming in and out.
2. Both the adult and the kid will have full access to the account
As joint account holders, both the parent and child will have access to withdraw and deposit money whenever they desire. Because many banks do not require an adult to be present when making transactions, the child could potentially drain the account or accumulate overdraft fees from overspending.
3. Ask what happens when the minor becomes an adult
Depending on the account terms, the child may have certain restrictions on how they can use the account that may be lifted when they turn 18. This means the account could be used for careless spending instead of what you had in mind, like college tuition. In addition, kids savings accounts often waive monthly fees that will start applying once they become an adult. Often, the best choice is to close the joint savings account once they hit adulthood and have them open their own independent savings account that fits their needs.
4. Don't open a checking account right off the bat
You may also be considering opening a checking account in your child's name that can be used for occasional spending. This should be reserved for when the child is older and can begin learning responsible spending habits under close supervision.
5. If you're saving for college, consider a tax-advantaged college savings plan
With the rising costs of college tuition, many parents are planning for their children's future by taking advantage of college savings plans. The most common is a 529 college savings plan, which offers tax-deferred earnings and tax-free withdrawals when used on qualified education expenses. Depending on the plan, there may also be additional state tax deductions and credits for contributions -- an immediate benefit to the parent. Long-term savings, like college savings, shouldn't be filtered into a regular savings account because you'll forego compounding interest and numerous tax benefits.
6. Pay attention to account fees, features, and rates
You will want to choose a savings account with the lowest fees and highest interest rates. However, there are a variety of features, such as financial education and good grades rewards programs, that may carry weight when choosing the right savings account for your child.
7. Don't assume your child is too young for a savings account
There's no such thing as "too early" when it comes to teaching good financial habits and preparing for your child's future. If they are old enough to understand what money is and how it works, they are old enough to start playing an active role in saving.
What to look for in a kids savings account
As you shop around, make sure to weigh your options because not all bank accounts are created equal. Here are some features to look for -- and avoid -- in a kids savings account.
No monthly fees -- You should avoid any savings account that charges monthly service fees. While these are sometimes worth paying as an adult for access to a wider range of services, most kids bank accounts waive all monthly fees, so there's no sense in going with an option that costs you. Luckily, the best savings accounts are free. Also, try looking to credit unions for the lowest fees.
Interest-bearing -- Look for a kids savings account that bears interest. Unless you plan on making a large deposit right off the bat, the interest rates probably won't be overly impressive on kids savings accounts. However, it's important to compare and get the best deal on interest so your child's money doesn't lose value over time. You should aim for APYs of 1% or more.
Branch locations -- Online-only banks are great options for adults, but if you're using a kids savings account to teach your child the value of saving money, being able to take them into a branch location might help. Having your kid physically go to the bank in order to deposit and withdraw money is a more memorable experience than simply making transfers online.
Financial education -- Many kids savings accounts come with a free financial education component for your kid. This might include educational pamphlets and books or it might be websites and mobile apps that turn your child's savings into a fun game that teaches them about money. Look for a bank that offers engaging educational programs for kids.
Good grades rewards -- You'll find a number of credit unions and banks that offer rewards programs for kids, youth, and student account holders. These programs typically offer a cash bonus to account holders who get good grades each semester, incentivizing your kid to both achieve in school and save more money.
Is a kids savings account right for you?
Whether or not a kids savings account is right for you depends on your goals. These accounts can be a wonderful option for teaching your child to save early on and giving them a sense of ownership over the money they save.
However, if you're looking for the best returns on your savings, there are better options. For college savings, tax-deferred accounts like a 529 plan are a wise choice. If you're planning on helping your kids save for the long-run, consider investments like bonds, brokerage accounts, or a CD ladder. Even if you're only concerned with short-term savings, a regular high-yield savings account will probably get you higher rates than any kids savings account.
Whichever you choose, getting started early can teach your child valuable lessons in ownership and responsibility while also giving them a head start financially.
These savings accounts are FDIC insured and could earn you 13x your bank
Many people are missing out on guaranteed returns as their money languishes in a big bank savings account earning next to no interest. Our picks of the best online savings accounts can earn you 13x the national average savings account rate. Click here to uncover the best-in-class picks that landed a spot on our shortlist of the best savings accounts for 2023.
Two of our top online savings account picks:
Advertisement

LendingClub High-Yield Savings

Discover Online Savings

Member FDIC.

Member FDIC.

5.00 stars

Our ratings are based on a 5 star scale. 5 stars equals Best. 4 stars equals Excellent. 3 stars equals Good. 2 stars equals Fair. 1 star equals Poor.

We want your money to work harder for you. Which is why our ratings are biased toward offers that deliver versatility while cutting out-of-pocket costs.
= Best
= Excellent
= Good
= Fair
= Poor


5.00 stars

Our ratings are based on a 5 star scale. 5 stars equals Best. 4 stars equals Excellent. 3 stars equals Good. 2 stars equals Fair. 1 star equals Poor.

We want your money to work harder for you. Which is why our ratings are biased toward offers that deliver versatility while cutting out-of-pocket costs.
= Best
= Excellent
= Good
= Fair
= Poor


APY: 4.25%

APY: 3.60%

Min. to earn APY: $0

Min. to earn APY: $0
We're firm believers in the Golden Rule, which is why editorial opinions are ours alone and have not been previously reviewed, approved, or endorsed by included advertisers. The Ascent does not cover all offers on the market. Editorial content from The Ascent is separate from The Motley Fool editorial content and is created by a different analyst team.