3 Reasons to Interview Potential Real Estate Agents
by Dana George | Updated July 19, 2021 - First published on March 31, 2021
Many or all of the products here are from our partners that pay us a commission. It's how we make money. But our editorial integrity ensures our experts' opinions aren't influenced by compensation. Terms may apply to offers listed on this page.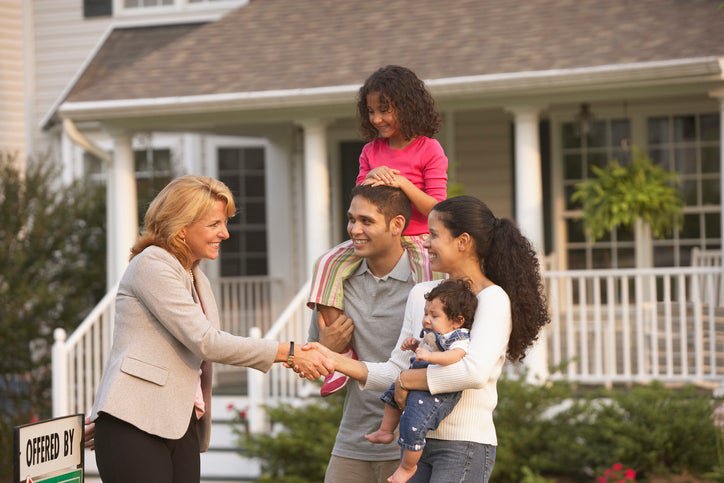 Not all real estate agents work the same way. Here's why to interview several before committing to one.
My husband and I have toyed with the idea of moving closer to family, although we may wait until the market cools down a bit. When we do sell, it means getting the house ready to show, hiring a real estate agent, and fighting hordes of buyers in another city to snag a home we like. We've moved a ton of times throughout our marriage, and can stage a house with the best of them. What's tricky for us right now is finding agents we want to work with.
Back in the day, we would work with the first person who blew smoke our way, telling us what we wanted to hear. Or we'd go with a "friend of a friend," sure that one agent was as good as the next. It turns out that's not true. When you're buying or selling something as valuable as a home, it's essential to work with an agent who has your back.
Here are three important reasons to interview potential agents before committing to one.
1. They act as your voice
We've sold a couple of homes ourselves, and honestly, it's hard work. You're responsible for everything, from advertising to showings and contracts. And when you sell your own place, all negotiations go through you. If a potential buyer tosses you a lowball offer, you must determine how to deal with it. When a buyer asks you to replace carpeting or leave all the equipment in your home gym, you're the one put on the spot.
I love having a real estate agent, because they get down in the trenches and negotiate on your behalf. When we're selling a home, that means they say no to the bold (sometimes almost insulting) requests some buyers make. When we're buying, the agent makes requests on our behalf. They represent us.
We interviewed a potential real estate agent a few months ago. He'd just sold our neighbors' place, and they adored working with him. Masks on, we sat around the dining room table as we discussed our area's housing market. I'm the point person for our home finances, but if I asked a question, he turned to my husband to answer. If the agent had a question, he directed it to my husband.
It may not surprise you that we gave that agent a hard pass. Not because he acted as though I was invisible, but because we realized he might ruffle feathers if he dealt with a female agent. If we're hiring an agent to be our voice, I want to know that agent can work with anyone -- male or female; gay or straight; black, white, or brown.
2. They act as your guide
The internet has changed the way people house-hunt. For example, millennials are more likely than older generations to house-hunt online. Agents I've interviewed tell me their younger buyers also prefer texts to phone calls, and e-signing documents to meeting around a kitchen table.
We once hired an agent to help us purchase a home in a city we did not know. He was young, friendly, and not interested in helping us navigate our new city. We did everything, from finding homes to tour to learning about crime rates, schools, and nearby coffee shops. Taking out a mortgage on a home we weren't sure about was nerve-wracking. A month in, we were exhausted. My husband and I worked full-time at our regular jobs, plus working full-time to find a house. This guy might have been a perfect fit for a buyer who wanted a "hands-off" agent, but that was not us. We needed a bit more hand-holding.
When we interview agents today, we ask them about their style. Do they make calls, or do they prefer texts? Will they actively look for homes that fit our criteria, or do they expect us to do that?
After getting to know what you want, a great agent acts as your guide, helping you locate the property that fits your wish list, and steering you away from properties that are not in your best interest.
3. They act as your advocate
Our most recent home purchase became contentious, but it didn't matter because we worked with a pair of outstanding agents who did not allow the situation to touch us. Our agents were a married couple who knew the area like the backs of their hands, and took their role as advocates seriously. The couple selling the property was divorcing, and got stressed when the house did not appraise at the asking price. Their agent suggested we pay over the asking price because the couple "really needed the money."
Our agents did everything right. As our voice, they represented us well, treating everyone with respect while remaining firm. As our guides, they helped keep us calm by suggesting several other neighborhoods they were sure we would like if this sale fell through. And as our advocates, they dealt with the emotionally wrought sellers and their agent.
You won't learn everything about an agent during an interview, but you can get a sense of the agent's style. You can also ask about what's important to you. For example, if you have children, you may want an agent who knows all about the area's schools, kids' activities, and enrichment classes. If you're a senior, you might want someone who understands concepts like "aging in place."
Buying or selling a home is a big deal. Take the time to interview at least three agents before deciding on one. It may just mean the difference between unnecessary stress and a pleasant home-buying or -selling experience.
The Ascent's Best Mortgage Lender of 2022
Mortgage rates are on the rise — and fast. But they're still relatively low by historical standards. So, if you want to take advantage of rates before they climb too high, you'll want to find a lender who can help you secure the best rate possible.
That is where Better Mortgage comes in.
You can get pre-approved in as little as 3 minutes, with no hard credit check, and lock your rate at any time. Another plus? They don't charge origination or lender fees (which can be as high as 2% of the loan amount for some lenders).
We're firm believers in the Golden Rule, which is why editorial opinions are ours alone and have not been previously reviewed, approved, or endorsed by included advertisers. The Ascent does not cover all offers on the market. Editorial content from The Ascent is separate from The Motley Fool editorial content and is created by a different analyst team.