The 6 Best Ways to Measure Your Financial Health
by Lyle Daly | Updated July 17, 2021 - First published on Oct. 18, 2019
Many or all of the products here are from our partners that pay us a commission. It's how we make money. But our editorial integrity ensures our experts' opinions aren't influenced by compensation. Terms may apply to offers listed on this page.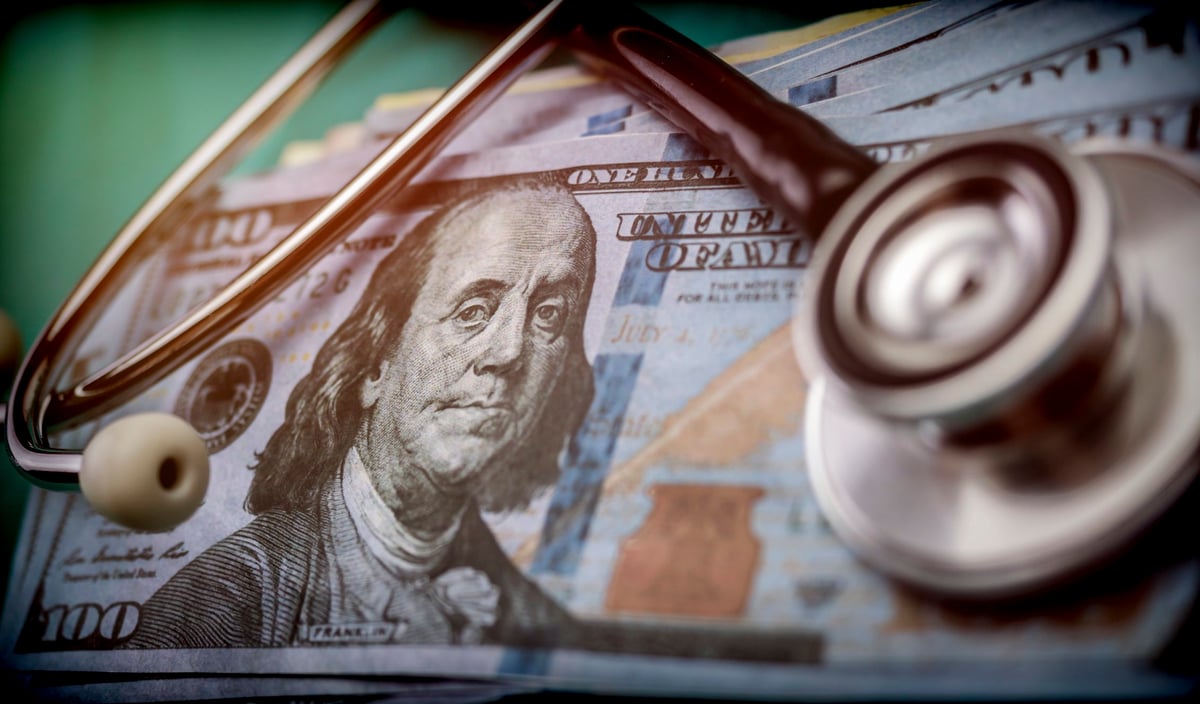 These are the numbers that tell you the most about your finances.
When you've been working out financially and putting good money habits into practice, it's normal to want to measure how well you're doing. Just like you'd track your progress at work or at the gym, you'll also want to see that you're making improvements financially.
The challenge is to know which methods can accurately measure your financial health. After all, many of the markers we associate with success don't necessarily signify that a person is doing well with money. A high salary matters little if you're spending every penny, and a luxurious house doesn't mean much if you can barely pay your bills.
But if you know which metrics to check and how to use them, you'll get a clear picture of your financial situation.
1. Net worth
Your net worth is the value of all your assets minus all your liabilities. For example, let's say that you have $20,000 in your bank accounts, $50,000 in your retirement fund, and a $200,000 house. You owe $30,000 in loans and $150,000 on your mortgage. You'd have a net worth of $90,000.
This is one of my favorite financial items to track, because it's easy to understand and use. When your net worth goes up, that's a good sign. When it goes down, that's cause for concern.
Net worth does have a blind spot in that it doesn't account for the type of assets you hold. If you imagine you're 50 with a net worth of $1 million, you might think you are doing well. But if that includes an $800,000 home and a $100,000 car, it may be deceptive. You have 10% of your net worth in a car that will likely depreciate and you're way off track with your retirement savings.
2. Savings rate
The portion of your income that you save every month is your savings rate. If your monthly income is $4,000 and you save $1,000 of it, then you have a 25% savings rate. You can calculate this either using your gross or net income, but using your gross income may be simpler if you have pretax deductions, such as 401(k) contributions.
A common recommendation is to save at least 20% of your income. Of course, if you can save more, that's even better.
The one thing to remember is that you don't want to ruin your quality of life in pursuit of the highest-possible savings rate. Some consumers, especially those who want to retire early, have made themselves miserable trying to save well over 50% of their income. Instead, find a balance with a responsible savings rate that also allows you to enjoy yourself in the present.
3. Debt-to-income ratio
To get your debt-to-income (DTI) ratio, you take all your monthly debt payments and divide them by your gross income. This is a metric that lenders will usually check whenever you apply for a loan or line of credit. A rule of thumb is that your debt is manageable if your DTI ratio is 30% or under.
There are a couple extra considerations to keep in mind when you look at your DTI ratio:
Your types of debt matter. A DTI ratio of 25% is excellent if it includes your mortgage, but it's poor if it's entirely made up of credit card debt.
Although DTI ratio uses your monthly payment amounts, the total amount of each debt is also important. Debts with low monthly payments can end up costing you because of the amount of interest they accrue.


4. Credit score
Your credit score is a rating by the national credit agencies of your creditworthiness, and unlike the rest of the items on this list, it's not something you can calculate yourself. In fact, you have quite a few different credit scores under two different scoring systems -- FICO and VantageScore. Of the two systems, the FICO® Score is the most widely used by lenders.
Fortunately, there are plenty of free credit score tools online to check both your FICO® Score and your VantageScore. When you check your score, you'll also see what range it falls under. The standard ranges are bad, fair, good, and excellent.
A credit score is far from a perfect gauge of your financial health, but it does demonstrate how well you're using credit. And since it will be checked for any credit card or loan application you make, it's worth keeping an eye on.
5. Retirement fund
Your retirement fund is a good indicator of how prepared you are for the future. There are two popular ways to measure your progress here.
The first is to use a retirement calculator. You plug in some information about your financial situation, including your age, income, and desired retirement age, and the calculator determines how much you'll need to save, both in total and per month, to retire on time.
The second is to simply compare your current retirement savings to how much you should have saved at each age. Recommendations like these are typically multiples of your income instead of fixed dollar amounts. For example, many experts recommend having one year's salary saved for retirement by the time you're 30 to 35.
6. Income
Income isn't everything, but it certainly has a major impact on your quality of life. What you should look at with your income is whether it has been growing each year by at least 3% to 5% (any less will barely keep up with inflation).
While there may be some down or stagnant years depending on life circumstances, for the most part, you should be making more money as you gain more skills and experience.
Putting it all together
To get the most accurate idea of your financial health, you'll need to combine the metrics on this list. There's no single number that can tell you everything, but when you put multiple measurements together, you'll see where you're doing well and where you can improve.
These savings accounts are FDIC insured and could earn you more than 16x your bank
Many people are missing out on guaranteed returns as their money languishes in a big bank savings account earning next to no interest. Our picks of the best online savings accounts can earn you more than 16x the national average savings account rate. Click here to uncover the best-in-class picks that landed a spot on our shortlist of the best savings accounts for 2022.
Two top online savings account picks
Advertisement

CIT Savings Connect

American Express® High Yield Savings

Member, FDIC

Member, FDIC

4.50 stars

Our ratings are based on a 5 star scale. 5 stars equals Best. 4 stars equals Excellent. 3 stars equals Good. 2 stars equals Fair. 1 star equals Poor.

We want your money to work harder for you. Which is why our ratings are biased toward offers that deliver versatility while cutting out-of-pocket costs.
= Best
= Excellent
= Good
= Fair
= Poor


4.00 stars

Our ratings are based on a 5 star scale. 5 stars equals Best. 4 stars equals Excellent. 3 stars equals Good. 2 stars equals Fair. 1 star equals Poor.

We want your money to work harder for you. Which is why our ratings are biased toward offers that deliver versatility while cutting out-of-pocket costs.
= Best
= Excellent
= Good
= Fair
= Poor


APY: 3.60%

APY: 3.00%

Best For: —

Best For: —

Min. to earn APY: $100

Min. to earn APY: $1
We're firm believers in the Golden Rule, which is why editorial opinions are ours alone and have not been previously reviewed, approved, or endorsed by included advertisers. The Ascent does not cover all offers on the market. Editorial content from The Ascent is separate from The Motley Fool editorial content and is created by a different analyst team.