Your Step-by-Step Financial Plan for Moving Away From Home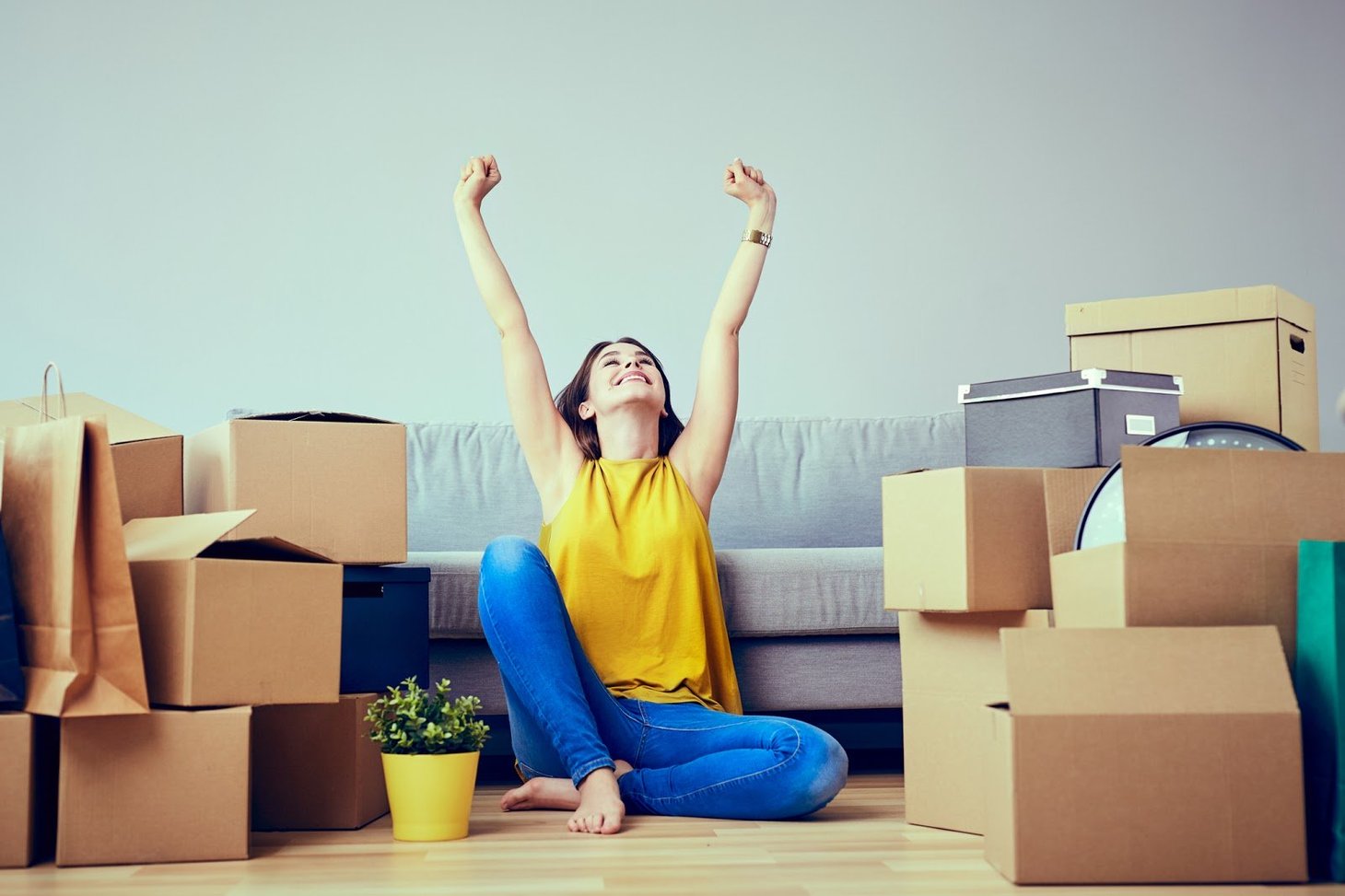 Many or all of the products here are from our partners that compensate us. It's how we make money. But our editorial integrity ensures our experts' opinions aren't influenced by compensation. Terms may apply to offers listed on this page.
Decided it's time to move out on your own? A solid financial plan will start your life off on the right foot.Image source: Getty Images.
It's equal parts exciting and scary when you decide to move away from home for the first time. On the one hand, you'll have as much freedom and independence as you want. But with those perks comes much more responsibility than you had living with Mom and Dad, especially when it comes to your finances.
Young adults often get sticker shock once they discover just how much it costs to live on their own. If you're not careful, you could find yourself struggling to make ends meet or even moving back home. That's why you need to get your finances in order before you make your move.
Find a reliable source of income
Moving out means more bills, so stable income is a must.
Ideally you'll have a full-time job where you're working at least 30 to 40 hours per week. That being said, the gig economy has exploded in popularity, and there are more people than ever working as independent contractors without a set schedule.
Whether you're an employee or an independent contractor, go over what you've earned for the last three to six months to calculate your average monthly income. This will help you when you make a budget later.
If you don't have at least three months of experience with what you're currently doing, then you should wait until you do before you think about moving out. It's important to make sure your income is stable and that you'll be able to do this work for the long haul.
Build your savings
People often underestimate how much money they should have before they move out. Here's what you'll need to have saved in your bank account:
Rent -- You'll need at least the first month's rent, and some landlords also charge the last month's rent upfront, although there are plenty that don't do this anymore.
A security deposit -- Deposits are often equal to one month's rent, but they can be much more. Your credit score can affect how much the landlord charges you for a deposit, but if a parent is willing to cosign on an apartment application for you, then that could help you get the lowest possible deposit.
Moving costs -- These will depend on how far you're moving, how much property you have to move, and whether you want to hire professional movers or do it on your own. You could spend under $50 for a same-city move that doesn't require professional movers, or costs could be well over $1,000 for longer moves.
An emergency fund -- The standard recommendation is that you have three to six months' worth of living expenses saved. Even if you can't save that much before you move, you should make sure you have at least $1,000 in case of an emergency, such as a medical problem or mechanical issues with your car.
Let's say that you're going to rent a one-bedroom apartment for $1,000 per month. If the deposit is equal to the rent, then you'll need $2,000 saved just to move in, plus your moving costs.
Since you should also have money remaining for an emergency fund, you're looking at a minimum of $3,000. That's just a minimum, and it could easily cost you more if you have a more expensive move or deposit.
Calculate how much rent you can afford
Before you start apartment hunting, you'll need to have a price range in mind. The most common recommendation here is that you spend no more than 30% of your gross (before taxes) income on rent. So if your gross income is $2,500, then your limit on rent would be $750.
If you're moving to an area with a high cost of living, then you may find that there aren't many, if any, desirable apartments in your price range. In that case, you can cut costs by living with roommates.
It's usually best to live with someone you know, if possible, but that isn't always an option. If it's not, you can look for room rental listings or roommate wanted ads online. Just be prepared to spend some time shopping around so that you can find the right living situation.
Put together a budget
The final step to ensure that you're ready for this move is to make a budget. This is where you list all of your projected monthly expenses and see how much of your income you'll be spending on these expenses. While expenses vary depending on your lifestyle, here are some of the most common:
Rent
Food
Toiletries
Utilities
Transportation
Insurance
Entertainment
With fixed expenses, such as your cell phone bill or your health insurance, you can just plug in the exact amount. However, given that it's going to be your first time on your own and there will be bills you haven't paid before, you'll also have areas where you need to use projected expenses. These are your predictions for what that expense will cost you per month, on average.
Wondering how you can come up with these projections? You'll need to ask around and do some research. Your parents can likely help you estimate quite a few of your expenses, and you can fill in the gaps by searching online for what other people pay in the area where you plan to move.
Once you have your budget, you should verify that you can afford all your bills with plenty of wiggle room. A popular recommendation is that all of your expenses after rent should be no more than 50% of your gross income and that you put away 20% of what you make every month in your savings.
Not everyone is able to manage that starting out, but if you're going to be spending more than 70% of your income on living expenses, then it's a good idea to either wait to move out or to find a cheaper living arrangement.
Making your move into adulthood
No matter how much you prepare for it, moving out on your own is a big change in anyone's life. Still, if you follow a sound financial plan leading up to your move, you'll avoid a lot of stress later.
These savings accounts are FDIC insured and could earn you 12x your bank
Many people are missing out on guaranteed returns as their money languishes in a big bank savings account earning next to no interest. Our picks of the best online savings accounts can earn you 12x the national average savings account rate. Click here to uncover the best-in-class picks that landed a spot on our shortlist of the best savings accounts for 2023.
Two of our top online savings account picks:
Advertisement

LendingClub High-Yield Savings

CIT Savings Connect

Member FDIC.

Member FDIC.

5.00 stars

Our ratings are based on a 5 star scale. 5 stars equals Best. 4 stars equals Excellent. 3 stars equals Good. 2 stars equals Fair. 1 star equals Poor.

We want your money to work harder for you. Which is why our ratings are biased toward offers that deliver versatility while cutting out-of-pocket costs.
= Best
= Excellent
= Good
= Fair
= Poor


4.00 stars

Our ratings are based on a 5 star scale. 5 stars equals Best. 4 stars equals Excellent. 3 stars equals Good. 2 stars equals Fair. 1 star equals Poor.

We want your money to work harder for you. Which is why our ratings are biased toward offers that deliver versatility while cutting out-of-pocket costs.
= Best
= Excellent
= Good
= Fair
= Poor


APY: 4.25%

APY: 4.60%

Min. to earn APY: $0

Min. to earn APY: $100
We're firm believers in the Golden Rule, which is why editorial opinions are ours alone and have not been previously reviewed, approved, or endorsed by included advertisers. The Ascent does not cover all offers on the market. Editorial content from The Ascent is separate from The Motley Fool editorial content and is created by a different analyst team.
Discover Financial Services is an advertising partner of The Ascent, a Motley Fool company.
Lyle Daly
has no position in any of the stocks mentioned. The Motley Fool recommends Discover Financial Services. The Motley Fool has a
disclosure policy
.