Don't Be Fooled by This Fancy Travel Card Perk
Airport lounge access sounds fantastic in theory, but in practice it often leaves much to be desired.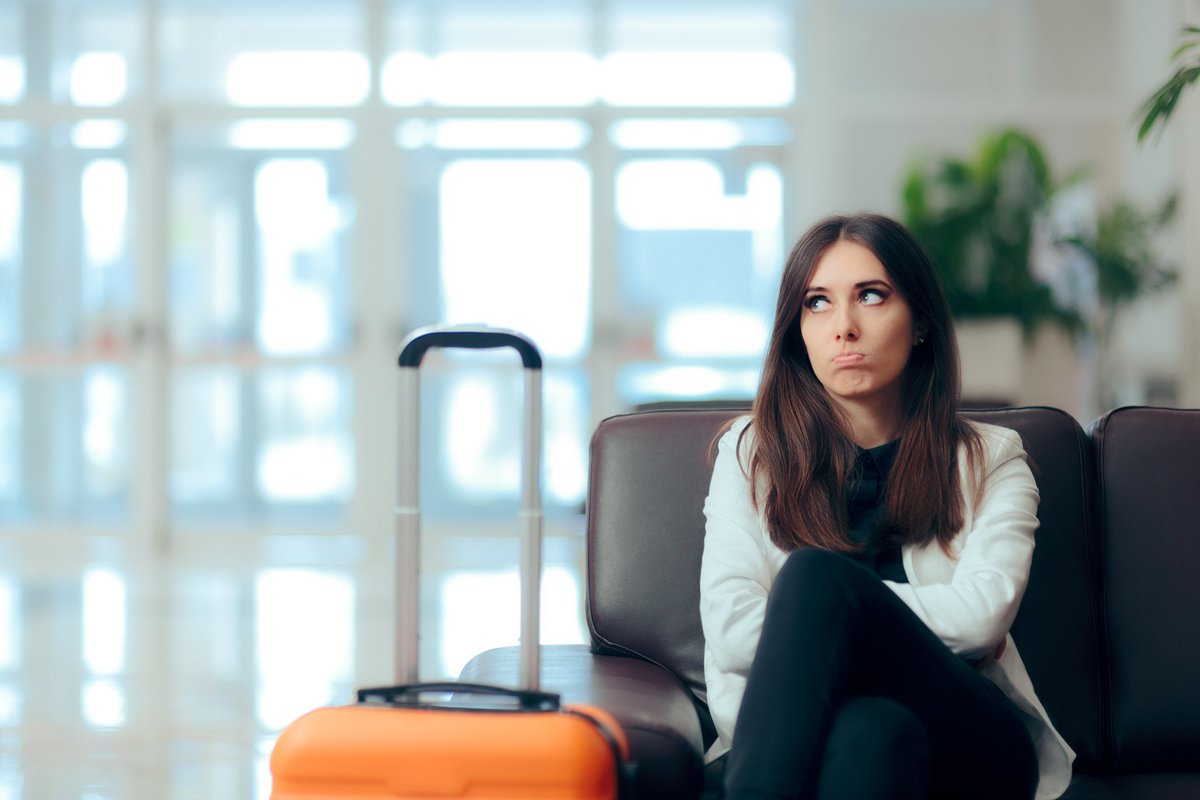 If you've spent any time sifting through the best credit cards for a travel card recently, one perk that may have caught your eye is complimentary airport lounge access.
The more high-end airline credit cards typically include a membership in that airline's lounge program, and cards that aren't tied to a particular airline may include access to a collection of lounges, such as those in the Priority Pass program.
Lounge access sounds like an incredible feature, conjuring visions of an ultra-luxurious travel experience complete with free champagne and plush furniture to recline in until your flight boards. But unfortunately, there are a few drawbacks that keep this perk from living up to the hype.
Many airports won't have your lounge of choice
To take advantage of airport lounge access, you need to be departing from an airport that not only has airport lounges, but has the specific airport lounges you can access. That can be very hit or miss.
American Airlines Admirals Club, Delta Sky Club, and United Club all have about 50 to 60 locations worldwide. While major hubs tend to have lounges, there are hundreds of airports in the U.S. alone without them. Further, many lounges are in international terminals, which means you can't access them when you're flying domestically.
If you usually fly between major international airports in the United States, you'll likely be able to find a lounge in your credit card's program. But at smaller airports or airports in other parts of the world, you could be out of luck.
Your lounge may not be near your gate
Even if the airport has a lounge you can access, that doesn't always mean the lounge will be in a convenient location. Airlines tend to keep their lounges close to their boarding gates, but that won't help you if:
You're not flying with the airline whose lounge you can access.
Your lounge access isn't tied to a specific airline (for example, if you have a credit card with a complimentary Priority Pass membership).
When you need to walk half a mile just to reach your lounge, it puts a damper on the entire experience. You may not even be able to go if you're on a tight schedule already. The worst-case scenario is when the lounge is in the international terminal and you're flying domestic, because the lounge will be far away, and you likely couldn't access it even if you wanted to.
Lounges can fill up and stop admitting members
I take it back -- the worst-case scenario is when you walk all the way to your lounge, only to find out that it's at capacity.
This is more likely during peak travel times, such as the days before Thanksgiving or Christmas. Luck also plays a role, though. Sometimes lounges are just inexplicably full.
There's a greater risk of this if you have a Priority Pass membership, because lounges often bar members of that program first or set specific time frames when they won't allow entry to Priority Pass travelers. For example, an Alaska Boardroom may decide to stop admitting Priority Pass customers while still admitting first-class Alaska flyers and members of Alaska's lounge program.
The lounge experience can be underwhelming
Airport lounges are definitely a better place to hang out than the boarding area, but they're not exactly the promised land. Putting aside all the fluff, there are really four important lounge benefits:
The seating is more comfortable, and you can often find a seat of your own away from other people.
There's free food and drinks.
There's free Wi-Fi.
It's easier to find outlets to charge your devices.
However, lounges can get busy, especially now that so many people have lounge access through their credit cards. I once spent about 15 minutes walking to a lounge in the massive Denver International Airport, only to leave after another 15 minutes because it was packed and noisy.
The food and drink selection tends to be pretty basic. Think finger sandwiches, fruit, small pastries, and low-cost alcohols, and you have the general idea. It does the job when you're hungry or want a pre-flight drink, but it probably won't dazzle you.
What features should you look for in a travel card?
Although airport lounge access can be useful, it's more of a nice-to-have extra than a deciding factor in choosing a travel card. Here's what you should consider instead:
Points earned: Most travelers are better off with a card that offers points you can transfer to multiple airlines rather than one that's tied to a specific airline's frequent flyer program. Several major card issuers offer cards with transferable points.


Rewards rate: A card that earns more points per dollar of your usual spending categories will allow you to rack up more rewards and more free flights.


Travel credits: Some travel cards grant you annual credits that automatically apply to certain travel purchases.


Annual fee: Most of the best travel cards have an annual fee. It's important to make sure the fee will be worth the benefits you're getting from the card.


Global Entry/TSA Precheck credit: Although this is another one of those nice-to-have extras, I consider it more useful than airport lounge access, because it pays for a service that can save you a ton of time getting through security and customs.
Lounge access isn't a game changer
None of this is to say that credit cards with airport lounge access aren't worth the money. Those cards include plenty of other travel benefits that could justify their annual fee, assuming you travel frequently and spend enough to accumulate plenty of rewards.
The point is that lounge access shouldn't be the deciding factor in whether you apply for a credit card. Find the travel card that's right for you, and if it happens to include lounge access, that's great. If it doesn't, you're not missing out on a must-have feature.
Our credit card expert uses the card we reveal below, and it could earn you $1,148 (seriously)
As long as you pay them off each month, credit cards are a no-brainer for savvy Americans. They protect against fraud far better than debit cards, help raise your credit score, and can put hundreds (or thousands!) of dollars in rewards back in your pocket each year.
But with so many cards out there, you need to choose wisely. This top-rated card offers the ability to pay 0% interest on purchases until late 2021, has some of the most generous cash back rewards we've ever seen (up to 5%!), and somehow still sports a $0 annual fee.
That's why our expert – who has reviewed hundreds of cards – signed up for this one personally. Click here to get free access to our expert's top pick.
We're firm believers in the Golden Rule, which is why editorial opinions are ours alone and have not been previously reviewed, approved, or endorsed by included advertisers. The Ascent does not cover all offers on the market. Editorial content from The Ascent is separate from The Motley Fool editorial content and is created by a different analyst team.